LEONARDO DRS • NORTHROP GRUMMAN • SMC • L3HARRIS • U.S.SPACE FORCE
Leonardo DRS claims Top Spot
With recent wins of two major U.S. Department of Defense commercial satellite communication (COMSATCOM) contracts, Leonardo DRS stated the company has continued their fifth consecutive year as the top provider of COMSATCOM to the U.S government.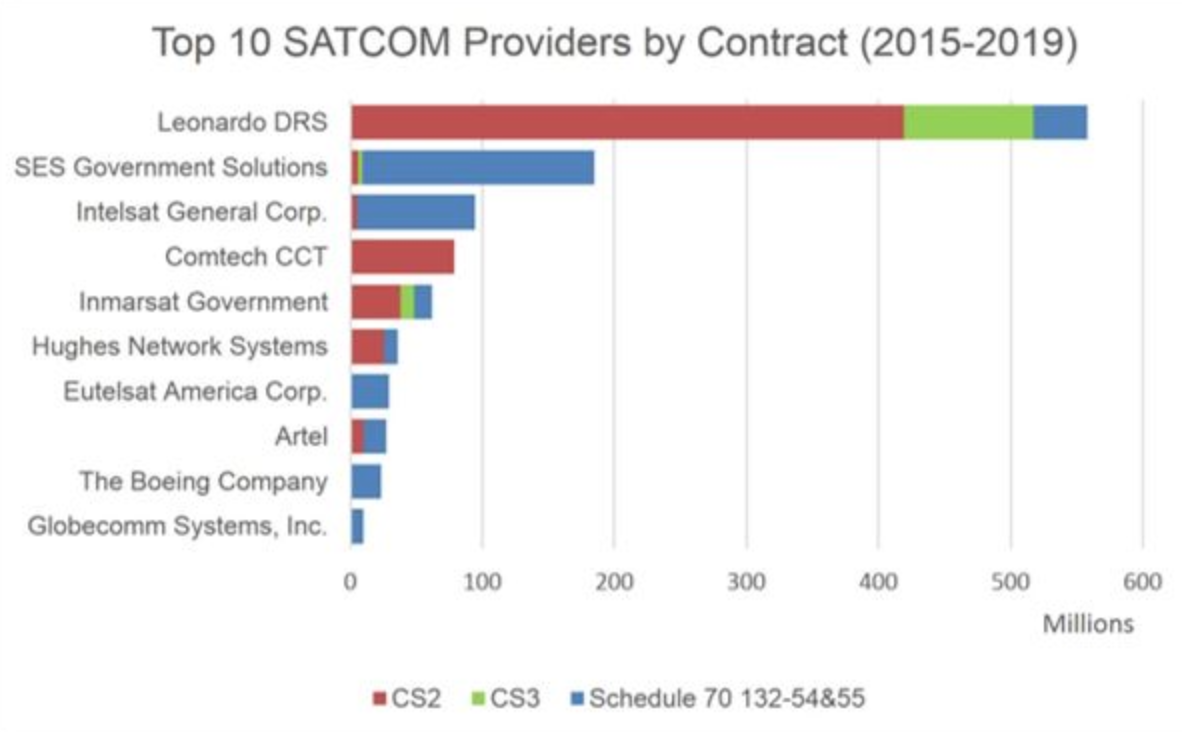 * Source: GpvWEom IQ Total Federal Market Overview - Top Contractors 2015-2019.
The use of commercial satellites for customer communication needs has been a strength of the Leonardo DRS Global Enterprise Solutions (GES) business for more than 20 years. In that time, the company has developed success in engineering, managing, and supporting large-scale, mission-critical global communications by combining the strengths of top satellite operators, teleport operators, terrestrial transport providers, satellite equipment manufacturers, and skilled small business partners.
The company builds solutions that take advantage of the firm's global communications network; an RMF-authorized, carrier-grade MPLS global network with redundant, self-healing fiber circuits connected to globally dispersed Internet Points of Presence (PoPs) and globally diverse teleports that provide redundant access to the entire COMSAT and MILSAT arc. The Leonardo DRS Global Enterprise Solutions business also provides mission-critical information and communications technology solutions to the DoD and the U.S. Federal Government. The firm's services include end-to-end global communications, satellite communications, teleport services, fiber and wireless terrestrial back-haul, managed network services and applications, cyber security, network operations, and enterprise IT solutions.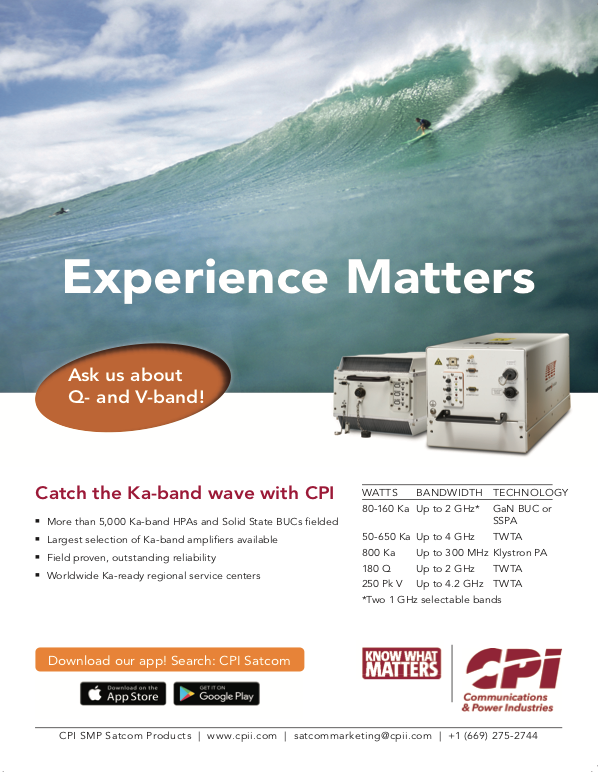 David Fields, SVP of the Global Enterprise Solutions business, said understanding customer needs and delivering an entire, resilient global communications solution that includes the dedicated support of the company's entire team is the top priority. Leonardo DRS' behind-the-scene work is what makes the company proud to be the consistent leader in commercial satellite communications over the last five years.
---
Northrop Grumman's OmegA engine test
Northrop Grumman Corporation (NYSE: NOC) has successfully conducted a full-scale static fire test of the second stage of the company's OmegA rocket today in Promontory, Utah.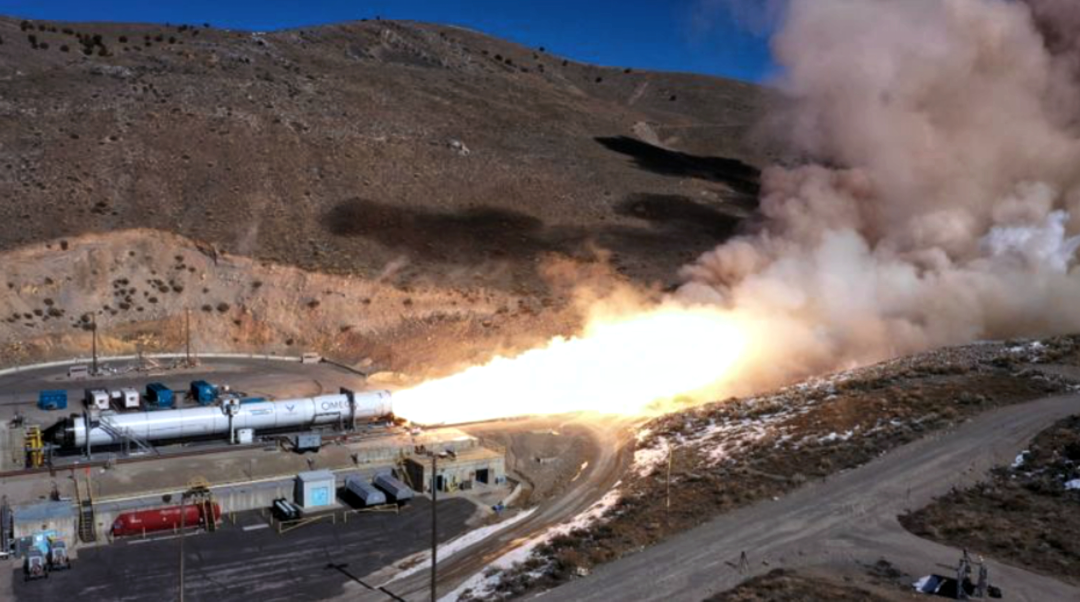 Photo of the test firing is courtesy of Northrop Grumman.
Developed to support the U.S. Space Force's National Security Space Launch program, the OmegA Launch System remains on track for its first certification flight in spring 2021.
During this test, the second stage motor fired for full-duration, approximately 140 seconds, burning nearly 340,000 pounds of solid propellant to produce upwards of 785,000 pounds of thrust.
The test verified the motor's ballistics and thermal performance as well as steering control and performance in a cold-conditioned environment. The test team collected more than 500 channels of data to aid in verifying the motor.
In October 2018, the U.S. Air Force awarded Northrop Grumman a $792 million Launch Services Agreement to complete detailed design and verification of the OmegA space launch vehicle and launch sites.
This cold test, in conjunction with the successful hot static fire in May 2019, subjected OmegA's motors to the most extreme propellant temperatures the rocket will experience during storage, transport, stacking and launch.
Northrop Grumman has leveraged its flight proven technologies and extensive experience launching critical payloads in the development of the OmegA launch system.
The rocket was designed to accommodate national security payloads while also serving the civil and commercial markets.
In preparation for OmegA's inaugural flight, Northrop Grumman now occupies High Bay 2 as the first commercial tenant in NASA's historic Vehicle Assembly Building at Kennedy Space Center.
Construction crews are currently modifying Mobile Launch Platform-3 to serve as OmegA's assembly and launch platform at Pad 39B.
Charlie Precourt, VP, Propulsion Systems, Northrop Grumman, said the company designed OmegA to use the most reliable propulsion available to ensure exceptional mission assurance for customers.
This firing is a significant accomplishment that demonstrates a domestic solution for the RD-180 rocket engine replacement.
---
SMC's successful mission deploys Aerospace Rogue Cubesats from ISS
Mission accomplished on behalf of the U.S. Space Force's Space and Missile Systems Center and its mission partners as they successfully deployed Aerospace's Rogue Alpha and Rogue Beta CubeSats from the Northrop Grumman Cygnus capsule at 1 p.m. and 4:10 p.m. respectively, on January 31, 2020, marking the beginning of the program's mission experiment plan.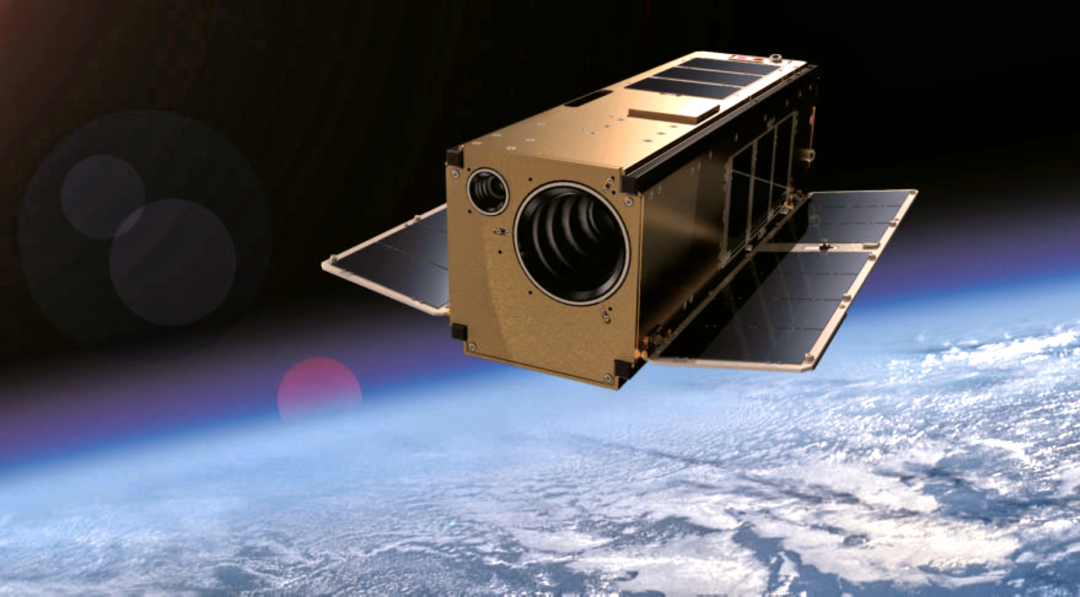 Aerospace Corporation's cubesat that was developed for the USAF.
Image is courtesy of the company.
The plan involves the two satellites using their short-wave infrared sensors to create a baseline for processing cloud backgrounds and inform future low Earth orbit satellites.
The U.S. Air Force will also use this program's unclassified data to investigate potential uses of the capability.
Col. Dennis Bythewood, Program Executive Officer for Space Development, said that the Space and Missile Systems Center is proud of this team's accomplishments and the speed at which this program developed.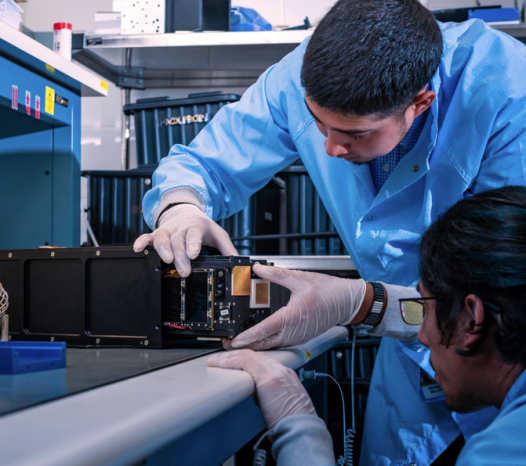 The cubesats were designed, built, and tested by The Aerospace Corporation, a national nonprofit corporation that operates as a federally funded research and development center dedicated to advancing the nation's missions in space.
Jeff Emdee, General Manager of the Space Development Division at The Aerospace Corporation, said that the company is proud to present its Rogue cubesats to support the Space Force's mission of achieving a secure and resilient space architecture. Each three-unit CubeSat is about the size of a shoe box and contains both visible and infrared sensing, as well as a laser communications downlink, that will allow them to explore operations in Low Earth Orbit to benefit future system concepts.
---
L3Harris PDR for USAF experimental satellite program successfully passed.
L3Harris Technologies (NYSE:LHX) has reached a major milestone in the U.S. Air Force's Navigation Technology Satellite-3 (NTS-3) project and has passed the preliminary design review that defines the spacecraft's path to delivery and allows the program to move to the next phase of development.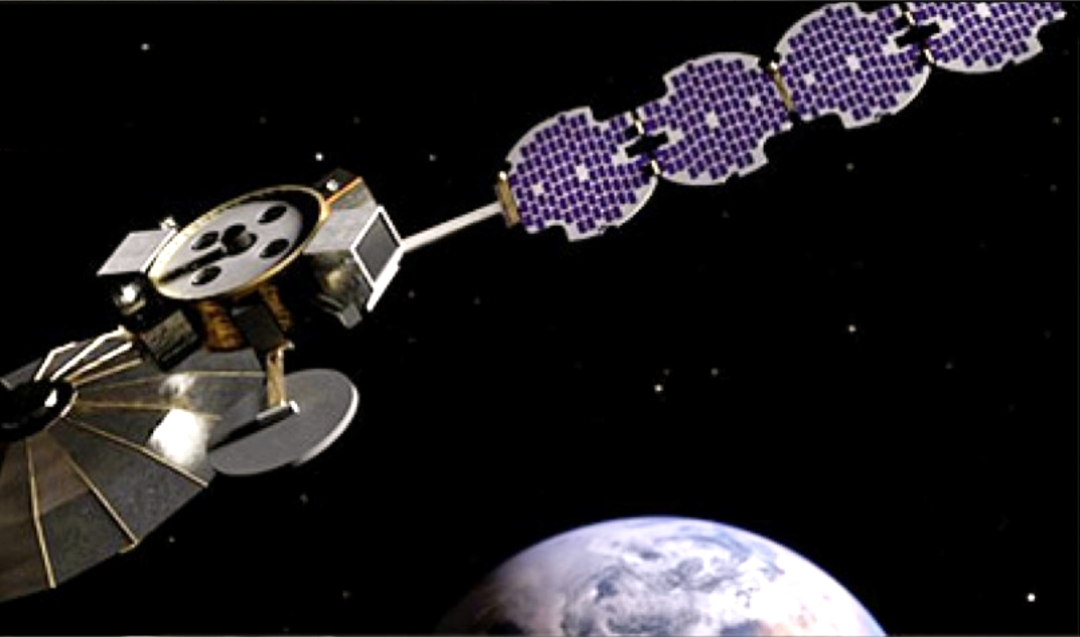 Artistic rendition of the NTS-3 in geostationary orbit. NTS-3 will be
based on Northrop Grumman Innovation System's ESPAStar bus,
building on Eagle's flight heritage.
Image is courtesy of 2d Lt. Jacob Lutz, AFRL/RV
NTS-3 is an experimental program examining ways to improve the resiliency of the military's positioning, navigation and timing capabilities. It will also develop key technologies relevant to the Global Positioning System (GPS) constellation, with the goal of future transition to the GPS IIIF program.
In collaboration with the Air Force Research Laboratory (AFRL), Space and Missile Systems Center (SMC) and the United States Space Force (USAF), L3Harris is combining experimental antennas, flexible and secure signals, increased automation, and use of commercial command and control assets.
The Space Enterprise Consortium selected L3Harris for the $84-million contract in 2018 as the prime system integrator to design, develop, integrate and test NTS-3, including ground mission applications.
L3Harris has more than 40 years of experience transmitting GPS navigation signals. The company's technology has been onboard every GPS satellite ever launched.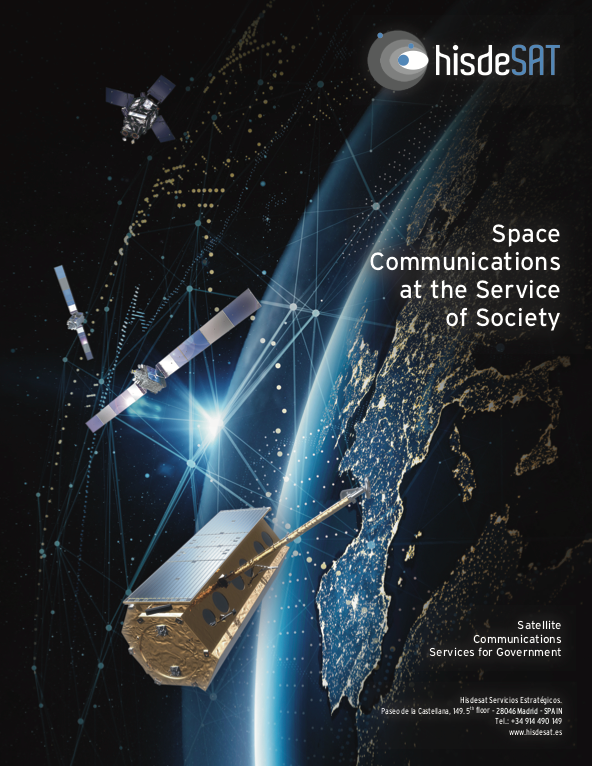 Arlen Biersgreen, Air Force NTS-3 Program Manager., said the NTS-3 vanguard is an experimental, end-to-end demonstration of agile, resilient space-based positioning, navigation, and timing. It has the potential for game-changing advancements to the way the Air Force provides these critical capabilities to warfighters across the Department of Defense. The commitment demonstrated by United States Space Force to partner with AFRL and support technology transition was a key element in NTS-3 being designated as an Air Force vanguard in September 2019.
Ed Zoiss, President, Space and Airborne Systems, L3Harris, noted that the company has moved from contract award to finishing an early design review in under one year, which is an amazing accomplishment for a satellite development program that normally takes twice that amount of time L3 Harris has proven the company can move quickly to support the U.S. Air Force's go-fast mission requirements.
---
Vision for SatCom Enterprise signed by Chief of Space Ops, General Raymond
General Jay Raymond, Chief of Space Operations, U.S. Space Force (USSF), and Commander, U.S. Space Command, recently signed the USSF Vision for Enterprise Satellite Communications (SATCOM).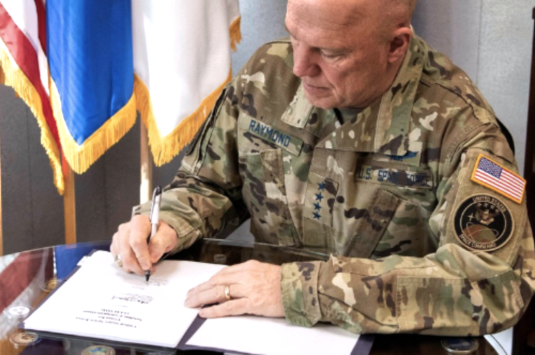 Gen. Jay Raymond, Chief of Space Operations, U.S. Space Force,
and Commander, U.S. Space Command, signing the USSF Vision for
Enterprise Satellite Communications (SATCOM). DoD photo is
courtesy of Patrick Morrow.
The Enterprise SATCOM Vision outlines the new Service's vision to evolve SATCOM into a single enterprise that can continue to deliver effects to warfighters from and through a contested, degraded and operationally-limited (CDO) environment.
The new USSF vision includes emphasis on the speed needed in developing future SATCOM capabilities. The vision states, "We must move faster than our adversaries to ensure warfighters receive the operational benefits of an integrated SATCOM enterprise capable of delivering SATCOM effects in CDO environments. We must adopt faster acquisition processes and faster command and control constructs to maintain the advantage in any conflict."
"Despite the global, instantaneous reach of our satellite communications systems, which includes both military and commercial capabilities, the current loose federation of SATCOM systems needs to improve in resiliency, robustness, flexibility, and manageability," said Major General Raymond.
Bill Liquori, USSF Director of Strategic Requirements, Architectures and Analysis. A team of experts from USSF, the Space and Missile Systems Center (SMC), and the Space Force Commercial SATCOM Office have been instrumental in identifying and defining the key requirements and concepts in the vision document.
The single, integrated SATCOM enterprise will enhance integration between the military and private sectors, with a goal to enable warfighters with the ability to transition between their networks and terminals to alternate resources with little or no disruption.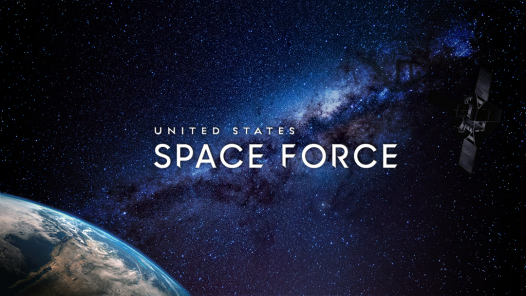 Key elements of the vision include...
• Global Situational Awareness & Common Operating Picture
• Command & Control Management System
• SATCOM terminals
• SATCOM governance
• Acquisition & Provisioning
USSF has several immediate priorities to deliver the single, integrated SATCOM enterprise, including establishing a team of core experts who can analyze and orchestrate the multi-faceted enterprise. That team will quickly need to develop a roadmap to ensure near-term budgeting priorities are in-line with the SATCOM vision.
Additionally, USSF will develop a flexible modem interface (FMI) standard to support agile SATCOM roaming for Department of Defense users and develop a strategy to replace the current Wideband Global SATCOM (WGS) capability. USSF will continue engaging commercial partners to evaluate opportunities that may complement or possibly replace portions of a traditional military SATCOM purpose-built system.
The signing of the USSF Enterprise SATCOM Vision comes after a number of recent events that gave the command an opportunity to transform how SATCOM is procured, managed and delivered to USSPACECOM and other combatant commands around the world.
On December 12, 2018, Air Force Space Command assumed sole responsibility for the procurement of COMSATCOM services on behalf of the DoD. Then AFSPC hosted a SATCOM Industry Day to engage industrial partners early in the vision drafting process. They provided numerous valuable inputs that shaped the final vision. On May 28, 2019, the Secretaries of the Air Force and Navy agreed to transfer responsibility for the future narrowband capability from the Navy to the Air Force as a prudent step to consolidate space capabilities.
AFSPC was re-designated as the USSF as an initial step in the establishment of the USSF on December 20, 2019.
---