Classified Recon Satellites On Display
Military, government and industry officials gathered in Dayton, Ohio, on January 26th to officially place three formerly classified reconnaissance satellites on public display in the Cold War Gallery at the National Museum of the U.S. Air Force here.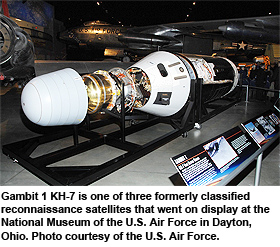 The three satellites — Gambit 1 KH-7, Gambit 3 KH-8 and Hexagon KH-9 — were among the most important U.S. photo reconnaissance systems used from the 1960s to the 1980s, and played a critical role in winning the Cold War and maintaining U.S. national security, officials said.
Passing in space high over their targets, these satellites used specially-designed film and cameras to take photos in orbit. The satellites were unmanned and unlikely to be shot down, and therefore minimized risks to military personnel while still obtaining information about areas of the world that the U.S. could not access.
Led by the National Reconnaissance Office, the Department of Defense, U.S. Air Force, Central Intelligence Agency and industry partners worked together to create these amazingly complex and capable satellites, officials said.
According to retired Air Force Gen. Bruce Carlson, the NRO director, NRO reconnaissance systems -- from planes to satellites such as Gambit and Hexagon -- have been and continue to be the foundation for global situational awareness in protection of our nation.
"Last year the NRO celebrated its 50th anniversary, and we announced the declassification of two NRO systems, Gambit and Hexagon, which were America's eyes in space and the most sophisticated satellites of their time," Carlson said. "These systems were critical for monitoring key targets in the USSR and around the globe and provided much-needed cartographic information to the DOD to produce accurate, large-scale maps."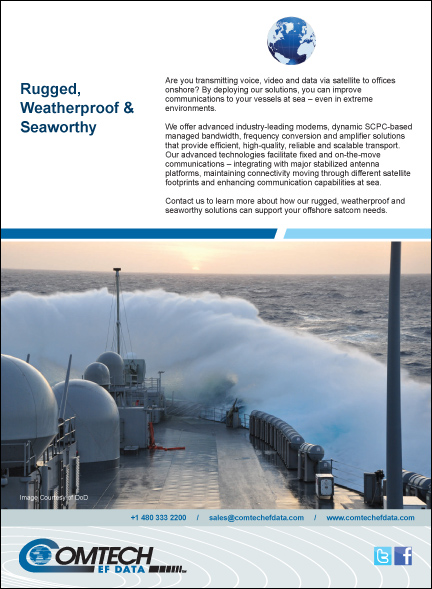 Gambit 1 satellites were the first American high-resolution space reconnaissance systems. This first generation of Gambit vehicle flew from 1963-1967. Gambit 1 added important new close-up capability to wide-search satellites already in use and were the first satellites to feature stereo high resolution cameras.
Gambit 3 satellites improved upon the Gambit 1 by providing much better image resolution in tracking adversaries' weapons development. Gambit 3 was a long-lived system and completed 54 missions from 1966-1984. The most notable advancement from Gambit 1 to Gambit 3 was the addition of a "roll joint" between the camera module and the Agena control vehicle in the rear. This rolling joint made the satellite extremely stable as a photo platform, conserved film and increased the number of targets photographed. In addition, new super-thin photographic film allowed the vehicle to carry more film.
Hexagon satellites were the largest and last U.S. intelligence satellites to return photographic film to earth. Hexagon provided vital intelligence and mapping photos from space that allowed U.S. planners to counter Cold War threats. Between 1971 and 1984, 19 Hexagon missions imaged 877 million square miles of the earth's surface. Objects smaller than two feet across could be imaged from around 80-100 miles altitude. Analysts could search broad and wide areas for threats with Hexagon and then focus in on suspect areas with surveillance from Gambit satellites.
Both Gambit and Hexagon systems returned exposed film to earth in re-entry vehicles or "buckets" that separated from the satellite, fell through the atmosphere, and descended by parachute. Air Force aircraft were assigned to pluck the buckets from the sky at around 15,000 feet.
Retired Air Force Lt. Gen. Jack Hudson, the director of the National Museum of the U.S. Air Force, said the three satellites are a great addition for the Air Force's national museum because the Air Force played a key role in space reconnaissance from the beginning.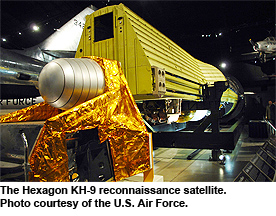 "Gambit 1, Gambit 3 and Hexagon satellites are significant and rare artifacts, which will enable us to better present the story of Air Force operations in space," Hudson said. "The Air Force has provided launch, tracking, control and range safety services for reconnaissance satellites throughout the entire Cold War, and it continues these activities today."
To commemorate the event, Hudson presented Carlson with a painting of the Hexagon satellite by nationally recognized artist and Dayton, Ohio, resident Dr. Richard Black, which was commissioned by the Air Force Museum Foundation.
Eventually, the satellites will be placed in the museum's planned fourth building, which will house the Space Gallery, Presidential Aircraft Gallery and Global Reach Gallery.
The National Museum of the United States Air Force is located on Springfield Street, six miles northeast of downtown Dayton. It is open seven days a week from 9:00 a.m. to 5:00 p.m. (closed Thanksgiving, Christmas and New Year's Day). Admission and parking are free. For more information about the museum, visit...
http://www.nationalmuseum.af.mil
Story by Rob Bardua,
National Museum of the U.S. Air Force
* * * * * * * * *
SMC Is CCS-C'd
Kratos Defense & Security Solutions, Inc. (Nasdaq:KTOS) has announced that the U.S. Air Force (USAF) Space and Missile Systems Center (SMC) has awarded its Integral Systems subsidiary a $15.69 million extension to its Command and Control System-Consolidated (CCS-C) contract.

Under the terms of the contract extension, Integral Systems will continue to provide the USAF and SMC with its EPOCH Integrated Product Suite (IPS) to simplify operations by consolidating satellite ground systems. The award extends CCS-C system sustainment, hardware maintenance, software maintenance, and operations support through calendar year 2012.
The CCS-C contract, first awarded in 2002, enables a unified Command and Control (C2) capability for the 50th Space Wing's complete family of MILSATCOM satellite programs. By employing standards-based systems and an open architecture approach, the 50th Space Wing efficiently and cost-effectively supports legacy, new and emerging satellite platforms and programs. CCS-C is currently configured to support MILSATCOM satellites across four systems: the Defense Satellite Communications System (DSCS), Milstar, Wideband Global SATCOM (WGS) and the AEHF system.
CCS-C consists of high-specification, commercially-available computer servers and workstations running commercially-available Telemetry, Tracking & Command (TT&C) software packages on a local area network-based client/server architecture. CCS-C products are operational at the Air Education and Training Command, 533rd Training Squadron at Vandenberg AFB, the 14th Air Force, 50th Space Wing and the 3rd and 4th Space Operations Squadrons at Schriever AFB. Integral Systems company information here.
"This is a testament to the exceptional sustainment support delivered by Integral Systems to integrate the command and control systems of the USAF's mission critical MILSATCOM assets," said Larry Lind, CCS-C Senior Program Manager for Kratos Integral Systems. "We are proud to be working in close partnership with the USAF to ensure CCS-C's operational readiness to execute the MILSATCOM program mission."
* * * * * * * * *
Aging With Grace
Since Jan. 13, the 2nd Space Operations Squadron here has been busy disposing of an old and trusted satellite.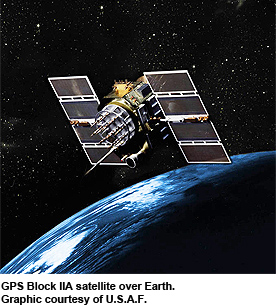 Squadron members could soon refer to the vehicle, known as SVN-30, as the satellite that keeps on giving because crews continues to garner invaluable information concerning how Global Positioning System Block IIA satellites behave as they degrade.
"We still have 12 GPS Block IIA vehicles on orbit," said Lt. Col. Dean Holthaus, the 2nd SOPS director of operations. "In addition to the normal end-of-life test and disposal procedures, we're conducting some tests (that) will help characterize how the other Block IIAs will behave with regard to their sensors, attitude control, etc., during future disposal operations."
The Air Force launched SVN-30 during September 1996 and the vehicle began providing position, navigation and timing data for GPS users worldwide the very next month. Designers placed four atomic frequency standards, or clocks, on the satellite during construction and it took nearly 16 years for all four to degrade beyond their usefulness. Operations crews began noticing that SVN-30's final clock was experiencing trouble during May 2011, so 2nd SOPS crews resurrected a residual satellite, SVN-35, to replace it in the GPS architecture.
That's when the satellite that keeps on giving leapt back into service.
"We've known for some time that SVN-30 was going to present itself as the perfect test bed," said Capt. Jayson Andersen, the 2nd SOPS assistant flight commander, GPS Mission Analysis.
"Its navigation payload has degraded to the point where it can't support position, navigation and timing missions anymore, but its bus components are still operating on the primary side and there is plenty of fuel onboard. We have an incredible opportunity to gain some understanding and knowledge about how Block IIAs behave at the end of their operational lives."
More than 50 personnel, including 2nd SOPS and 19th Space Operations Squadron operators and orbital analysts, will coordinate with Boeing and Aerospace contractors to test the satellite before its disposal later this month.
"The major benefit for us is that the information we gain from testing will drive down risk in future disposal operations," Holthaus said. "We know if anything falls outside the norm during future operations, we'll have quantifiable data from SVN-30's disposal for use in a scenario where we can't dispose of a vehicle in the standard fashion."
Andersen contends that the 2nd SOPS is showing forward thinking by trying to protect high-value GPS slots, which could be compromised if a satellite were to become inoperable in place.
"We may not dispose of another vehicle for several years," he said. "But, when we are forced to dispose of it, we want to go into it with high confidence so that we have the lowest risk disposal possible. We want to be able to vacate that slot and bring in a new vehicle."
Final shutdown of SVN-30 will occur at the later stages of the operation, when crews will command the vehicle to fire its thrusters, pushing it out and up to a higher orbit, deplete the vehicle of its remaining fuel, discharge all batteries and open all valves. Telemetry shutdown and final contact with earth is planned for Jan. 27.
In addition to taking safety precautions to ensure a mishap free transition, the 2nd SOPS will also coordinate with external organizations, such as the Joint Space Operations Center, to provide predicted burn vectors and post-burn vectors so crews can conduct collision avoidance operations with other vehicles on orbit.
"I am proud of our team for their innovation and forward thinking in this regard," said Lt. Col. Jennifer Grant, the 2nd SOPS commander. "We are constantly trying to find ways to utilize every satellite on orbit to the best of our ability. This end-of-life testing will pay dividends in planning for future disposal, or contingency operations for future disposal operations."
Story by Scott Prater
50th Space Wing Public Affairs
* * * * * * * * *
"Uplifting" Nuke Tests

A new analysis of satellite data from the late 1990s documents for the first time the "uplift" of ground above a site of underground nuclear testing, providing researchers a potential new tool for analyzing the strength of detonation.
The study has just been published in Geophysical Research Letters.
Lead author Paul Vincent, a geophysicist at Oregon State University, cautions that the findings won't lead to dramatic new ability to detect secret nuclear explosions because of the time lag between the test and the uplift signature, as well as geophysical requirements of the underlying terrain. However, he said, it does "provide another forensic tool for evaluation, especially for the potential explosive yield estimates. In the past, satellites have been used to look at surface subsidence as a signal for nuclear testing," said Vincent, an associate professor in OSU's College of Earth, Ocean, and Atmospheric Sciences.
"This is the first time uplift of the ground has correlated to a nuclear test site. The conditions have to be just right and this won't work in every location.
"But it is rather interesting," he added. "It took four years for the source of the uplift signal - a thermal groundwater plume - to reach the surface."
The focus of the study was Lop Nor, a nuclear testing site in China where three tests were conducted - May 21, 1992; May 15, 1995; and Aug. 17, 1995. Vincent and his colleagues analyzed interferometric synthetic aperture radar (InSAR) images from 1996-99 and detected a change in the surface beginning four years after the tests.
Though the uplift was less than two inches, it corresponds to known surface locations above past tests within the Lop Nor test site.
From past studies, the researchers knew that heat from underground detonation of nuclear devices propagates slowly toward the surface. At most sites - including the Nevada National Security Site - that heat signal dissipates laterally when it reaches the water table, which is usually deep beneath the surface.
At Lop Nor, however, the water table is only about three meters below the surface, and the heated groundwater plume took four years to reach that high, lifting the ground above the detonation site slightly - but enough to be detected through InSAR images.
Lop Nor also is characterized by a hard granite subsurface, which helps pipe the heated water vertically and prevents the subsidence frequently found at other testing sites.
A past study by Vincent, published in 2003, first shed light on how subsidence can manifest itself in different ways - from the force of the explosion creating a crater, to more subtle effects of "chimneying," in which the blast opens up a chimney of sorts and draws material downward, creating a dimple at the ground surface.
Before joining the OSU faculty in 2007, Vincent spent several years as a physicist at the Lawrence Livermore National Laboratory.
Vincent said the analysis of nuclear explosions has become a specialized field. Seismology technology can provide an initial estimate of the energy of the explosion, but that data is only good if the seismic waves accurately reflect coupling to the connecting ground in a natural way, he explained. Efforts are sometimes made to "decouple" the explosive device from the ground by creating specializing testing chambers that can give off a false signal, potentially masking the true power of a test.
"Subsidence data combined with seismic data have helped narrow the margin of error in estimating the explosive yield," Vincent noted, "and now there is the potential to use test-related thermal expansion as another forensic tool."
Co-authors on the paper with Vincent include Sean Buckley of the Jet Propulsion Laboratory, Dochul Yang, the University of Texas-Austin, and Steve Carle, of Lawrence Livermore National Laboratory.
Story by Oregon State University
* * * * * * * * *
Smart Phones + The Battlefield
A joint demonstration involving multiple defense agencies and several aerospace companies proved that smart phone technology can be used to improve battlefield awareness.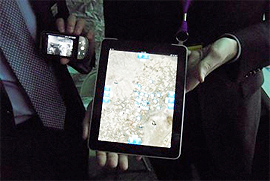 A tactical digital network, featuring advanced digital radios, hand-held cellular smart phones, a helicopter-mounted "cell tower in the sky" and a boarding party in the Chesapeake Bay recently completed a joint interoperability demonstration.
"This is a big deal because until recently, we've not been able to communicate between devices in a tactical networked environment without extensive preplanning and coordination," said Cmdr. Chris McMahan, Naval Aviation Center for Rotorcraft Advancement demonstration coordinator. "Today's data links are mostly point-to-point networks where ad hoc connections aren't possible."
Participating teams displayed ad hoc data sharing on a simulated battlefield in a December exercise by using hand-held cellular smart phones to send and receive real-time video, voice and text sharing between a small-boat team on the Bay and the Naval Air Warfare Center Aircraft Division's Surface/Aviation Interoperability Laboratory.
The participating teams included NACRA, SAIL, Defense Advanced Research Projects Agency and aerospace companies Northrop Grumman and Rockwell Collins.
"It's the same idea as accessing the Internet from a smart phone or a Wi-Fi-capable notebook to share email or a video with a friend," explained McMahan. "The Internet doesn't care what your device is as long as it uses the right protocols. This is the same thing, only we're doing it encrypted in a tactical environment where we have to bring our own mobile cell tower mounted on the helicopter."
And while that might seem routine for civilian Internet users, it's challenging in a secure tactical arena.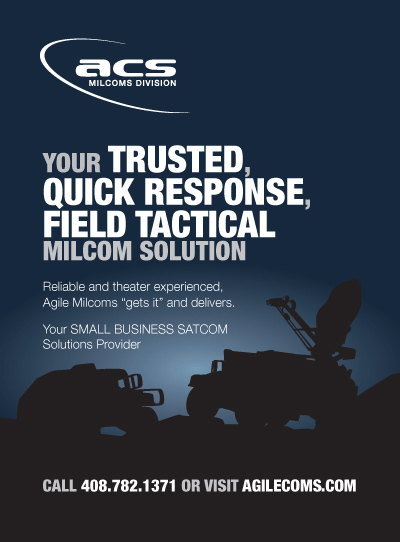 "We're trying to achieve 'platform agnosticism,' where you don't have to preplan participation," McMahan added. "Much like how we're able to access the Internet via any number of available devices and modes, we wanted to demo an encrypted tactical network where the data is important and the devices are relatively transparent."
Specific network capabilities included Quint Networking Technology, 4G/LTE wireless networks, L band, C band and UHF radios, PRC-117G radios, Blue Force Tracker and a 3G/4G LTE transmitter mounted on one of NACRA's testbed helicopters.
Key to the demo was DARPA's Tactical Targeted Network Technologies -- an Internet Protocol (IP) based, high-speed, dynamic, ad hoc network hosted by the Rockwell-Collins QNT networking radios.
The Naval Air Warfare Center's SAIL acted as a ship, providing a sea-based node to the network, demonstrating the ability to access an IP-based network from the sea.
* * * * * * * * *
VSAT Keeps HR Soldiers Combat Ready
Battles can be won or lost in the blink of an eye, making technological connectivity on today's battlefield more crucial than ever. In a rapidly changing combat environment, the ability for human resources units to establish, maintain and exchange reliable communications with leaders and other units about casualties, personnel issues and other information is vital.
During Silver Scimitar 2012 training exercise, Human Resources soldiers, assigned to casualty operations received training on how to operate the Very Small Aperture Terminal, a portable satellite system that can data-connect with other VSATs and with network architectures established in theater. It provides critical connectivity in an austere environment when other options are not available, and has been used to support Army operations since at least 2003.
"Using VSAT has been a great experience. When our casualty assistance center communications went out several times in Kuwait, we had communications backup within minutes," said Chief Warrant Officer 4 Stacy Malloy, Human Resources technician, Casualty Operations Division, 14th Human Resource Sustainment Center.
Malloy is currently stationed in Kuwait and on temporary orders to Silver Scimitar. He's one of a number of instructors and subject matter experts who have dealt with the technology while deployed and can share valuable lessons learned with soldiers participating in Silver Scimitar. He recalled the HR mission prior to the fielding of the VSAT and the significance of this technology for his soldiers.
"Before this system, we worked through the G-6 [chief information officer] and they would provide static IP addresses," he said. "We weren't able to do it on our own. Now this [technology] allows us to go anywhere and have communications; send emails, send casualty reports and [have] more capabilities through VOIP [voice over internet protocol]."
While not all of the soldiers training at Silver Scimitar have used the VSAT, many are familiar with it. "I was first introduced to this system in 2006," said Spc. Ronaldo Fajardo, a human resources specialist assigned to 8th Human Resources Sustainment Center based in Fort Shafter, Hawaii. "I haven't had a chance to use it and these skills are temporary. If you don't use the knowledge, you lose it."
To get the hands on experience needed, soldiers assembled and disassembled the satellite system and learned about its capabilities.
Despite not having operating the system, Fajardo was much more comfortable with using it after receiving the training. "I like it," he said. "It's like plug and play. Once you follow the instructions, it's pretty easy to put up."
Soldiers appreciated both the depth of the instruction and the subject matter expertise of the instructors.
"I think the training was outstanding. They provided detailed information in order for us to perform our job when we are in theater," said Staff Sgt. Tyra Thompson, casualty operations noncommissioned officer, 8th HRSC. "I have used the system before. The HRSC conducted multiple training events on how to set up and tear down the VSAT. I would definitely feel comfortable [with] setting up the system in the field."
Story and photo by Spc. Cal Turner, 214th Mobile Public Affairs Detachment