SATCOM Capability Is Successfully Deployed
The recent NAWAS and CWIX exercises marked the first successful deployment by French forces of the Thales solution for long-range Link 16 transmission of tactical data via satellite.
During the exercises, the compact, readily deployable TopLink-MINT solution from Thales was used for long-range transmission of tactical situation data to NATO and allied systems, providing an opportunity to:
• Demonstrate rapid operational implementation of a Link 16 network extension capability

• Validate compliance with the JREAP standard (Joint Range Extension Application Protocol) and its interoperability with NATO and allied systems

"Thales is proud to have taken part in these exercises, which have successfully demonstrated the excellent performance of our systems and their inherent interoperability in the context of joint and coalition operations involving several nations," said Hervé Derrey, VP for Thales Communications & Security's Radio Communication Products business. "The armed forces now have the assurance that platforms equipped with our solution will deliver the rapid deployability, long-range extension and interoperability they need."
In addition to the standard Link 16 function via MIDS radio network, the TopLink-MINT station from Thales incorporates the JRE capability (Joint Range Extension) for relaying Link 16 information from the MIDS network over an infrastructure network or via satellite.
The NAWAS 2012 exercise was organised and conducted by the three branches of the French armed forces under the leadership of the Land Forces Command (CFT). Its objective was to confirm the ability of the armed forces to provide an effective air defence capability for expeditionary land forces on the move.
The Coalition Warrior Interoperability eXploration, eXperimentation, eXamination, eXercise (CWIX) is an annual exercise to test and improve the interoperability of operational information systems deployed by NATO nations.
The exercise uses a range of scenarios to demonstrate technical and operational readiness and deploy equipment and systems in live situations to test their ability to recognise each other and communicate in the theatre of operations.
It is also an opportunity for government agencies and industry to deploy prototypes and demonstrators to showcase new technologies in realistic situations. Around 150 information systems and 800 personnel were involved in this annual exercise.
* * * * * * * * *
Payload Processing Pay
Astrotech Corporation's Astrotech Space Operations (ASO) subsidiary has won a Not-to-Exceed $16 million Infinite-Delivery/Indefinite Quantity (IDIQ) task order contract for commercial payload processing services at Vandenberg Air Force Base ("VAFB"), California.

Under the contract, Astrotech Space Operations will compete for future missions NASA is planning for launch from VAFB. The contract ordering period runs through December, 2017.
"We are proud to continue serving our NASA customer at Vandenberg AFB," stated ASO General Manager Don M. White, Jr.
"Astrotech VAFB is currently processing the Landsat Data Continuity Mission, the seventh, and last mission on the current IDIQ contract awarded in 2007."
In support of 2013 launches, ASO Florida will be processing NASA satellites TDRS-K and TDRS-L as part of an ongoing Eastern Range IDIQ contract, added White.
From Titusville, Florida, and Vandenberg AFB, California, Astrotech Space Operations provides all support necessary for government and commercial customers to successfully process their satellite hardware for launch, including advance planning; use of unique facilities; and spacecraft checkout, encapsulation, fueling, and transport. In its 31-year history, Astrotech has supported the successful processing of more than 300 spacecraft.
* * * * * * * * *
CAPS @ The Top Of The World
The U.S. Air Force Space Command's Space and Missile Systems Center has awarded a contract to Northrop Grumman Systems Corporation - Information Systems in Redondo Beach, California, for the MILSATCOM Systems Directorate's design and development of the Enhanced Polar System's Control and Planning Segment (CAPS).
The CAPS award is the result of a full and open competition. This cost-plus-incentive-fee contract was awarded as a basic contract for all CAPS design work up to and including the segment's Critical Design Review, with a value of $66.8M and contains options for the development and delivery of the segment as well as the procurement of spares that could be worth a total of $148.3M.
SMC's MILSATCOM Systems Directorate is acquiring EPS to provide Extremely High Frequency protected satellite communications capability to forces operating in the North Polar Region.
The system plays a central role in fulfilling Department of Defense joint-communication capability requirements. The EPS system will provide the capability to carry secure teletype, voice, email, instant messaging, video, multi-media and data communications. EPS will provide continuous coverage to terminals operating in the polar region and will support secure, jam-resistant, strategic and tactical communications between forces operating above 65 degrees north latitude.
CAPS is the primary means for commanding and receiving telemetry for the two polar-orbiting payloads. CAPS provides execution of essential mission functions such as payload clock management and over-the-air-rekey of user terminals.
CAPS will receive spacecraft ephemeris data from the Payload Segment Host Control Segment and use it to generate User Ephemeris Messages that are uplinked to the EPS payload for distribution to the Terminal Segment.
Primary CAPS functionality includes EPS planning and management, in-band EPS payload system control, EPS cryptographic planning, EPS terminal image generation and support for CAPS hardware and software development and testing.
CAPS is planned to be deployed at Schriever Air Force Base, Colorado, with the telemetry tracking and command terminal and CAPS timing equipment located at the EPS Gateway site at Clear Air Force Station, Alaska.
* * * * * * * * *
Life Savers
According to a new study by the European Centre for Medium-Range Weather Forecasts (ECMWF), the NOAA forecasts of Hurricane Sandy's track could have been hundreds of miles off without information from polar-orbiting satellites.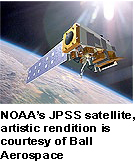 Rather than identifying the New Jersey landfall location within 30 miles four-days before landfall, the models would have shown Sandy remaining at sea.
"This study shows the value of polar-orbiting satellites in developing life-saving forecasts with longer lead times, said Dr. Kathryn Sullivan, assistant secretary of commerce for environmental observation and prediction, and deputy NOAA administrator.
"Had we thought the brunt of the storm was going to stay out in the Atlantic, or if residents had only a day to prepare or evacuate, the results would have been even more devastating."
The ECMWF is an independent, intergovernmental organization supported by 34 European nations, providing global medium-to-extended range forecasts.
Data from polar-orbiting satellites consist of accurate, high-resolution atmospheric temperature and water vapor information, which are critical inputs to forecast models that help predict the intensity and location of severe weather events, such as Sandy—several days in advance.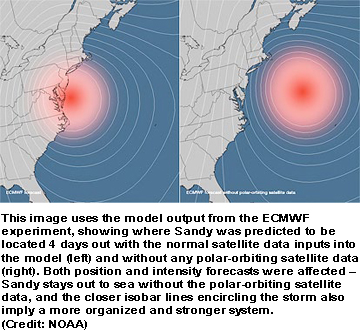 These spacecraft are called polar-orbiting, because they circle the earth from pole-to-pole, providing full global coverage daily as the Earth rotates beneath them.
On October 29, Sandy made landfall just south of Atlantic City, New Jersey. It morphed into a hybrid storm, bringing strong winds, heavy snow, rain and a powerful storm surge to areas along the Eastern seaboard.
"The global observing system based on polar-orbiting satellites, along with other observation resources, numerical models and the experience and skill of our forecasters, gave NOAA an advantage in tracking Sandy—from tropical wave, to hurricane, to post-tropical cyclone," said Louis Uccellini, director of NOAA's National Centers for Environmental Prediction in College Park, Maryland.
NOAA operates two types of satellites; polar operational environmental satellites (POES), which fly 540 miles above Earth's surface, circling from pole to pole, and geostationary operational environmental satellites (GOES), which remain stationary above the equator at an altitude of 22,300 miles.
GOES spacecraft orbit at the same speed as the Earth's rotation, resulting in near continuous observations of a fixed region. As a result, GOES provides constant imaging and POES, the subject of this study, offer full global coverage—with improved spatial resolution and additional instruments to measure atmospheric temperature and water vapor.
NOAA is working with its partner NASA to develop and launch the next generation of polar-orbiting satellites, the Joint Polar Satellite System (JPSS). Last year, NASA launched the Suomi NPP satellite, which is the bridge between NOAA's current polar-orbiting satellites and NASA's current Earth Observing System satellites and JPSS. The JPSS-1 satellite is set to launch in early 2017.
"Our top priority is ensuring NOAA's National Weather Service can maintain accuracy and timeliness of its forecasts and warnings today, and into the future," Sullivan added. "The only way that can happen is with a robust satellite fleet."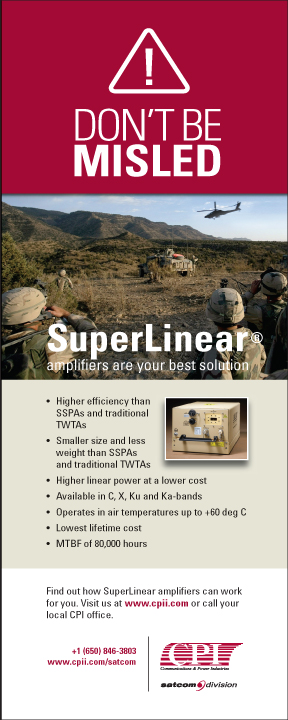 NOAA's mission is to understand and predict changes in the Earth's environment, from the depths of the ocean to the surface of the sun and to conserve and manage our coastal and marine resources.
This image uses the model output from the ECMWF experiment, showing where Sandy was predicted to be located 4 days out with the normal satellite data inputs into the model (left) and without any polar-orbiting satellite data (right). Both position and intensity forecasts were affected – Sandy stays out to sea without the polar-orbiting satellite data, and the closer isobar lines encircling the storm also imply a more organized and stronger system. (Credit: NOAA)
* * * * * * * * *
Emergency Ops Training
Combined Joint Task Force-Horn of Africa service members constructed a Forward Headquarters Element with Joint Operation Center capabilities as part of contingency readiness training on Camp Lemonnier, Djibouti, December 3, 2012.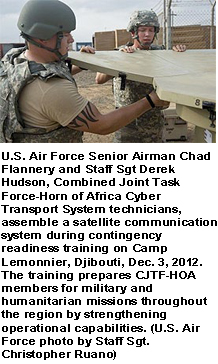 The FHE, a soft tent, houses equipment and personnel needed for CJTF-HOA leadership to command and communicate with the local forces.
"This is our forward headquarters element where we would take our headquarters from our home station JOC and move it out in the field closer to the action, wherever we need to be," said U.S. Navy Lt. Cmdr. Chuck Hawkins, CJTF-HOA operations assistant mission commander. "This allows us to have an on-site commander with on-site eyes to relay information back and forth keeping everybody informed about the situation"
It can take three to four hours to assemble the tent and make it operational, which includes enabling power and communication. Twenty-five service members are always on standby should a real-world emergency arise, according to Hawkins.
Members from CJTF-HOA's operations, intelligence, and communications sections, and Camp Lemonnier's Naval Mobile Construction Battalion 1 and force protection personnel partnered to share best practices and solve any problems that arose to successfully complete the mission.
"My people did excellent today," Hawkins said. "You know you are going to find some flaws and we worked through them. Next time it's going to be even better than before." #
Story by U.S.A.F. Staff Sgt. Christopher Ruano, Combined Joint Task Force—Horn of Africa
* * * * * * * * *
SeeMe, A Solution For Small Satellites
Raytheon Company was awarded a $1.5 million Defense Advanced Research Projects Agency (DARPA) contract for phase one of the agency's Space Enabled Effects for Military Engagements (SeeMe) program.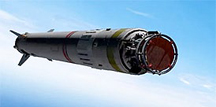 During the next nine months, the company will complete the design for small satellites to enhance warfighter situational awareness in the battlespace. The SeeMe program will provide useful on-demand imagery information directly to the warfighter in the field from a low-cost satellite constellation launched on a schedule that conforms to Department of Defense operational tempos.
"Leveraging our state-of-the-art missile assembly lines, we can mass produce these small, lightweight satellites quickly and affordably," said Tom Bussing, Raytheon Missile Systems' vice president of Advanced Missile Systems. "As the world's only producer of exoatmospheric kill vehicles, we are already developing and building hardware to space standards."
Raytheon has teamed with Sierra Nevada Corporation, University of Arizona and SRI International to assist with design work and eventually production. Next year, in phase two of the SeeMe program, the Raytheon team would build six satellites for ground testing.
"We are pleased to be working with DARPA to solve the challenge of providing warfighters with a tactical space sensor capability at a production rate price," said Bussing.
DARPA's SeeMe program aims to give mobile individual US warfighters access to on-demand, space-based tactical information in remote and beyond- line-of-sight conditions.
If successful, SeeMe will provide small squads and individual teams the ability to receive timely imagery of their specific overseas location directly from a small satellite with the press of a button—something that's currently not possible from military or commercial satellites.
The program seeks to develop a constellation of small "disposable" satellites, at a fraction of the cost of airborne systems, enabling deployed warfighters overseas to hit 'see me' on existing handheld devices to receive a satellite image of their precise location within 90 minutes.
DARPA plans SeeMe to be an adjunct to unmanned aerial vehicle (UAV) technology, which provides local and regional very-high resolution coverage but cannot cover extended areas without frequent refueling.
SeeMe aims to support warfighters in multiple deployed overseas locations simultaneously with no logistics or maintenance costs beyond the warfighters' handheld devices.
The SeeMe constellation may consist of some two-dozen satellites, each lasting 60-90 days in a very low-earth orbit before de-orbiting and completely burning up, leaving no space debris and causing no re-entry hazard.
The program may leverage DARPA's Airborne Launch Assist Space Access (ALASA) program, which is developing an aircraft-based satellite launch platform for payloads on the order of 100 lbs.
ALASA seeks to provide low-cost, rapid launch of small satellites into any required orbit, a capability not possible today from fixed ground launch sites.
* * * * * * * * *
The Navy's Future?
November 27th was a big day for Naval Aviation, as the Navy hoisted the first X-47B Unmanned Combat Air System (UCAS) demonstrator on board the aircraft carrier USS Harry S. Truman (CVN 75).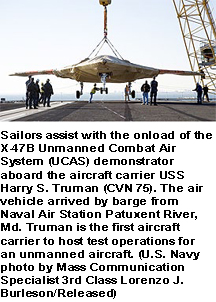 Later this month, the Navy is preparing for another first when a team from the Navy Unmanned Combat Air System program office (PMA-268) gets set to conduct tests and demonstrations with the X-47B while underway with the ship.
According to the Northrop Grumman's X-47B UCAS Fact Sheet, the X-47B is a computer-controlled unmanned aircraft system that takes off, flies a preprogrammed mission, then returns to base in response to mouse clicks from its mission operator. The mission operator monitors the X-47B air vehicle's operation, but does not actively "fly" it via remote control as is the case for other unmanned systems currently in operation.
The UCAS program is intended to reduce risks associated with developing future unmanned, carriercompatible systems, and hopes to demonstrate two "firsts" for unmanned jet-powered aviation: Autonomous carrier and aerial refueling.#
Sailors assist with the onload of the X-47B Unmanned Combat Air System (UCAS) demonstrator aboard the aircraft carrier USS Harry S. Truman (CVN 75). The air vehicle arrived by barge from Naval Air Station Patuxent River, Md. Truman is the first aircraft carrier to host test operations for an unmanned aircraft. (U.S. Navy photo by Mass Communication Specialist 3rd Class Lorenzo J. Burleson/Released)
* * * * * * * * *
A Tactical Development
Rohde & Schwarz has now introduced the R&S SDTR, the first in a new generation of software defined radios (SDR), together with a family of network capable waveforms.

This tactical radio for vehicular and semi-mobile platforms delivers 50W of output power without external amplifiers and covers the 30 to 512MHz range. It meets the military's special requirements on shock resistance, size, weight and ventilation without the need for extra mechanical shock absorbers.
Thanks to integrated high-performance filters, antennas can be spaced as close as one meter apart and the radio lines will not interfere with each other. The R&S SDTR tactical radio, with the R&S HDR waveforms, is fully IP capable and can be easily and seamlessly integrated into existing IP networks.
The R&S SDTR is an open platform based on the software communications architecture (SCA) standard. SCA based waveforms and other manufacturers' waveforms can be ported to the radio, paving the way for interoperability with allied armed forces.The R&S SDTR has the capability to handle future international standardized waveforms with data rates of up to several Mbit/s.
Rohde & Schwarz has developed a family of network capable, high data rate waveforms to handle diverse mission requirements.
The R&S HDR waveforms transmit data and up to two voice channels in parallel, at high speed and with different priorities. Users can select the waveform that best matches their requirements on range, data rate and jamming immunity.
The R&S HDR waveform family enables mobile, IP based tactical radiocommunications, the prerequisite for future networked operations. In vehicle based missions, the contactability of network nodes and the availability of bandwidths can change rapidly.
The R&S HDR waveforms offer MANET capability, supporting the automatic reconfiguring of radio networks.
The sophisticated security architecture of the R&S SDTR provides users with secure, reliable communications. Plain and encrypted data is strictly separated. Very fast frequency hopping rates ensure maximum immunity to jamming.
These measures, combined with high-security encryption, provide optimum protection against jamming, reconnaissance and eavesdropping.
* * * * * * * * *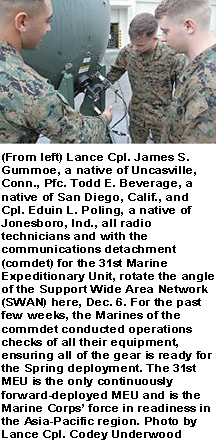 Ensuring Operational Capabilities
After offloading hundreds of pieces of communications equipment from a recent deployment at sea, the Marines must ensure their operational capabilities are maintained.
Marines from the communications detachment of the 31st Marine Expeditionary Unit, maintain their operational readiness through constant analysis and maintenance of the unit's communications equipment.
The Marines of the 31st MEU use several types of communications equipment to maintain the operational "chatter" throughout the four major elements of the Marine Air Ground Task Force.
"The most used piece of equipment is the Support Wide Area Network (SWAN) because of its easy break-down and set-up capabilities," said Lance Cpl. James S. Gummoe, a satellite communications operator for the 31st MEU, and a native of Huncasville, Connecticut.
"It is the SWAN's extensive use and high-paced deployment rate where the wearing of the equipment happens."
The SWAN is used to provide a broad spectrum of information services in a deployed environment including video, multimedia, data and imagery. The SWAN is a communications asset that can be set up in 30 minutes or less, getting the MEU rapidly connected.
Disembarking from the ship after the 31st MEU's Fall Patrol, the Communications Detachment must transition from an operational focus to a maintenance mindset.
Once the gear has made it back to Camp Hansen, the arduous task of operational checks begins. Hundreds of hours of maintenance are required for the highly technical equipment, keeping it ready to support garrison and deployed environments.
"The communications platoon consistently maintains a high operational tempo along with strict and structured training programs designed to utilize our time to the greatest extent possible." said 1st Lt. Pierce J. Virag, the 31st MEU communications platoon commander and a native of Oregon, Ohio. "There is no other MEU in the Marine Corps that maintains the deployment rate or operates at the tempo we see in Okinawa."
The communications Marines of the 31st MEU recognize their importance in unit operations, keeping them dedicated to the laborious task entrusted to them. "We are the direct path of communications among the ground elements of the MEU," said Cpl. Eduin L. Poling, a satellite communications operator with the Communications Detachment, 31 st MEU, and a native of Jonesboro, Ind. "Without our equipment up and running in a high-paced operational standard, the link from the commanding officer and his Marines is lost."
Story/photos by Lance Cpl. Codey Underwood, 31st MEU
* * * * * * * * *
Tech Support For Top Secret Enterprise
General Dynamics Information Technology, a business unit of General Dynamics has been awarded a two-year, $6 million task order by the Air Force Intelligence, Surveillance and Reconnaissance Agency to provide technical support services to the Air Force Joint Worldwide Intelligence Communications System (AF JWICS) Enterprise.
General Dynamics will help the Air Force streamline its communications networks and integrate with national-level Intelligence Community Information Technology Enterprise (IC ITE) and Desk Top Enterprise (DTE) initiatives.
Under this contract, General Dynamics will deliver a wide range of information technology (IT) services to support the continued operations of AF JWICS from numerous service centers and will assist the government in operating, maintaining and sustaining the centers that will provide core services to support the Air Force missions worldwide.
"General Dynamics has extensive experience working with defense intelligence agencies to provide joint enterprise communications, cyber security and IT services that meet military intelligence mission requirements," said Tom Kirchmaier, senior vice president and general manager of General Dynamics Information Technology's Intelligence Solutions division.
Headquartered at Lackland Air Force Base, the Air Force Intelligence, Surveillance and Reconnaissance Agency provides integrated, cross-domain ISR capabilities in concert with other service, joint, national and international partners.
The Joint Worldwide Intelligence Communications System is the Top Secret/Sensitive Compartmented Information component of the Defense Information System Network used by the defense intelligence community to transmit classified multi-media intelligence communications worldwide.