ISRO's PSLV-XL Launches Five Brit Satellites, Including SSTL's DMC3/TripleSat
Surrey Satellite Technology Ltd (SSTL) announced that on July 10, 2015, three, 1 meter resolution optical Earth Observation satellites that will form the DMC3/TripleSat Constellation were successfully launched by ISRO.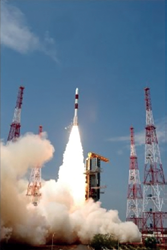 The satellites were placed into a 651km sun-synchronous Low Earth Orbit (LEO) by a PSLV-XL launch vehicle from the Satish Dhawan Space Centre, Sriharikota launch site in India. The launch agency is ANTRIX and the Indian Space Research Organisation (ISRO).
Sir Martin Sweeting, Executive Chairman of SSTL, said, "These new satellites are the latest and the most advanced of SSTL's Earth Observation spacecraft mounted on a PSLV rocket dedicated to our mission—it was really exciting to be able to push the green button for launch and see them off into orbit!"
Following confirmation of separation of all three spacecraft from the launch vehicle, the ground station at SSTL's Spacecraft Operations Centre in Guildford, United Kingdom, and at Svalbard successfully established contact with the satellites.
SSTL's engineers will now start the commissioning of the platform systems on board the three satellites, with commissioning of the imaging payloads commencing once platform commissioning is complete.
The three spacecraft use the 450 kg. SSTL-300S1 series platform. The agile SSTL-300S1 platform provides 45 degree fast slew off-pointing and is capable of acquiring multiple targets in one pass using multiple viewing modes.

The very high resolution imager on board the satellites was designed and manufactured by SSTL and will provide 1 meter ground sampling distance (GSD) in panchromatic mode, and 4 meter GSD in multispectral mode, with a swath width of 23.4 km.
The final assembly and build phase of the DMC3 Constellation satellites will be at SSTL's cleanrooms in Guildford, United Kingdom.
The three satellites will be phased 120 degrees apart around the same orbit using their on board propulsion systems within three months after the launch; thus, with off-pointing capability, the DMC3/TripleSat Satellite Constellation will be able to target any location on Earth once per day.
In addition, the wide swath width of the satellites provides the best combination of spatial resolution and time resolution—aiming at stimulating operational monitoring applications, such as urban planning and intelligent management, based on changes detected by timely and regular cloud-free, very high-resolution imagery.
The Twenty First Century Aerospace Technology Company Ltd (21AT), a commercial Earth observation satellite operator based in Beijing, has bought the imaging capacity of the three satellites.
The cooperative contract for the DMC3/TripleSat Constellation was signed in London in 2011 and witnessed by the UK Prime Minister and China's Premier.
Mme. Wu Shuang, CEO and President of 21AT, said, "This is the first step of our long march and we are looking forward to the commencement of our BJII data services following the completion of the commissioning of the DMC3/TripleSat Constellation."
---
Mobile Classified Capability From The DoD Now Operational
The Defense Department's classified mobility capability, delivered through a partnership between the Defense Information Systems Agency and the National Security Agency, has moved out of the pilot stage and is now operational, said Kim Rice, DISA's Mobility Portfolio Manager.
Defense Mobile Classified Capability – Secret (DMCC-S) enables users to access classified voice and data, up to the secret level, from anywhere in the world. The latest release, version 2.0.5, builds on the previous service offering by providing improved call interoperability, failover, and the introduction of a mobile device management (MDM) system for an enhanced security posture.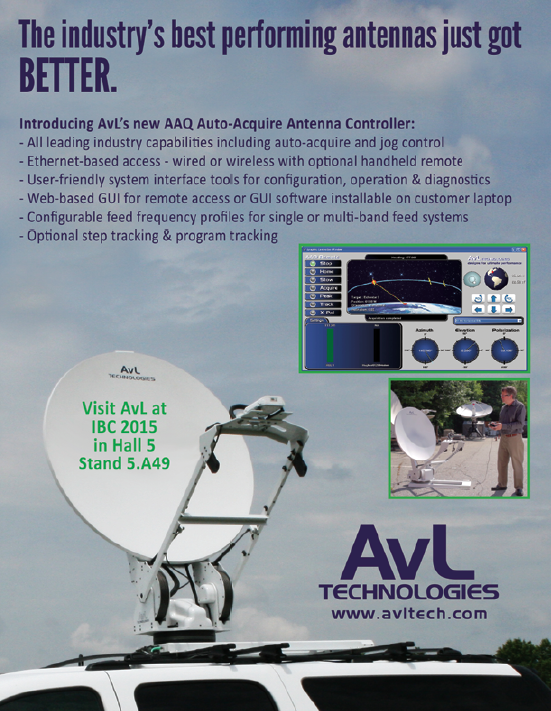 DMCC-S is the replacement capability for the Secure Mobile Environment Portable Electronic Device (SME PED) system, which DISA will shut down July 30 as part of DISA's commitment to achieve fiscal efficiencies by eliminating legacy and duplicate services. The agency started replacing SME-PEDs and first-generation DMCC-S devices with the second generation DMCC-S devices and will continue this transition, along with supporting new customer requests, through the end of this year.
The agency's goal is to have 3,000 DMCC-S users by second quarter of fiscal year 2016.
"We're also providing a new secure mobile device, which features enhanced graphics, improved sound quality, and a longer battery life than earlier pilot devices," said Rice. DMCC-S secure mobile devices are commercial smartphones with some features, such as the camera, GPS, and Bluetooth, disabled. "The operational mobile classified capability brings us one step closer to the Joint Information Environment vision, where our warfighters and national level leaders can access a secure infrastructure and applications from any device, anytime, anywhere.
"This release is a big step toward being able to deliver secure mobile capabilities faster than we have ever seen before. In the near future, we expect to triple the number of active DMCC-S users."
---
A Trio Of New Service Levels For Warfighters
A new portfolio of scalable welfare SATCOM services for UK military personnel has been introduced by Airbus Defence and Space.
The focus of the new Wel2Go portfolio is to provide reliable, value for money and is easy to transport, deploy and operate private communication channels in the field.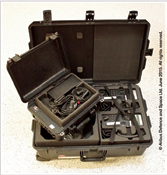 The new mobile connectivity suite is part of the WelComE (Welfare Communications Everywhere) services provided to the UK Ministry of Defence (MoD).
The Wel2Go portfolio features three core services for various levels of deployments that will succeed in satisfying the future requirements of the UK MoD.
The Wel2Go Small solution is carried in a single lightweight backpack and features a small deployable node for reliable private VoIP, satellite and data network.
The system can be deployed and configured in less than five minutes and is an ideal solution for deployments of up to 60 people that require quick, flexible communications.
The Wel2Go Medium solution is a quick deploy VSAT (Very Small Aperture Terminal) system transported in aircraft hold approved cases.
Comparatively compact and lightweight, the system provides significant throughput for up to 300 users and is simple to setup and operate. It is perfectly suited for providing private VoIP and wireless connectivity for personal communication in temporary camps and can be moved easily to the next base of operations.
The third solution, Wel2Go Large is a full fixed VSAT connectivity for semi-permanent and permanent bases of operation. It provides high levels of bandwidth and network functionality meeting the requirement for personal communication for almost 1000 people via Internet Café facilities and Wi-Fi.
The Wel2Go Large solution is transported as a complete system in shipping containers, making it straightforward to deploy a camp-wide network almost anywhere in the world.
"Scalability is key to the WelComE concept," said Steve Kelly, WelComE Service Manager, Airbus Defence and Space. "Welfare communication is vital for military operations and humanitarian missions, but it's impossible to have a one-size-fits-all system. We have designed WelComE to provision voice and data connectivity for any requirements, supporting the welfare of troops and other personnel working away from home by offering a reliable connection with family and friends wherever they are based."
www.satcom-airbusds.com/
---
Real Time ISR Comms Debut
Global satellite bandwidth provider SES Government Solutions unveiled a comprehensive Netcentric communications solution for field-deployed units during a demonstration for U.S. Government customers last month.
By combining O3b's satellite broadband connectivity and RIVA Network's field deployable 4G nanoLTE solution, the SES solution delivers real-time HD video feeds and imagery files stored in the Cloud to individual members of remote field teams. The same link also allows those deployed teams to collect and send raw sensor and video data back to off-site data analysis and command centers.
During the demonstration, U.S. Government customers were able to use mobile phones and tablets outside of WiFi range and transport real-time video through the LTE bubble and stream the footage without delay over O3b satellites back to a cloud server located in Ashburn, Virginia. This setup allows for high bandwidth and broadband IP communications which include standard and HD video, ultra HD video, voice and teleconferencing. This mission-critical technology is compatible with any smartphone and paves the way for an increased use of mobile devices for military operations. In essence each Soldier, Sailor, Airman and Marine can be a sensor providing vital information to deployed units through the O3b system.
The RIVA Network addition to this demonstration provided another key capability to support U.S. Government forces. The sphere of connectivity is scalable with multiple nanoLTE nodes and ranges up to 22 miles, depending on the exact network configuration. All RIVA components for this particular demonstration are easily transportable. The solutions featured in the demonstration are available on SES GS's and RIVA Networks' GSA Schedule. The demonstration was attended by more than 50 U.S. Government guests and is the third consecutive successful demonstration of SES GS applications leveraging O3b's high throughput and low latency capabilities.
www.ses-gs.com
---