Birthday Greetings For ORS-1
Goodrich Corporation announced an important anniversary, the ORS-1 satellite has celebrated its first year in space.
ORS-1, the first Operationally Responsive Space (ORS) satellite specifically designed to support combatant command operations, was launched from Wallops Island Flight Facility aboard a Minotaur I launch vehicle on June 29, 2011, at 11:09 p.m. EDT.
Designed, manufactured, integrated and tested by Goodrich's ISR Systems business in Danbury, Connecticut, ORS-1 is a 500kg class satellite providing game-changing impacts. In recognition of its ground breaking importance, ORS-1 was named one of the nation's 25 most important concepts by C4ISR Journal in 2011.
Initiated to fulfill requirements from the Commander of U.S. Strategic Command (STRATCOM) to support U.S. Central Command (CENTCOM), the satellite moved from the drawing board to delivery in 30 months. Less than 90 days after launch, ORS-1 earned early acceptance and has been satisfying CENTCOM's mission needs for multispectral EO/IR imagery and enhanced battlespace awareness ever since.
"The ORS-1 satellite has been meeting or exceeding expectations since its launch. We continue to support the Government operations team providing this valuable capability supporting CENTCOM mission objectives," said Andreas Nonnenmacher, vice president, Goodrich's ISR Systems business.

"CENTCOM is extremely pleased with ORS-1. It has met or exceeded its projected capabilities and additional capabilities and applications continue to unfold. ORS-1 provides superb collection... CENTCOM will continue to rely on its capabilities as an integral component to our ISR architecture and collection plan," stated Colonel Berry, Chief, Intelligence Surveillance and Reconnaissance Division, Directorate of Intelligence, Headquarters Central Command.
Rapidly developing and fielding ORS-1 was an important step in demonstrating the in-theater value of low-cost tactically focused EO/IR satellites to meet emerging and persistent warfighter needs in operationally relevant timelines.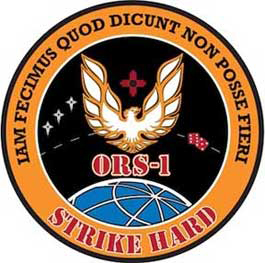 Moreover, ORS-1 has demonstrated an alternative to the normal acquisition process for space programs and its lower cost, when compared to more traditional space-based ISR platforms, makes it an affordable contributor to the ISR "force mix" in today's fiscally constrained environment. CENTCOM indicated they were "...extremely impressed with the imagery they had gotten from ORS-1. They were not only happy with the responsiveness of it, but they were also happy with the quality of the imagery that they were getting. And, it was a warfighting advantage, no question about it...," according to a statement by General Shelton, Commander, AFSPC, to the U.S. House Armed Services Committee.
The Goodrich payload features a modified version of its SYERS-2 multispectral sensor, the primary imaging sensor on the U-2 reconnaissance plane. A ground segment that formats the satellite's data products to be compatible with existing Processing, Exploitation and Dissemination (PED) infrastructure was also developed and provided by ISR Systems.
The ORS-1 Program is managed by the Space Development and Test Directorate located at Kirtland Air Force Base on behalf of the Operationally Responsive Space Office at the same location.
* * * * * * * * *
Mission Critical Ops Showcased
Harris Corporation has successfully conducted the first live, multi-state demonstration that showcased the powerful capabilities of 700 MHz Band LTE (Long Term Evolution) for first responders.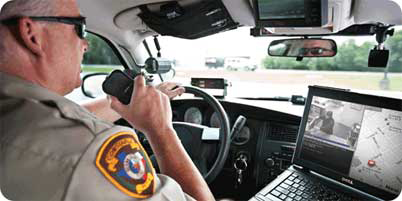 Users at multiple sites across the United States tapped into the LTE network to share streaming video, voice, mapping and presence to support various simulated mission-critical surveillance operations.
In recent months, Harris has provided 700 MHz Band LTE "pilot" programs to key public safety organizations including the Las Vegas Metropolitan Police Department and Miami-Dade Police Department.
With these programs, officers there have been experiencing Harris' LTE capabilities—such as presence, real-time video, mapping, data applications, and voice and messaging.
In addition, Harris has Band 14 LTE Radio Access Networks (RAN) on the air and operating at its Chelmsford, Massachusetts, location and in Rochester, New York. All the locations are connected to the Harris LTE core in Chelmsford.
For the Harris demo, participants experienced wireless broadband capabilities for public safety—in real time. Using the Harris BeOn
®
application, which possesses the full feature set of Project 25, Harris in Chelmsford coordinated the efforts of three vehicles simulating surveillance scenarios in the field. Chelmsford participants viewed the presence of remote users in Las Vegas, Miami-Dade and Rochester, as well as a streaming video feed from dash cams mounted on cars representing local public safety agencies.
The nationwide public safety LTE demo was the first of its kind, connecting "pilot" programs around the nation over 700MHz spectrum. This and ongoing "pilot" programs support public safety agencies' exploration of the potential power of a nationwide LTE network, designated for emergency responders, while also helping to ensure that Harris network capabilities and equipment are field-tested to meet the future needs of emergency responders.
* * * * * * * * *
NATO's Needs
Selex Elsag Ltd. has selected ViaSat Inc. (NASDAQ: VSAT) to provide X-band antennas and the MD-1366 Enhanced Bandwidth Efficient Modem (EBEM) to expand NATO static ground satellite communications in Belgium and Italy, and upgrade services in Greece and Turkey.

ViaSat technology is designed to provide the Selex and NATO Satellite Ground Station (SGS) project with multicarrier-capable antennas and a secure, bandwidth efficient, open standard system to ensure coalition interoperability.
The value of the contract is in excess of $10 million. The order is for multiple 16m and 11.3m X-band Earth stations, ViaSat MD-1366 modems, and services. The new terminals are scheduled to be installed and commissioned at NATO European sites with delivery starting by end of calendar 2012.
The MD-1366 EBEM replaces legacy, FDMA modems and ensures future interoperability with joint, allied, and coalition forces.
The MD-1366 is the industry's only DSCS and WGS certified, fully STANAG 4486 ed.3 compliant modem. The modem eliminates the need for a separate Inline Network Encryptor (INE) with FIPS 140-2 Level 2 certified AES-256 bulk encryption.
* * * * * * * * *
A Nod To A Mod
The U.S. Air Force Space Command has awarded a $111 million contract modification to Boeing Space and Intelligence Systems.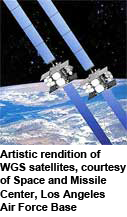 The contract is for the development and production of an enhanced payload channelizer for Wideband Global Satellite Program's eighth and ninth satellites. This enhancement nearly doubles communications bandwidth on each satellite which will be available to worldwide U.S. and Allied military forces.
AFSPC's Space and Missile Systems Center MILSATCOM Directorate is procuring WGS-7, 8 and 9 under a new commercial-like operating model that resulted in a savings to the U.S. government of several hundred million dollars.
The MILSATCOM Directorate was able to leverage some of these savings for use as a Space Modernization Initiative to improve WGS capability by inserting a new generation of integrated circuits into the payload channelizer.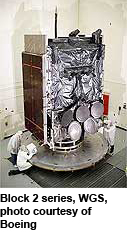 Completion of this effort will enable the enhanced channelizer to be incorporated into all future WGS satellites—a 90 percent improvement in satellite bandwidth—without additional cost to the government.
WGS-1, 2 and 3 are operational and in geosynchronous orbit providing wideband communications to warfighters around the globe. WGS-4 was launched in January and is being readied for operations. WGS-5 through 9 are currently in production, with WGS-5 and WGS-6 scheduled for launch in 2013.
Wideband Global SATCOM provides anytime, anywhere communication for warfighters through broadcast, multicast and point-to-point connections. WGS is the only system that can support simultaneous X- and Ka-band communications.
The WGS cross-banding capability makes communicating across terminal types transparent to its users. WGS currently collects and routes real-time data through more than 700 X-band, 3,100 Ka-band and 400 X/Ka-band terminals in all theaters of operation.
* * * * * * * * *
In The Competition Is...
Raytheon Company is competing for an alternate U.S. Air Force satellite terminal program and has currently produced three Advanced Extremely High Frequency (AEHF) military terminals that already meet 80 percent of the Air Force's requirements.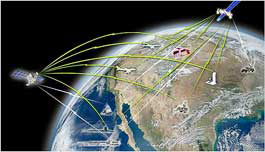 Raytheon submitted a proposal to the Air Force in June for the Family of Advanced Beyond Line of Sight Terminals (FAB-T) alternate program, which will provide secure, anti-jam, communications for the U.S. president and senior military advisers.
All three of Raytheon's AEHF terminals have passed production acquisition milestone decisions and successfully tested with the on-orbit AEHF satellite. They demonstrated interoperable communications using the satellite's Extended Data Rate (XDR) waveform, one of the military's most complex, low probability-detect, anti-jam waveforms. It moves data more than five times faster than legacy EHF systems.
Raytheon's U.S. Army, Navy and Air Force terminals currently support military operations on Milstar satellites, and are deployed and ready to operate with the newest AEHF satellites as soon as they are operational.
Additionally, Raytheon Company has also connected 37 different types of radios from U.S. military and coalition partners on its vehicular soldier radio system while providing a robust and integrated backbone for on-the-move tactical communications. The system, featuring Raytheon's Next Generation Mobile Ad hoc Network Waveform (NMW), will be tested at the next phase of the U.S. Army's Network Integration Evaluation (NIE) in lab and field environments this fall.
Raytheon's Mobile Ad hoc Interoperability Network Gateway (MAINGATE) radio, with an industry leading 10 megabits per second capacity and 128-node scalability, allows for timely and reliable interoperability with coalition partners for sharing voice, text and full-motion video across the battlefield. The unmatched 10 megabits per second capacity allows soldiers to view at least 27 videos at the same time.
MAINGATE with NMW will be tested as part of the NIE 13.1 Coalition/Joint Participation at Aberdeen Proving Ground, Maryland, and White Sands Missile Range, New Mexico. NMW has recently been provided to the U.S. Department of Defense's Joint Tactical Radio System library.
* * * * * * * * *
Taking Comms To A Higher Level
The demand for UHF satellite capacity still exceeds supply by over 200 percent, according to recent Government reports.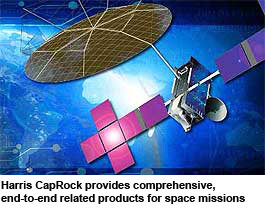 Here to assist is Harris CapRock Communications. The Company has signed a multi-year, multi-channel agreement with Astrium Services to offer end-to-end Ultra-High Frequency (UHF) Tactical Satellite solutions to international and U.S. Government users.
The joint Harris CapRock and Astrium Services end-to-end commercial UHF service will be launched in spring 2013.
Harris CapRock now joins Astrium Services in providing UHF solutions across the entire Skynet Fleet as a global channel partner. Astrium Services owns and operates a fleet of military-grade geosynchronous communications satellites with both UHF and X-band payloads.
UHF is the ultra-critical communications link designed for users at the tactical edge, and for command and control reach-back. As the most robust beyond-line-of-sight communications available, access to scarce UHF satellite capacity is becoming increasingly important.
In February, the U.S. Government launched the first of five next generation UHF satellites known as the Mobile User Objective System (MUOS). Despite the substantial increase in capacity and capability offered by MUOS, the demand for UHF satellite capacity still exceeds supply by over 200 percent, according to recent Government reports.
The joint Harris CapRock and Astrium Services end-to-end commercial UHF service offers domestic and international users access to an unprecedented level of control over UHF capacity compared to today. The service will include dedicated 25 kHz and 5 kHz satellite channels for use with any UHF Tactical Satellite (TACSAT) capable radios, including several prevalent Harris models such as its Falcon II
®
and Falcon III
®
product lines. Using a new Harris TACSAT waveform, offered as part of the end-to-end service, users will be able to actively manage their channels by splitting the capacity into multiple networks for simultaneous users—a significant improvement over current levels of capability.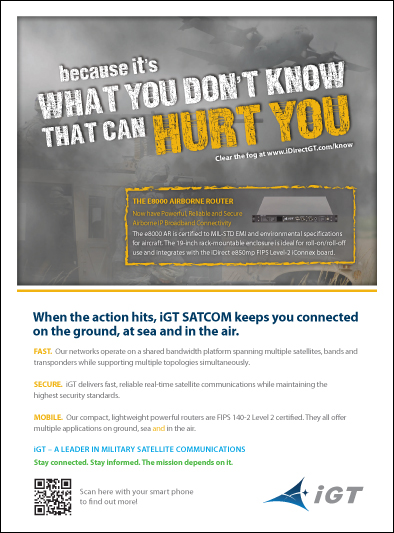 The UHF service also will support legacy UHF waveforms such as DAMA and IW when using government infrastructure.
"UHF is essential when assured tactical communications are a must," said Tom Eaton, president, Harris CapRock. "Because we are part of Harris Corporation, we are able to combine industry-leading radios and waveforms with Harris CapRock's satellite and terrestrial infrastructure to offer end-to-end UHF solutions to customers operating in extreme environments. We also are enabling something our customers have never had before—full control over their UHF missions."
"Astrium Services pioneered the concept of commercially supplied military-hardened SATCOM capacity, and this represents another step forward in delivering real capability directly to the end users," said Simon Kershaw, executive director Telecom Governmental, Astrium Services. "Combining our military-hardened Skynet space segment with Harris' market-leading radios and end-to-end solutions gives users a greater choice, straight capacity or managed UHF services, without worrying about integration, licensing or support. This combination and the launch of a fourth Skynet-5 satellite toward the end of this year means we can reach out to even more customers with this very capable, world-class system."
Harris CapRock Communications provides managed satellite and terrestrial communications solutions, specifically for remote and harsh environments including the energy, government and maritime markets. Harris CapRock owns and operates a robust global infrastructure that includes teleports on six continents, five 24/7 customer support centers, local presence in 23 countries, and over 275 global field service personnel supporting customer locations across North America, Central and South America, Europe, West Africa and Asia Pacific.
* * * * * * * * *
Secret Satellite Into Space!
A great way to end a week of consternation—in spite of hurricane Debby, send the most powerful rocket into space on a secret military spying mission.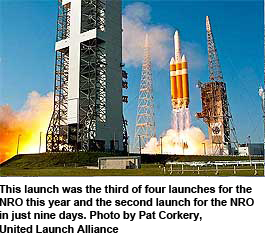 A United Launch Alliance (ULA) Delta IV Heavy rocket carrying a payload for the National Reconnaissance Office (NRO) lifted off from Space Launch Complex-37 here on June 19th at 9:15 a.m. EDT. Designated NROL-15, the mission is in support of national defense.
"Today's successful launch of the NROL-15 mission is the third of four launches for the NRO this year and the second EELV launch for the NRO in just nine days," said Jim Sponnick, ULA vice president, Mission Operations. "We congratulate the combined NRO, U.S. Air Force and ULA team along with our mission partners for their continued focus on mission success as we deliver the critical capabilities to support the soldiers, sailors, airmen and Marines."
This mission was launched aboard a Delta IV Heavy configuration vehicle, which featured a center common booster core along with two strap-on common booster cores. Each common booster core was powered by an RS-68A Liquid Hydrogen/Liquid Oxygen engine producing 797,000 pounds of thrust.
A single RL10 Liquid Hydrogen/Liquid Oxygen engine powered the second stage. The booster and upper stage engines are both built by Pratt & Whitney Rocketdyne.
The payload was encased by a five-meter diameter (16.7-foot diameter), 65-foot, metallic tri-sector payload fairing. ULA constructed the Delta IV Heavy launch vehicle in Decatur, Alabama.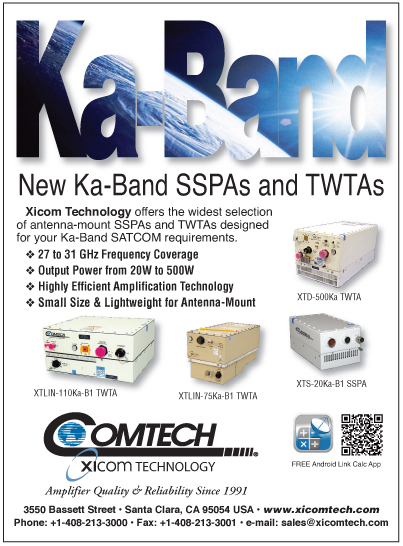 This was the inaugural flight of the RS-68A engine, which was upgraded from the RS-68 under the Heavy Upgrade program for the Delta IV Heavy configuration.
With the RS-68A engine upgrade, the thrust has been increased from approximately 758,000 pounds to 797,000 pounds and the engine overall efficiency (specific impulse) has also been increased.
"The upgraded Delta IV Heavy vehicle was developed with an extremely thorough and comprehensive system engineering process by the ULA and Pratt-Whitney Rocketdyne teams, along with substantial involvement by our U.S. government customers," said Sponnick. "Congratulations to the entire team on today's successful inaugural flight of the upgraded Delta IV Heavy launch vehicle and the RS-68A engine."
Commercially developed in partnership with the United States Air Force to provide assured access to space for Department of Defense and other government payloads, the Evolved Expendable Launch Vehicle Program supports the full range of government mission requirements, while delivering on schedule and providing significant cost savings over the heritage launch systems.
ULA's next launch is the Atlas V NROL-36 mission for the NRO scheduled August 2 from Space Launch Complex-3 at Vandenberg Air Force Base, California.
ULA program management, engineering, test, and mission support functions are headquartered in Denver, Colorado. Manufacturing, assembly and integration operations are located at Decatur, Alabama, and Harlingen, Texas. Launch operations are located at Cape Canaveral AFS, Florida, and Vandenberg AFB, California.
* * * * * * * * *
Lose That Latency
Hughes Network Systems, LLC has successfully demo'd wireless 4G/Long Term Evolution (LTE) transmissions over satellite backhaul at download speeds of more than 10 Mbps and upload speeds of 786 Kbps, including video phone calls.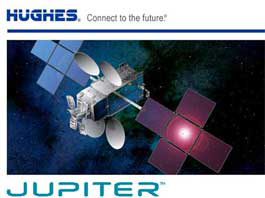 The testing involved the combination of a Hughes satellite modem with JUPITER™ high-throughput technology and Lemko Corporation's Distributed Mobility Wireless Network (DiMoWiNe).
"The growing need for the dissemination of real-time video to our warfighters requires the combination of wireless 4G/LTE and high-throughput satellite backhaul," said Rick Lober, vice president and general manager of Hughes Defense and Intelligence Systems Division. "The unique combination of these technologies eliminates the latency issues that can disrupt LTE traffic backhauled over conventional satellite links."
Deploying wireless 4G/LTE systems using a satellite backbone enables important applications for mobile broadband in tactical communications for both military and public safety markets. Warfighters will have the most advanced mobile communications available with rapid deployment capabilities, as will first responders in the critical minutes after a disaster.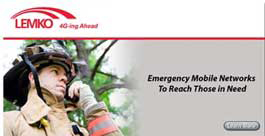 "DiMoWiNe is a key innovation breakthrough needed to bring mobile 4G LTE networks to warfighters and public safety officers," said Chris White, executive vice president at Lemko. "LTE over satellite completes the 4G ecosystem. Because of the need to have interoperability across networks and devices, remote and rapid deployment applications can leverage the massive worldwide ecosystem for hardware and applications."
Hughes JUPITER high-throughput technology operates over ECHOSTAR® XVII, the company's next-generation Ka-band satellite. This satellite system employs an advanced multi-spot beam and bent-pipe architecture, and will provide well over 100 Gbps capacity in North America. Lemko has efficiently connected hundreds of GSM, CDMA, UMTS and EVDO commercial and tactical wireless networks via satellite. Lemko's DiMoWiNe solution virtualizes the core, and all the switching and routing is moved to the network's edge, significantly reducing latency and jitter.
* * * * * * * * *
Welcome Home-land Security
Whew!..."to keep the homeland safe, including border protection, customs enforcement, drug interdiction, and emergency response to natural and man-made disasters."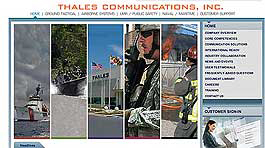 The U.S. Department of Homeland Security (DHS) has awarded Thales Communications Inc. of Clarksburg, Maryland, a Prime Contract to provide public safety and tactical communications products to DHS under its new Tactical Communications (TacCom) program.
Through this multiple-award, indefinite-delivery, indefinite quantity (IDIQ) program, DHS will quickly procure vital tactical radio equipment and other products and services.
The agency will use the equipment to support reliable and interoperable public safety communications for its missions to keep the homeland safe, including border protection, customs enforcement, drug interdiction, and emergency response to natural and man-made disasters.
"Communications for DHS agencies that interoperate with all first responders is critical to protecting national security and supporting local governments during disasters," said Michael Sheehan, President and CEO of Thales Communications, Inc. "Thales is positioned to offer DHS, through the TacCom program, the critical multiband band, multi-mission radio equipment it needs to keep America safe, while offering the greatest value to taxpayers."
In addition to DHS, other federal agencies, including the Departments of Interior, State, and Justice, and the White House Communications Agency, can use the TacCom IDIQ contract vehicle to acquire the multiband radios they need to perform their missions.
The two-year program has three option years and a potential ceiling value of $3 billion for all awardees.