Ms. Véronique Mortier is a key account manager at Speedcast where she leads non-government organizations (NGO) and UN accounts, as well as enterprise and emerging markets.

Mortier joined Speedcast in 2015 following the company's acquisition of Geolink Satellite Services, where she was the key account manager since 2004. Prior to Geolink Satellite Services, Mortier was an export sales director at Transtherm Technologies and founded a virtual art gallery, Best of Art.com. Mortier has a Business Administration Degree, and graduated from ESG Business School (Bac + 5).
Good day, Ms. Mortier. As an important player within your company's operations for NGOs and First Responders, would you please offer our readers information regarding your background and training for this important and crucial position with Speedcast? What drew you into communications in general and SATCOM specifically?
Véronique Mortier
I graduated from a business school in Paris. After college, I traveled throughout Europe and the U.S. in order to discover other cultures, traditions and share experiences. In my first position, I worked as an export sales manager. Coincidently, I stepped into the satellite communication industry. I immediately liked the environment, as I met passionate people who were dedicated to their work and handled customer-focused challenges every day. No day is like the previous day. The telecommunication industry is stimulating and always on the move. There have been noticeable changes in the recent years and the need to adapt to meet customers' requirements is constant.
How did you decide to further your career by joining Speedcast, and what drew you into the NGO/First Responder divisions of your firm?
Véronique Mortier
Speedcast is a leader in this industry and provides innovative and cutting-edge solutions to a wide array of customers. This is rewarding, to work for a highly trusted provider of reliable, fully managed, end-to-end remote communication and IT solutions. Speedcast has a strong business identity, with solid foundations and values to which I adhere: customer focused, agile and responsive, success through people and safety, and team spirit.
I ended up moving to the non-governmental organization (NGO) sector, which is a demanding sector as lives are at stake. Working with stakeholders in this domain, I was feeling I was contributing in a highly positive manner to improve lives.
Given your daily work in composing solutions for these emergency situations that occur within Speedcast's zones of control, what do you believe are the most challenging of situations for those involved out in the field?
Véronique Mortier
The humanitarian community is operating in the harshest regions of the planet, accommodating requirements of the most vulnerable people suffering from conflicts, epidemics, natural disasters, and so on. In overall response plans of emergency or rescue missions, the ability to provide resilient telecommunications is essential.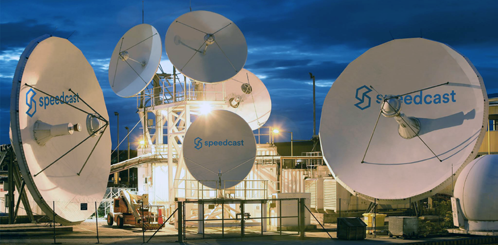 Humanitarian aid must have the assurance of autonomous communications as they need to be in contact at anytime with their stakeholders, their headquarters, the local authorities or governments and recipients of the aid in order to coordinate their actions in the field.
As humanitarian workers are on the frontline in extreme conditions, they must be able to access agile technical support whether it's locally or remotely, at all times. Another strong constraint is mobility, as workers need to quickly respond and travel to their site of operation. These workers require light and compact communication hardware that's easy to deploy. In their daily work in the field, they need resilient and scalable communications wherever the location and in any weather condition.
What technologies, products and expertise can Speedcast bring to solve many of these demanding environments? Can you offer any examples of Speedcast successes in this area?
Véronique Mortier
Improving lives through remote communications technology is at the core of everything Speedcast does. The company is available where humanitarian organizations operate, providing resilient communications in the most remote parts of the world where conventional communications are unavailable or unreliable.
The company provides the robust global satellite connectivity, state-of-the-art infrastructure and unparalleled service and engineering support that NGOs and intergovernmental organizations (IGO) customers require to successfully operate. Speedcast offers a comprehensive suite of flexible, mobile, easy-to-deploy communications solutions necessary to facilitate quick emergency response and provide vital public services — anytime, anywhere in the world.
During the Ebola crisis in Western Africa, for example, Speedcast supplied VSAT links to connect hospital facilities which allowed emergency teams of NGOs specialized in medical assistance to communicate with their headquarters in Europe and the U.S. This was vital for the doctors, nurses and medical staff to be able to communicate with other parts of the world to transfer data, collect information, or simply reassure families they were safe.
In the Central African Republic (CAR), there have been armed conflicts between different factions in recent years and Speedcast has provided satellite phones to enable NGOs to communicate with their base while traveling in the war affected areas.
In your opinion, how can the industry as a whole, and Speedcast in particular, better serve NGOs and First Responders?
Véronique Mortier
Speedcast has gained broad experience in the operation of satellite services to NGOs and United Nations agencies and has a good understanding of the communication requirements of globally acting NGOs.
This experience makes the company especially aware of all the specific constraints that impact the NGO sector when acting in emergency situations and harsh environments. More than 90 satellite beams in the company's VSAT network provide C-, L-, and Ku-band coverage from more than 70 satellites that are strategically orbiting around the world.
The network is managed through a global infrastructure of state-of-the-art teleports, hubs and IP-connectivity links to ensure exceptional service and support. Speedcast takes an operator-agnostic approach to VSAT networks, enabling the flexibility to provide the best coverage, service quality, redundancy and cost efficiency for global humanitarian customers.
Fully managed communication solutions enabling humanitarian workers to perform their critical missions are managed by the company. Local experts that are located in 16 sales and support centers are fully dedicated to satellite communications to assist even the most remote sites and 24/7/365 Network Operation Centers (NOC) provide constant network monitoring via a state-of-art customer care system to ensure a robust and reliable network.
Speedcast specializes in developing connectivity solutions that feature flexible service options and can be activated anytime, anywhere in the world. A wide suite of communications solutions meet emergency response and humanitarian missions.
With "emergencies" occurring across the world on a daily, if not on an hourly, basis, could many of your firm's provisions for NGOs and First Responders also be applied to militaries and agencies in need of solutions for exigent circumstances? Has such been offered by Speedcast to such entities?
Véronique Mortier
Yes — Speedcast has worked with the Spanish Navy to provide connectivity to their headquarters in Madrid in order for normal operations to not be impacted.
Generally speaking about SATCOM, whether for commercial or for the military/government environs, what do you believe are the most pressing concerns that need to be addressed by the industry?
Véronique Mortier
Security, quick deployment, quality infrastructure, strong technical support and universal coverage.
As you look back upon your career, what project or projects truly bring a sense of personal satisfaction to you?
Véronique Mortier
Selecting one specific project is difficult. Over the past years, there have been several major projects that have required a full commitment of time and product. Among many of the humanitarian projects I have handled, the Ebola crisis was one of the most rewarding. Enabling resilient communications to humanitarian stakeholders that I personally knew at the climax of the Ebola crisis was extremely moving.
---