Bob Dunn was appointed PacStar's Chief Executive Officer in June 2010 after rejoining the company in early 2010 with the main goal being to expand and develop the company's technology penetration in Department of Defense programs and with large system integrators. In addition to his responsibilities as CEO, Bob continues to spearhead these business development efforts. Prior to rejoining PacStar, Bob served as Senior Vice President of Sales and Marketing for Ericsson Federal Inc. (EFI). Bob joined EFI in October of 2008 and directed all Business Development efforts across U.S. federal, state and local government agencies that demand the same broadband applications and communications capabilities as commercial markets. His team helped customers leverage Ericsson's worldwide commercial leadership and massive research and development investment to achieve mission success.

Before working wtih Ericsson, Bob served as the Senior Vice President Sales and Marketing at PacStar, where he maintained a client roster that included numerous influential U.S. government agencies, including the Department of Defense, Defense Information Systems Agency, the Department of Homeland Security and the Director of National Intelligence. Previous to his work with PacStar, Bob served as President of the Product Solutions Sector for Nortel Government Solutions (NGS). There he played an active role in the merger between Nortel and PEC Solutions as well as the consolidation of the business units. In addition to these executive roles, Bob held numerous business development and management positions for NYNEX, Northern Telecom and Bell Atlantic. He is a member of the Armed Forces Communications and Electronics Association (AFCEA), where he serves on its international board.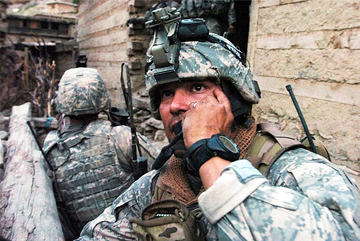 MilsatMagazine (MSM)
You've been involved with communications and telecom throughout your career, and the Federal Marketplace for the last 10 years. What attracted you to PacStar and what market opportunity did you see for the company?
Bob Dunn
PacStar is a proven leader in the tactical marketplace. We have some of the most talented engineering and business development professionals in the Federal Marketplace who are supported by an experienced management team and board. We also partner with some of the most advanced communications companies in the world. Our challenge is to take that advanced technology and deliver tactical, ruggedized solutions in a SWaP (Size, Weight and Power) that exceeds our customers' requirements. Once we assemble the solution we apply our IQ Core management software that enables easy set up and access to the associated applications.
MSM
DoD budget cuts increase the appeal of commercial-off-the-shelf (COTS) technology that can be ruggedized and used by warfighters. How will this trend impact PacStar?
Bob Dunn
The trend defines our business model. Ruggedizing COTS, utilizing our network, systems and software engineering, and delivering comprehensive tactical solutions is what we do. As DoD looks for big cuts (i.e. big iron, big programs, etc.), and applies a more commercial cost cutting model, the men and women in the field will always need to communicate. We find ourselves extolling the benefits of tech refresh, efficiencies, and cost saving measures without giving up quality or security.
MSM
Your customers need the latest technology, but sized to meet their needs. It's all about size, weight, power and immediacy — particularly in the military. How does PacStar fit into these DoD requirements?
Bob Dunn
Perfectly. We often whiteboard new designs that illustrate "the art of the possible." At the end of several sessions, we find ourselves asking, "Can we really get 3, 4, 5 enclaves in one unit that weighs under x pounds"? "There is only one way to find out," is how PacStar Engineers answer this question. We make our Operations/Assembly team crazy sometimes, but the results speak for themselves. IQ Core Solutions are deployed globally.
MSM
You've announced some product and technology partnerships this year with General Dynamics, Cisco, and, more recently, Riverbed. When you tie all of these together — how does it reflect PacStar's approach to the market?
Bob Dunn
It's the model of "Coopetition." Sometimes we compete with GD, sometimes we partner with them. Let's face it, GD is one of the best tactical solutions providers in the world, and DoD works very closely with them, along with several other leading Systems Integrators. We are proud to be a part of their team, especially when we truly add value.

We are finding that IQ Core Software is really making a difference to the men and women in the field. It provides that "easy to use" experience that is essential when you need comms fast, both in set up and speed. Cisco, Riverbed and other soon to be announced partners, deliver the most advanced technology that applies to the mission. Whether it's routing, voice compression, WAN acceleration or simple analog voice, PacStar focuses on SWaP, ease of use and delivers the same mission critical technologies in a form factor demanding by our customers.
MSM
Network management, ease of use and increased efficiencies are becoming more important than ever. How are you building product/technology solutions a- round demand for voice, video and data by warfighters within a user-friendly environment, all the while meeting such metrics?
Bob Dunn
We achieve this through our patented IQ Core technologies. We reengineer products, bundle them in the expected form factor, and apply IQ Core software. Imagine having a kit that provides Cisco routing and video, VMWare virtualization and Fortress security. The user wants to turn it on, and use it rather than having to pore through four different manuals. PacStar IQ Core Software does all of the complex work behind the scenes so that all the user is thinking about is what to say, send, or show another user or Command and Control.
MSM
What is your Company's IQ-Core ruggedized technology, and how does such assist in the implementation of fixed and tactical communications services?
Bob Dunn
The Company's patented IQ-Core Software and hardware technology and integration/installation services provide secure, command control and communications systems particularly in remote, or infrastructure-starved, areas. In addition, PacStar provides a full range of communications solutions to commercial businesses as well as telecommunications service providers.
MSM
Would you discuss PacStar's approach to the critical issue of communications security — how does your firm solve this problem to the satisfaction of all involved? What products do you present that incorporate these technologies?
Bob Dunn
We work closely with all technology providers ensuring their security features transfer to our bundled solutions. If the customer requires type-1 or other high level security protocols we'll either build it "in-skins" or interoperate with another enclave. We also have high-level security in our IQ Core Software designs.
MSM
How does PacStar manage to navigate through the various channels and over the numerous bridges of federal and state acquisition systems to get their product and technology messages not only heard, but understood?
Bob Dunn
There is no question that the Federal procurement process can be cumbersome, but we appreciate the fact that our customers just want to get it right the first time. We deliver high quality solutions that meet customer requirements. When we respond correctly and professionally, and work closely with the engineers on the desired deliverables, the process usually works well. It helps to have a couple of procurement specialists on the team as well.
MSM
Looking back over your career and past experiences, what one or two projects that you have been responsible for completing bring a great deal of satisfaction to you?
Bob Dunn
I worked with a particular group of people, customers, and patriots, and we delivered solutions that helped save lives. If they are reading this article they know who they are, they know what we accomplished; and, they how deeply proud I am to have worked with them.
I also worked with a talented team to upgrade DISA's DSN to VoIP. Back in the day when analog was king, and "they" said it would never happen, I took a great deal of satisfaction in knowing the customer trusted the team and me enough to move forward with the transition. Now VoIP is commonplace.
MSM
Where do you see tactical communications heading over the next couple of years?
Bob Dunn
Look for smaller and lighter, needing less power, all running on IQ Core Software.
MSM
What challenges do you see facing our warfighters as the demands of smaller, but more mobile, combat units continues to demand attention?
Bob Dunn
Some companies that supply wireless communications need to focus on applications that are mission critical to the warfighter and the needs of our men and women in battle. Too often, Plans of Record are not geared towards military requirements. That said, our brave men and women have enough to worry about out there. The last thing they should worry about is communications. Creating a hassle-free communications experience is PacStar's top priority.
MSM
With additional technologies and more complex systems offered in various, hostile environments, then with these capabilities moving downstream from command to the warfighters themselves, how can product implementation be sped up and training administered more effectively and with proper support?
MSM
Through IQ Core Solutions. When the men and women in uniform stop or pass by our booth at LandWarNet, AUSA, etc., and say, or better shout, "Hey there's our PacStar"!!, you know you're doing something right. PacStar will always be there for our bravest with the latest technologies, regardless of environment.
We also sponsor, and I am on the Board of, GallantFew, an organization that supports wounded Rangers. It's a very small way of saying thank you. Check them out and help support the troops.