An EELV First
The United States Air Force Space and Missile Systems Center has awarded SpaceX two Evolved Expendable Launch Vehicle (EELV)-class missions: DSCOVR (Deep Space Climate Observatory) and STP-2 (Space Test Program 2).
To be launched on SpaceX's Falcon launch vehicles in 2014 and 2015 respectively, the awards mark the first EELV-class missions awarded to the company to date.
The DSCOVR mission will be launched aboard a Falcon 9 and is currently slated for late 2014, while STP-2 will be launched aboard the Falcon Heavy and is targeted for mid-2015. Both are expected to launch from Space Launch Complex 40 at Cape Canaveral Air Force Station, Florida.
Both missions fall under Orbital/Suborbital Program-3 (OSP-3), an indefinite-delivery/indefinite-quantity contract for the U.S. Air Force Rocket Systems Launch Program. OSP-3 represents the first Air Force contract designed to provide new entrants to the EELV program an opportunity to demonstrate their vehicle capabilities.
The two missions will support the EELV certification process for the Falcon 9 and Falcon Heavy. Falcon Heavy, the most powerful rocket in the world, is expected to take its first flight in the second half of 2013.
Building on reliable flight proven architecture, the Falcon 9 and Falcon Heavy launch vehicles are designed for exceptional reliability, meeting the stringent U.S. Air Force requirements for the Evolved Expendable Launch Vehicle (EELV) program.
The Falcon Heavy is designed for extreme reliability and can tolerate the failure of several engines and still complete its mission. As on commercial airliners, protective shells surround each engine to contain a worst-case situation such as fire or a chamber rupture, and prevent it from affecting the other engines and stages.
A disabled engine is automatically shut down, and the remaining engines operate slightly longer to compensate for the loss without detriment to the mission.
Falcon Heavy will be the first rocket in history to feature propellant cross-feed from the side boosters to the center core. Propellant cross-feeding leaves the center core still carrying the majority of its propellant after the side boosters separate. This gives Falcon Heavy performance comparable to that of a three-stage rocket, even though only the single Merlin engine on the upper stage requires ignition after lift-off, further improving both reliability and payload performance. Should cross-feed not be required for lower mass missions, it can be easily turned off.
Anticipating potential astronaut transport needs, Falcon Heavy is also designed to meet NASA human rating standards. Plus, the Falcon Heavy side booster stages have a mass ratio (full vs. empty) above 30, better than any launcher in history.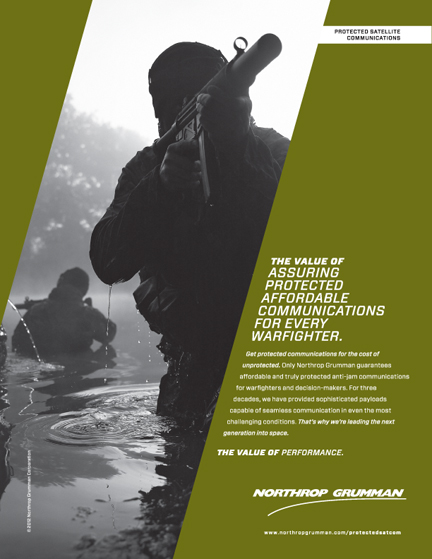 * * * * * * * * *
Insights Into ISR
The 2nd annual ISR conference will feature a line-up of key military and industry speakers delivering more than 16 presentations addressing the current issues being experienced in ISR today.
The conference will be a fantastic opportunity for military and defence personnel within the ISR industry to talk to leading experts who are currently working on ISR projects and operations.
From across Europe and North America the diversity of speakers will give a broad spectrum of ideas and opinions.
ISR 2013 promises to be a unique platform for problem-solving, debate and networking—register today. Featured speakers include:
• Anthony Crook, SO1 DPD Cap C4ISR, Ministry of Defence, UK
• Sean Midwood, CD, MSc EE, BEng, Chief Technology Office, NATO Communications and Information Agency
• Patrick Shortsleeve, Commander 497th ISR Group, USAF
• Howard Nichol, SO1 ISTAR, DPD CD Information, Intelligence Corps, Ministry of Defence, UK
• Barry O'Neal, Head ISR&T Systems Engineering, US NAVAL Air Weapons Engagement Office

For further information,
select this direct link
.
* * * * * * * * *
Safe Passage In The Domain Of Space
Members of the 1st and 7th Space Operations Squadrons took notice when an upper stage Russian rocket disintegrated in low earth orbit October 16th, 2012.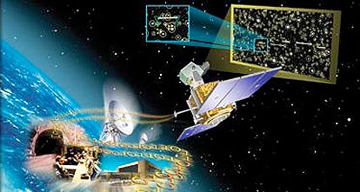 The break up introduced an estimated 500 pieces of debris into an area where the U.S. operates a multitude of satellites, further congesting an already crowded orbit around Earth.
The event sheds light on an ever-growing issue for the space and satellite industry, one that seemed far fetched only a few years ago.
"The idea that big space would someday become crowded was more theory than fact," said Lt. Col. Mike Manor, 1 SOPS commander. "Now, the reality is that space is growing seemingly smaller as more objects are now orbiting Earth. Few people realize there are men and women dedicated to assuring safe passage for our assets in space."
The Space Based Space Surveillance satellite and its sister, the Advanced Technology Risk Reduction satellite, were designed to provide space situational awareness of the geostationary belt, but increasingly are being tasked to support space situational awareness in other orbits as well.
A collision with something as small as a bolt, a rivet, even bits of shrapnel, traveling at a high rate of speed can render a satellite inoperable, if not totally destroy it—it's becoming even more important to accurately track such debris.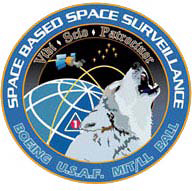 Along with radar and optical sensors on the ground, SBSS and ATRR are providing that tracking data to the Joint Space Operations Center, the organization that keeps a real-time catalog of orbiting objects.
Maj. Patrick Slaughter, 1 SOPS assistant director of operations, says demand for this tracking data will do nothing but grow in the years ahead as space gets more congested and contested.
"For the longest time, we as a nation, held on to the idea that space is a big place, but most people don't understand what's happening up there," he said. "Break ups like this add to the congestion, but we also have events like the Chinese Fengyun incident, that brought attention to the idea of contested space."
In 2007, the Chinese government demonstrated the effectiveness of an anti-satellite system by destroying one of its own weather satellites, the Fengyun-1C weather satellite, via a ground-launched missile. Besides creating a large debris field, the event showed that China possesses the capability to "kill" a satellite in LEO. Manor pointed out that it's not a big leap to assume they could do this to a U.S. satellite.
"The number of debris avoidance maneuvers required by the International Space Station has significantly increased since that incident," Slaughter said. "Then we had the Iridium-Cosmos collision in 2009, where a U.S. and Russian satellite collided over Siberia. We have to maneuver our LOE satellites around that debris field as well."
Manor said these combined events, among others, have not only helped drive international policy negotiations, but signaled that the world has recognized a need for better awareness of what's happening in space.
"We can use the evolution of air travel as a model," he said. "When the Wright brothers first took flight the skies were open. Gradually, more aircraft shared the skies and eventually we reached a point where we needed air traffic controllers and regulation to keep air travel safe. Now, we've taken the rudimentary steps for space traffic control."
When the JSPOC detects a satellite is on course to collide with something, they provide a warning to that system's operators. No doubt similar conversations happen hundreds if not thousands of times a day between air traffic controllers and pilots.
Placing this all in perspective, why does it matter what operations crews at 1 and 7 SOPS do?
"Along with the ground tracking stations and the JSPOC, our team is keeping watch over space and will remain vigilant in keeping the domain as safe as possible," Manor said. "These collective efforts not only help minimize the potential for disastrous events, but also keep the space domain in a condition for continued utilization by all nations."
Story by Scott Prater, 50th Space Wing, U.S.A.F.
* * * * * * * * *
Scaling To Fit The Need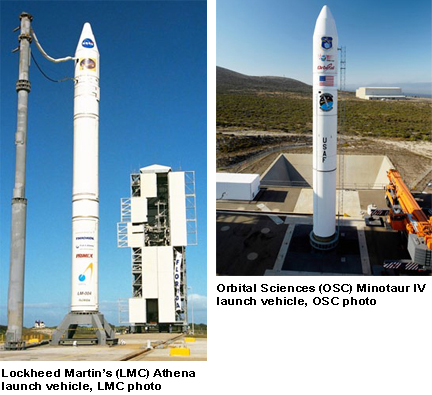 The Space and Missile Systems Center's Space Development and Test Directorate at Kirtland AFB, New Mexico, has awarded launch service contracts to Space Exploration Technologies, Orbital Sciences Corporation and Lockheed Martin Space Systems Corporation.

The potential $900 million, 5-year contract, known as Orbital/Suborbital Program 3, provides small launch services (referred to as Lane 1) capable of lifting up to 4,000 pounds into Low-Earth Orbit (LEO), and higher capability services (referred to as Lane 2) for larger scale space lift missions in order to meet a wide range of U.S Government requirements. Small launch services were previously procured under the Orbital/Suborbital Program 2, which expires in early 2013.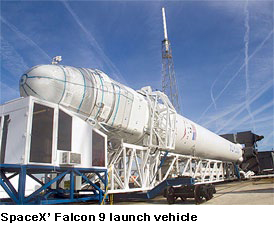 OSC and LMSSC were awarded Lane 1 contracts. OSC will use their Minotaur I and IV vehicles, while LMSSC will use their Athena Ic and IIc vehicles. Lane 2 contracts were awarded to SpaceX, using their Falcon 9 Upgrade and Falcon Heavy vehicles, and to OSC using their Minotaur VI and Antares vehicles.
In addition to the basic contract, two initial task orders were awarded to SpaceX to launch the Deep Space Climate Observatory satellite and the Space Test Program 2 payload suite in 2014 and 2015, respectively. The DSCOVR mission will fly on SpaceX's Falcon 9 upgrade to deliver a NASA-built satellite to the L1 Earth-Sun La Grange point, where it will provide solar weather and Earth observation data for the National Oceanic and Atmospheric Agency.
The second mission, STP-2, will launch aboard SpaceX's Falcon Heavy. STP-2 will deliver a wide variety of experimental and prototype payloads to several orbits. These missions are designated for Evolved Expendable Launch Vehicle "New Entrants" and will facilitate the intro of new competitors into EELV's current family of medium and larger class rockets.
* * * * * * * * *
A Major Melding
Astrium Americas, an EADS North America company announces a new subsidiary, Astrium Services Government, Inc. serving the U.S. government's growing need for innovative, new fixed and mobile commercial satellite solutions.

Astrium Services Government, Inc. combines the teams and assets from the former Vizada Americas group and the U.S. satellite services provided by Astrium Services (formally Paradigm Solutions).
"Astrium Services Government, Inc.'s world-class capabilities, competitive pricing and highly experienced U.S. team have a strong track record of proven performance in the United States," said John Schumacher, President of Astrium Americas.
"Customers across the U.S. government will benefit greatly from the growing capabilities and expertise Astrium Services Government, Inc. offers, as well as the increased competition that this new space entity will bring to satellite-based communications in the North American market."
Bob Baker, CEO of Astrium Services Government, Inc., said, "Today, our mission includes both the mobile satellite service (MSS) offerings for which we are well known, along with the customized fixed satellite services (FSS) upon which we are building our future.
"We have the market expertise, the innovative service offerings, the contract vehicles and the ability to create customized solutions making us a strong partner for addressing today's U.S. Government needs."
* * * * * * * * *
Demo + Data For Defense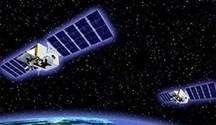 The Space Tracking and Surveillance System (STSS) demonstration satellites, built by a Northrop Grumman and Raytheon team for the U.S. Missile Defense Agency (MDA), collected data during an Aegis Ballistic Missile Defense test June 26 that will be used to create a concept of operations for future space-borne, operational missile defense sensors.
Designated FTM-18, the combined Aegis Launch on Remote and Engage on Remote exercise involved the successful intercept of a medium-range target by the newest variant of MDA's Standard Missile-3 interceptor, the SM-3 1B.
The pair of STSS demonstration satellites collected data in infrared wave bands similar to those planned for MDA's proposed Precision Tracking Space System (PTSS), said David Bloodgood, STSS program manager for Northrop Grumman's Aerospace Systems sector in Redondo Beach, California.
Northrop Grumman is performing manufacturing and production readiness systems engineering as a member of the PTSS Integrated Systems Engineering Team (ISET). As prime contractor for STSS, the company brings extensive systems engineering and integration experience in midcourse missile tracking to PTSS ISET, Bloodgood said.
The FTM-18 flight test supported the initial phase of MDA's Phased Adaptive Approach for missile defense in Europe that features deployments of increasingly capable sea- and land-based missile interceptors and a range of sensors to address regional ballistic missile threats to Europe and to U.S. forces deployed there.
Using sensors capable of detecting visible and infrared light, the STSS demonstration program serves as the experimental space layer of the Ballistic Missile Defense System (BMDS). The program's mission objective is to provide accurate tracks of midcourse re-entry vehicles to the shooter.
Both STSS satellites have participated in major BMDS tests since 2010. With sensor payloads capable of detecting visible and infrared light, the low-earth orbiting spacecraft have demonstrated a number of capabilities that had existed in theory or in the lab, but never in the actual environment where they would be used. They have shown, for example, that precision tracking of a missile throughout its flight can be done with satellites alone.
* * * * * * * * *
Culture Change For Acquisitions
The evidence just keeps coming that the DoD is changing how it looks at meeting its communications needs in space.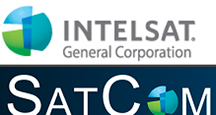 The latest sign is described in an excellent piece in Defense Daily published on November 29th titled "Simple Satellites with Commercial Utility Could be Onset for DoD Acquisition Change, Air Force General Says."
The story talks about starting with simple satellite sensors and building up to bigger procurements in partnership with industry.
Major General Martin Whelan, Air Force Space Command (AFSPC) Director of Requirements, says a change in culture is necessary. However, it won't happen overnight.
"We're learning how to do that, but it will be on a case-by-case basis until we get enough victories and until industry is fully developed in that mission area," Whelan said. "But, as I said, satellite communications might be an area that would be ripe for looking for the next victory."
That acknowledgement is very encouraging. The Defense Daily piece also quotes IGC President Kay Sears talking about how a culture change will free up industry to truly partner with the DoD in space.
Kay wrote in October about how the FCSA process was another step in the evolving government view on procurement.
Kay references how WGS provides the U.S. government with much needed SATCOM capacity, which is supplemented by commercial satellites to help keep up with ever-increasing ISR bandwidth needs.
Commercial has played this supporting role since the first Gulf War. She also praises leaders like Space and Missile Center (SMC) chief Lt. General Ellen Pawlikowski and AFSPC chief General William Shelton for having strong visions of where we need to go in space.
"It's getting that down to the rank and file, again down at the major and colonel level, the program level, where that vision is created," Sears said. "There has to be some change in the culture, and, to me, that is what has to be driven down by some of the leaders."
Change is never easy. But it certainly helps to have a catalyst like the current budgetary climate. That's what will continue to drive this culture change. In the process, it will forge a stronger partnership in space that delivers for the warfighter and the taxpayer.
This story is courtesy of Intelsat General's Satcom Frontier blog.
* * * * * * * * *
In Relief Of Sandy Victims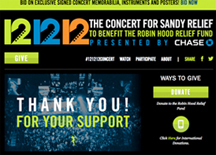 Intelsat S.A. donated satellite distribution services for the "12-12-12" Hurricane Sandy relief concert in New York City.
Working with AMC Networks. Intelsat provided capacity for the December 12 event via its Galaxy 17, Intelsat 11 and Intelsat 805 satellites, which enabling viewership across North America and South America.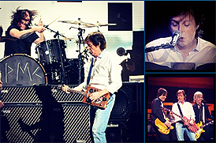 "12-12-12" was distributed worldwide to nearly two billion people through television feeds, radio and online streaming and was available to 114 million television households in the United States as well as to more than 400 million television homes outside the country via networks and feeds in North America, South America, Europe, Africa, Asia and Australia. The event occurred take at Madison Square Garden and featured Bon Jovi, Eric Clapton, Billy Joel, Alicia Keys, The Rolling Stones, Bruce Springsteen & the E Street Band, Kanye West, The Who and Paul McCartney.
The concert was produced by James Dolan, Executive Chairman of The Madison Square Garden Company; John Sykes, President of Clear Channel Entertainment Enterprises; and Harvey Weinstein, Co-Founder and Chairman of The Weinstein Company.
All proceeds from ticket purchases and donations will serve the victims of Hurricane Sandy through the Robin Hood Relief Fund.