USAF's STP-3 Mission Initiates An RFP For Launch Services
The US Air Force recently released a Request for Proposal (RFP) for an Evolved Expendable Launch Vehicle (EELV) Launch Service supporting the Space Test Program (STP) 3 mission, which is scheduled to launch in June of 2019.
After extensive industry engagements, the final RFP was released with proposals due back to the Air Force no later than December 2nd, in accordance with the solicitation instructions. The Air Force will award a firm-fixed price contract that will provide the government with a total launch solution including launch vehicle production, mission integration and launch operations for this mission.
The Air Force's acquisition strategy for this solicitation achieves a balance between mission success/operational needs, and lowering launch costs, through reintroducing competition for National Security Space missions. This will be a standalone contract for the STP-3 launch service.

The STP-3 mission consists of a primary space vehicle (STPSat-6) and a propulsive EELV Secondary Payload Adapter (ESPA) holding as many as six payloads that will be identified no later than 12 months prior to launch.
The STPSat-6 space vehicle will host the National Nuclear Security Administration (NNSA), Space and Atmospheric Burst Reporting System-3 (SABRS-3) payload, and the National Aeronautics and Space Administration (NASA) Laser Communications Relay Demonstration (LCRD) payload. Additionally, seven Science and Technology (S&T) payloads are manifested by the Department of Defense Space Test Program.
This is the third competitive launch service solicitation under the current Phase 1A procurement strategy. The Phase 1A procurement strategy reintroduces competition for National Security Space launch services.
The US Air Force Space Command's Space and Missile Systems Center, located at the Los Angeles Air Force Base, California, is the US Air Force's center of excellence for acquiring and developing military space systems.
Lt. Gen. Samuel Greaves, the US Air Force program executive officer for Space and Missile Systems Center (SMC) commander, stated that through this solicitation for STP-3, SMC hopes to promote healthy competition in order to foster innovation while securing Assured Access to Space through multiple reliable, affordable and efficient launch service providers.
---
General Dynamics Mission Systems' Succesful Testing Of WIN-T Increments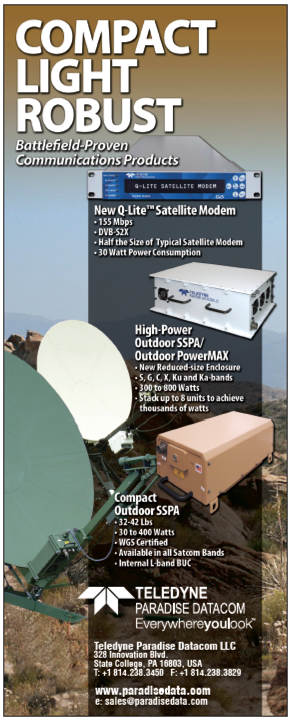 New and improved versions of two, key, Warfighter Information Network-Tactical (WIN-T) Increment 2 capabilities have begun the test and evaluation process at US Army installations across the country by General Dynamics Mission Systems.
Integrated on HMMWVs instead of five ton FMTVs, both the Tactical Communications Node-Lite (TCN-L) and the Network Operations and Security Center-Lite (NOSC-L) feature a greatly reduced footprint and improved transportability for expeditionary operations (C-130 roll-on/roll off and CH-47 sling loadable).
The TCN-L and NOSC-L provide the same networking and network management capability to command posts while reducing the complexity to install, operate and maintain the Army's mobile tactical communications network.
Mission Systems has delivered four TCN-Ls and two NOSC-Ls to the Army to begin the test and evaluation process as part of the lead up to more formalized operational testing at the Army Network Integration Evaluation 17.2 in 2017. This testing includes wide area network transmission performance, safety and environmental and electromagnetic interference testing.
Additionally, Mission Systems is performing preliminary logistics and software evaluations on a TCN-L and a NOSC-L. Four additional TCN-Ls and one NOSC-L are currently in production and are expected to enter the test and evaluation process by the end of October.
WIN-T Increment 2 is the Army's wide-area tactical communication network that delivers voice and data services across the battlefield and entered full rate production in June 2015 and has been fielded to seven division headquarters and 14 brigade combat teams.
According to Bill Weiss, the Vice President and General Manager of the Ground Systems line of business at General Dynamics Mission Systems, these capabilities provide the Army a more agile network capability and greater expeditionary reach. Additionally, the smaller footprint will result in reduced maintenance and logistics costs, which is crucial in today's resource-constrained environment.
General Dynamics Mission Systems is a business unit of General Dynamics (NYSE: GD).
gdmissionsystems.com
---
General Raymond Takes Command Of US Air Force Space Command
General John W. Raymond has replaced General John E. Hyten as the commander of the US Air Force Space Command during a ceremony at Peterson Air Force Base, Colorado, that occurred last month—Air Force Chief of Staff Gen. David L. Goldfein presided over the change of command ceremony.
"General Hyten is nothing short of a pioneer, much like Hap Arnold, Chuck Horner, and Bernie Schriever—leaders with extraterrestrial vision," Goldfein said. "When it was time to pick the next Air Force Space Command commander, General Raymond was the obvious choice. Few of us are afforded the opportunity to lead and inspire... there's never been a more important time to lead well than now."
Goldfein spoke of Hyten's progressive vision for the domains of space and cyberspace, calling his experience vital as he takes the helm of the nation's strategic capabilities at the US Strategic Command at Offutt Air Force Base, Nebraska.
"To the members of the Colorado Springs community, it is absolutely wonderful to be back," Raymond said. "This is the fourth time we've had the privilege to work at Peterson Air Force Base, and I couldn't be happier. To the men and women of Air Force Space Command, I could not be prouder to be back on your team. There's no other organization that does what you do, and you do it so well."
The vast majority of Raymond's career has focused on integrating space into the joint environment, and bringing space and cyberspace to the forefront of joint operations. Since 2007, the general has commanded the 30th Operations Group at Vandenberg Air Force Base, California, the 21st Space Wing at Peterson AFB, the 14th Air Force and led the Joint Functional Component Command for space for USSTRATCOM.
Raymond revisits his space background as the Air Force Space command commander after serving as the Deputy Chief of Staff for Operations at Headquarters US Air Force, Washington, D.C.
---