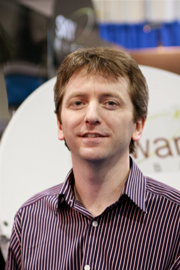 After receiving his BEng (Hons) in Communications and Electronic Engineering in 1992 (Newcastle, UK), Dr. Geen completed his PhD, which was entitled Hybrid Mode Feed Horns for Reflector Antennas @ 20/30GHz. He began his career working in the USA designing bespoke feed chains for large Earth station antennas. Dr. Geen has more than 15 years of experience in the design of communication systems for terrestrial and satellite applications. David has spent the last nine years managing the development of VSAT, broadband and DTH antenna terminals, with particular emphasis on high volume, high performance equipment for the enterprise and consumer markets.
MilsatMagazine (MSM)
Since Skyware Global's formation in early 2009, the company has developed a solid reputation for comprehensive VSAT terminal solutions. First, could you provide our readers some of the company's history and some background on the new Tactical Ground Systems division.
David Geen
Skyware Global benefits from a rich heritage of key industry companies, having formed from the assets of Andrew, Philips, Channel Master and Raven. We have manufacturing operations in three continents (the US, UK and Asia), employ approximately 400 people worldwide and have a global distribution and reseller network. We are now the largest global provider of DTH, Broadband and VSAT terminal equipment and have shipped in excess of 14 million antennas, 100,000 BUCs, 30,000 transceivers, 200,000 VSAT LNBs and 18 million DTH LNBFs. With a strong focus on Ka-band over the past seven years, we are also the world's leading supplier of Ka-band systems, having shipped more than 1.3 million antennas.
The new Tactical Ground Systems group was formed with a remit of exploiting the company's strengths and experience in its existing markets to deliver affordable solutions to the tactical community, and beyond, at a time when budgets are being squeezed and the desire to roll out communications to more and more people is increasing.
MSM
Why was the decision made to expand into the tactical and military satellite markets?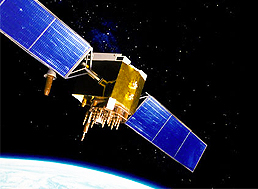 David Geen
We are expanding not only into the tactical and military markets but also those adjacent markets with similar needs, such as homeland security, first-responders, commercial broadcasters and other related industries. The decision to move into these markets was made in reaction to observations, from the tactical community, of increasing demand versus decreasing budget, and a desire on our part to exploit our strengths in: in-house antenna/RF electronics design and manufacture; low-cost manufacturing know-how; and unrivalled Ka-band experience; to satisfy the general demand for high-tech, lower-cost solutions.
MSM
How will the company's new structure — including the tactical ground systems division that you lead — facilitate this move?
David Geen
The company is now wel poised to take advantage of its solid foundation into the commercial sector in these adjacent markets. Through organic growth, partnerships and potential acquisitions, the Tactical Ground Systems group is the vehicle through which this is being achieved.
MSM
How important is it to have a substantial presence in Washington DC? And what, exactly, is that "substantial presence?"
David Geen
At Skyware Global we firmly believe that in order to best serve our customers we need to have resources positioned in-market and close to our customers. This affords our customers access to our unrivalled engineering and design capabilities. The services provided by Skyware Global in this regard are unmatched in the industry – it means that the customers' engineering groups can work in partnership with our internal expertise to arrive at products that best suit the demands of the market place. facility to cope with demands We initiated this strategy by placing an engineering facility in Washington earlier this year and it is our intention to expand this facility to cope with demands as they arise. The Washington facility is one of several we have around the world and augments the existing talent pool within Skyware Global.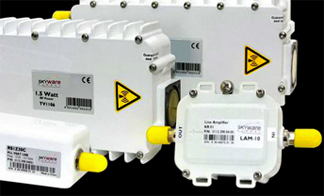 MSM
What are your thoughts on the state of the military and tactical satellite market? Are there any notable trends that you're aiming to take advantage of? What are satellite buyers and military contractors currently looking for?
David Geen
With demand for increased bandwidth and communications capability for existing users, together with a desire to push communications further down the command chain to new users, the market is certainly buoyant. This is helped in part by the increased interest around Ka-band and the advantages the new generation of Ka-band satellites offer in terms of capacity.
Viewed in the context of budget reductions, Skyware is well positioned to address these market conditions both in terms of affordability and Ka-band capability. We are a relative newcomer to this market sector but believe there is now a place for a high-tech, lower-cost terminal provider and we want to work closely with military contractors and system integrators to understand their requirements and to tailor our solutions accordingly.
MSM
Do you see hosted payloads as a viable alternative for government agency and military satellite endeavors? Please explain your views... how can Skyware Global offer services and or solutions to such programs?
David Geen
Hosted payloads offer a path for governments to provide dedicated services without the associated risk and cost of a dedicated government-owned satellite. As demand for satellite bandwidth increases, this appears to be a viable option to bridge the gap between demand and government capability. The adoption of hosted services – or not — could ultimately drive the overall available bandwidth for government applications and therefore the services on the ground. Skyware Global's next generation Ka-band RF electronics are designed to operate at civil and military frequency bands and will, therefore, provide the flexibility to operate on commercial, hosted and military satellite platforms.
MSM
What will be Skyware Global's initial product foray into this new and crucial government market segment?
David Geen
We will seek to take advantage of our core skills and are offering micro, mini and sub 1.2m terminals of various forms, together with innovative transceiver solutions specifically for nomadic, Ka-band applications.
At Milcom 2011, for example, we debuted the 45cm Micro terminal, the Ultra Rapid Deploy 69cm, the Cyclone 99 (a quick-deploy 1.0m FlyAway in a box), the Delta 1200 terminal (a motorized 1.2m FlyAway), the DRC3500 (5W Ka-band transceiver with electronic polarization switching) and the XRC3500 (5W Ka-band transceiver with electronic band switching — covers both civil and military Ka frequency bands). Larger antennas and 8W Ka-band RF platforms are on the horizon.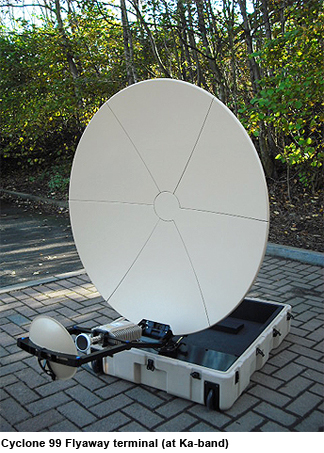 MSM
How does Skyware Global intend to compete with the industry's large, established players? Where do you currently concentrate your focus in the commercial markets?
David Geen
Faced with the need to provide more for less, the traditional players may struggle to meet the new price points in such a rapidly evolving market. It's precisely here, in collaboration with the contractors and system integrators, that Skyware Global can deliver affordable solutions that work. Not only for new products, by mobilizing our in-house design expertise and manufacturing know-how, but also for re-engineered and re-packaged versions of our existing product portfolio. We've already had recognition from end-users that solutions built on modified commercial product can meet technical requirements whilst also being cost-effective.
Skyware's long history of C-, Ku- and Ka-band product development provides a valuable library of low-cost parts that can be either used as-is or modified for use in products for Tactical applications.
MSM
How has the economic climate affected the industry? At a time when military, defense and other government service budgets have been hit, is this a niche that Skyware Global aims to exploit with its offering?
David Geen
In the face of budget reductions, the industry needs to work together to find ways to meet the increased demand and deploy more terminals, not fewer. On one hand, this requires the equipment providers to focus on lowering the cost of ownership for the end-users — and with the formation of the TGS group Skyware Global has the means and resolve to do just that. On the other hand, this requires a willingness on behalf of the end-users to explore new and alternative means to meet their needs.
MSM
Skyware Global has been pioneering Ka-band technology in non-military markets for some time. What affect will this technology have on the military satellite market? How will it coexist with more traditional military frequencies such as X-band?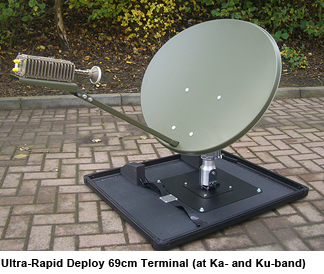 David Geen
The advances in bandwidth capacity achieved with the new generation of Ka-band High Throughput Satellites provides the infrastructure to deliver unprecedented services to assist and safeguard ground personnel. The Ka-band technology developed by Skyware Global for civil applications is directly relevant for military Ka-band applications. In particular, the existing antennas are military Ka-capable and the RF electronics can be readily modified to suit the slightly different frequencies. Furthermore, we believe that military users want the ability to communicate with both civil and military satellites at Ka-band; hence, we are developing products that allow this through simple electronic switching with no change in hardware.
As for X-band, I think it will always have its place in the communications toolbox and it will continue to sit alongside Ka-band for many years to come.
MSM
In spite of a product's overall technical competencies, how does a company expanding into this market obtain the ear of those involved in, and supervising, government and military acquisition process?
David Geen
This is not easy. It takes hard work to find the right people to engage with and to build confidence in what we are doing. This is an ongoing process and starts with small steps. In past businesses, our top management has worked closely with key leaders in United States military and security organizations, and those relationships certainly help in navigating an insular community.
Additionally, Skyware Global has relationships with other global military suppliers with whom we are able to partner with to both prove our competencies and to grow our business.
MSM
What kind of products will you be bringing to the market? Do you have any plans for expansion in this area?
David Geen
We intend to offer a range of Fixed, FlyAway, Mobile and ManPack terminals ranging in size from 45cm to 2.4m. Products will be offered with a variety of RF payloads, either commercial reflectors or carbon-fibre reflectors, manual or motorized, for Ku- and Ka-bands (predominantly), and packaged in a variety of ways depending on the application. With the remit to grow the business through both organic and non-organic means, there is always scope for expansion.
MSM
Will Skyware Global also be selling into, and supplying, equipment to overseas governments and agencies? Given the company's global efforts, is this part of the increased product offering plan?
David Geen
Yes, Skyware Global is a global company and as such will be selling to appropriate overseas markets. Whilst this may drive certain specific product development activities it does not change the broad product roadmap.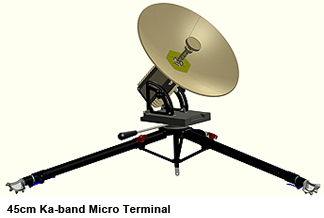 MSM
We understand that the company has recently been recognized for its employment practices... would you tell us about this honor?
David Geen
Building a global organization requires an investment in people, including employees with a diverse set of backgrounds and skills to collectively strengthen the overall team. Skyware Global was recently named Employer of the Year as recognized by the Disabled American Veterans and the North Carolina Employment Commission. We are quite proud of our record in hiring veterans into the company.
MSM
Was there a new product from Skyware Global that debuted at IBC 2011?
David Geen
Yes, our 98cm Ka-band terminal with 3W transceiver. It has been very well received.
MSM
Looking back over your career, are there any specific projects that bring you a great deal of satisfaction? Please tell us about those projects.

David Geen
When I first left University I worked in the bespoke feed development group under Roland Schwerdfeger at Vertex in Texas. Every project was unique and cutting edge and I learned more about satellite antennas in those two years than ever before, or since. One project in particular gave me great satisfaction, largely because it had not been done before and was immensely challenging; testing the simulation software of the day to the limit. It was a C-, X-, Ku- multi-band feed for an 18m antenna.
Since then, I would honestly say that the latest products we are developing for the TGS group come a close second!
* * * * * * * * *
About Skyware Global
From the first Channel Master antenna in 1949, to becoming the world's only complete ODU provider, specialising in Ka-Band, over three continents; Skyware Global has evolved to serve customers worldwide with complete satellite solutions.

Skyware Global is the combination of one of the largest design and manufacturing companies of antenna systems, VSATs and DTH powerhouses, and one of the most established satellite engineering groups in the world. The company has become the first global provider of complete ODU systems; with an expanded product set, first class engineering capabilities, manufacturing operations and global logistics.

The cornerstone of Skyware Global's success is the technological capabilities of the Company's research and development group. World-renowned engineers continue to deliver complete solutions at price-points that work for customers.

The 'in house', state-of-the-art, research and development group incorporates 3D solid modelling, CAD capabilities, prototype laboratories; while test ranges provide the resources required to design, develop, and test products. With the constant development of the industry, focus and attention on quality is critical to the design and manufacturing process; quality and testing procedures are continually updated. Skyware is able produce fully operational, hand-made prototypes for functional and aesthetic review.

It is this proprietary design-to-development process that allows Skyware Global to pre-determine the antenna systems performance even before it has been manufactured. This cost-effective, and time-efficient, style of operation has been one of the main reasons Skyware Global's is able to provide state-of-the-art concepts to the major companies in the worldwide Global Satellite Industry.

Skyware Global established a Tactical Ground Systems division in early 2011 to offer affordable solutions for fixed, motorized and mobile tactical terminals for Defense, Homeland Security, Intelligence, First Responder, Emergency Services and other government and stringent commercial applications. The division is headed up by Dr. David Geen, Vice President of Tactical Ground Systems.

Product Update... At Milcom 2011, Skyware Global debuted its initial Tactial Ground Systems portfolio. This included:

– The 45cm Ka-band Micro terminal; which features aircraft-grade aluminium and carbon-fiber composite structures that are lightweight, rugged, and quick to deploy and stow.

– The design is simple and robust for fast operation in tough environments.

– The Cyclone 99 terminal; a quick-deploy 1.0m Ka-band FlyAway in a box that can be assembled by one man, without tools, in under 10 minutes.

– The Delta 1200; a 1.2m FlyAway antenna with plug and play feed options for C-, X-, Ku- and Ka-band. It is highly portable, compact and lightweight and can be assembled and up-and-running by one man with no tools and little training in under 15 minutes.

– The Ultra Rapid Deploy 69cm; which features a single-piece 69cm reflector and unique assembly process that allows for deployment from case to 'ready-to-point' in approximately ONE minute. Available at Ka- and Ku-band.

Larger antennas and 8W Ka-band RF platforms are on the horizon. Photos of the new products may be seen in the Close Support article. For further information, select this link for the Skyware Global website.