Department of Defense (DoD), U.S.A.F. SMC—Fourteen Will HoPS To It
The U.S. Department of Defense has revealed new U.S. Air Force contracts that find 14 companies involved in the satellite industry,
all benefiting to the tune of nearly one-half billion dollars each.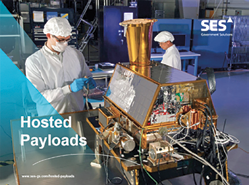 The companies have been awarded a $494,900,000 maximum firm-fixed-price, indefinite-delivery/indefinite-quantity (IDIQ) contract under the Hosted Payload Solutions (HoPS) program.
The purpose of the multiple awarded HoPS IDIQ contract is to provide a rapid and flexible means for the government
to acquire commercial hosting capabilities for government payloads.
The contract is designed to create a pool of qualified vendors to meet the government's needs for various hosted payload missions.
The HoPS IDIQ scope includes procurement of hosted payload missions and procurement of hosted payload studies.
Procurement of hosted payload missions includes a fully-functioning, on-orbit hosted payload space and ground system for government-furnished payloads on commercial platforms.
In addition to the space and ground systems, the HoPS mission will also include related on-orbit support for data transfer from the hosted payload to the government end-user(s). The HoPS studies include those study activities related to enabling hosted payloads.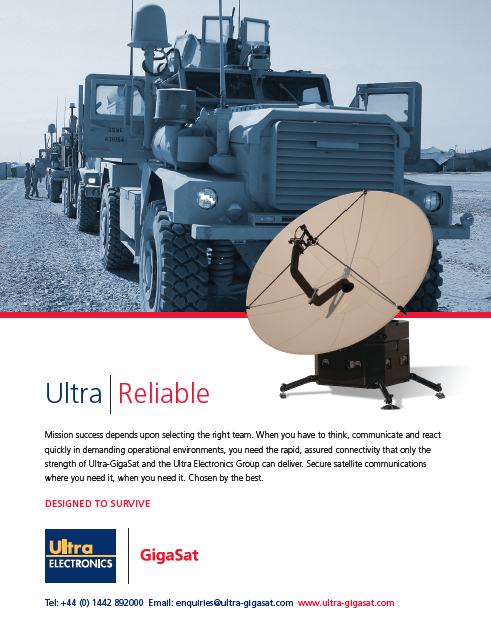 This award is the result of a full and open competitive acquisition. The contract has a five-year ordering period from the date of award. Work will be performed predominantly at the contractors' locations mentioned above, and is expected to be completed by January 31, 2029.
A total of 19 firms were solicited and a total of 14 offers were received. This is not a multiyear contract.
Fiscal 2014 research and development funds in the amount of $975,696 are being obligated at time of award.
The Space and Missile Systems Center Contracting Directorate, El Segundo, California, is the contracting activity.
The companies receiving the contracts include:
Astrium Services Government, Inc., Rockville, Maryland (FA8814-14-D-0001)
Harris Corp. Government Communications Systems Business Unit, Palm Bay, Florida
(FA8814-14-D-0002)
Space Systems/Loral, LLC, Palo Alto, California
(FA8814-14-D-0003)
Millennium Engineering & Integration Company, Arlington, Virginia
(FA8814-14-D-0004)
Surrey Satellite Technology, Englewood, Colorado
(FA8814-14-D-0005)
Orbital Sciences Corp., Dulles, Virginia
(FA8814-14-D-0006)
The Boeing Co., El Segundo, California (FA8814-14-D-0007)
Exoterra Resources, Littleton, Colorado (FA8814-14-D-0008)
Lockheed Martin Corp., Littleton, Colorado (FA8814-14-D-0009)
Merging Excellence and Innovation Tech, Inc., Houston, Texas
(FA8814-14-D-0010)
ViviSat, LLC, Beltsville, Maryland
(FA8814-14-D-0011)
Intelsat General Corp., Bethesda, Maryland (FA8814-14-D-0012)
SES Government Solutions, McLean, Virginia
(FA8814-14-D-0013)
Eutelsat America Corp., Washington, District of Columbia
(FA8814-14-D-0014)
---
U.S.A.F. + Lockheed Martin—Please Fence Me In With Improved Tracking
The U.S. Air Force has awarded Lockheed Martin a $914 million contract to improve the way objects are tracked in space and increase the ability to prevent space-based collisions.
Lockheed Martin's Space Fence solution, an advanced ground-based radar system, will enhance the way the U.S. detects, catalogs and measures more than 200,000 orbiting objects. With better timeliness and improved surveillance coverage, the system will protect space assets against potential crashes that can intensify the debris problem in space.
Dale Bennett, executive VP of Lockheed Martin's Mission Systems and Training business, said, "Space Fence will locate and track objects with more precision than ever before to help the Air Force transform space situational awareness from being reactive
to predictive."
Lockheed Martin will deliver up to two advanced S-band phased array radars for the Space Fence program. The Space Fence radar system will greatly improve Space Situational Awareness of the existing Space Surveillance Network. Construction of the new Space Fence system on Kwajalein Atoll in the Marshall Islands is slated to begin in the early 2015 to meet the program's 2018 initial operational capability goal. The total contract value is estimated at greater than $1.5 billion over an eight-year period of performance if all options are exercised.
With more than 400 operational S-band arrays deployed worldwide, Lockheed Martin is a leader in S-band radar development, production, operation and sustainment. The Lockheed Martin-led team includes General Dynamics and AMEC.
---
U.S. Army—24-Hour Response Package Is Put To The Test
The Army has a plethora of communication systems. Soldiers with the 63rd Theater Aviation Brigade's signal section recently participated in a multi-state communication exercise in Pensacola, Florida, to ensure that they could connect as many systems as they could in a potential crisis situation.
In a true test of interoperability, the Kentucky National Guard Soldiers flew to Florida, thanks to the Illinois Air National Guard and Kentucky Air Guard's 123rd Airlift Wing, to validate their equipment and skills for Task Force 46, a Michigan National Guard command.
"This exercise showcases the talents of this unit and the quality cooperation of a variety of assets," said Capt. Joseph Fontanez, officer in charge of the Kentucky delegation. Fontanez said the exercise took into consideration all the logistics of responding to an incident, but it was still primarily an exercise in communicating. The unit's goal was to send a forward command and control element within 24 hours to establish lines of communication between military units and local emergency responders for potential life-saving operations.
"We do this to ensure we are more than capable of filling in the communication needs of the task force and responding to an incident effectively."
According to Task Force 46, the exercise enhanced the abilities of personnel and units to perform operations in support of local agencies and Homeland Defense during a catastrophic event, such as a large-scale chemical, biological or nuclear incident.
A variety of units including aviation, medical, chemical and signal make up the response under the task force's command and are based in Kentucky, Alabama, Florida and Michigan. Michigan is also home to the headquarters element for the Command and Control CBRN-E Response Enterprise Bravo. Each unit had their own roles and objectives to be validated for the exercise, but Fontanez said there was opportunity for more.
As part of a first time test of their "24-hour response package" the Soldiers worked with Airmen of Kentucky's 123rd Airlift Wing to pack up all the gear and equipment, including loading two Humvees into a C-130 and expedite their arrival to Florida.
"We play our part here and the team does a fantastic job, but we certainly tested the limits of our readiness for this exercise," said Staff Sgt. Jonathan Means. "We tried something new and it worked well for us."
The Kentucky soldiers also worked to connect back to Frankfort, Kentucky, and finish the circle of communication from home station to field environment. With the added goals and unique equipment footprint, the 63rd was well represented and caught the eyes of others at the exercise.
Maj. Gen. Burton Francisco, Task Force 46 Commander was on hand to oversee the exercise and stressed the importance of exercising communication abilities of the units and how critical communication is for the
task force.
"I'm very happy with I have seen so far, the soldiers that are here representing each of their task forces are subject matter experts, each and every one of them," he said. "I was very impressed with what I saw from Staff Sgt. Means and the whole task force aviation team from Kentucky."
The communication exercise is in preparation for the much larger Vibrant Response exercise held each August at Camp Atterbury, Indiana. The unit will participate in other exercises prior to the annual event, but the soldiers said the size of this exercise in Florida was invaluable for them and their jobs.
"These exercises are very beneficial for us in this field because our skills are perishable," said Chief Warrant Officer Scott Goode. "We have to maintain our equipment and remain proficient in all the different radio systems and technologies. This is a great tool for keeping the unit sharp and ready to go at all times."
Story and photos by Staff Sgt. Scott Raymond, 133rd Mobile Public Affairs Detachment, Kentucky National Guard
---
DARPA—Spaceplane Work Commences
Three companies have received the nod to outline their visions of DARPA's next-generation spaceplane.
In an era of declining budgets and adversaries' evolving capabilities, quick, affordable and routine access to space is increasingly critical for both national and economic security. Current satellite launch systems, however, require scheduling years in advance for a handful of available slots. Launches often cost hundreds of millions of dollars each, in large part to the massive amounts of dedicated infrastructure and personnel required.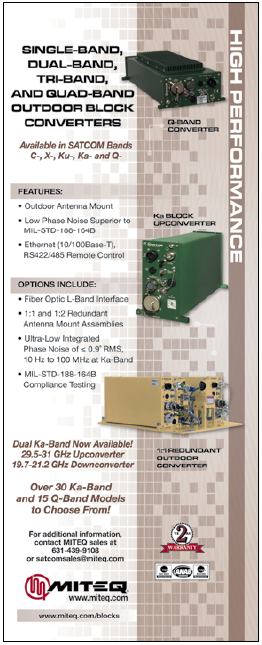 DARPA created its Experimental Spaceplane (XS-1) program to help overcome these challenges and create a new paradigm for more routine, responsive and affordable space operations. In an important step toward that goal, DARPA has awarded prime contracts for Phase 1 of XS-1 to three companies:
• The Boeing Company (working with Blue Origin, LLC)
• Masten Space Systems (working with XCOR Aerospace)
• Northrop Grumman Corporation (working with Virgin Galactic)
The XS-1 program aims to develop a fully-reusable unmanned vehicle that would provide aircraft-like access to space and deploy small satellites to orbit using expendable upper stages. XS-1 seeks to deploy small satellites faster and more affordably, and develop technology for next-generation hypersonic vehicles.
XS-1 envisions that a reusable first stage would fly to hypersonic speeds at a suborbital altitude. At that point, one or more expendable upper stages would separate and deploy a satellite into Low Earth Orbit (LEO). The reusable first stage would then return to earth, land and be prepared for the next flight. Modular components, durable thermal protection systems and automatic launch, flight and recovery systems should significantly reduce logistical needs, enabling rapid turnaround between flights.
Key XS-1 technical goals include flying 10 times in 10 days, flying to Mach 10+ at least once and launching a representative small payload to orbit. The program also seeks to reduce the cost of access to space for 3,000- to 5,000-pound payloads to less than $5 million per flight.
DARPA expects the performers to explore alternative technical approaches from the perspectives of feasibility, performance, system design and development cost and operational cost. They must also assess potential suitability for near-term transition opportunities to military, civil and commercial users.
These opportunities include both launching small payloads per the program goals as well as others, such as supporting future hypersonic testing and a future space access aircraft.
---
U.S.A.F. + Blue Canyon Technologies—It's All About A Cubesat's Attitude
A new attitude system developed by the U.S. Air Force and a small business offers improved capabilities for small space research satellites.

The all-in-one unit provides satellite control and orientation capability and is ultimately expected to result in a low-cost platform for missions and rapid launches. The eXact Attitude Control Technology (XACT) is an attitude determination and control system (ADCS), which was developed with funding from the Air Force Small Business Innovation Research (SBIR) program.
With this critical funding, Blue Canyon Technologies (BCT), a small business in Boulder, Colorado, delivered the new system to the Air Force Research Laboratory (AFRL) this year.
The technology has already been integrated into a number of new missions by a wide range of organizations, including Raytheon's SeeMe program, which uses small satellites to give soldiers a birds-eye view of the battlefield, and NASA's INSPIRE student internship program. AFRL is also using the system on upcoming CubeSat missions this fall as part of a university research program mission and on a NASA mission in 2015.
"The key to this product's success has been the timing in creating something that fit the current needs of the market," said George Stafford, BCT's president. "BCT has been fortunate to have the opportunity to work with the Air Force SBIR program at AFRL. This partnership has provided invaluable support for our company as we have developed this new type of spacecraft attitude control system for CubeSats. Our successful transition from start-up to thriving small business has been in large part due to the opportunity that the SBIR program has provided. We believe that our products our now filling an important need for the Air Force and will hopefully lead to many successful CubeSat missions."
During a SBIR solicitation, the Air Force requested an innovative means for providing an all-in-one, packaged ADCS for miniaturized space research satellites, or CubeSats, to meet research and development experiment-pointing requirements
CubeSat units, 10x10x10 cm cubes, are quickly becoming an ideal platform for hosting a number of new mission applications. However, currently CubeSats have limited three-axis stabilization and do not provide adequate maneuverability, or pointing, to meet mission requirements. As a result, programs that could use CubeSats to conduct their mission are forced to acquire rides or purchase larger satellites, which provide better pointing accuracy. Therefore, the Air Force wanted to develop a ADCS capability for the CubeSats that met the goal of a 0.2 degree pointing ability while offering a low-cost platform for new missions and more rapid launch opportunities.
"XACT is a relative inexpensive when compared to the cost for larger satellites," said Capt. Tae Kim, the AFRL engineer who managed the program. "It is easier to find launch opportunities for CubeSats than larger satellites due to their small size and weight; they can piggyback on existing launches."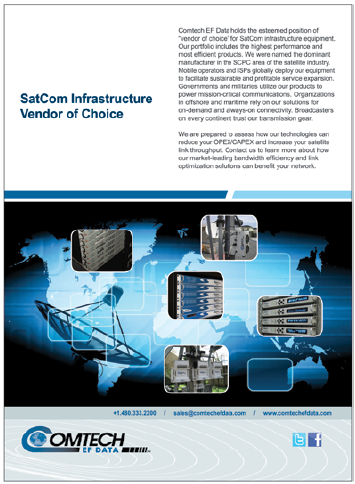 BCT's objective was to provide a prototype XACT that was half the size of CubeSat unit, which would provide 0.2 degree or better pointing accuracy for a three-unit CubeSat, with a maximum weight of eight kilograms.
The resulting XACT system is a reliable CubeSat ADCS that is compatible with the current miniature satellites for a variety of mission configurations. The XACT's highly integrated architecture leverages a powerful processing core with BCT's micro-Star tracker and micro-Reaction Wheel technologies to enable a new generation of miniaturized spacecraft. XACT features a three-axis stellar attitude determination in a micro-package.
Built-in flexible commands allow for multiple pointing reference frames, including local vertical local horizontal, earth-fixed, inertial and solar. The system sensors include the star tracker, an inertial measurement unit, a sun sensor, a magnetometer and an optional GPS unit.
Software is also available to support simulation, system integration and customization of ADCS functionality.

This Air Force SBIR project resulted in the development of a line of products by BCT that are in demand in the small satellite spacecraft market. BCT has leveraged this demand into revenue growth over $750,000 in 2013. The company expects continued growth over the next two years, projecting $2.5 million in 2014 alone, which will allow the company to increase their staff and expand their facilities.
The Air Force's SBIR program was established by Congress in 1982 to fund research and development through small businesses of 500 or fewer employees. It focuses on projects with the potential to develop into a
product for defense or commercial markets.
Congress also established the Small Business Technology Transfer (STTR) Program in 1992. It is similar in structure to SBIR and funds cooperative research and development projects with small businesses in partnership with not-for profit research institutions (such as universities) to move research to the marketplace.
For more information about these programs, please visit http://www.afsbirsttr.com/.
The infosite for Blue Canyon Technologies is available at http://bluecanyontech.com/
---
Joint Enabling Capabilities Command—In Support Of Chemical Weapon Elimination
Two members of the Joint Enabling Capabilities Command's Joint Communications Support Element (JCSE) are currently deployed aboard the MV Cape Ray to participate in the Department of Defense's operation to support the elimination of Syria's chemical weapons.
Specifically, the JCSE personnel are providing command, control, communications, and computer capabilities throughout the duration of the mission, which is part of an international disarmament effort led by the United Nations and the Organization for the Prohibition of Chemical Weapons.
The MV Cape Ray, a National Defense Reserve Fleet vessel owned by the Department of Transportation's Maritime Administration, was recently equipped with two Field Deployable Hydrolysis Systems (FDHS) which can neutralize bulk amounts of known chemical warfare agents, such as mustard gas, into compounds not usable as weapons.
Upon arriving at the port of Gioia Tauro in southern Italy; the MV Cape Ray will load about 700 metric tons of Syria's chemical warfare agents on board and then head into international waters, where the materials will be neutralized by the FDHS. The process will create about 1.5 million gallons of waste which will be housed in containers aboard the MV Cape Ray until operations are complete, at which point they will be transported to a commercial waste treatment facility for disposal.
While JCSE's communications are prioritized for mission command and control functions first, their capabilities are available to anyone aboard the MV Cape Ray with a mission requirement.
JCSE maintains three active-duty squadrons and one U.S. Army Reserve squadron (1st, 2nd, 3rd and 4th Joint Communications Squadrons (JCS), respectively) and two Air National Guard units (224th and 290th Joint Communications Support Squadrons) which provide rapidly deployable, mission-tailored communications capabilities worldwide.
"JCSE brings full spectrum, high bandwidth communications in a small footprint," explained U.S. Air Force Lt. Col. Chance Geray, the 1JCS Commander, whose squadron is participating in this mission. "For the Cape Ray, our support includes secure and unclassified data, voice, radio and video teleconferencing capabilities enabling globally integrated mission command using joint, coalition and civil communications networks."
Specifically, JCSE is employing a maritime communications package called the Shipboard Carry-on Satellite System-Joint, or SCOSS-J. This is a mobile system designed to provide on-the-move shipboard connectivity independent of shipboard systems and U.S. Navy networks. Specifically, the SCOSS-J is an antenna that augments one of JCSE's most heavily deployed communications packages—the Initial Entry Package—for maritime environments. The SCOSS-J is capable of providing continuous coverage and connectivity with the Department of Defense Wideband Global Satellite System as well as commercial satellite communications systems.
"Ships have limited bandwidth and often provide less than 1MB of shared throughput; or the rate of data delivered successfully," said Geray. "The SCOSS-J is a high bandwidth antenna system designed for high bandwidth maritime communications without interfering with or being interrupted by, other shipboard electronic or radio frequency systems."
Before deploying for any mission, JCSE personnel complete a total communicator training program which familiarizes members with data, voice, radio and satellite communications on multiple networks. Each member is also trained to operate and maintain all aspects of the employed communications equipment which enables them to operate as a team or individually, if required. However, JCSE worked closely with mission partners as the Cape Ray was outfitted for this mission and conducted final sea trials, to identify any distinct requirements.
"Since each operation is different, we try to prepare for unique mission requirements as much as possible," said Geray. "For the Cape Ray, this included advanced coordination for their coalition network requirements, extra all weather demands, shipboard safety training and most importantly, additional nuclear, biological and chemical training."
The JCSE communicators will be fully employed throughout each phase of this operation as they provide mission-tailored communications expertise to this significant international effort.
Story by Whitney Katz, Joint Enabling Capabilities Command