The disconcerting spread of asymmetrical warfare represented by insurgents, terrorists, and drug cartels has forced military forces to change the way they operate—especially when tasked with reconnaissance.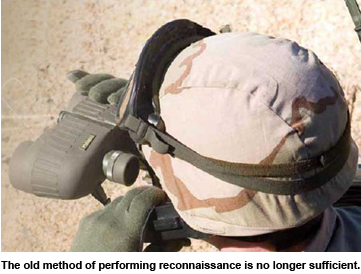 Unlike members of a standing force, unconventional threats rarely wear uniforms or travel in military vehicles. They strike quickly, then blend into the general population, and limit actions that provide a clue to their intent.
As a result, it's no longer enough to monitor an area of interest for suspicious-looking activity, because events that seem harmless can be anything but. A commercial vehicle, for example, must be presumed dangerous—until the occupants and nature of its cargo can be confirmed.
This reality calls for robust and more highly integrated communications and surveillance systems. Military forces must be able to locate and identify threats from longer distances and with greater accuracy, and to sound the alarm for warfighters across the wider battlefield network.
"In the past, recon teams verbally reported their observations of enemy forces or positions," said
Paul Zweers
, director of international operations,
Harris RF Communications
. "But quite often the report was delayed until the team returned to base. Today's systems have to deliver information much more quickly, and in different formats, to keep pace with the tactics of the enemy."
The Harris Tactical Reconnaissance Vehicle
In response to these challenges, Harris Corporation has developed the new Tactical Reconnaissance Vehicle (TRV), an integrated system of tactical communications and ISR technologies. The TRV is part of an expanding family of easily deployable packaged system solutions from Harris designed to address challenging and rapidly changing mission requirements.
The Harris TRV system delivers capabilities for real-time reconnaissance, intelligence dissemination, target acquisition, and video management and storage. The goal is to provide customers with a cost-effective, configurable, and scalable solution that can be used across the breadth of reconnaissance scenarios. These range from nearly static, periodic deployments from permanent bases to fast-moving pursuits to find and acquire highly mobile threats.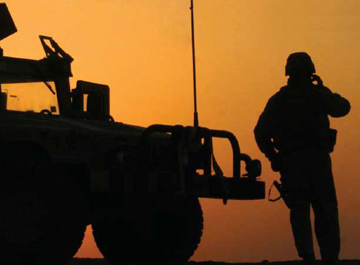 "Our military customers today have an urgent need for affordable and reliable systems that deliver a range of functions and seamless network connectivity,"
Zweers
said. "In designing the Tactical Recon Vehicle, our goal was to deliver integrated capabilities for locating and evaluating an enemy's intentions and collecting and disseminating critical information while minimizing confrontation and casualties. This enhanced knowledge will enable forces to proactively shape the battle space to their advantage."
RSTA, ISR, Border Monitoring, + More
The Tactical Reconnaissance Vehicle uses the strength of
Falcon III
®
communications products integrated with partner video technology. The vehicle can be deployed as a standalone reconnaissance, surveillance, and
target acquisition
(
RSTA
) asset or serve as a command and control node for a range of ISR capabilities.
In RSTA applications, the reconnaissance vehicle can act as a forward scout deployed to detect targets and transmit video of the potential threat back to a command post or intelligence center. The video can be reviewed in real time, and this information can be combined with other available intelligence to determine whether the target is indeed a threat.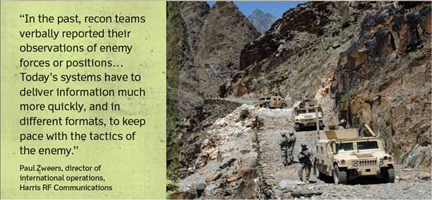 Another potential application: a border monitoring requirement. Unattended ground sensors that cross-cue roving patrols or aircraft might be a good solution for daylight crossings. At night, however, targets are not easily tracked.
In these night-time scenarios, the reconnaissance vehicle is deployed in an over-watch position with its long-range IR camera and unattended ground sensor radios. When the sensors transmit potential trouble reports, the camera is automatically panned to the location, and the operator acquires and tracks the targets. Video is transmitted to Sector HQ, and patrols are directed to intercept the intruders.
Flexible, Expandable Networking Capability
The Tactical Reconnaissance Vehicle provides the capabilities of a mobile long- or short-range scout. It captures day and night video of potential threats while underway or at the halt.
The system also supports command and control operations through voice channels operating over secure wideband radios. The Harris reconnaissance capability is installed and delivered in Force Protection's
Cheetah
armored vehicle, or can be integrated into other customer-supplied military or civilian vehicles.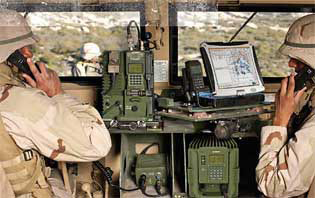 Multiple reconnaissance vehicles can constitute an intelligence unit (e.g., Intel Company) that is assigned or attached to a battalion or brigade, depending on the mission and organization. Alternatively, individual vehicles can support a maneuver company or battalion's reconnaissance capability.
The wideband nature of radios and the long-range video capabilities provide the underlying technology that enables Harris to provide an off-the-shelf reconnaissance vehicle system.
The RF-7800M Multiband Networking Radio is the standard radio used in the reconnaissance vehicle and enables the high-speed flow of real-time battlefield situational awareness across a secure, mobile, ad hoc tactical wireless network. This enhanced flow of operational information and intelligence data from the field, over extreme distances or rugged terrain, facilitates faster, more informed decisions.
Reconnaissance vehicles can be networked together via the RF-7800M, sharing information and video data, and can relay the data back to the
Tactical Operations Center
(
TOC
) when in range of any member of the network. This networking capability is made possible by the use of the Harris Adaptive Networking Wideband Waveform (ANW2) and the seamless integration of the RF-7800M radio and the optional RF-7800B BGAN satellite communications terminal.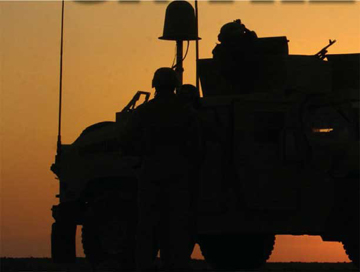 When the RF-7800M network can no longer reach the TOC directly, the system will automatically relay that data through the RF-7800B BGAN terminal to the TOC. This integration provides reach-back capability on a global scale, connecting operators at the tactical edge with commanders at the highest levels. This allows for faster and more informed decision-making, improved mission efficiency, and troop safety.
"As an example scenario, consider a three-vehicle recon team deployed in and around a valley," Zweers said. "One vehicle is on a ridge, one is monitoring approaches to a village, and the third is positioned along a flank. They're all connected by Harris multiband networking radios and relaying videos back to commanders. The TOC now has a real-time view of all the activity occurring across its front. This type of connectivity is a key aspect of all of our packaged systems."