APAC MILSATCOM Channel Partner Program Futhered by Airbus
Airbus has added Planet Communications Asia Public Co., Ltd. (PlanetComm) to the firm's channel partner program for Skynet 5 MILSATCOM services and has also expanded the firm's partnership with Speedcast.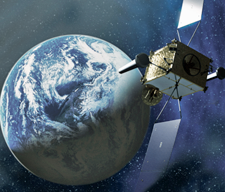 Under this channel partner agreement, both PlanetComm and Speedcast will be offering Skynet X-band and UHF services as part of their extensive satellite communications portfolios.
Speedcast has been delivering tactical secure communications services to the Australian and New Zealand governments since September 2016 and the partnership has now been extended to cover customers in the Philippines.
In addition, on behalf of Airbus, Speedcast manages the Asia anchor station facility for the Skynet 5A military satellite, based at Speedcast's teleport in Adelaide, Australia.
The newly signed partnership with PlanetComm covers Thailand, and expands their product offering into the military market.

PlanetComm is one of the leaders of telecommunications and digital TV technologies in ASEAN (Association of Southeast Asian Nations) region and have over twenty years of experience in delivering resilient communications.
Airbus continues to work with service providers to develop new partnerships to deliver highly resilient Skynet military satellite communication services to the Asia Pacific region, following the move of its Skynet 5A satellite from 6° East to 95° East to provide global X-band and UHF coverage in this region.
Since the move of Skynet 5A in September 2015, Airbus Defence and Space has signed ten channel partner agreements with companies in the Asia Pacific region and in the USA.
The relocation of Skynet 5A was initiated to extend the X-band coverage and services from 178 West to 163 East, including the Indian Ocean and Western Pacific region.
The Skynet network now offers global military coverage, expanding core service reach for the UK military and augmenting coalition capabilities in the region.
Airbus owns and operates the hardened Skynet X-band satellite constellation of seven satellites and the ground network to provide all Beyond Line of Sight (BLOS) communications to the UK Ministry of Defence.
The contract also allows other NATO and allied governments such as members of the five-eyes community (besides UK, the USA, Australia, New Zealand and Canada) to use the Skynet system to augment their existing services.
Military and governmental users worldwide benefit from the unique expertise developed by Airbus in the field of satellite communications.

In addition to covering the complete range of frequency bands (L-, C-, Ku-, Ka-, X- and UHF), the company provides military satellite communications to some of the most high-tech armed forces in the world.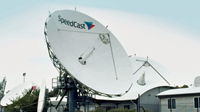 Richard Franklin, Head of Secure Communications at Airbus Defence and Space, noted that this is a really positive step to further increase the company's relationship with SpeedCast and also PlanetComm within countries that can really benefit from the unique capabilities of the Skynet fleet.
According to Trevor Thompson, President and CTO, PlanetComm, since the relocation of Skynet 5 to 95 ° East, which is ideally suited for Thailand and Southeast Asia in achieving high Earth station look angles, the company has been actively promoting Skynet-5's X-Band and UHF MILSATCOM services to the Thai Defence Forces and Government agencies.
Andrew Burdall, EVP, Enterprise and Emerging Markets, Speedcast, added that this extension is a testament to the hard work and dedication the Speedcast and Airbus teams have dedicated into creating this trusted partnership.
airbus.com
---
US Military Provides Outreach Efforts to Rural Alaskan Communities
More than 30 service members from the Alaska National Guard and United States Military Entrance Processing Command teamed up to provide community outreach efforts and to interact with the community of Galena, Alaska, late last month.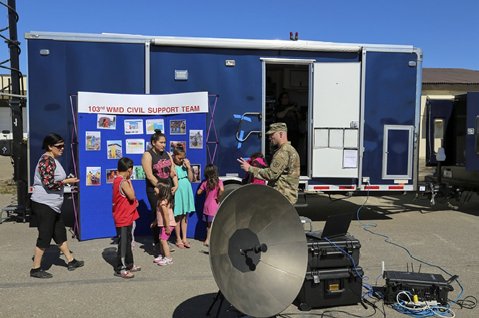 The Guardsmen arrived via a C-17 Globemaster III aircraft crewed by the Alaska Air National Guard's 249th Airlift Squadron loaded with supplies ranging from the AKNG's Counterdrug Support Program's drug and alcohol education and prevention materials to the 103rd Civil Support Team's operations truck and trailer.
"Conducting the airlift mission with the CST team served as an annual training requirement," said 1st Lt. Jamie Bowden, a medical operations officer with the 103rd CST, referring to the truck and trailer that was securely strapped inside the aircraft while being transported. "Our mission in Galena was in support of the Alaska National Guard's joint staff in order to demonstrate Weapons of Mass Destruction-Civil Support Team airlift operations, provide a capabilities brief to the emergency responders and community members, and demonstrate our communication capabilities in the state."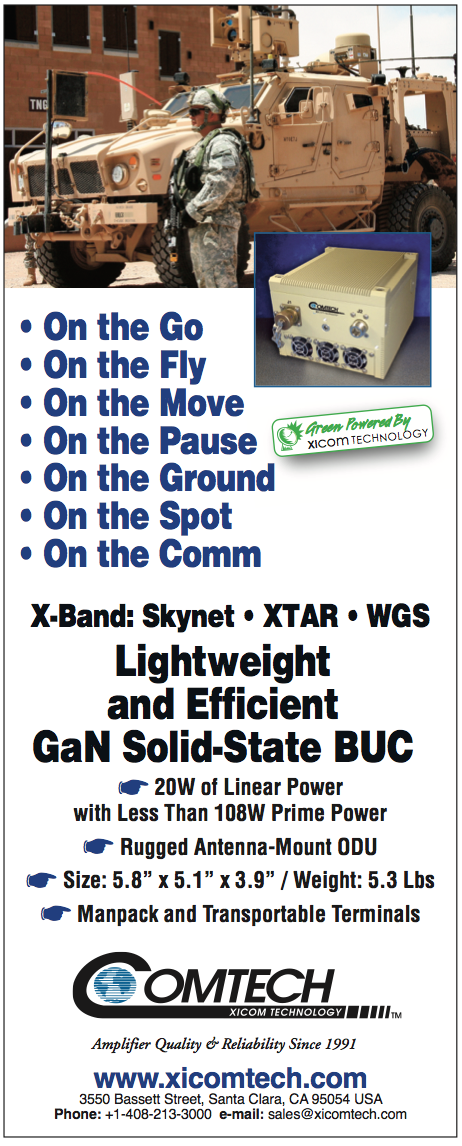 In addition to demonstrating efficient transportation capabilities to a remote location in the state, the CST members tested communication capabilities from high latitude satellite angles with a dismounted strike communications system, and answered local residents' questions as they weaved their way through the CST displays.
(Photo above) Alaska Guard Sgt. 1st Class Nicholas Dutton, communications chief for the 103rd Civil Support Team (Weapons of Mass Destruction), briefed local residents on CST capabilities including the satellite in the dismounted strike kit at the Edward G. Pitka Sr. Airport in Galena, Alaska.
Next to the CST display, CDSP Guardsmen disseminated Narcan and drug disposal kits, and other education and prevention materials to local residents. Across the runway, the C-17 crew opened their doors and gave tours of the massive, four-engine transport aircraft.
Two-miles down the road, Guardsmen from the Alaska Army National Guard's Recruiting and Retention Battalion walked service members from USMEPCOM through Galena's store, school and health clinic to help them get a better understanding of some of the difficulties rural recruits have when enlisting into the military.
"The visit allowed them to see first-hand the process that we have to go through to bring someone in from a rural area," said Sgt. 1st Class Jason Ekeland, a recruiter in charge of the Yukon-Koyukuk Region. "I don't think they sometimes understand the massiveness of Alaska. We can point to a map and say 'there is Nome,' but they have no idea how far or the lengths it takes to get to Anchorage."
Ekeland said that it is important to have leadership from military entrance processing in rural Alaska to listen to the difficulties that recruits face and ensure that they are legally and successfully contracted.
Service members from the USMEPCOM also received a brief history of the Alaska Scouts and the new pilot-program that authorizes waivers to Alaska Natives who might be trying to join the Guard but face barriers to qualifications.
"We are hoping to bring more service members from MEPS to other rural locations in the future," explained Ekeland. "We have ideas and are hoping to find resources and funding to make it happen."
Story by Staff Sgt. Balinda O'Neal Dresel, Alaska National Guard Public Affairs
---
MILSATCOM Equipment Maintained In Complex Environment
The 67th Expeditionary Signal Battalion, 35th Theater Tactical Signal Brigade is a key component in providing communications services deployed in support of U.S. Central Command's operations Spartan Shield, Inherent Resolve and Resolute Support, at Camp Arifjan, Kuwait.
Upon arrival to Camp Buehring, the Soldiers of the 67th Electronic Maintenance Team identified a damaged AN/TSC-185 Satellite Transportable Terminal (STT), which occurred while in transit from, the unit's home station, Fort Gordon, Georgia. The 67th EMT quickly developed an out-of-the-box strategy to repair the system.
The 67th EMT engaged with the Theater Aviation Maintenance Group (TAMG) at Camp Arifjan to fabricate a new feed tray to bring the system back online. Although out of their mission scope, the TAMG produced the new tray in less than two weeks.
"The repair would not have been possible, if it wasn't for the assistance provided by the 1106TH [Theater Aviation Sustainment Maintenance Group]. We feel extremely fortunate to have befriended a team with the skillset to fabricate a one-off piece, which is not available through the Army Supply System. It is evident that talent abounds in the Army. This experience is truly an example of teamwork at its finest," said Sgt. 1st Class Reginald Cox.
Using resources from the Battalion Ground Maintenance Team and the Field Maintenance Support Section on Camp Buehring, the ingenuity and technical competence of the 67th EMT procured the additional materials to repair the STT's antenna boom; well beyond the scope of battalion level repair, the EMT labored to replace each rivet to ensure full functionality of the system. After several days of trial and error, the team was able to repair all components. The operational team validated the system and deemed it mission capable.
Despite a seemingly insurmountable challenge, the 67th ESB, EMT repaired a critical system. The team leveraged the sustainment infrastructure within Kuwait to create the conditions necessary to meet the operational demand challenges while in theater.
Their efforts saved the U.S. government over $72k in repair costs and materials returning the system to the inventory in less than four weeks.
The EMT of the 67th ESB truly embraces expeditionary readiness.
The 35th TTSB is one team of proud and trusted professionals delivering responsive, reliable, and operationally relevant network capabilities to our fellow warfighters "on time and on target", regardless of location or mission.
Story by 35th Signal Brigade.
---
German Troops Receive Free connectivity
Airbus is now providing German troops with support communications at 15 sites worldwide.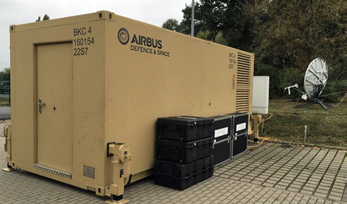 With Airbus' recent support, communications to and from German Armed Forces (Bundeswehr) troops are now supplied with "Connect-D" telephone, Internet and media services to a total of 15 deployed Bundeswehr units around the world, including Mali, Iraq, Djibouti, Afghanistan, Kosovo, Cyprus and Lithuania.
The launch of Connect-D at the Lithuanian bases of Rukla and Pabrade was performed as part of a framework contract awarded by the Bundeswehr in 2015.
This framework contract ensures that soldiers have free connectivity during operations and exercises outside Germany to stay in contact with family and friends.
Mobile systems will also be made available for smaller contingents and observer missions.
Stefan Gramolla, Head of Delivery Germany for Secure Communications at Airbus Defence and Space, said Connect-D provides an important service to deployed Bundeswehr soldiers.
The service allows them to make telephone calls, surf the Internet or make video calls free of charge using their own devices.
The service is available in accommodation areas, at support facilities and Internet cafés during exercises and operations outside Germany .
Airbus has been providing Bundeswehr troops with support communications since July 2011. A service launched especially for naval units in 2015 enabled personal calls while out at sea. In addition to telephone services, Internet services are available when docked in ports.
airbus.com/
---
The Future of MILSATCOM Arrives For USAF Air Control Squadron
The 726th Air Control Squadron, Mountain Home AFB, Idaho, received its first major Control and Reporting Center weapons system upgrade in 20 years here in May of this year as well as a new small satellite communications system.
The TYQ-23A Control and Reporting Center system replaces older and bulkier 1980s style operations modules, allowing command and control operators to control a section of air space and do battle management when called upon.
"A couple of the benefits include reducing our logistical footprint where, before with the 4OM modules that weigh up to 14,000lbs, we were limited on how we can transport them out or how fast they can go," said Lt. Col. Sean Higgins, 726th ACS commander. "With the new system, they come as desktop computers inside of pelican cases (or short mobile cases) that can be folded up, packed and sent to the field very quickly. It also reduces the size of the support equipment and trucks that we need to get from point A to point B."
The system has been under development for five years, contracted for four and scheduled to be delivered to the 726th for the past two years.
With Marine and other Air Force units already using similar systems, the new equipment bringvs the 726th to the same functionality as the others using this system. It is also familiarizes Hard Rockers with the set up that is already being used in deployed locations.
"Now I don't spend as much time teaching my crew members how to use very specific switch actions," said Higgins. "Basically, if they can use a mouse and a keyboard they can use the console itself. Now they can concentrate on doing battle management versus being very specific on switch actions. They can focus on what's important to them."
The new weapons system isn't the only improvement being made; additionally the 726th is training with another piece of technology that can make operations more efficient.
The small communications package is an inflatable satellite that was developed in support of special operations, giving them the mobile capability to be used by small teams while still being able to be used for long periods of time.
"The GATR (Ground Antenna Transmit and Receive) ball system we have is a 2.4 meter dish. What it does is it takes the place of our small aperture antenna, which is also a 2.4 meter dish but this one makes it a lot simpler," said Senior Airman Jeffrey Shields, radio frequency transmissions systems technician. "We get the same type of receiving power, but with this system we can go from the case to the satellite in 36 minutes because the inflation system makes it a lot quicker compared to the small aperture antenna, which takes from four to six hours."
As the first ACS that is getting access to test the small communications package, the 726th will be testing it throughout the summer and later in the year for the Gunfighter Flag exercise.
"This particular small communications package gives us the capability of having that long haul ability without using combat communications," said Higgins. "What we're seeing so far is that it is probably going to work for us. So now we're less reliant on other agencies and can do most of the job ourselves."
Story by Airman 1st Class Jeremy Wolff, 366th Fighter Wing, USAF
---
Aerojet Rocketdyne Propulsion Behind the XS-1
Aerojet Rocketdyne, a subsidiary of Aerojet Rocketdyne Holdings, Inc. has been selected to provide the main propulsion for the Boeing and the US Defense Advanced Research Projects Agency (DARPA) reusable Experimental Spaceplane (XS-1).
Aerojet Rocketdyne is a member of the Boeing team that recently announced an agreement to collaborate with DARPA to design, build and test a technology demonstrator for the agency's XS-1 program.
The reusable experimental spaceplane is designed to deliver small satellites into orbit with high launch responsiveness. The main propulsion is based on the legacy space shuttle main engines (SSME).
For the XS-1 program, Aerojet Rocketdyne is providing two engines with legacy shuttle flight experience to demonstrate reusability, a wide operating range and rapid turnarounds. These engines will be designated as AR-22 engines and will be assembled from parts that remained in both Aerojet Rocketdyne and NASA inventories from early versions of the SSME engines. Assembly and ground testing will take place at NASA's Stennis Space Center in Mississippi.
According to Aerojet Rocketdyne CEO and President Eileen Drake, as one of the world's most reliable rocket engines, the SSME is a smart choice to power the XS-1 launch vehicle. This engine has a demonstrated track record of solid performance and proven reusability. As threats to our nation's space systems increase, it is imperative that the ability to rapidly deploy replacement assets is available. This demonstration program is vitally important to maintaining assured access to space, which remains a top priority for this nation.
www.rocket.com
www.aerojetrocketdyne.com
www.boeing.com
www.darpa.mil
---