Occassionally, one cannot see the forest for the trees... technology advances for MILSATCOM occur on a daily basis, and keeping abreast of such information is becoming more and more difficult. However, there can be no excuses... the very viability of a company could rest on the next advancement, and if it remains outside the realm of cognizance, opportunities may well be missed.
Leonardo da Vinci is credited to having said, "Learning never exhausts the mind." Therein lies the force behind attendance at industry trade exhibitions. One usually learns much from attending these events, and one of the leading, upcoming trade shows happens to occur in London from November 29th through December 1st at the Millennium Conference Center.
Global Milsatcom 2011 — the largest MILSATCOM event in Europe — enables attendees to engage in critical thought and analysis with a broad range of international experts form within the SATCOM and related industries. For example, just "signing on" as a speaker is Colonel Mario Arancibia of the Chilean Air Force. He will be focusing on the importance of satellite communications for his command.
Global Milsatcom offers delegates a broad range of international military speakers. Attendees will be able to network with the key European and NATO players and will have the opportunity to learn from these knowledgeable experts. Speakers from South Africa, USA, UAE, Canada and the South American region have committed to Global Milsatcom.
Additionally, information from the key international countries that lead the way in Military Satellite Communications will be present.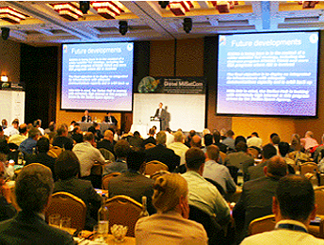 When considering the influx of delegates from across the globe, the opportunity presents itself to learn a great deal from one's colleagues in this two-day special event. There will be dedicated Q&A sessions during the conference wherein questions may be asked of those who are knowledgeable in their specific subject fields — all adding to the learning process. Subjects will cover a variety of issues, ranging from national MILSATCOM requirements to cyber security threats and more.
Here is a brief sample of the sessions that will be available on Day 1 of the conference:
– Current BLOS requirements
– Managing capabilities on the ground
– Development of new technologies and bringing them into service
– Prioritizing air time within the user community and apportioning UHF channels
– Optimizing available and planned MILSATCOM capabilities within the PFI concession period
– BLOS program overview
– Enabling cloud services over satellite access
– Trends in requirements for small, lightweight, S-, X-,Ku- and Ka-band tactical portable and SOTM terminals
– Interoperability
– Strategic, tactical and social SATCOM
– ETISC: Scouting common requirements for tactical interim SATCOM options at the European level
– What's different about Military Ka-band and how best to use it
– Challenges facing the U.S. Government in acquiring space capabilities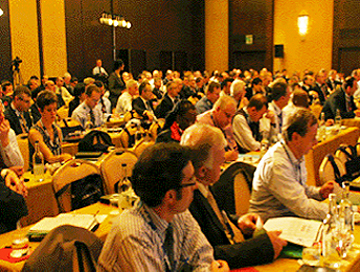 These subjects barely scratch the surface of the available sessions, with
full details at this link
. Additionally, there are numerous executive briefings available — informational and preregistration for each briefing may be accomplished a
at this link
. Plus,
Masterclasses
will offer in-depth information dealing with Continuing Airworthiness, Cloud Computing and Offset Program Development.
The list of sponsors is most impressive for Global Milsatcom 2011 —
visit this web page
to learn who is working with SMi Conferences in the development of this conference. Additionally, SMi has prepared an infopage that deals specifically with the accommodations that are available for the show —
use this link to learn more
.
There is also a special associated event: Why Ka? Understanding the benefits and shortcomings of Ka-Band Mobile Satellite Systems, which will be led by Cobham on November 28th at the Millennium Gloucester Hotel, London.
Info here
.
This year's conference is finding registrations rapidly exhausting available space for attendance — such happened last year and there were many who were disappointed that they were unable to attend this important event. The information and registration page is locate directly
at this link
.