---
Virgin Orbit Selected By Brazilian Space Agency + Air Force For Orbital Launches
The Brazilian Space Agency (Agência Espacial Brasileira; AEB) and Brazilian Air Force (Força Aérea Brasileira, FAB) announced that Virgin Orbit has been selected to bring orbital launch capability to Brazil, a country which has never successfully completed a domestic launch to orbit.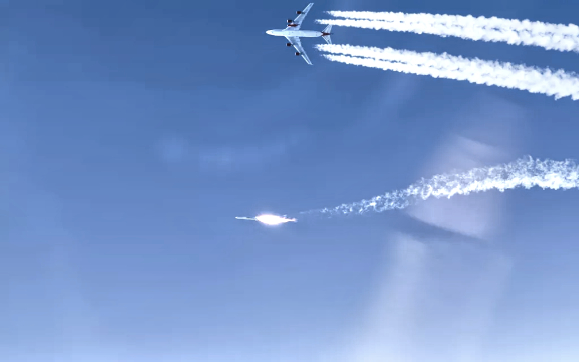 Thanks to the unique mobility and small footprint of Virgin Orbit's air-launched system architecture, launches to a wide range of orbital inclinations could quickly become possible without the need for new permanent infrastructure, nor the expansion of existing facilities.
Launches would occur from the Alcântara Launch Center (Centro de Lançamento de Alcântara, CLA) on Brazil's northern coast, located just two degrees south of the equator. Virgin Orbit's LauncherOne system, which uses a customized 747 aircraft as its flying launch pad and fully reusable first stage, could conduct launches from the existing airbase at the site, flying hundreds of miles before releasing the rocket directly above the equator or at other locations optimized for each individual mission. The approach enables Alcântara to become one of the only continental spaceports in the world capable of reaching any orbital inclination.
Since construction of the facility began in 1982, Alcântara has hosted dozens of launches of uncrewed, suborbital sounding rockets — but the facility has not yet been used to reach orbit.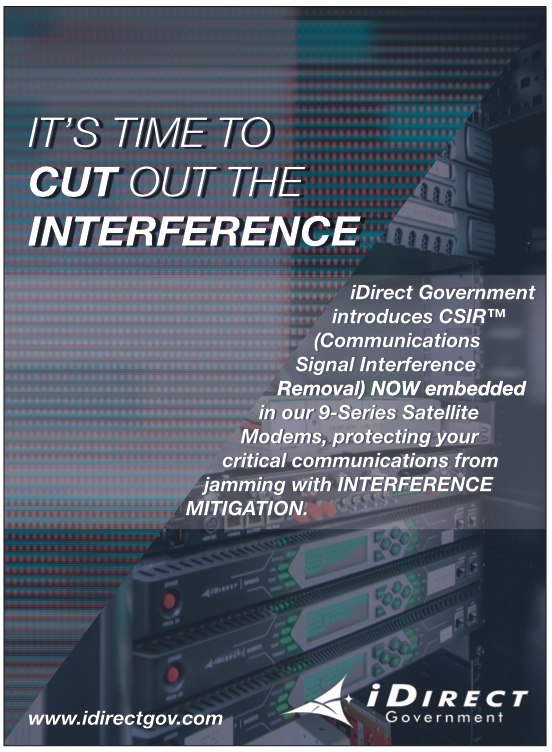 By bringing that long-sought capability to Alcântara, Virgin Orbit, AEB, and FAB will create an important new capability for the region while delivering on the promised economic value of the site for the local quilombo communities.
All of the equipment required for Virgin Orbit to conduct a launch to orbit is fully transportable, from the ground vehicles that prepare the rocket for flight to the rocket and aircraft itself — meaning that the team can securely transport the entire system in, conduct a launch campaign, and return to one of the company's other facilities without requiring any further construction beyond the airbase.
LauncherOne's first flight from the facility would transform Alcântara into the second orbital-class spaceport in all of South America, and only the fifth in the entire Southern Hemisphere.

Since the start of his term, the President of AEB, Carlos Moura, has stated that making the Alcântara Launch Center a reference for space activities in Brazil and in the world is at the center of the priorities of the Brazilian space program. "Alcântara is one of the most ideal places in the world for launching rockets. It is close to the equator, which increases the launcher's payload capacity, and allows a wide range of azimuths for launches, with access to all orbits. When we put the Center into operation, we will overcome a historic challenge for the program, which means a commitment to Brazil and the world community towards ever greater achievements for humanity."
"The people of Brazil have been patiently and diligently working towards orbital launch for many years now, and it will be a tremendous honor to help make that vision a domestic reality," said Dan Hart, the CEO of Virgin Orbit. "Space launch will bring a key capability to the nation and to the space community, while helping address the long-standing needs of the local community. There's really no better place on the planet than Alcântara for an equatorial launch site. And with hundreds of miles of cross range on our flying launch pad, the potential is boundless. We're eager to work with our colleagues at AEB and FAB to bring this vital new capability to Alcântara."
---
Hughes + OneWeb Receive AFRL Award To Demo Arctic LEO SATCOM TacComms Services

Hughes Network Systems, LLC (HUGHES) and OneWeb have been selected by the U.S. Air Force Research Lab (AFRL) to demonstrate managed LEO SATCOM services to connect the Arctic region to sites around the globe. Hughes is to provide systems integration expertise and to demonstrated managed LEO SATCOM services for tactical communications.
Under the agreement, Hughes will test and implement these end-to-end services on the OneWeb system between selected U.S. Northern Command (NORTHCOM) locations, a first step in harnessing the power of LEO satellites for high-speed, low-latency broadband access in the Arctic.
"This opportunity reinforces the relationship between Hughes and the U.S. Air Force to ensure resilient, flexible SATCOM networks for tactical, multi-domain operations," said Rick Lober, vice president and general manager of the Defense and Intelligence Systems Division at Hughes. "We look forward to partnering with OneWeb to bring LEO innovation into the military SATCOM enterprise, especially in the strategic Arctic region where connectivity has been limited—until now."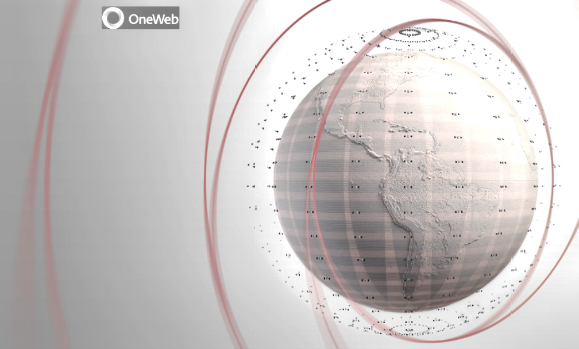 The OneWeb gateway (image above) in Svalbard, Norway, capable of 10,000 hand-offs per second, is one of the gateways developed by Hughes that will orchestrate handover and tracking of gigabits of data for NORTHCOM. Photo is courtesy of OneWeb/Kongsberg Satellite Services (KSAT).
"The OneWeb constellation has been designed to enable low-latency broadband access across the globe, allowing connectivity in previously unreached areas—a capability that is ideal for tactical, multidomain operations in the Polar region and beyond," said Dylan Browne, Head of Government Services with OneWeb. "Working together with Hughes, we will bridge the gap in connectivity for NORTHCOM with an interoperable and secure solution."
As the prime contractor on the project, Hughes will lead adaptation, integration, testing and ongoing management of this service demonstration with OneWeb and Intellian, who are developing user terminals for use on the OneWeb network.

Designed for ease of installation, the new Intellian terminals will use next-generation technology to provide a cost-effective system to access the low-latency, high bandwidth connectivity offered by OneWeb. (Intellian won a US$73 million contract with OneWeb in March of this year to develop and supply affordable compact user terminals. These easily-installed antennas will use nextgeneration technology to provide high bandwidth, low latency connectivity to OneWeb's global satellite service, delivering to multiple markets including enterprise and government services.)
Under a separate agreement with OneWeb, Hughes is engineering and producing the gateway equipment and user terminal core module, making the company a logical choice for enabling high-speed, low-latency services above the 50th parallel North, an area that has been difficult to connect with other types of satellite services.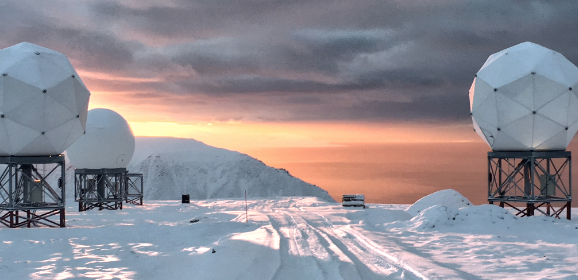 The DoD contract is part of the U.S. Air Force's Defense Experimentation Using the Commercial Space Internet (DEUCSI) program.
OneWeb's network was designed for global coverage and is uniquely capable in its ability to deliver muchneeded connectivity services to the Arctic. With 182 satellites launched to date and regular 2021 launches planned and on-track, OneWeb will be able to deliver coverage to the 50th parallel North and above by the end of 2021, bridging a long-standing connectivity gap and building secure communications capability in an underserved region.
---
Loft Orbital Contracted By AFWERX and USSF / SMC For NextGen Onboard Edge Processor
Loft Orbital has been awarded a Phase II Small Business Innovation Research (SBIR) contract by AFWERX and sponsored by the U.S. Space Force (USSF) Space and Missile Systems Center's (SMC) Portfolio Architect office.

The contract will provide funding to support Loft Orbital's development of a high-performance, reprogrammable onboard edge computing environment and associated applications. This will address a major government and commercial operator need for large constellations of satellites to execute autonomous decision-making and mission tasks.
Under this contract, Loft Orbital will develop its nextgeneration onboard processor to support customer and third party "massless payloads" onboard.
This onboard processor will function as a "brain" on Loft Orbital spacecraft, providing an environment to host applications for sensor data processing, mission autonomy, satellite self-protection, or any other application requiring advanced computing at the edge.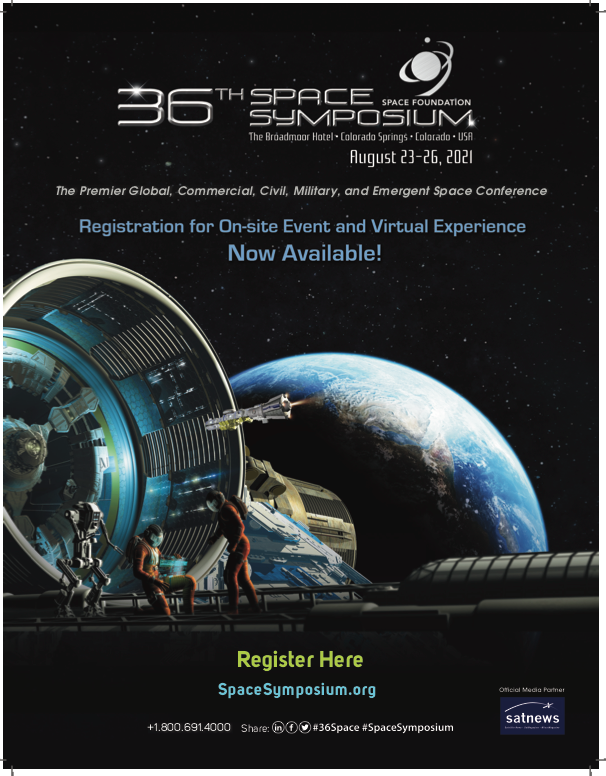 Other potential applications of the edge processor include payload and telemetry data processing, as well as the ingestion of other space assets' data through intersatellite links.
This space edge processor allows individual satellites to act as computing nodes within a mesh-connected network of other satellites, ground stations, and cloud datacenters, yet capable of advanced processing in isolation in denied or congested communications environments.
In addition, Loft will develop a machine learning software package to autonomously detect, identify and mitigate cyber threats onboard the spacecraft, an important capability for government missions.
Loft Orbital was previously awarded an AFWERX SBIR Phase I contract. In combination with private capital investment, this SBIR Phase II award will allow Loft Orbital to enhance this processor based on USSF feedback from Phase I.
Loft Orbital is targeting a future mission as the first flight of this second-generation processor, with the goal of making it as a standard offering for US Government satellite programs.
"There is an unprecedented convergence occurring between commercial and government space infrastructure. Capabilities, threats, and vulnerabilities are now increasingly shared between these communities," said Andrew Berg, Loft Orbital's VP of Business Development. "We're pleased that SMC is placing its confidence in Loft Orbital to advance its innovative onboard processing architecture. This commercially-derived enhanced capability will offer a leap ahead in the pursuit of seamless Joint All- Domain Command and Control in support of national security space objectives, and we are excited to be selected as a partner to SMC in defining that way ahead."
---
DoD Combatant Command Issues Award To SES Government Services For GEO SATCOM
SES Government Solutions (SES GS), a wholly-owned subsidiary of SES, has been awarded a new $35 million GEO satellite communications program contract in support of a major Department of Defense (DoD) combatant command.

To provide reachback capabilities from forward-stationed units in remote locations to Europe, the solution includes a VSAT network that has the performance to support emerging mission needs and is capable of handling smaller, sub-meter, antennas.
The VSAT network provides more than 100 Mbps of throughput using multiple access methods, from time division multiple access (TDMA) that is shared sequentially and frequency division multiple access (FDMA) allowing simultaneous transmission, to various types of remote deployments and end-users.
The satellite service provides expansive coverage of countries from Turkey to Pakistan, with reachback to Europe, enabling collaborative tools and enhanced situational awareness in a distributed way.
"We are proud to provide satellite communications support for this critical combatant command mission," said President and CEO of SES Government Solutions, Brigadier General Pete Hoene, USAF (retired). "This new program allows personnel to reach out to the tactical edge for fast and dependable real-time data and represents a further extension of our current mission support to warfighters using both GEO and MEO satellite communications capabilities."
---
U.S. Space Force Unveils Their 'Vision For A Digital Service'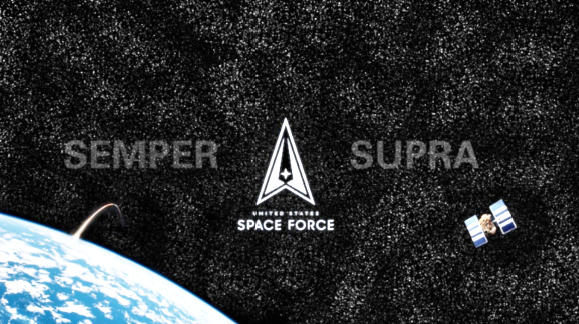 Building on formal guidance issued last fall by the Chief of Space Operations to "Create a Digital Service to Accelerate Innovation," a new document outlining U.S. Space Force's "Vision for a Digital Service" has just been released. The Vision provides a clear description of what it means to be a "Digital Service" and outlines the four areas of focus essential to making this vision a reality.
Acknowledging that space is the only physical domain without humans in place to conduct military operations, the digital vision document states "everything our operators experience is derived through data received from space and our ability to rapidly analyze that data to our advantage."
The document goes on to describe how the characteristics of the space operating environment and the growing threat presented by near-peer competitors generate an imperative to undergo large-scale cultural and technical transformation.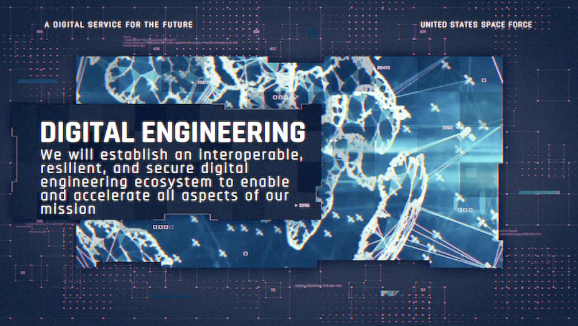 "The establishment of the United States Space Force gave us a generational opportunity to create a Service purpose-built for a contested space domain," said Chief of Space Operations Gen. John W. "Jay" Raymond. "Moreover, we are in a unique position because of the global, data-driven nature of our mission to harness data and analytics across the enterprise and serve as a change agent for the entire Department of Defense."
The Vision for a Digital Service is founded on three key tenets that provide a pathway to a faster, more innovative, and agile service designed to meet the unique demands of the space operating environment: an Interconnected, Innovative, Digitally Dominant force.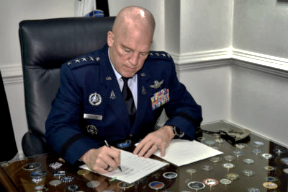 General John W. "Jay" Raymond.
• First, an Interconnected force effectively and efficiently shares relevant information with a broad array of stakeholders in support of the mission.
• Second, an Innovative force routinely embraces new approaches and readily challenges the status quo.
• Third, a Digitally Dominant force depends on people – establishing an empowered, digitally fluent workforce that advocates for innovation from every angle.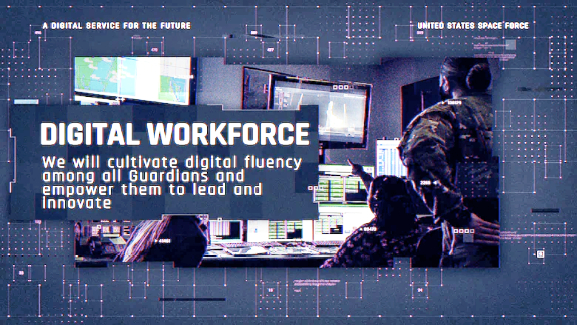 Informed by these tenets, the Vision for a Digital Service outlines four focus areas that serve as lines of effort for the necessary digital transformation Guardians must lead to achieve this vision:
Digital Engineering
The Space Force will foster an interoperable, resilient, and secure Digital Engineering Ecosystem (DEE) that will enable Guardians across the force to rapidly mature innovative concepts into integrated solutions and deliver critical warfighting capability faster.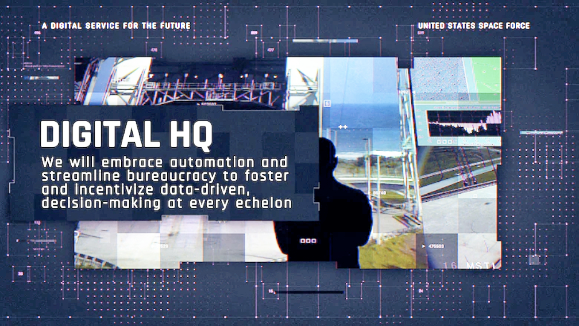 Digital Workforce
The Space Force will attract, educate, develop, and retain the vital talent they need to cultivate digital fluency among all Guardians, and the USSF will equip and empower them to unleash their talent and energy toward bold, innovative solutions.
Digital Headquarters
This focus area refers to a function, rather than a location – it represents the ability for all Guardians to make decisions efficiently by removing layers of bureaucracy and enabling and incentivizing data-driven decision making.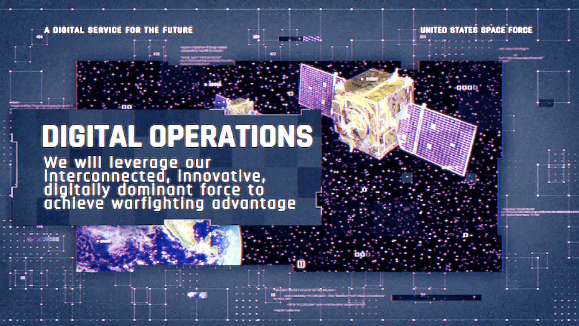 Digital Operations
The Space Force will drive joint, all-domain solutions in, from, and to space, exploiting advantages provided by interconnected infrastructure and an innovative, digitallyfluent workforce.
The Digital Vision will be accompanied by a subsequent Transformational Roadmap product that will delve into more detail and identify the key ongoing and planned actions required to make progress toward achieving the Vision. The roadmap is expected to be released in summer of 2021.
---
Paradigm's SWARM950 Now Intelsat Flex Service Certified
Paradigm's SWARM950 is now an Intelsat certified terminal, offering greater flexibility to operatives who need high performing, ultra-portable VSAT terminals with military-level security.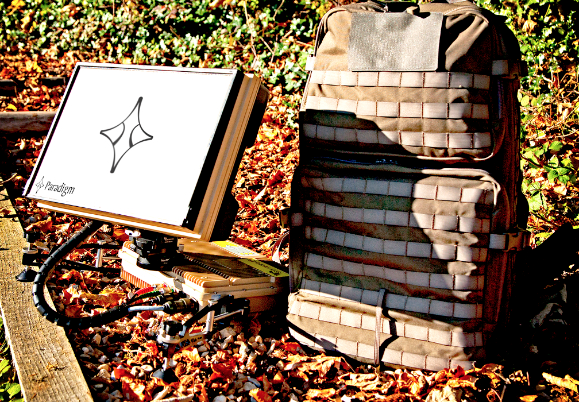 Authorized to operate on the Intelsat Flex service, this latest qualification complements Paradigm's existing range of terminals with TRANSEC/FIPS140-2 capability, which includes the compact, rugged HORNET950, popular with military units and special operational forces across the globe. Paradigm HORNET.
Powered by Paradigm's proprietary PIM® technology, the SWARM950 offers extreme user-simplicity through a common terminal interface that has revolutionized the ease of pointing and operation. The integration of modem, router, satellite alignment tool, management and power distribution, is conducive with rapid deployment and minimal training. Paradigm PIM.
Paradigm's General Manager, Jon Godfrey, said, "We've seen a significant upturn in demand for our own terminal range since the introduction of the Paradigm Interface Module (PIM), which is leading the industry's advance towards more intuitive, simple user interfaces".
Jon continued, "Although we've kept the PIM technology terminal-agnostic, our military clients have naturally sought the same level of performance and reliability across their VSAT arsenal and so gravitated towards Paradigm terminals. When you consider this high level of confidence alongside the ruggedness, high throughput, ultraportability of the SWARM950, it makes for a compelling proposition. The SWARM has an extremely strong record in the field on major networks, so we're delighted that the extended iDirect950 modem capability has been keenly supported by Intelsat with whom we have a longstanding partnership. This latest qualification supports our objective to give users real confidence, however critical the mission, wherever they are in the world.'"
---
Airbus Meets Milestone, One Step Closer to Building Next Gen Military Satellite
Airbus was awarded the Skynet 6A contract in July 2020 and teams across its sites in Stevenage, Portsmouth, and Hawthorn have been working on the program to achieve this key milestone. Meetings with the UK Ministry of Defence (MOD) were held virtually enabling the review board to take place in October and the PDR being achieved in November.
Teams from across the space and ground segments in Airbus worked closely with their MOD counterparts to keep the program on track.
Skynet 6A will extend and enhance the Skynet fleet. The contract signed with the UK MOD in July 2020 involves the development, manufacture, cyber protection, assembly, integration, test and launch, of a military communications satellite, Skynet 6A, planned for launch in 2025.
The contract also covers technology development programs, new secure telemetry, tracking and command systems, launch, on-orbit testing and ground segment updates to the current Skynet 5 system. The value of the contract is more than £500 million.
The Skynet 6A satellite is based on Airbus' Eurostar Neo telecommunications satellite platform. It will use moreof the radio frequency spectrum available for satellite communications and the latest digital processing to provide both more capacity and greater versatility than Skynet 5 satellites.
The satellite will feature electric orbit raising propulsion as well as electric station keeping systems for maximum cost effectiveness. Complete satellite integration will take place at Airbus facilities in the UK followed by testing using RAL Space testing facilities at Harwell in Oxfordshire supporting the UK Space Agency initiative for sovereign UK end-to-end satellite production and support.
---