Morale, Welfare and Recreation (MWR) programs are a key part of Government and Defense operations. MWR networks are designed to support remotely deployed defence personnel, civilian employees, ship crews and their families. Satellite communication plays an important role in MWR programs due to the fact that government and defence operations are mostly situated in remote locations or in areas suffering from man-made or natural disasters with no terrestrial connectivity.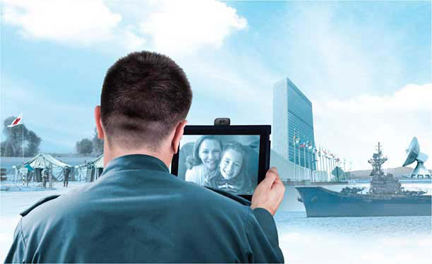 The amount of data, voice and video exchanged in MWR networks has grown substantially, along with the wide number of leisure and support services that are being offered.
Government and defence customers continuously seek new technologies to drive down bandwidth requirements and are looking for ways to lower satellite bandwidth costs. Through efficient satellite communication technology, such as is offered by Newtec's
FlexACM
®
,
Cross-Layer-Optimization
™ and datacasting solutions, this objective can be achieved in relatively little time.
MWR Programs Via Satellite
Morale, Welfare and Recreation programs are established in order to enhance the quality of life for defense personnel, civilians, ship crews as well as their families.
– Connectivity to families and friends to increase resilience under unusually distant locations
– Enroll new recruits or employees to participate in remote missions on land and sea
– Motivate remotely deployed personnel
– Provide leisure during times of low activity
– Implement training and education to improve readiness and skills for upcoming missions
– Relieve stress to stay mentally and physically fit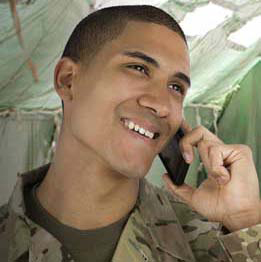 Such programs often depend on SATCOM due to the remote nature of government and defense operations. Satellite MWR networks combine a set of varying services available for personnel serving on both land and sea. They can include such features as...
– Internet Café Access
– TV & Radio Broadcast
– VoIP
– Training & Education
– Digital Cinema
– Mobile/Portable Access
– Intranet Access
– Social Media
– Travel/Sport/News/Dining Information
Humanitarian missions into disaster areas, duty at sea, and peacekeeping operations take government and defense personnel to remote locations where, often, terrestrial communication infrastructure is unavailable, or has actually been destroyed.
A satellite link can be established quickly—anywhere in the world, regardless of the location on land or sea. Once the network is in place, extra remotes can be activated at any time.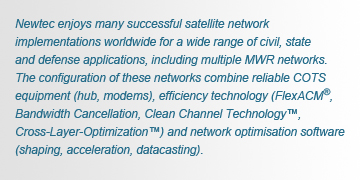 Support of Video, Voice + Data
MWR services are a combination of voice (calling the home front), video (news, sports, entertainment, TV and radio broadcast, training movies) and data (social media, email). Most of these streaming and file-transfer based services have converged towards IP.
Through a multiservice platform, the various MWR services over IP can be combined either in the hub or via the remote into a single carrier for efficient transfer over satellite at optimal availability.
All Newtec equipment and technology individually contributes to optimising the satellite IP link. However, once combined, they bring the satellite link to full efficiency.
The Newtec modulators, demodulators and modems that are implemented for MWR are based on
DVB-S2
, the adopted standard for communication over satellite for data, video and voice allowing full interoperability.
Easy Integration
Newtec equipment and software have successfully been integrated in MWR networks over satellite worldwide—hub equipment, modems, modulators and demodulators fit perfectly into rack space at the MWR headquarters or at the remote sites. Video, data and voice (file-based or streaming) are transmitted through one modem in the same satellite carrier in the most efficient way.
The network optimization software such as acceleration, shaping and data casting is available on Newtec IP equipment or as software clients which can be smoothly integrated into existing infrastructures.
Newtec SATCOM equipment is based on DVB-S2, the adopted standard for interoperable communications over satellite.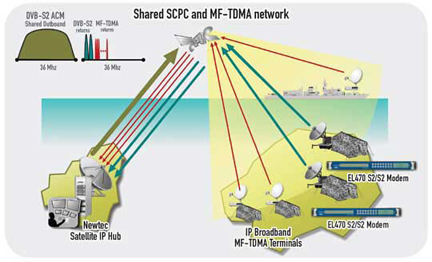 Scalability
Through the Newtec hub, large camps, small sites or ships can be connected with a common forward satellite carrier. The return technology can be SCPC or MF-TDMA (or a combination of both technologies), depending on the return rates, size of the remote, or the configuration of the network (Point-to-Point, Point-to-MultiPoint).
Broadband Experience Away From Home
For true broadband experience over satellite, the modems and terminals from Newtec implement the most efficient technologies, such as DVB-S2 FlexACM
®
in the forward link, adaptive return technologies, and embedded IP traffic enhancement software (aka Cross-Layer-Optimization™) such as shaping, TCP acceleration, pre-fetching and compression. Adding to the improved end-user experience, considerable cost savings can also be achieved.
– Reduction of Webpage Load Time up to 60 percent
– Reduction of File Download up to 90 percent
– Up to 35 percent Bandwidth Reduction
The Newtec VSAT system provides reliable 2-way IP connectivity through a versatile, scalable hub and cost effective and low power consumption remote terminals. The networks contain management functions for monitoring and control, SLA Management, QoS and Fair Use Policy.
Double Throughput, Same Bandwidth
Next to the increase in MWR networks over satellite, substantial growth has been experienced in data, video and voice traffic. Increased data rates need to be accounted for when such encounter a lack of satellite capacity in many operational locales.
An answer is through the use of dedicated technologies such as FlexACM
®
, Bandwidth Cancellation, Clean Channel Technology™ and Equalink
®
—these are used in many MWR networks to achieve maximum throughput that is independent of the selected satellite. Simultaneously, important OPEX reductions can be achieved.
Optimal Availability Over Variable Conditions
Even in the most harsh and hostile conditions, it is important to have MWR networks over satellite available for crew and personnel at all times. The auto-adaptive technology incorporated inside FlexACM
®
takes care of any fading condition in order to avoid link or data losses. Fading conditions due to choice of satellite (Inclined Orbit Satellite, Ku-, Ka-, X-band, HTS), environment (rain & dust) or interference (between two adjacent satellites) will no longer interrupt satellite transmissions. FlexACM
®
doubles the data throughput for fading sensitive satellites (X-, Ku-, Ka-band, HTS) and Inclined Orbit Satellites.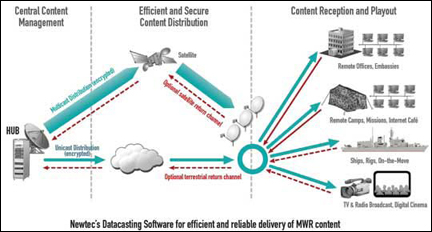 Reliable + Efficient Datacasting
Multicasting MWR content to remote sites and ships with the Newtec's datacasting software will immediately result in important use and cost efficiencies. The transmissions are aggregated in an efficient DVB-S2 FlexACM
®
forward over satellite. The content is stored on the server that is located at the remote site.
The reliability of datacasting (digital cinema, news, shows, etc.) is enhanced by the software's partial retransmission capabilities. Only the detected missing fragments are retransmitted. This, also, provides important OPEX gains for services on-the-move or those experiencing fading or interference conditions. Newtec's datacasting software also offers...
– Dynamic Scheduling & Prioritisation
– Authentication, Authorisation & Accounting
– Automated Content Distribution via "hot folders"
– Monitoring & Control
Newtec's Datacast solution provides efficient store & playback support over satellite and is robust against outages. More info is available at
Newtec's website
.