Frank Backes is the Senior Vice President for Kratos Space Federal. Mr. Backes also serves as the Founder and Chairman of the board of the Space ISAC. He received a BSEE in Semiconductor Physics from the University of California at San Diego.
It has been said that innovation is the new battlefield and moving at digital speed is critical to winning the next war. What has Kratos been up to in terms of innovation and how will it help the U.S. military?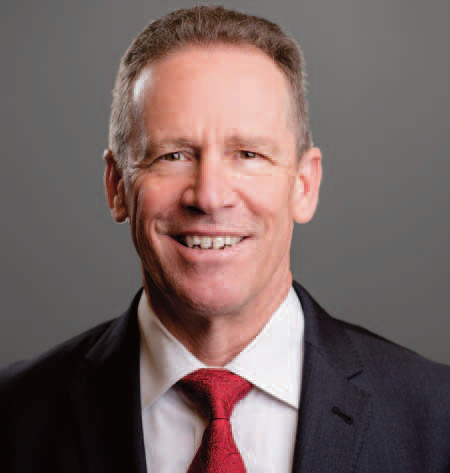 Frank Backes (FB)
One of the innovative ways that Kratos is supporting the military's effort is with a new software-defined satellite ground platform called OpenSpace™. This platform is helping lead a digital technology revolution on the ground by allowing almost every piece of the ground station to be turned from hardware to software.
Virtualized software and software-defined networking capabilities are, in turn, giving the ground more power to react dynamically to changing conditions as the ground can be unified to service many U.S. Department of Defense (DoD) programs.
The space industry is undergoing tremendous innovation and is driving change with multi-band, multi-orbit efforts and software-defined payloads providing the military with unprecedented capabilities.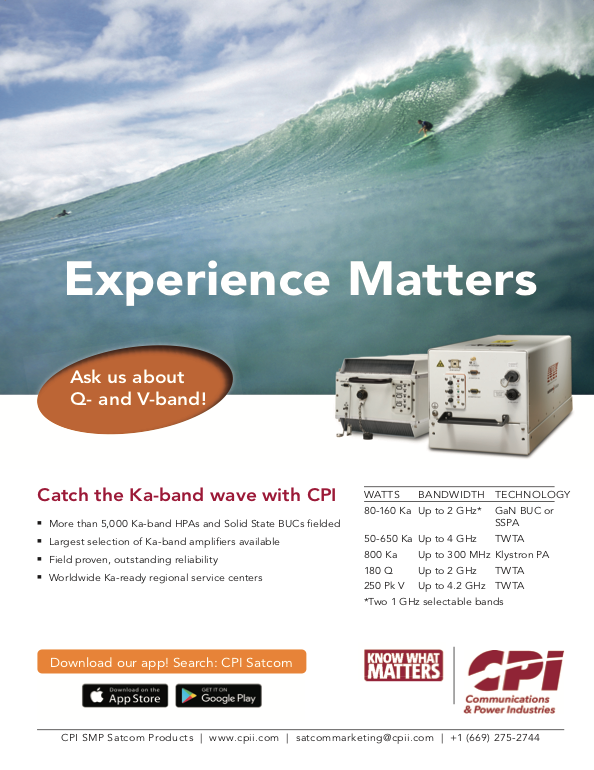 Why now? What has changed?
FB
There has been a technical paradigm shift from proprietary equipment on a bent-pipe satellite link to systems designed for flexibility, enabling users to seamlessly access the combination of multi-constellations and multi-orbit approaches throughout multiple applications and much more.
A shift is needed to new satellite ground architectures that can dynamically and intelligently adapt to continuous changes in demand, performance and threats much like existing terrestrial networks do.
As an example, Kratos' participation in several Enterprise Management and Control (EM&C) efforts demonstrated technology that synchronized access to multiple satellites and satellite networks operated by multiple service providers. Kratos and its partners proved control of multiple modem types and software versions were possible from a single terminal.
Connected to a dynamic ground network and informed by a Situational Awareness Common Operating Picture (SA-COP), the system showed comprehensive mission-management ability that rapidly planned, optimized, apportioned, and monitored SATCOM services as well as detected, located, assessed and resolved SATCOM issues for users. EM&C provided the innovative ability for a SATCOM user to roam like a cell phone user.
Many of DoD's approximately 17,000 user terminals can be modified with EM&C capabilities to support an open, multi-vendor architecture to communicate with other terminals or SATCOM gateways.
How will this affect ground system operations and systems?
FB
Virtualization and advanced cloud-processing technologies will allow the ground system and space layer to become part of a broader software-defined network. Instead of lots of hardware manually configured over weeks, service chains can be dynamically configured and deployed in a moment's notice.
There is no longer a need to stitch components and subcomponents every time there's a special mission. As changes in warfighter demand, bandwidth supply and threat occur on the ground, the system dynamically responds. Operations are executed automatically in software with a service running in milliseconds or seconds instead of days, or weeks.
---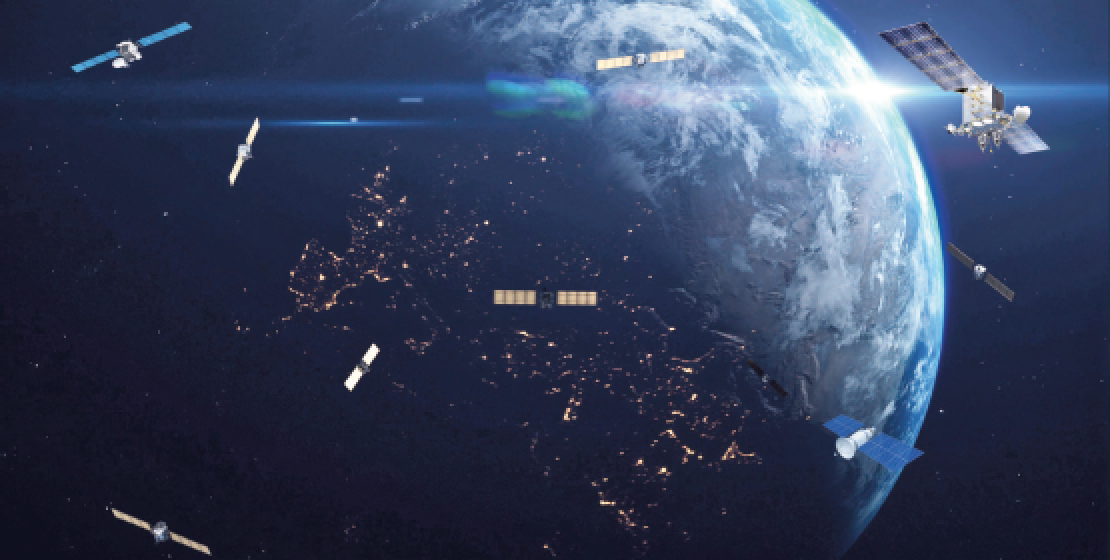 ---
This sounds like new technology... is it?
FB
This is not new technology. It is leveraging how cloud-based providers and the telecom/wireless providers currently manage their network and services. This technology is already deployed and operational in both the terrestrial communication world and some satellite ground systems.
Multi-use satellite ground systems that are servicing the LEO Earth resource and smallsat markets, as well as LEO fleet operators, have already deployed digital infrastructures that include software based modems (not to be confused with software defined modems that are usually FPGA/firmware based).
Is this a proprietary system?
FB
No; anything that assumes a one-vendor solution, or a technical solution that drives lock-in, is not acceptable. This new approach of a more open, standards-based and virtualized ground system supports the DoD's needs and plans.
Shifting from closed, proprietary hardware to a virtualized, standards-based software ground infrastructure allows automatic synchronization with digital assets both on the ground and in space. It changes the paradigm by delivering abilities to re-provision hundreds of satellites, thousands of beams, and millions of services in response to changes in demand, interference and threat.
---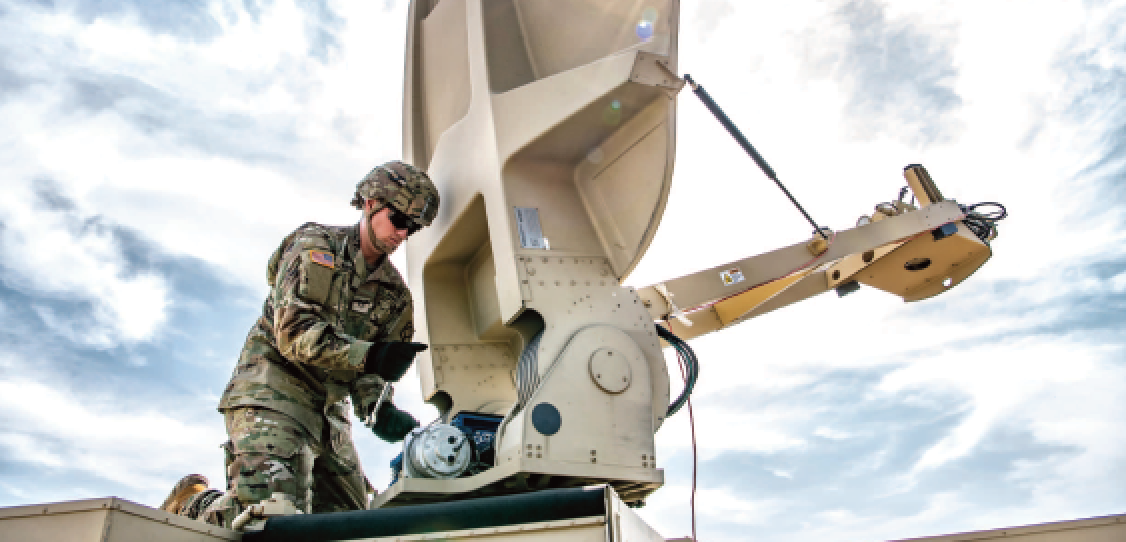 Photo: Sgt. Dustin Biven.
---
Is it secure? Does it address the military concerns of scalability and resiliency?
FB
Security is critical to the design of this architecture. How this platform operates, how its software applications operate, how data is secured, encrypted and authenticated is all based on the Zero Trust Model. Stove-piped and hardware-based ground systems are security challenged, with upgrading, patching, monitoring and locking down that all require some element of specialized work or technology, and are not scalable.
Flexibility and scalability provide a new level of reliability and resiliency. For example, if a user is being jammed on one antenna, they can quickly and easily connect to another aperture, either of the same or a different satellite. Another option would be to sense the jamming and allow the system (both satellite and ground) to adapt its waveform characteristics. Kratos is currently conducting research in this area.
What capabilities will be possible in the future?
FB
As Kratos progresses with OpenSpace, all ground-based capabilities will move to virtual applications within the platform. Today this is TT&C and EO/Sensing, but in the future, it will include C2, signal monitoring, interference detection, and other advanced capabilities to match the advances occurring at the space layer.
We also see future work with partners of various applications, including scheduling, orchestration, and advanced antenna providers. Kratos also envisions linking space providers with terrestrial providers, as the space layer is an important and at times exclusive provider of capability in a much broader networked world of cloud, telecom and wireless systems.
---


Passive Ranging is a method using a satellite's own RF Signals for locating exactly where the satellite is in space. It uses Time Difference of Arrival (TDOA) and Frequency difference of Arrival (FDOA) and is available as long as a satellite is transmitting in all weather conditions, as well as night and day. Click to enlarge.
---
Has Kratos been working other efforts to help the Warfighter this past year?
FB
Kratos is continuously working on several innovative programs to help the warfighter. One recently announced service will characterize spacecraft in Geosynchronous Orbit (GEO). This provides highly accurate proximity operation data, real-time maneuver detection and accurate ephemeris data.
Services offering high rates of refresh for closely tracked spacecraft are also available. These services have high value for Space Domain Awareness (SDA) and are accessible to government and commercial organizations internationally.
Kratos can identify and accurately locate spacecraft in GEO using a powerful SDA technique called Passive RF Ranging. Traditionally, the ephemeris of a unique spacecraft at GEO is derived from data obtained through ground-based radars and optical telescopes. Oftentimes, these resources cannot correctly differentiate between Closely Spaced Objects (CSOs) accurately enough to provide precise measurements, are unavailable during solar or weather exclusions, or are not geographically accessible.

Kratos is not limited by these factors and can provide extremely accurate data related to the location of a spacecraft or multiple spacecraft at a specific moment in time, even when they are critically close (less than one kilometer away). Accurate data during proximity operations provides critical insight to operators for vehicle safety.
Passive Ranging is a method using a satellite's own RF Signals for locating exactly where the satellite is in space. It uses Time Difference of Arrival (TDOA) and Frequency difference of Arrival (FDOA) and is available as long as a satellite is transmitting - in all weather conditions, as well as night and day.
www.kratosdefense.com
---