New Officers + Directors
The board of directors of the Space Foundation at its annual meeting has officially welcomed a new slate of officers and five new board members and recognizing six board member retirements.

» William F. Ballhaus, Jr., Ph.D., former president and CEO of The Aerospace Corporation, retired from the Space Foundation board of directors and was named director emeritus. Ballhaus had served as a member of the board since 2001, was vice chairman 2008-2010 and chairman of the board from 2010-2012.

» Martin C. Faga, former president and CEO, The MITRE Corporation and former director of the National Reconnaissance Office, succeeds Ballhaus as chairman of the board. Faga has served on the board of directors since 2007, and was vice chairman from 2010-2012.

» Lon C. Levin, co-founder of XM Satellite Radio and president of SkySevenVentures, was elected vice chairman. He has served on the board since 2004.

» The Honorable Barbara Barrett, president and CEO, Triple Creek Ranch and former ambassador to Finland, continues as corporate secretary.

» Anita M. Antenucci, senior managing director of Houlihan Lokey, was elected treasurer. She has served on the board since 2008.

The executive committee also includes
Elliot H. Pulham,
chief executive officer of the Space Foundation.
The board of directors elected five new members to three-year terms:
» Richard F. Ambrose, president, Lockheed Martin IS&GS — National

» The Honorable Robert E. Cramer, chairman, Wexler & Walker

» Lynn A. Dugle, president, Raytheon II

» John W. Elbon, vice president and general manager, Boeing Space Exploration

» P.J. O'Rourke, author and political satirist
Returning board members:
» David Caddey, executive vice president, Space Missions Group for MacDonald, Dettwiler & Associates, Ltd.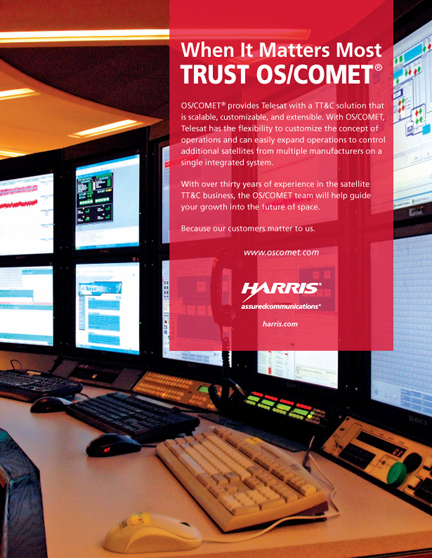 » Adm. James O. Ellis, Jr., USN, Ret., former commander, United States Strategic Command, and president and CEO, INPO

» Gary W. Ervin, corporate vice president and president, Northrop Grumman's Aerospace Systems

» James Maser, president, Pratt & Whitney Rocketdyne

» Kay N. Sears, president, Intelsat General

» David L. Taylor, president and CEO, Ball Aerospace & Technologies Corp.

» Kathryn C. Thornton, Ph.D., University of Virginia professor and former NASA astronaut
Elected to second terms:
» The Honorable Patricia Grace Smith, former assistant administrator, Federal Aviation Administration; principal, Patti Grace Smith Consulting

» Dave Weldon, M.D., head of Dave Weldon Consulting and former U.S. representative from the State of Florida
Retiring from the board and named life directors:
» Capt. Frederick H. Hauck, USN, Ret., former president, AXA Space, and former NASA astronaut
» Joanne M. Maguire, executive vice president, Lockheed Martin Space Systems Company
» The Honorable Charles Robb, former U.S. senator and former governor of the State of Virginia
» Col. Brewster Shaw, Jr., USAF, Ret., former vice president and general manager, Boeing Space and Exploration Systems, and former NASA astronaut
» Heidi R. Wood, managing director and senior equity analyst — aerospace, defense & defense electronics, Morgan Stanley
"The Space Foundation is very fortunate to have such a diverse board with highly regarded leaders and members who are instrumental in achieving our mission of advancing space," said Space Foundation CEO Elliot Pulham. "We greatly appreciate the hard work and dedication of all of our members, especially those who are retiring from our board."
* * * * * * * * *
Soundings Start
An ITT Exelis breakthrough technology for severe weather forecasting is now fully operational and capturing invaluable weather data from space.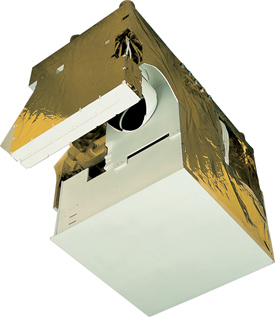 After launching October 28, 2011, and completing on-orbit preparation, the Exelis-built Cross Track Infrared Sounder (CrIS) instrument began measuring atmospheric profiles for temperature, moisture, and pressure from space to the Earth's surface.
Called soundings, these measurements are crucial for global weather models, which directly impact two- to seven-day weather forecasts in the U.S. The sounding accuracy of CrIS is well beyond the capabilities of previous operational sounders. CrIS enables weather forecasters to more accurately predict days in advance the path and severity of weather like tornados and snowstorms.
"CrIS is the first U.S. operational hyperspectral sounding instrument and will be one of the most effective instruments for weather forecasting missions today," said Rob Mitrevski, vice president and general manager, Integrated Geospatial Sensing Systems and Environmental Intelligence at Exelis Geospatial Systems.
"The CrIS instrument will benefit communities by providing more accurate predictions of weather patterns and storm tracks. This milestone is a testament to our ability to help our customers see and solve some of the world's toughest problems."
CrIS is an integral part of the National Polar-orbiting Operational Environmental Satellite System (NPOESS) Preparatory Project (NPP), the next-generation U.S. climate and weather monitoring system. CrIS is the first in a series of advanced operational sounders, flying at an altitude of 512 miles and circling the globe as much as 14 times per day. Sounders work by measuring the energy through an atmospheric column from the ground up through the clouds.
The sounders flying today for the U.S. provide 19 slices of the column. The CrIS instrument will take more than 1,000 slices — critical for improving weather forecast models by providing more detailed information about moisture, temperature, and pressure. ITT Exelis company information here.
* * * * * * * * *
NOC @ Bagram
Every time someone emails a policy letter, instant messages their family or takes time out to watch a movie on their desktop, the airmen of the 455th Expeditionary Communication Squadron network control center at Bagram Air Field, Afghanistan, are comforted by the indicators of yet another successful work day.

A network control center serves as a data center to provide communication support to Bagram, to include server maintenance and backup, event logging, virus definition managing, and email routing. In addition, the network control center performs non-secure Internet protocol router network and secure Internet protocol router network service management to eliminate network vulnerabilities and ensure reliable connectivity.
The network control center airmen provide two basic services while deployed to Bagram: morale services and network connectivity.
During deployment, good morale is an important aspect of maintaining a warrior airman. At Bagram, the network control center addresses this need by providing services such as free wireless Internet, Internet protocol television and various morale drives.
Internet connectivity is one way network technicians help Bagram deployers focus on performing their duties every day.
Tech. Sgt. Brian Randazzo, 455th Expeditionary Communication Squadron network technician, said the network control center places resources toward the morale network so people can be in the right mindset while at work.
"When people start their duty day they can focus on work, because they know when they get back off duty they can use social media to check on things back home and talk to their family," he said. "They don't have to worry about getting DSN calls or waiting for mail in order to stay in touch."
Tech Sgt. Ian McNiff, 455 ECS network control center night shift non-commissioned officer in charge, also appreciates the impact of maintaining Internet connectivity during a deployment.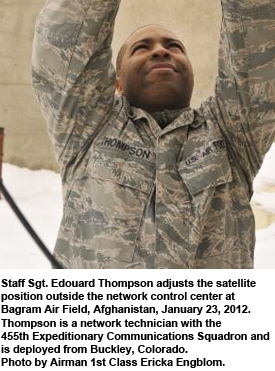 "I was in Kuwait in '93," McNiff said. "We had to wait in line to talk on a tactical phone for up to an hour. And, someone was standing there timing you. When your 15 minutes were up, you were out of there. He would put his finger on the receiver and hang up the phone. It blows my mind to come out here and be able to talk to my wife on the phone or Skype almost every night. I get to see my kids. The difference is day and night."
The network control center manually joins every computer onto their wireless network and closely controls bandwidth usage to help ensure everyone has a fair chance to use the network. They even had technicians volunteer to add new computers onto the network over the Christmas holiday to ensure new arrivals could speak to their loved ones.
Another product of the crew's dedication to support is the implementation of IPTV, a system through which television services are delivered using non-secured Internet, or niprnet, instead of being delivered through traditional terrestrial, satellite signal, and cable television formats.
The network control center sends multiple Armed Forces Network television channels to the desktop of any computer on Bagram.
After arriving just over three months ago, the network technicians identified an opportunity to upgrade the level of service the network control center gives its users. Therefore, they combined spare parts with their technical knowledge to hardwire old equipment so it could provide IPTV to all of their customers.
"It helps with being in this environment because there is a captive audience," Master Sgt. George Walton, 455th Expeditionary Communication Squadron network control center superintendent said. "Our customers get involved in activities or sleep a bit, but most people end up back in the shop. Watching AFN on your desktop is a nice break since it gives you something different to look at other than secure network or niprnet traffic."
Along with AFN news, sports and movies, users of Bagram's niprnet also have the option of watching movies, TV series or music on their niprnet computers through the Sharepoint morale drives.
Senior Airman Eric White, 455th Expeditionary Communication Squadron network technician, said these resources are especially valuable to locations that do not have a television or where a cable run is not practical.
The network control center is currently working to increase the morale Wi-Fi bandwidth. This will help speed up media streaming and other data traffic, allowing more users to enjoy clearer video and faster Internet connections.
Although morale services are important to base support, the primary mission of the 455th Expeditionary Communication Squadron is to provide reliable, secure, network connectivity.
For a deployed location, it becomes a challenge to provide seamless network support when rotating out most of the technicians who maintain the systems.
"They got to hit the ground running," Walton said. "There is no slow spin up. We have to be able to learn and secure the network almost immediately. It's our job to make sure the systems are running correctly." For this particular rotation, that responsibility held a few extra challenges. The Airmen of the 455th Expeditionary Communication Squadron network control center are made of a variety of skill sets and backgrounds.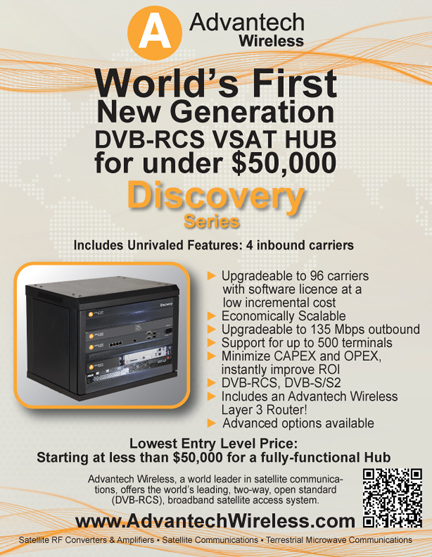 Walton sad many of the technicians don't normally work on servers or network connectivity at their home stations. A mixture of computer security managers, network managers, and other specialties in both reserve and active duty jobs make up the core of skilled technicians supporting Bagram's network. This meant stepping out of their professional comfort zones.
"Everyone came together to understand the importance of where we are in a deployed environment," Walton said. "They were all willing to learn, and everyone stepped up to perform each other's job and get exposed to a different environment."
However, one of the advantages of having such diverse manning presented itself as the network control center reduced the number of reported system vulnerabilities from 6,000 a month to 1,200 a month.
McNiff said 6,000 vulnerabilities a month had been the standard for 17 months. He said Senior Airman Nathan Kanuchok, cyber operations technician deployed from Whiteman Air Force Base, Missouri, utilized his training and experience to write a script which streamlined the way computer systems on Bagram were being patched. This was instrumental in the increased security of the network.
The network control center provides 24-hour support by performing preventative maintenance, upgrading existing systems, applying command-directed fix actions, installing security patches to systems, and educating end-users on their role in computer security.
"For us to be thrown together in this melting pot, different bases and skill levels, and be able to stick to a common goal and realize what is important is a credit to the technicians working here," Walton said.
Despite all their production and hard work, the network managers of the network control center prefer to be the silent workers keeping Bagram Air Field's morale network, siprnet and niprnet running.
"The harder we work, and the more we get done, the less people know that we are here," Kanuchok said. "That is because nothing is broken and everything is working the way it should."
Article by
Tech. Sgt. Vernon Cunningham
* * * * * * * * *
VCAS Venture In Afghanistan
Vizada Network, recently acquired by Astrium, has completed the installation of a custom designed VSAT Camp Antenna System (VCAS) for FMV, the Swedish Defence Material Administration.
The antenna system will be used by the Swedish Armed Forces (SwAF) within their role as members of the International Security Assistance Force (ISAF), Afghanistan. FMV handled the commercial and technical part of this procurement, appointing Vizada Networks as the preferred supplier following an open RFP, while operation of the system in theater is performed by SwAF.
In addition to providing the best balanced value/technical proposal, the RFP required the supplier to have the logistical and technical presence in theatre to guarantee Mean Time to Repair (MTTR) of less than four hours for any electrical part (BUC, LNB, control units, fibre conversion units etc.) of the VCAS, when applicable spare parts and personnel are available.
The scope of supply included design, implementation, and integration of the VCAS, on-site installation, testing and training. The VCAS is based on a 3.8m antenna that may be operated in the X-, Ku- and C-band frequencies by changing the antenna feed and RF-equipment. In addition to the antenna itself, Vizada Networks engineers also installed the RF Ku-band kit and Spectrum Analysers before carrying out in-depth operator and technical training on the system.
Subsequent to the completion of the VCAS, the Swedish Defence Material Administration has recently awarded Vizada Networks the contract to develop and install a second VCAS.
* * * * * * * * *
Collectively Speaking Of GPS
The U.S. Air Force's fleet of Global Positioning System (GPS) Block IIR and IIR-M satellites has accumulated 150 collective years of successful on-orbit operations.
The Lockheed Martin built GPS IIR and IIR-M satellites make up the majority of the current operational GPS constellation and have provided a reliability record of better than 99.9 percent. In more than 150 cumulative years of on-orbit life, this translates to less than one minute of unscheduled outage for every month of operational service, an unmatched record of performance and reliability for GPS users around the globe.
Like the Internet, GPS is an essential element of the global information infrastructure. GPS technology is found in everything from cell phones and wristwatches to shipping containers, and ATM's. The system boosts productivity across a wide swath of the economy, to include farming, construction, mining, surveying, supply chain management and more. Major communications networks, banking systems, financial markets, and power grids depend on GPS and the technology is embedded in virtually every U.S. military asset making our armed forces safer and more effective. Lockheed Martin designed and built 21 GPS IIR satellites for the Air Force and subsequently modernized eight of those spacecraft, designated GPS IIR-M, to enhance operations and navigation signal performance.
The oldest GPS IIR satellite launched July 23, 1997, and has been operating for nearly 15 years, five years beyond its design life. The final GPS IIR-M satellite launched August 17, 2009. Lockheed Martin heritage also dates back to the production of the Oscar and Nova satellites, the original navigation programs that paved the way to the current GPS system.
As satellites age and GPS becomes increasingly vital to modern civilization, the Air Force and Lockheed Martin are developing the next generation system, known as GPS III. GPS III will be a catalyst for profound new applications as it brings on significant capabilities including increased accuracy, availability, anti jam power, integrity and reliability. The satellites will also add a fourth civil signal that will be interoperable with International Global Navigation Satellite Systems, providing even better precision and increased Earth coverage.
With first launch in 2014, GPS III is the lowest risk solution to constellation sustainment and the most affordable path to meet the needs of military, commercial and civilian users worldwide.
* * * * * * * * *
A SATCOM Game Changer?
As the interoperability discussion continues, so does the frustration of many who have worked on this issue for decades but haven't seen their goals realized. So it makes sense to take a look into the future of what could be a bright spot, given the right circumstances, some money and a will to make it work.
Satellite technology has proven itself during major events but its limitations are known. During Hurricane Katrina, satellite technology allowed for some semblance of interoperability when most communications systems were down, including allowing the U.S. Department of Veterans Affairs medical centers to provide connections for veterans and to order medications.
As useful as satellite communications can be, it's limited by a necessity for a clear line-of-site and spot beam capacity. It also is susceptible to heavy rains.
A new satellite launched three years ago by Hughes has the ability to be a "game changer," in the words of some neutral panelists at a recent emergency management summit.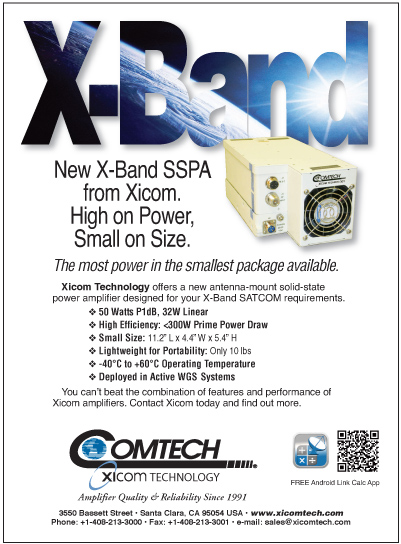 The Hughes satellite, which the Company calls Spaceway, offers path diversity. It doesn't just bounce up from an antenna to the satellite and reflect down to a ground hub and connect to the Internet or a data center like the traditional satellite. The Spaceway is a router in the sky that can make multiple connections at once, enabling conference calls and video conferencing.
The Department of Defense tested the satellite's ability in 2009, creating video teleconferencing between the U.S. Northern Command, the Naval Surface Warfare Center's Dahlgren Division and the Space and Naval Warfare Systems Center in San Diego. The after-action report described it as "relatively quick to set up with the ability to carry on high-definition, clear and stable communications with other locations." FEMA was scheduled to test it during winter 2011.
With the Spaceway, user groups can be built prior to an event and connect when necessary. Agencies, counties, states and private-sector entities that don't work together every day can connect quickly during a crisis when other terrestrial communications are not working.
The Spaceway satellite is more akin to a mesh network than the traditional reflector satellite, which enables it to invoke community groups. Another way of describing it is "any-to-any" connectivity instead of "one-to-one" connectivity.
Tony Bardo, assistant vice president of Government Solutions at Hughes, called it a "Plan B" network. "If the ground infrastructure is down and you are unable to put together a user group, your P25 radios and so forth are down and you can still get to the governor's office. You can quickly invoke a community of users and managers and decision-makers that have access to this Plan B network. And we don't have a Plan B right now."
During Hurricane Katrina, circuits and Bell South towers were inoperable because they were submerged by the flooding. When the towers fell during 9/11, cables and servers went down under the rubble. "These structures on the ground that support our telecommunications are very much in harm's way when it comes to natural disasters and attacks," Bardo said.
With Spaceway, both the satellite and the routing capacity are 22,000 miles above Earth and away from harm, unlike ground-based communication infrastructure.
"If you think about that ground hub in the old system, the ground hub is the router," Bardo said. "The intelligence is taking place on the ground. Spaceway, with its router in the sky, can enable me to communicate with you in another field office and add another party somewhere else, and out of harm's way. I send up your IP address, and it connects me with you. I want to connect with the data center, so I send up the IP address on the antenna of the data center and it connects me there." The traditional satellite that's been used thus far is a reflector network that offers a single large beam of coverage. There are about 15 of them over North America.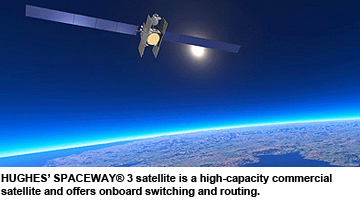 Spaceway has about 100 spot beams that are 200 or more miles wide, high and deep. "Imagine a soccer net draped over the central part of America," said Bardo, who added that Spaceway is a 10-gig satellite with the capacity of "seven or eight of the traditional satellites over North America." An advantage of the 100 or so spot beams is that they can help overcome heavy rain, the Achilles' heel of traditional satellites.
"When you're operating a [traditional] satellite that has a single beam across the country and one part of the country is getting heavy rain, there's not a lot that can be done in real time," Bardo said.
Bardo said Hughes has the ability to adjust Spaceway to heavy rain. A link to the National Weather Service senses if weather is affecting transmission in a certain area, allowing the reallocation of power from one spot beam to another to boost power in the affected area.
In the event of a cyberattack, a Spaceway network would be vulnerable in the sense that a cyberattack could disable computing systems, clouds and data centers that could be accessed by the satellite connectivity. But the satellite itself wouldn't be the target, Bardo said. "It's a private network, not part of the Internet."
The cost of each site would be about $2,200. Other network charges would apply depending on the number of gateways required.
Article authored by Jim McKay for
Emergency Management Magazine —
website link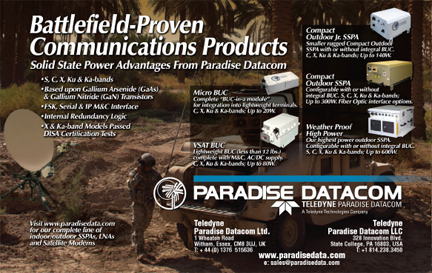 * * * * * * * * *
Cloaking Becomes A Reality
U.S. researchers say they have "cloaked" a three-dimensional object making it invisible from all angles for the first time.
The process uses a shell of what are known as plasmonic materials that create a "photo negative" of the object being cloaked, effectively canceling it out. However, the demonstration has only been achieved for waves in the microwave region of the electromagnetic spectrum, not for visible light.
Andrea Alu and colleagues at the University of Texas at Austin have made a 7-inch-long cylinder invisible to incoming microwave light. The success with the cylinder suggests further work with different wavelengths of light is worth pursuing. Alu said. "It's a real object standing in our lab, and it basically disappears," he told BBC News. While the technique is unlikely to work at the visible light part of the spectrum, Alu said, the approach could be applied to the tips of scanning microscopes to yield an improved view of even smaller wavelengths of light.
* * * * * * * * *
Modernizing Networks
Army officials hosted more than 275 industry representatives at new integration facilities at Aberdeen Proving Ground, stressing the service's commitment to its new "agile" approach to modernizing the tactical communications network.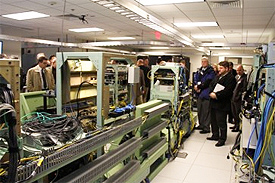 The January 11 event was the second informative Industry Day held since the Army launched the Network Integration Evaluations, known as NIEs, which are semi-annual events designed to rapidly integrate and mature the tactical network. The NIEs and Agile Process will allow the Army to field "capability sets" that provide integrated connectivity from the command post to the dismounted Soldier, and update that equipment on a two-year cycle to reflect improvements in technology and changes in operational needs.
"We can't afford to build a network capability like we build a tank," said Col. John Morrison, director of the Army G-3/5/7 LandWarNet-Battle Command Directorate. "We want to leverage industry innovation. For this process to work, industry is a key partner."
Industry representatives from small to large defense companies received detailed updates on criteria to participate in the Agile Process, the Army's new quick-reaction acquisition methodology to address defined capability gaps and insert new technologies into the overall network at a lower cost. This fundamental change in business practices is even more critical in light of planned cuts in defense spending, Morrison and other senior leaders said.
"As budgets go down, this will become more important to the Army and Department of Defense," said Maj. Gen. Genaro Dellarocco, commanding general of the Army Test and Evaluation Command. "The NIE and Agile Process are going to endure."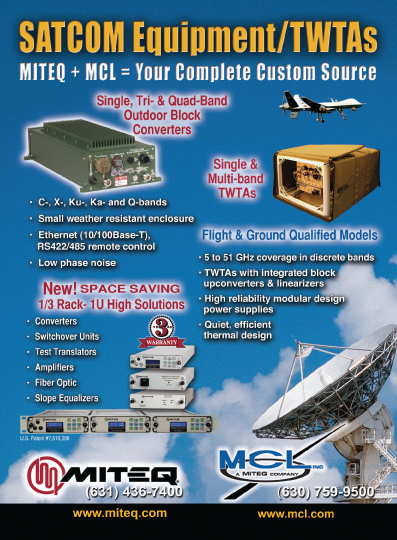 Industry Day also coincided with the release of a "sources sought" notification for systems to participate in NIE 13.1, which will take place in the fall of 2012. That will be the final NIE prior to the synchronized delivery of Capability Set 13, the first integrated group of network technologies that will be fielded to up to eight brigade combat teams starting in fiscal year 2013.
Held twice a year at White Sands Missile Range, New Mexico, the NIEs leverage a full brigade combat team to assess new network capabilities in a robust operational environment. Prior to receiving a field tryout with Soldiers, these capabilities must pass through the laboratories at Aberdeen Proving Ground, or APG, for technology evaluation, assessment and integration. The lab assessments inform the Army's choices on what systems will participate in the NIE and provide detailed "score cards" to industry on how their technologies performed and what could be improved in the future.
Industry representatives toured seven of the laboratories and integration facilities that support the NIE, Agile Process and capability set fielding. Built as part of the recent Base Realignment and Closure move of Command, Control, Communications, Computers, Intelligence, Surveillance and Reconnaissance, known as C4ISR, organizations to Maryland, the laboratories are linked through direct fiber optic connectivity — creating an integrated environment for government and industry to measure system performance and interoperability.
The APG facilities are already yielding tangible benefits for key Army network efforts, such as the mission command "collapse strategy" that is combining fires, sustainment, air defense and airspace product lines onto a common workstation. Engineers from General Dynamics recently used the Program Executive Office for Command, Control and Communications-Tactical, or PEO C3T, System of Systems Integration Facility for some of this integration work.
The facility recreates the environment of a brigade or division level command post, allowing engineers to simulate challenges like high volume traffic on the network.
"It was our chance to integrate in an environment that was going to be more similar to what people were going to see in the field," software engineer Austin Murray said. "(The testing) was able to expose some of the areas where we can enhance what we're doing."
Other resources highlighted for industry included facilities focused on tactical radios, satellite communications, intelligence and the integration of C4ISR equipment onto various vehicle platforms.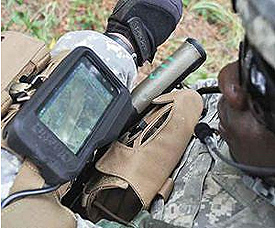 "The synergies we have at APG allow us to take advantage of the other laboratories, integration facilities and test capabilities on the installation — and this is a tremendous asset," said Robert Zanzalari, associate director of the Communications-Electronics Research, Development and Engineering Center, known as CERDEC, which owns several of the labs. "I think the NIE support and the capability set efforts taking place here are going to be prime examples of how this community at APG can coalesce onto a high-priority, high-visibility project for the Army. That's important for the future of agile acquisition."
Industry Day attendees said the experience and information exchange was valuable, especially in light of the significant changes in the Army's network modernization strategy.
"It's important for us to be talking to one another," said Lori McKaig, a senior executive with the Accenture Defense group. "Given this is a totally new process, it's more important than ever."
* * * * * * * * *
Opening Up The MAINGATE
Raytheon Company's Mobile Ad hoc Interoperability Network GATEway (MAINGATE) radio system successfully provided tactical networking capabilities at two major U.S. Army exercises, giving soldiers reliable battlefield information.
During the recent Army Expeditionary Warrior Experiment (AEWE) at Fort Benning, Georgia, MAINGATE provided the backbone for wideband networking. It also successfully performed as an alternative to the cancelled Ground Mobile Radio program during the Network Integration Evaluation (NIE) at Fort Bliss, Texas. During the testing, MAINGATE simultaneously provided multiple channels of real-time video, situational awareness, chat and other applications.
Soldiers at the squad level reliably received multiple unmanned aerial vehicle video feeds and other high-bandwidth data services from the battalion to the tactical edge. MAINGATE provided needed capacity for reliable connectivity among cellular networks, hand-held radios and the Warfighter Information Network - Tactical (WIN-T) system. It also allowed soldiers to integrate information across battle command systems and sensors.
"During the entire AEWE event, Raytheon's network provided the Experimental Force soldiers with a very reliable high-speed backbone that did not require any soldier or field representative intervention," said Harry Lubin, chief of the Experimentation Branch at Fort Benning's Maneuver Battle Lab. "It just worked the whole time, allowing us to focus on the soldier technologies," he added.
MAINGATE is comprised of a high-throughput radio that uses the Next Generation Mobile Ad Hoc Networking Waveform and a gateway that enables seamless battlefield connectivity. MAINGATE is a mature, off-the-shelf system in production today, with more than 100 units currently deployed in theater.
The non-proprietary waveform provided 10 times more network capacity and supported four times more nodes than competing radios at the NIE. And, it exceeds wideband networking requirements in the upcoming Mid-Tier Networking Vehicular Radio solicitation.
"Giving our soldiers that added edge is a critical feature of MAINGATE," said Scott Whatmough, vice president of Integrated Communication Systems for Raytheon's Network Centric Systems business.
"We filled a gap no one else can fill today," he added. "We look forward to continuing our participation in the next NIE phase, 12.2, to build on our Internet protocol-based networking experience to deliver the most advanced networks at a much lower cost than other systems in development today."
* * * * * * * * *
ORS-1 On Station...
On January 3rd, Air Force Space Command commander General William Shelton declared the Operationally Responsive Space-1 (ORS-1) satellite had achieved initial/final operational capabil
ity.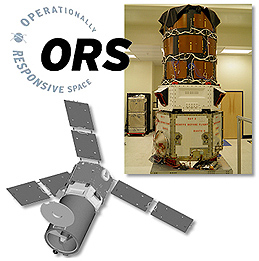 This declaration marked another milestone for the record-breaking spacecraft, which moved from the drawing board to the launch pad within 32 months and earned early combatant command acceptance in September 2011, less than 90 days after liftoff.
"Feedback we have received from U.S. Central Command is that they are very pleased with the performance of ORS-1 to date," said Thom Davis, ORS-1 program manager at Kirtland Air Force Base. "It is meeting requirements we established at the start of the program and they (USCENTCOM) are now finding new uses for it, so it continues to be a big impact to their overall mission operations."
Featuring a modified version of the SYERS-2 sensor, currently employed by U-2 aircraft, the ORS-1 satellite program began in October 2008 after USCENTCOM addressed an urgent requirement for enhanced battlespace awareness with U.S. Strategic Command. That discussion ultimately prompted the ORS office's involvement in meeting the need through the initiation of their inaugural spacecraft.
Established in May 2007, the ORS office, a DoD-administered unit, which reports to the Secretary of the Air Force in his position as the department's executive agent for space, has been tasked to design and develop low-cost, rapid-reaction payloads, buses, space lift and launch-control methods to meet joint military operational requirements for on-demand space support and regeneration.
ORS-1 program partners include ATK Spacecraft Systems & Services, Beltsville, Maryland, Goodrich Corporation ISR Systems, Danbury, Connecticut, the U.S. Naval Research Laboratory, Washington, D.C., and the Air Force Space and Missile Systems Center's Space Development and Test Directorate at Kirtland AFB. The satellite, which reached orbit in June of 2011, will remain under the control of the 1st and 7th Space Operations Squadrons at Schriever Air Force Base, Colorado.
"Having a little time to think back and reflect on what the whole ORS-1 team was able to accomplish, it really gives us a lot of lessons about how we can do these kind of programs in the future," said Dr. Peter Wegner, ORS office director. "As urgent needs come up, we really have developed processes and teams that can take those problems and turn them into solutions in very short times for reasonably small amounts of money. That is being both responsive and responsible."