NAB is the huge trade show that features all manner of commercial properties, technologies, and events for the digital media industry. But there's an element of this show that may well be overlooked — the military and government market segments. These crucial environments are recognized at NAB 2012 via the Military and Government Summit Leveraging Media to Create Actionable Intelligence track which will be conducted from Tuesday, April 17th, through Thursday, April 19th.
If your mission involves video and data, this Summit bridges the gap between government needs and cutting-edge commercial video applications and related technologies. The objective is to bring military, government, and commercial interests together in order to facilitate new ideas and business relationships. Communication is critical and this is a great way to do just that.
The summit is being held as demand for the acquisition, efficient analysis and dissemination of military and government video has never been greater. In particular, intelligence analysts are struggling to cope with the massive volume of video information provided by UAVs and other ISR platforms. As was noted at a recent workshop sponsored by the U.S. Geospatial Intelligence Foundation (USGIF) and the NAB Show, entitled "Mastering the Transition to Digital," broadcasters not only create content, but they also tag it, store it, show it to viewers and use it for other purposes — exactly the kinds of things the military and intelligence communities need to do, and could benefit from industry "lessons learned."
Topics include:
• Digital video acquisition, management
and dissemination
• Video encryption and information assurance
• The need for technical standards
• How the broadcast industry and government sector can work collaboratively
Who should attend:
Military and government personnel seeking advanced video technologies and implementation solutions, plus commercial manufacturers and researchers.
To attend these sessions,
register here for SMART Pass or Conference Flex Pass
Why should you attend:
Reflecting the growing overlap between commercial technology and military and intelligence needs and capabilities, the NAB Show this spring will again feature a Military and Government Summit devoted to the latest trends in mission-critical video and data.
The event, comprising three half-day sessions featuring key government and industry leaders, will be held during the massive broadcast industry convention, scheduled for April 9-14, 2011, in Las Vegas, Nevada.
The program features speakers and panel sessions that address how government agencies can benefit from commercial technologies and applications, many of which are exhibited at the NAB Show. In addition, commercial enterprises can learn how they can benefit from developments that are primarily intended as military solutions.
The summit offers an open dialogue where attendees may interact with speakers in order to explore and consider solutions to today's challenges. The program will feature panels and workshops focused on specific topics, along with keynote addresses by leaders in the field.
Past events have included top Department of Defense officials, including James R. Martin, Office of Deputy Under Secretary of Defense; Kevin Meiners, Office of the Under Secretary of Defense for Intelligence; Major General James Poss, deputy chief of staff for intelligence, surveillance and reconnaissance, Headquarters U.S. Air Force.
As Gerry Kaufhold, principal analyst with In-Stat, has observed, "The commercial broadcast sector, the pay-TV industry and mobile services are engaged in a lively competition for delivering protected premium video content to an ever-expanding variety of devices. By attending the NAB summit, military, government and first responder organizations can decrease time-to-deployment and reduce costs by adapting COTS solutions for their video delivery needs."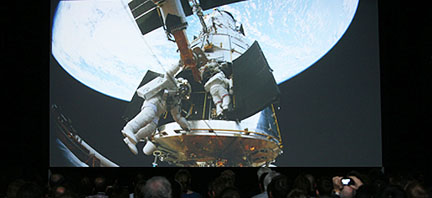 Sponsors
The summit is being held in partnership with USGIF, with Harris Corp. as platinum sponsor, General Dynamics Advanced Information Systems and Lockheed Martin as gold sponsors, and Ascent Media as silver sponsor. Geospatial Intelligence Forum is the event's media supporter.
Tuesday, April 12
8:00 to 8:30 a.m. — Keynote
Emergency Response: Meeting the Challenge
Moderator:
Joseph Smith, Technology Executive, NGA Acquisition Directorate, Sensor Assimilation Division
10:15 – 11:30 a.m.
Video Encryption and Information Assurance
Moderator:
Jon Armstrong, Full Motion Video Solutions,
Lockheed Martin
Case Studies: How Government Is Using Video Technology 2
Moderator: Keith Masback, President, USGIF
Panelists: Donnie Self, Chief Sensor Assim Director, NGA; Chief Thomas Dostie, CW5 MIL USA TRADOC, Army; Lieutenant Colonel Matt Skeen, Deputy Director Manned Airborne ISR, Air Force
Wednesday, April 13
8:00 to 8:30 a.m. — Keynote
8:45 to 10:00 a.m.
Data Storage, Analysis and Disseminatio — Lessons from the Commercial Sector
Moderator:
John Bordner, Senior Analyst, ISR, NGA
10:15 to 11:30 a.m.
COTS Solutions for ISR, Dissemination and Reporting
Moderator:
Fred Poole, Director Advanced ISR Program,
Harris Corp.

Panelist:
Sonny Marshall, President, Marshall Commun.
11:45 a.m. to 1:00 p.m.
Military Technologies for the Commercial World
Moderator:
John Delay, Director, Architectures Emerging Business, Harris Corp.

Speakers:
Dr. Tariq Bakir, FMV IR&D Lead Harris Corp.; Dr. Mita Desai, Program Manager, DARPA; Gerry Jankauskas, CTO, Bay Microsystems; Charlie Morgan, Director of Business Development, Lockheed Martin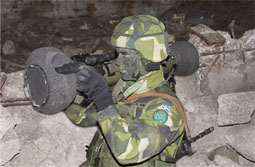 Thursday, April 14
8:00 to 8:30 a.m. — Keynote
8:45 to 10:00 a.m.
Implementation of Technology Standards
Moderator: Dave Bryant, Argotek
Speakers:
Jim Jachetta, President and Chief Executive Officer, VidOvation; Brian Campanotti, Chief Technology Officer, Front Porch Digital
10:15 to 11:30 a.m.
The Value of Handheld and Portable Media Devices
Moderator:
Gerry Kaufhold, In-Stat
Speakers:
Paul Boyden, Senior Systems Engineer, Level 3; Paul Turner Vice President Broadcast Market Development, Omeon/Harmonic; Marty Roberts, Vice President of Marketing, thePlatform
11:45 a.m. to 1:00 p.m.
Understanding the Government RFP Process
Speaker:
Scott Orbach, President, EZGSA
The 2012 NAB Show Military and Government Summit Technical Advisory Committee
• John Bordner, Senior ISR Analyst, National Geospatial-Intelligence Agency, Centreville, Virginia

• Dave Bryant, Information Systems Security Engineer, ER SMC / DET-1 IAO, Argotek (dba Cobham Analytical Solutions), Patrick AFB, Florida

• Ron Fauquet, Consultant, Operational Meterologist, Strategic Analyst, Sr. Program Mngr.

• Major Edward L. Jenkins, NGA


• Commander Robert W. Kraft, Military Deputy Sensor Assimilation – ASX National Geospatial-Intelligence Agency

• C. Stephen Kuehl, Principal Systems Engineer, Raytheon Technical Services Comp.

• Sonny Marshall, President and CEO, Marshall Communications Corporation, Ashburn, Virginia

• Veloris A. (Sonny) Marshall III is President & CEO of Marshall Communications Corp., a Systems Integrator specializing in providing broadband satellite and multimedia networking services to Govt and Commercial sectors.

• Mark Mogle, DCGS Integration Lead Airborne Team NGA Enterprise Engineering

• Charlie Morrison, Director, Business Development Lockheed Martin IS and Global Solutions

• Fred Poole, Director, Advanced ISR Programs Government Digital Media Solutions Harris Corporation, Broadcast Communications Division

• Susan Sheppard, Government Mrkt. Consultant

• Joseph A. Smith, Technical Lead, Online On-Demand Srvcs Group Vision Implementation Team National Geospatial-Intelligence Agency

• Norman S. Stein, Senior Systems Engineer TASC, Inc.