In a crisis every second counts. Lives can be lost if decision makers cannot react to a situation fast enough. Up-to-date information is the most important factor in preventing loss of life. Whether the disaster is natural or man-made, geospatial intelligence can play a critical role in the effective management of on-the-ground personnel. To fill the spatial and logistical voids often associated with disasters, DigitalGlobe recently launched two new geospatial intelligence services that enable faster response and smarter decision making.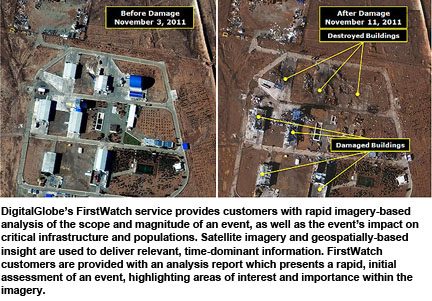 These two products are part of DigitalGlobe's vision for the fourth "era" of the commercial satellite industry: analytics. For government customers, the need for rapid and accurate analysis of imagery is becoming as important as the imagery itself. Another important component of the effective use of imagery is cloud services. This solution of cloud services is especially valuable to government, agency, and humanitarian organizations that are responding in a crisis situation. Real-time information is essential in developing a unified strategy. DigitalGlobe has reaffirmed their commitment to providing the most current information available by launching two new geospatial intelligence offerings —
FirstWatch
and the
Diplomatic Facilities Support Package
.
DigitalGlobe FirstWatch
The first service is FirstWatch, which is designed to provide rapid analysis of satellite imagery to users. The development of the FirstWatch offering stemmed from customers' requests and needs. Customers in crisis situations needed to know how to get to the affected area to help save lives and start rebuilding. Imagery is a starting point, but what our customers really needed were the answers, which FirstWatch helps provide.
In response, FirstWatch was developed to extend the value of DigitalGlobe's FirstLook crisis event monitoring and imagery delivery service, by publishing detailed analysis of FirstLook imagery along with associated information relevant to event management and response. This analysis and information gathering is conducted by experts in the DigitalGlobe Analysis Center, and varies in detail and scope based on the needs of the customer.
When a crisis occurs, the DigitalGlobe FirstLook service is activated, and DigitalGlobe's satellites begin collecting new imagery from the affected region. Immediately after the new imagery is received, DigitalGlobe's analyst begins to process it, using multiple sources of data to turn images into information.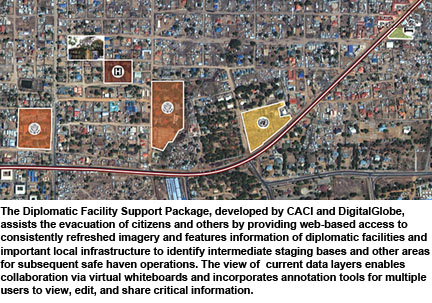 Satellites, radar and airborne sensors, open source content and social media combine to provide the most comprehensive understanding of what's developing, and what needs attention. In the event of a disaster, up-to-date images are matched with archived images from the DigitalGlobe high-definition ImageLibrary, which is the largest in the world. These comparisons allow analysts to quickly understand the extent and specifics of damage on the ground. The analysis is then published into a comprehensive DigitalGlobe FirstWatch report within hours after the event occurs.
The wide range of information included in a FirstWatch report is designed to aid customers in assessing the scope and magnitude of an event, providing vital details that are often only visible from a satellite view.
The human element in the FirstWatch service is what sets it apart, as DigitalGlobe analysts are often able to identify imagery elements that might otherwise be overlooked, or be very difficult to distinguish. Details included in a report can include evidence of structural damage, infrastructure failures, changes to topography, flood water depth, and other potentially life-threatening elements. With the necessary insight into the situation, decision makers are freed up to begin formulating the most effective response plan.
DigitalGlobe has produced FirstWatch reports for more than 50 events worldwide. One of the most notable was the report produced for the tragedy in Japan in early 2011. During this crisis, DigitalGlobe satellites constantly monitored the area for 10 consecutive days and captured the explosions and failures at the nuclear facility, the state of the country's highways, and the damage at major infrastructure like main ports and refineries. DigitalGlobe's FirstWatch report allowed users to visualize the destruction on a street-by-street basis and enact targeted response plans for rescue and humanitarian aid.
Diplomatic Facilities Support Package
DigitalGlobe's Diplomatic Facilities Support Package was jointly developed with CACI International, which provides professional services and IT solutions needed to prevail in the areas of defense, intelligence, homeland security, and IT modernization and government transformation.
DigitalGlobe's Diplomatic Facilities Support Package was specifically designed to allow governments to quickly and intelligently respond to threats to diplomatic facilities and citizens abroad, and is unprecedented in its ability to serve governments in crisis situations. Similar to the FirstWatch analysis reports, the development of this offering was initiated with customers' needs. When governments or commercial entities are dealing with their operations, the Diplomatic Facilities Support Package offers much more precision with the analysis and information provided than just an image.
The service seamlessly combines DigitalGlobe's sub-meter resolution imagery with CACI's advanced geospatial feature content, giving governments an "eye in the sky" during critical periods. The constantly refreshed imagery provided by the service gives users a current line-of-sight into geographical landscapes, structures, routes and roadways, and critical resources. It goes beyond simply capturing imagery, by providing users with their own analysis implements, such as virtual whiteboards and comprehensive annotation tools. This suite of options allows user to layer data on top of existing imagery and customize the information at hand. Customization is critical for identifying high-risk areas, planning staging bases and safe-haven operations, managing key resources and collaborating with partners.
Collaboration is made possible by the service's ability to be accessed and edited by multiple users simultaneously. Regardless of their location, users can take advantage of the complete functionality of the service with only a browser and Internet access. The program can be accessed through a desktop, laptop or most handheld devices. Furthermore, because the imagery, feature information and whiteboard annotations are updated dynamically through the cloud, all users can be sure they are accessing the more up-to-date information at all times.
Integration with DigitalGlobe's FirstLook crisis event monitoring and image delivery service adds to the real-time nature of the Diplomatic Facilities Support Package. When viewing an area of interest in the service interface, users are alerted through on-screen icon notifications when FirstLook imagery becomes available for the region they are viewing. The DigitalGlobe FirstLook service can then be selected from the list of available content layers, instantly replacing the existing basemap imagery with new FirstLook imagery captured within hours after the event occurs.
Looking Forward
These new offerings are aligned with DigitalGlobe's vision for the future of the satellite imagery industry. Going forward, it is clear that the insight derived from imagery will become more important than just the pixels themselves. The insight provided by a partner "in the sky" can make an important difference in evacuation planning, disaster response, recovery, and rebuilding in regions worldwide. DigitalGlobe's FirstLook and FirstWatch services, and the Diplomatic Facility Support Package, are among the newest tools decision makers can use to more quickly and efficiently respond and overcome the challenges of our rapidly changing world.
About the author
Stephen Wood is the Vice President of the DigitalGlobe Analysis Center. He joined DigitalGlobe in July, 2000 after nearly 14 years with the Central Intelligence Agency, and has held a range of defense sales and marketing positions at DigitalGlobe.
* * * * * * * * *
The author also posted, to the DigitalGlobe blog, the following information that illustrates the importance of imagery during a disaster.

Earthquake and Tsunami damage, Japan-March 14, 2011 Dai-Ichi Power Plant

Even now, after we've imaged the entire Earth's surface many times over, I continue to be amazed at the unique, critical perspective satellite imagery offers to the pressing events of our time. In the last decade we've been involved in responding to many disasters. There has been nothing like the recent disaster in Japan — a terrible and devastating combination of a massive earthquake, a tsunami, and a nuclear disaster. Thankfully, our constellation has been able to cover all of this.

Monitoring in this kind of situation takes on a new dimension. When numerous hazards, from road wreckage to nuclear explosion risks, make it impossible to conduct on-the- ground assessments, only the eyes in the sky can safely see what is going on. Passing over the impact zone for 10 straight days, our satellites revealed widespread destruction including evidence of collapsed structures, extensive debris, massive flooding and damage to key infrastructure.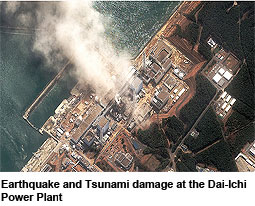 They witnessed the explosions and failures at nuclear facilities (including incredible images taken less than one minute before and three minutes after the explosion at the Fukushima Dai-Ichi Nuclear Facility, Unit #3), documented the state of the country's highways, and assessed damage at the main ports and refineries.

DigitalGlobe's online web and analytic services, FirstLook and FirstWatch, enabled browsers to see damage on a street-by-street basis, enabling in-country organizations to deliver aid and medical care and attempt to rescue those trapped in collapsed buildings. We have now collected nearly 500,000 square kilometers in imagery of the disaster region — more than Japan's total land mass of 377,923 square kilometers. The whole idea of revisit and refresh takes on new importance in this situation. Using our ImageLibrary — the largest in the world — our team was able to match fresh images with historical archives to confirm rapidly the degree of damage to the area.

Our imagery and analysis are helping the Japanese and U.S. governments, FEMA, the United Nations, Open Street Maps and concerned groups and citizens around the world to understand the scope of the disaster, manage the ever-changing situation on the ground, and set the path for recovery. Though this disaster is oceans away from many of us, it will have major political and economic repercussions across the globe for years to come. We hope that with our efforts and technology, we'll continue to bring insights into this situation a little closer to home.

Note: The author's views expressed in this posting are his own and do not necessarily reflect the view of DigitalGlobe.