The SMC Heritage Center is the place to learn about the rich history of the Space and Missile Systems Center (SMC) and the U.S. Air and Space Forces - and their contributions to civilian space capabilities. It's also where visitors get a glimpse into the future challenges and discoveries ahead. "All of our systems today — and what we're going to develop in the future — are built on the foundation of everything we have done in the past," Lt. Col. (Ret.) Lane Gilchrist, Heritage Center docent.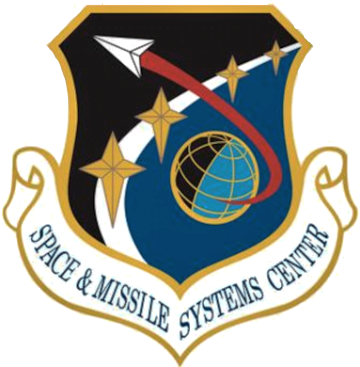 Located in the Schriever Space Complex at SMC at the Los Angeles Air Force Base in El Segundo, California, the Heritage Center is a field activity for the National Museum of the United States Air Force, said the Heritage Center's director, Layesanna Rivera. It began as an Air Force Historical Holding in 2006 and then became an Air Force Heritage Center in 2008. However, a location to properly display the many artifacts wasn't secured until several years later.
Harry Waldron, the Chief Historian at the time, and Karen Austin, a museum specialist and the Heritage Center's former Director, led the effort to collect a variety of space and missile artifacts and the displays to showcase them.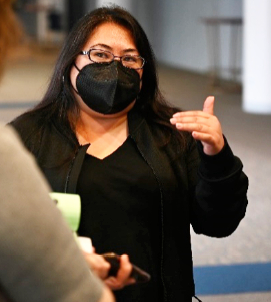 Layesanna Rivera
The Heritage Center officially opened on October 8, 2014, and in its first year of operation, boasted 38 displays with 410 artifacts displayed there and across the Los Angeles Air Force Base.
The Covid-19 pandemic limited in-person tours last year, but allowed the Heritage Center to begin updating displays to make the artifacts easier to access, Rivera said. Currently, the Center offers virtual tours and staff are also available to deliver classroom presentations for schools and local STEM events. In-person tours are scheduled to resume this summer.
Many people — even those who grew up in Southern California — aren't aware of the critical role SMC and its predecessor organizations played in the history of United States space systems, Rivera said. A tour of the Heritage Center is often an eye-opening experience, and not just for students.
"We're very proud of the work SMC has been doing for close to 70 years," said Col. Elizabeth A. Aptekar, Strategic Communication and Public Affairs director for SMC. "As we continue to build on our incredible legacy of space capabilities and national defense in space, we are so fortunate to have a Heritage Center documenting the details so our story can be shared with future Guardians and Airmen, their families and visitors of all ages for years to come."
---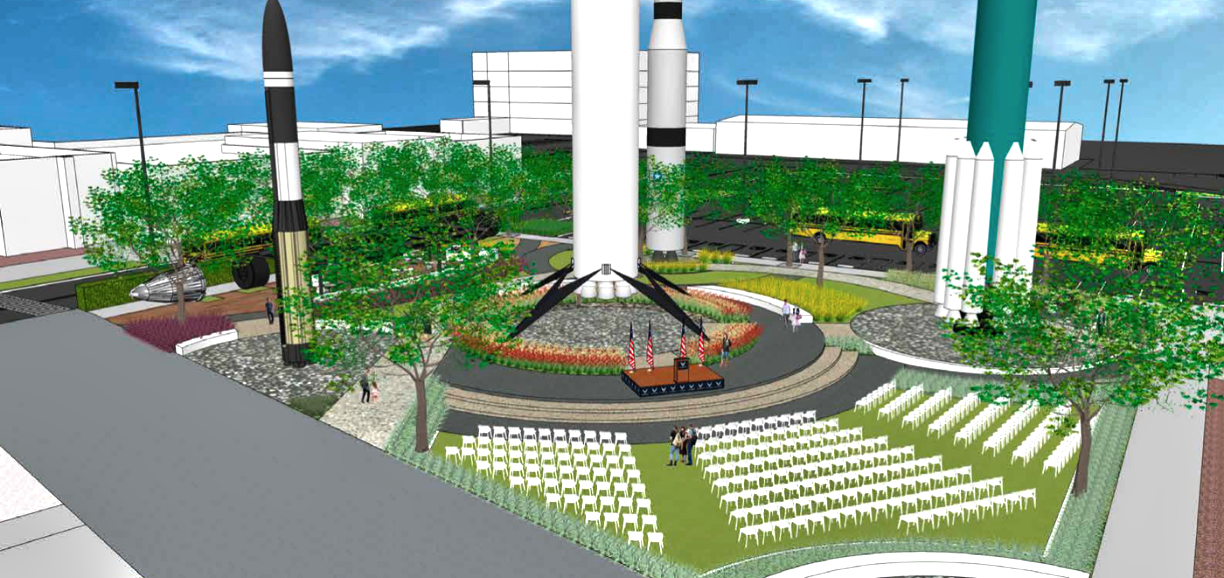 Artistic rendition of one view of what the future SMC Space Heritage & STEM Park might look like, showcasing historic static displays of launch vehicles and missiles from SMC's history.
---
"The biggest surprise for our student visitors is learning that they have the U.S. Air Force and now the U.S. Space Force right in their backyard," said Lieutenant Colonel [Ret.] Lane Gilchrist who also volunteers with SMC's STEM Outreach program.
He continued, "The two organizations they typically know of are NASA and SpaceX. We'll ask them, 'Who do you think built and operates GPS?' and we'll usually get blank stares. Eventually, a teacher or student will catch on when we say, 'Think about where you're standing.' 'Oh! The Air Force!,' they exclaim."
SMC has made its technology such a part of our every-day lives that people tend to take the capabilities for granted and aren't compelled to understand their origins.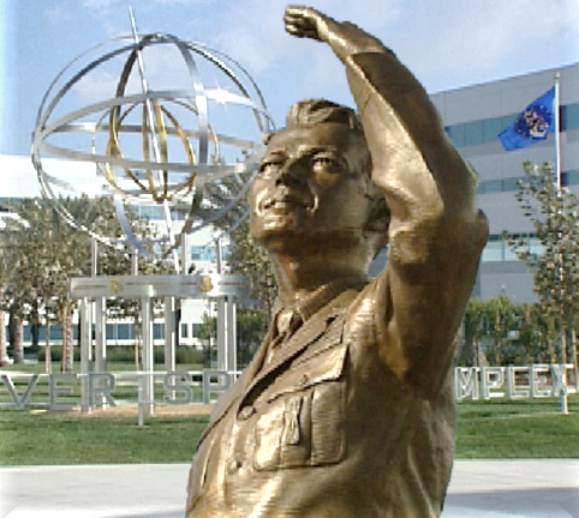 Statue of Gen. Bernard A. Schriever at Los Angeles Air
Force Base
The Heritage Center is a place for people to become educated, motivated and inspired, Rivera said, noting, "It's so rewarding when (Los Angeles Air Force) Base personnel bring their families to show them: this is the foundation of what we do. The families gain a better understanding of the importance of what their parent, son, daughter or spouse does every day."
"The Heritage Center also provides educational value to SMC's workforce, by helping them understand why we're acquiring technologies and capabilities the way we are. Our team of personnel gain a better understanding of how their work helps carry on the legacy," Gilchrist noted.
He said, "As a brand-new 2nd Lieutenant, the first satellite I operated was a Milstar communication satellite. We launched the first one in 1994, and I arrived to the squadron two weeks before, right on the ground floor of operating this brand-new satellite. It was fun, it was exciting... it was also really, really slow. It took 20 years to build using 1980s technology, based on a 1970s concept that we finally launched in the 90s. That satellite is still operational today, more than 25 years later. We built it so incredibly well, it's still flying, and it still has operational value. Today, everybody's looking at how we can not only acquire the most innovative technology, but how can we innovate our acquisition process to develop, acquire, and field resilient space capabilities better and faster?"
The Heritage Center begins its coverage of space with American physicist Robert H. Goddard, who created and built the first liquid-fueled rocket, which he launched in 1926.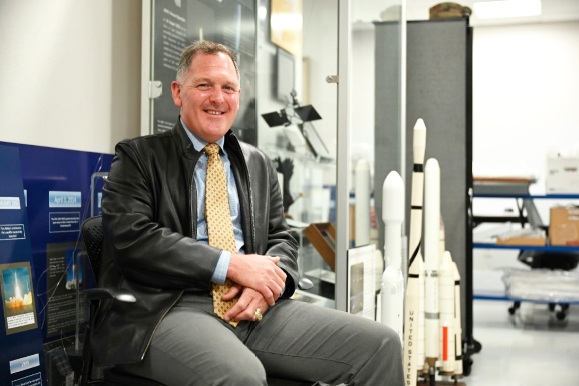 Lane Gilchrist
Despite his pioneering efforts, Goddard's work was often criticized and mocked in the press. Forty-nine years after the New York Times published a scathing editorial in 1920 about Goddard's early work, the newspaper issued a three-paragraph correction on the day after the launch of Apollo 11, admitting that rockets indeed could function in a vacuum as well as an atmosphere.
"When we see how some people are skeptical about today's space programs, it's really interesting to look back and see how hard it was for some of the earliest space pioneers," Rivera explained. "Their work is recognized today, but at the time, most people thought what they today, but at the time, most people th were attempting to do was impossible." The Heritage Center exhibits cover the history of rocket development; space-based systems for surveillance, missile warning, weather observation, navigation and communication; notable space pioneers; and document projects the USAF and SMC worked on in support of NASA.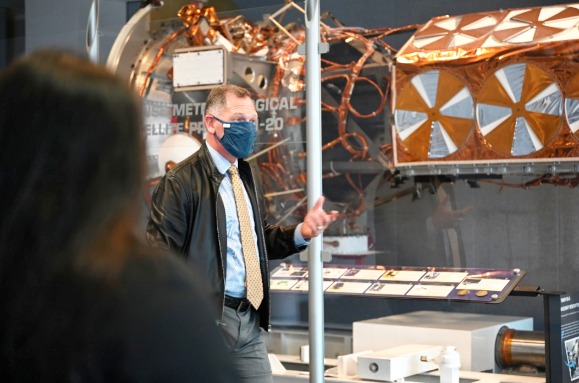 Lt. Col. (Ret.) Lane Gilchrist (Ret.), SMC Heritage Center docent,
stands in front of the Defense Meteorological Satellite Program F20
vehicle and discusses the capabilities of the DMSP, May 19, 2021 at
Los Angeles Air Force Base, California. The DMSP vehicle provided
the systems to conduct military weather observations from space.
U.S. Space Force photo by Staff Sgt. Andrew Moore.
One of the highlights of a Heritage Center tour is the DMSP (Defense Meteorological Satellite Program) F20 satellite — which is an actual satellite, the last in a series. Originally a classified project, the DMSP was designed to relay weather and climate data to the military, starting in the 1960s. As SMC was moving on to the next-generation of space-based weather systems, and because of cost- saving measures, the DMSP F20 was not launched and SMC was able to acquire the satellite as a historical display.
Visitors can see the satellite bus — which provides the structure for the satellite including the heating, cooling, propulsion and batteries — displayed on the test stand that was used during its construction.
Two of the sensors — the celestial and Earth sensors — and the four reaction wheels that function to keep the satellite stabilized in orbit also are on display. The DMSP F20 was a three-axis stabilized satellite, Gilchrist noted; the fourth wheel was redundant in case of equipment failure.
"When you tell (visitors,) 'This is the real thing,' they're like, 'Wow!" and then they immediately follow up with all sorts of questions, which opens up a dialog to share information," Gilchrist said.
One of the newest artifacts on display is full-scale Vela satellite model from the 1960s (see this article's first page), which was donated to SMC by Northrop Grumman in May. The Vela satellite system was the first space-based system used for nuclear surveillance and was designed to detect nuclear detonations by detecting neutrons, x-rays and gamma ray radiation from nuclear explosions in the Earth's atmosphere.
A total of 12 Vela satellites were launched and, although the first six were designed to last 6 months and the last six, 18 months, they were operational for many years beyond that, with the last safely shut down in 1984.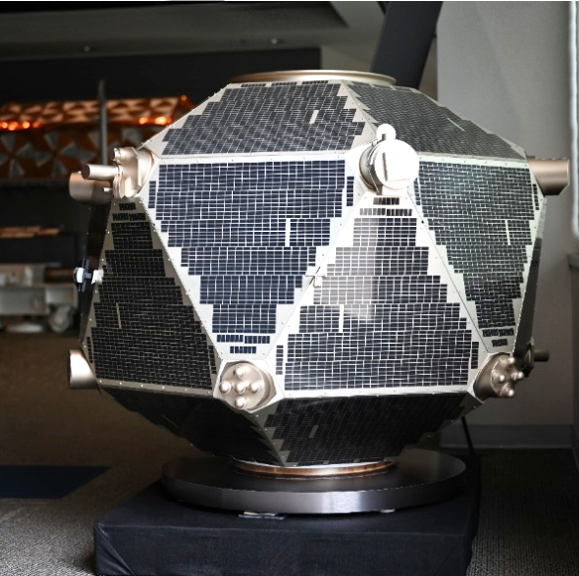 One of the newest artifacts on display at the SMC Heritage
Center: a full-scale model of a Vela satellite, donated by
Northrop Grumman. (U.S. Space Force photo by
Staff Sgt. Andrew Moore).
Another milestone of satellite development was the creation of GPS, in which SMC played an integral part. The Heritage Center has several models of GPS satellites on display. The first GPS prototype satellite was launched in 1978 and SMC has developed several generations of improved GPS Block II satellites, known as Block IIA (Advanced), Block IIR (Replacement) and Block IIR-M (Modernized Replacement) as well as the currently launching GPS III block.,
The Heritage Center has several artifacts of space debris, including a large piece that was part of the GPS IIR-6 launch on November 10, 2000. The piece, a scorched section of casing that was located between the satellite itself and the Delta II rocket, didn't burn up in the atmosphere when it fell to earth, and was recovered off the coast of Thailand.
Among the outdoor exhibits is the Scorpius SR-M launch vehicle, donated as a STEM asset that visitors can walk up and touch. The displays also illustrate that progress doesn't always move in a straight line from success to success. Detours, failures and unexpected discoveries happen along the way.
"It often boils down to budgets and accidents," Gilchrist said. "Something turns out to be too expensive and we move away from that technology, or we discover something that moves us in another direction – away from one program and towards another. I worked on the TSAT (Transformational Satellite Communications System) program in the mid-2000s, which turned out to be too expensive, but all the research and development work has been applied to satellites we're launching today and satellites we're looking to launch in the future."
It's a lesson he likes to remind visiting children who might be intimidated about pursuing a career in space.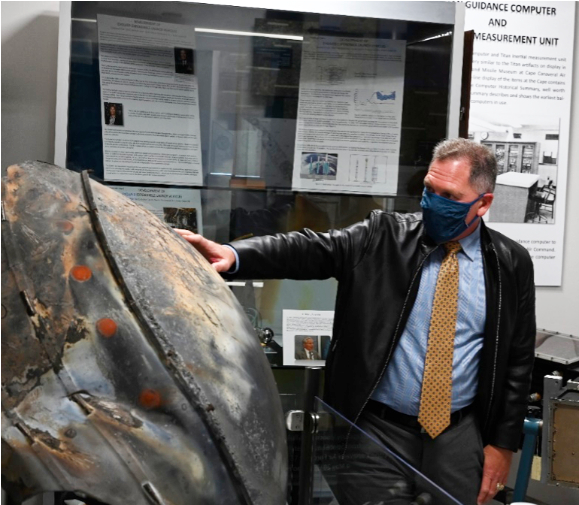 Lt. Col. (Ret.) Lane Gilchrist (Ret.) inspects a piece of
space debris from the GPS IIR-6 mission. U.S. Space Force
photo by Staff Sgt. Andrew Moore.
"I just keep on trying to inspire them – don't give up," Gilchrist said. "Yes, working in space is hard, but it's worth it. I tell them, if you've got a little bit of aptitude or interest for it, don't give up. We also need kids to know that failures are ok. Think of all the rockets launched that didn't make it. But we can't ever give up, we keep working at it — because we have to. Not enough kids are being STEM educated, and we need them."
Next year, pending funding, there will be even more to inspire future Airmen and Guardians who come to the museum. SMC is working on plans to expand the Heritage Center into an outdoor park, with even more displays and artifacts.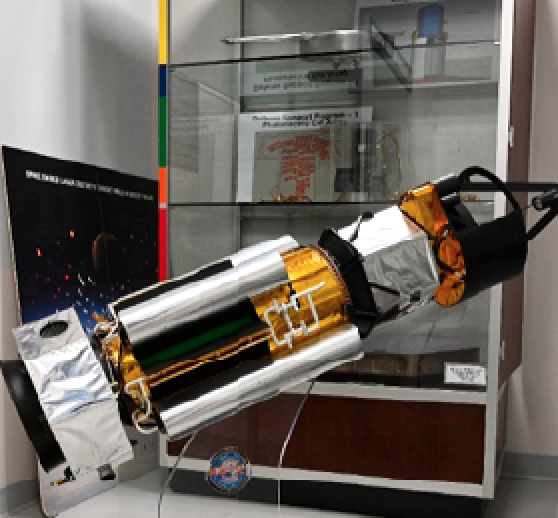 One of the artifacts on display at the SMC Heritage Center.
U.S. Space Force photo by Staff Sgt. Andrew Moore.
"The future SMC Space Heritage and STEM Park will showcase historic static displays of launch vehicles and missiles from the Center's rich heritage across the decades – all in an inviting park setting for the base population to enjoy daily, for speaking events, ceremonies, and offering many STEM education possibilities," said Lt. Col. Thad Wharton, Acting SMC Program Execution Group Lead.
With the support of SMC's industry partners, the Heritage Center will be gifted a SpaceX Falcon 9 first stage, a soon-to-be-revealed United Launch Alliance (ULA) artifact, a Titan artifact, a Merlin engine, an ICBM, and other displays that will enrich the community.
"Many USSF/USAF bases feature impressive Rocket Gardens and the Park at Los Angeles Air Force Base will join the ranks as we honor our history and herald a bright future as a Field Command in the USSF," said Gilchrist.
The U.S. Space Force's Space and Missile Systems Center, located at Los Angeles Air Force Base in El Segundo, California, is the center of excellence for acquiring and developing military space systems. SMC's portfolio includes space launch, global positioning systems, military satellite communications, a defense meteorological satellite control network, range systems, space-based infrared systems, and space domain awareness capabilities.
Contact Space & Missile Systems Center at SMC@Spaceforce.mil and follow on LinkedIn.
---