Kratos Defense & Security Solutions—Integral Sytems
by John Monahan, President, RT Logic, and Robert Wright, Jr., Sr. V.P. + GM, Integral Systems
2011 has been a year of opportunity. Despite the state of the global economy, it has reinforced the axiom that those who stay close to their customers and offer innovative and flexible solutions will do well. As demand for increased satellite bandwidth, improved ROI and QoS continue to grow, it is driving innovation and efficiencies never before seen. Industry customers will continue to seek out affordable, easily accessible and customizable commercial-based solutions as an alternative to expensive, proprietary products.
Since 1997, RT Logic has delivered innovative ground-based, signal processing systems for the space and aerospace communications industry. More than 4,000 of our systems have been deployed and are being used by 90 percent of U.S. space missions during their test, launch and/or on-orbit phase. Our solutions help ensure that customers meet their mission requirements and optimize their operations, while doing so with little to no increase in staff, on-schedule and within budget.
Earlier this year, our parent company, Integral Systems, was acquired by Kratos Defense and Security Solutions. Now, as part of this leading technology solutions provider with nearly $1 billion in revenue, RT Logic is closely partnering with other elements of Kratos and with our sister companies — CVG-Avtec, SAT Corporation, Newpoint Technologies, and Lumistar — to provide best-in-class, commercial-based products and services that assure the availability, reliability and security of satellite and terrestrial networks. This includes solutions across a wide spectrum, from command and control to signal processing, interference monitoring and geolocation, network management, cybersecurity, data recording, test applications and other areas where the industry is seeking new and advanced solutions.
It is clear that 2012 will continue to be a time of change. To meet the increasing demands of government and commercial customers, vendors will have to be even more flexible, innovative and responsive. They will need to tackle additional program requirements, even during the development and deployment phases, and provide solutions that drive efficiencies throughout the system. Upcoming U.S. Government budget reductions will pose an interesting challenge in driving the next generation of efficiencies. New program starts will be few and far between. Existing programs will need to adapt to and integrate new capabilities or solve obsolescence issues in a cost constrained environment. Companies that offer commercial-based solutions and rely on open and adaptable architectures at a fixed price will hold a considerable advantage.
On the technology side, we will see a new set of capabilities come online or be exploited in novel and possibly unanticipated ways. These include the Space-based Infrared System (SBIRS), Space Based Space Surveillance (SBSS) System, Rapid Attack Identification Detection Reporting System (RAIDRS), Advanced Extremely High Frequency (AEHF), hosted payloads, and others. As the ground systems for many of these programs were delivered many years prior to initial operations, this will offer opportunities to adapt the current ground systems to meet changing Concept of Operations (CONOPS), as well as new applications and threats. It will reinforce the need for flexible architectures that can accommodate unanticipated changes to the global situational/threat landscape.

In addition, RF interference will continue to challenge the industry. By proactively addressing the problem, commercial satellite operators, service providers, resellers and broadcasters can mitigate the loss of millions of dollars of revenue/profit by applying proven technologies. In 2011, in partnership with our sister company, SAT Corporation, we increased our ability to offer satellite interference monitoring and mitigation capabilities as a service. SAT Corporation is the only company that can provide comprehensive RF mitigation solutions (analysis, monitoring, detection and geolocation) as either a product solution or a service. Customers of all sizes now have access to the most powerful interference detection and geolocation capabilities available today.

While other trends are sure to arise, no matter what the coming year brings we will continue to do what we have always done: focus on the customer. We remain committed to listening and to delivering innovative products and services that meet the sometimes contrasting needs of providing greater levels of service in a cost-conscious environment. As we close this year and enter 2012, it is clear that the need for more efficient, scalable, flexible and affordable products will continue to increase.
* * * * * * * * *
KVH Industries
by William A. Houtz, Manager, Military Products
KVH's military satellite communications business grew in a number of ways over the past year. That growth was supported by some key developments in our product and service offering, including the completion of the original global expansion plan for the mini-VSAT Broadband network. We also introduced the ultra-compact (14.5") TracPhone® V3 satellite communications antenna in February, making the mini-VSAT BroadbandSM service available to a much wider array of vessels and vehicles than ever before.
The TracPhone V3 is already in use with the U.S. Navy's Southern Command and, along with the TracPhone V7, played an important role during the 2011 PANAMAX training exercise in August. This 12-day exercise involved more than 3,500 military and civilian personnel from more than 17 countries. Dedicated to maintaining the security of the Panama Canal, it is one of the largest multinational training exercises in the world, so clear and reliable communications – despite differences in native languages and data network specifications – are key to its success. The rugged TracPhone V-series antennas and reliable mini-VSAT Broadband network provide an outstanding solution for keeping coalitions like this one working smoothly.
Our partner, Mackay Communications, took the TracPhone V3 one step further in September, introducing a portable system configuration that is housed in two hard cases and can be deployed anywhere in the world. The configuration is so versatile, it can be easily transported as checked baggage on commercial flights. Just a few months after its introduction, the system is already being adopted by contingency response units.
Mackay Communications was also a key player in orchestrating the first TracPhone V7 deployment on U.S. Navy and National Oceanic and Atmospheric Administration (NOAA) vessels. NOAA's Office of National Marine Sanctuaries (ONMS) is using the TracPhone V7 aboard an 85' small research vessel (SRVx). These vessels support a range of NOAA research activities, including critical ocean conservation and resource protection missions.
The U.S. Navy adopted a KVH solution specifically to support crew welfare and retention efforts – it includes a TracPhone V7 satellite communications antenna and mini-VSAT Broadband service, along with KVH's CommBox™ Ship/Shore Network Manager and the CommBox QuickCrew™ software module. This configuration offers a variety of features for convenient, prepaid crew access to e-mail and web browsing anywhere in the world. The QuickCrew status window allows users to see their available credit and other details at a glance, and the application supports e-mail accounts from any POP3/SMTP/IMAP client. For vessel managers, this solution is easy to manage, with usage that is logged and easy to retrieve, along with automatic termination of service when credits are depleted.
The U.S. Coast Guard completed its deployment of the TracPhone V7 on its 110' WPB class cutters and 225' WLB class seagoing buoy tenders and began installing the systems on its 210' WMEC class medium endurance cutters. Fulfillment of the systems purchased in the $42 million, 10-year contract announced in September, 2010 for the Coast Guard's small and medium cutters is progressing steadily, with the pilot stage for deployment of TracPhone V7 systems on its 87' WPB class coastal patrol vessels nearing completion. These vessels are utilizing the TracPhone V7's robust communications capabilities in a variety of U.S. military operations and exercises, including PANAMAX.
A number of navies around the world are making use of the TracPhone V7 and mini-VSAT Broadband service for similar operations. For instance, the Republic of Korea Navy recently installed TracPhone V7 systems on two additional destroyers, completing deployment of the system on this class of capital ships.
KVH continued to offer TracVision® satellite TV products to military customers through 2011, as navies and coalitions worked to support crew morale and retention aboard their ships. Worldwide satellite TV systems like KVH's TracVision M9 and the new, HDTV-ready TracVision HD11 provide access to high-powered regional satellite TV services around the globe, so crew members have access to the same kind of satellite TV programming they enjoy at home wherever they travel.
As 2012 approaches, KVH is looking forward to supporting international militaries with a global presence, including offices in Middletown, RI, Tinley Park, IL, Denmark, Norway, and Singapore, with plans for KVH entities in Brazil and Japan. We will also open a new 75,000 square foot manufacturing and warehouse facility at our world headquarters in Middletown, RI to support growing demand for our satellite products.
We are just now scratching the surface of communications needs for international navies, coastal defense teams, and other government customers. We're just getting into new markets like contingency response with new products like Mackay Communications' portable TracPhone V3 configuration. Government and military entities are rapidly becoming more technologically dependent on satellite broadband for mission requirements, while having to simultaneously reduce budgets, and KVH is poised to offer the satellite communications solutions they need at the prices they want.
* * * * * * * * *
Newtec
by Serge Van Herck, CEO
This year has been a particularly successful one for the satellite industry. Whilst the global markets in 2011 have been steady but lack lustre in many regions, they have been particularly strong in rapidly developing parts of the world. The satellite industry has been buoyant with connectivity, increasing TV transmissions, IP broadband traffic, a growing requirement for mobile backhaul and also implementation of technological innovations such as Ka-band pushing it forward.
In a recent paper by international telecom market research and consulting firm NSR, analysts predict that 1,600 satellites will be launched in the next 15 years. This will likely be worth $250 billion to the satellite industry over the same time period.
With the future outlook for the industry being particularly bright, Newtec has been planning and implementing new strategies in 2011 to align itself and reap the potential rewards. Innovations this year, major contract wins and the decision to improve the way Newtec works with its partners, have assured 2011 has its place in the record books as one of the most transformational in the company's 26-year history.

Newtec has also set a clear ambition to strengthen its core focus onto key vertical markets. The company's sights are set on broadband, Ka and multiservice solutions, converging broadcast technologies, government and defence solutions, and IP trunking and backbone markets as primary targets. For the latter, market research has already shown that Newtec is the global market leader.
With the burden on governments to monitor their budgets tightly, and to make the most of satellite throughput, Newtec continues to see this as an area where major efficiencies can be made. Satellite communications are vital to many government communications. They play an important role in communicating with UAVs, fixed communications, Intelligence gathering and also with troop Moral, Welfare and Recreation (MWR) programs.
When talking about technologies for UAVs Newtec's FlexACM® ensures more efficient beyond line of sight communications. At the same time optimal availability can be achieved in any fading condition – such as inclined orbit, weather and interference – to keep mission-critical communications running at all times.
With this in mind Newtec has expanded its conference and exhibition programme. In 2011 it exhibited at Milcom, Global MilsatCom and Milipol to name just a few. And for those who could not attend tradeshows, Newtec has regularly offered free webinars as well as hosted its own seminar in Miami.
Of course Newtec has maintained its focus on other exhibitions in 2011 too, launching many new products in the broadcast, IP trunking and broadband access markets at IBC 2011. It also had a major presence at NAB, CommunicAsia, Convergence India and the Satellite show in Washington among other industry shows.
The year 2011 has been a very successful one for Newtec in which it has won major contracts and aligned itself successfully with a buoyant industry.
In 2012 Newtec will increase its efforts across the globe but in particular, in Africa and Russia where market penetration will be boosted as new excellent partners combine with innovative new solutions and products.
Now and in the future Newtec is committed to its position in the market as an independent technology provider of choice. Its core belief is to help customers and partners to succeed through innovation and cutting edge technology. With a fine-tuned strategy there is every confidence that 2012 can be equally as successful.
* * * * * * * * *
Segovia
by Andy Beegan, Chief Technology Officer + Senior Vice President, Engineering and Operations

In recent years, we watched the need for defense-centric communications increase, as the military continued to seek more efficient and effective ways of delivering net-centric applications capabilities that equip soldiers with better airborne intelligence and surveillance and reconnaissance (AISR) assets and improve the availability and reliability of mobile devices. At the same time, U.S. defense agencies were increasingly forced to work under more constrained budgets to meet and sustain their efforts.
What was often more difficult was to find contractors that could provide the depth and breadth of services required in wholly efficient and reliable manner that could be available anytime, anywhere. Thus, the government customer seeks innovative ways how to procure those capabilities, which in turn drives the demand for end-to-end solutions. At the same time, this approach requires the broadening of vendors' capabilities.
As a result, Segovia has built and continues to innovate its business model based on the defense market's mandates and offers a secure managed service delivered in an end-to-end distribution path, which allows defense organizations to maximize network infrastructure performance at a reduced cost. We have made enhancements to the Segovia network, which encompasses every component of an end-to-end service. It's fully integrated, from the remote terminal segment, to the space segment, to the teleport services and the terrestrial backbone that connects the end user back to a secure and private network. The Company has been delivering seamless network environments that support the basic core communication services relevant and common to every element of multi-agency organizations.
Next year we expect to see defense organizations seek solutions that can bolster security with an enterprise approach to information assurance and the detailed focus and attention required to combat evolving threats. To meet this demand, Segovia will continue to build and manage its own infrastructure, unlike other providers that may only resell various network components with no physical title or control to the assets. Our approach aims to minimize the number of layers that are between us and the customer, and between us and the control of those assets. This has enabled us to establish increased security measures over network devices, from both a physical and logical standpoint. We know how critical the diversity, redundancy and security of the network is to our customers, and we value that, which is why we remain fully involved with the management of each component, both at the physical and information layer.
Bandwidth requirements will continue to grow and it's clear that the satellite industry needs to find a way to deliver more bandwidth with improved cost efficiency. To deliver this critical need, Segovia, as part of the Inmarsat family of companies, has taken a leadership role in the delivery of Inmarsat's new Ka-band satellite platform, Global Xpress™. This next-generation capability will provide high capacity, global Ka-bandwidth delivered as a secure, managed service to customers that includes all components of the solution in an end-to-end chain, and, thus, enable to lower customers' costs significantly. With the revolutionary value add, Global Xpress is a true game changer, redefining fixed and mobile satellite services and setting new standards for SATCOM. In 2013, the Global Xpress constellation will launch, and Segovia will be a key vehicle in delivering Ka band end-to-end managed services.
Finally, it's important to stress that the defense agencies' budget and resource constraints will be part of the environment for years to come, making the adoption of end-to-end delivery models critical for our industry. While this remained true even in recent years, still, many firms in our industry, whether they are traditional terrestrial or satellite telecommunication providers, tend to fixate on just one element of the communications chain. This has put government end users in the position of piecing together all of the elements, which can add costs. This method also becomes problematic from the lifecycle maintenance point of view or simply, when an issue arises and the end user needs to deal with multiple providers within its supply chain. This approach introduces significant inefficiencies and wastes and, in turn, can negatively impact the user's core mission. Executing the mission with one system integrator vs. multiple disparate vendors provides the end user with one button to push for performance and accountability and obviates the recurring issue of scattered control.
In essence, the Segovia end-to-end delivery model is becoming the standard that our customers demand. As more and more defense agencies are realizing, the speed of the acquisition cycle is minimized with a single provider and cost efficiencies are realized with bandwidth sharing. In fact, the always-on framework allows for bandwidth portability and scalable services including bandwidth-on-demand and "pay as you go" surge support.

As requirements evolve, the market will continue to demand solutions that can easily adapt to future needs, including flexible, cost-effective and full-lifecycle managed solutions that use standard-based architecture and commercial-off-the-shelf (COTS) products. As a result, the industry, as Segovia has shown, will be required to bring secure, interoperable end-to-end solutions that can provide exceptional value and return on investment indefinitely.
* * * * * * * * *
SkyWave Mobile
by Dr. Sean Faulkner, Vice President


2011 has been a revolutionary year for SkyWave. Our biggest accomplishment thus far has been the introduction of IsatData Pro, a new Inmarsat-based machine-to-machine (M2M) service and platform that will enable our customers to offer wireless connectivity that previously was unavailable with any other global satellite services in the market.
As expected, the increased payload capacity offered by IsatData Pro, along with the decreased message delivery time, has opened up a number of new markets for SkyWave and allowed us to offer our services where previously we could not offer a compelling solution. We are seeing a surge of demand for the service in everything from the transportation, maritime and oil and gas, utilities and SCADA sector. The applications are not ones that we have seen before – in fact, the trend is to offer connectivity similar to what end customers are used to experiencing when they can use cellular-based services.
The transportation sector has been by far the biggest sector to embrace IsatData Pro. While for many companies a cellular-based service is sufficient, for others having that seamless connectivity when their vehicles move in and out of cellular reach or avoiding costly and unpredictable roaming charges means they are using satellite service as a backup. In some parts of the world, it has taken a long time for the sector to embrace this concept because satellite has been viewed as "expensive"; the new price points now ffered by M2M services like IsatData Pro suddenly make satellite the logical choice.
In geographies like Brazil, the benefits of satellite service have long been known and IsatData Pro is being embraced for the increased messaging capability and consequently the ability to deliver more services. SkyWave customers such as Brazil's OnixSat, who primarily offer security-based applications via satellite, are looking to offer services such as the ability to send "free-form" text messaging, logistics forms, telemetry reports, and driver monitoring information regardless of the location of their vehicle.
"Drivers and business owners no longer want to wait until the truck is in an approved cellular network to receive the information – they want connectivity now regardless of the vehicle's location" says Wagner Eloy, Director of Sales at OnixSat. "The IsatData Pro satellite service enables us to provide the connectivity that our customers are demanding".
Building on the concept of being able to send logistics forms while on the road, SkyWave customers like Skymira are driving business mobility solutions to the next level. The further proliferation of smartphones, tablets and iPads means that organizations are looking at how they can extend their enterprise IT system to the field workforce. They want field workers to immediately be able to access or input CRM/customer management, inventory, dispatch and work order data.
"The drive for business mobility solutions is the need for improved responsiveness to customers, increased worker productivity and transformed business processes" says Robert Landsfield, CEO of Skymira. "IsatData Pro integrated into our system allows us to provide that extension of the IT enterprise system wherever the field worker may be located."
For customers servicing the oil & gas sector like M2M Data Corporation, IsatData Pro allows them to offer the ability to send and receive more information, enabling customers to cost effectively get the field data they need for their operations. As an example, when a compressor reports an error code, with IsatData Pro M2M Data Corporation customers can request diagnostic, historical and trending data before sending a technician to the site.
"With IsatData Pro, customers have the ability to have more information on hand as to why the compressor is reporting a specific error code and prepare the technician with the right tools and knowledge to perform a first-time fix" says Donald Wallace, CEO of M2M Data Corporation. "It is not only about increasing customer satisfaction but also reducing employee windshield (driving) time."
Earlier this year, Quake Global announced that their new Q-Pro modem would be available in an IsatData Pro configuration. The addition of lsatData Pro capability to the Q-Pro will allow Quake Global's customers to send higher volumes of telemetry data, and to send that data from locations that might not be covered by other satellite services.

"The large packet sizes offered by IsatData Pro will enable our customers to quickly request and receive location, diagnostic and prognostic information at a very competitive rate" says Ken Connor, VP of Sales at Quake Global. "Customers can expect the Q-Pro module with the IsatData Pro configuration to provide a valuable extension of the services that they already receive with GSM."
The examples that I have talked about so far are just a few of the channel partners that have embraced IsatData Pro and are going to market with solutions. We have many more that are integrating the service into their offering. Expect to see many more solution announcements in 2012!
* * * * * * * * *
TeleCommunication Systems
by James Sprungle, Vice President, Government Programs

Despite the economic turmoil that impacted the U.S. and the world in 2011, TeleCommunication Systems, Inc. (TCS), a world leader in highly reliable and secure mobile communication technology, has managed to end the year on a high note, especially its Government Solutions Group, led by Michael Bristol, senior vice president and general manager, government solutions.
In 2011, TCS received significant wins related to the U.S. Army's $5 billion World-Wide Satellite Systems (WWSS) contract, including a $60 million contract providing Tactical SHF Satellite Terminals and a $20 million contract for systems and field services of Secret Internet Protocol Router and Non-secure Internet Protocol Router Access Point (SNAP) Very Small Aperture Terminal (VSAT) satellite systems, which brings the total of fielded SNAP systems to over 700. "The WWSS orders are a testament that the U.S. military has embraced TCS' line of deployable communications products and is making them an integral part of today's modern battlefield," said Bristol.
The company also launched the TCS Impact Tactical IP Terminal, a modular communication system that dynamically improves the warfighters capabilities while greatly reducing size, weight and power consumption. It can be deployed as a very small, standalone unit down to the team level, or, it can be expanded dynamically to serve the brigade or higher level.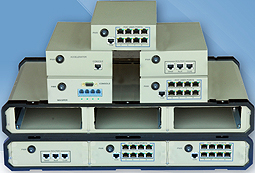 TCS' Government Solutions segment entered into an exclusive arrangement to be the operator of the Cisco Internet Routing in Space (IRIS) solution using the Cisco® 18400 Space Router on Intelsat IS-14, the most advanced commercial satellite platform available today. This industry-first solution, known as OS-IRIS, enables the convergence of satellite communications and existing information technology infrastructure. By using the benefits of secure Layer 3 Internet Protocol (IP) routing on board the spacecraft, end-to-end IP Virtual Private Network services can be offered directly from space with new levels of flexibility and network control.
TCS has seen an upswing in interest and orders for the Tactical Transportable TROPO (3T) system, which provides long-haul, high-bandwidth and low-latency communications with best-in-class proven technology.
In 2011, TCS completed its infrastructure investments required to achieve Mission Assurance Category (MAC) II compliance for the Department of Defense (DoD), and stands ready to meet and certify to customer specific Information Assurance requirements. Mission Assurance Categories for DoD systems define mission requirements for availability and integrity.
What will we see in 2012 and beyond? According to Bristol, the key themes will continue to be "smaller, lighter, cheaper, and more throughput." "The DoD will be looking for providers that offer total communications solutions, which will extend from the desktop at headquarters all the way to a warfighter's handset at the most remote edge of the network—in other words, you must be a 'core to the edge' provider," Bristol said. "With satellite (SATCOM), cellular and terrestrial communications becoming more interconnected, communications equipment must handle each of these transport mechanisms with ease. As satellite bandwidth is a finite commodity that is in growing demand, which drives up its cost, being able to offer alternatives like TROPO, tactical cellular and wireless will place even more emphasis on mature product availability," Bristol stated.
The future will also demand that providers use innovative techniques to extend Internet routing capabilities as far out to the edge as possible. Part of the reason for this is that as budget cuts translate into fewer troops, those troops will be called upon to do more.

This portends well for TCS, as the TotalCom portfolio of products, services and support provides cost-effective, core-to-the-edge solutions from a single vendor. In addition, TotalCom meets that needed blend of satellite, terrestrial and wireless solutions. TCS is also well-positioned when it comes to Internet routing, via their OS-IRIS solution. "The future will demand that suppliers meet the government's basic demand of 'more for less.' With our ability to meet this demand via TotalCom, TCS is well-positioned for the future," said Bristol.
* * * * * * * * *
USSecurenet
by Brian Azia, Sales Executive
Relatively new to the industry, USSecurenet is a fundamental provider of mobile satellite communications to U.S. troops overseas via DISA, DITCO, and VAS providers serving the DoD. USSecurenet is seeing a significant demand on U.S. soil for those same products it has developed and provided to the U.S. military. As the weather changes and our climate and ecosystems evolve, first responders, public safety, and government officials are pressing for the products that keep our military connected in the direst situations. This is a natural progression of technological improvement, and one that USSecurenet is proud to support. The company's training center is daily designing satellite and VAS communications packages for emergency responders and the United States government.
This past year has proven to be a virtual nightmare in the contiguous United States for first responders and government officials. Blizzards, tornadoes, earthquakes, and hurricanes have pummeled various areas of the country, devastating entire neighborhoods, towns, and cities, necessitating immediate and drastic relief measures. In August, as Hurricane Irene swept through the eastern United States causing massive flooding and rampant power outages, millions of individuals and businesses were affected.
USSecurenet provided satellite phone kits to local municipalities as back-up communication systems when their standard cell and land technologies were rendered useless due to power outages. The state of Vermont was devastated by Hurricane Irene- homes were leveled, roads and bridges destroyed by flooding. Tens of thousands of citizens were left without power for several days. In response to connectivity failure, the state ordered a number of satellite phones from USSecurenet, ensuring their ability to communicate if a future crisis should arise.
In times of economic hardship, it is difficult to find and appropriate funding for units of technology that, at first glance, seem extraneous and costly. However, as 2011 meets 2012, this is the perfect time for local and state municipalities to consider satellite systems as a supplement or alternative to their existing Land Mobile Radio systems. While generally reliable, traditional LMR systems fail when power grids go down. In many situations all over the U.S. this year, satellite communications would have been ideal for local law enforcement and emergency services in the wake of the several earthquakes, tornadoes, and storms that leveled some areas and rendered basic communications inoperable. In severe weather conditions or local network outages, satcoms prove reliable since our satellites are independent of terrestrial systems.
With the narrowbanding deadline just over a year away, much of the older radio systems used currently by first responders are not compliant with narrowbanding requirements and will have to be replaced by updated equipment. For smaller towns, even having just one satellite mobile command pack with BGAN connectivity, cordless satellite phones, a wireless router, and self-contained power as back up can prove essential in a crisis situation.
Command packs such as those offered by USSecurenet are expensive to the average consumer, but are comparable to costs that would outfit an entire police department with radio bases, antennas, repeaters, and portables. A basic kit with a few phones is only about 1/10 of the cost of an entire UHF/VHF system.
Even more innovative is integration of LMR with satellite. Integration of the two permits the user to maintain their radio communication despite power complications. This solution is cost-effective and reliable when terrestrial infrastructure is not. The coverage range is wider and more diverse, allowing interdepartmental connectivity, and communication is not disturbed in the event of a power outage. This option allows agencies to use satellite devices without being forced to reconstruct their communication infrastructure or abandon their existing equipment. USSecurenet plans to implement a new program in 2012 using LMR/satellite integrations. One product features an Emergency Back-Up kit that provides any-to-any communications, ensuring customers the ability to communicate via radio-to-satellite interface. The kit will interconnect any disaster site with radio dispatch, PBX, video or photo and data transmission, and closed circuit communications promoting Situational Awareness. The kit can be tailored to each customer's communications needs, all for a single monthly fee. This program will also be accessible for telemedicine, including video conferencing, web access, EKG and blood glucose monitors, and doctors on standby.
USSecurenet has been successful this year in creating new relationships in the public safety and emergency response sector. USSecurenet promotes the adoption and integration of satellite communications devices into existing emergency service communications systems as reliable communications resources. The growing company has expanded its influence, doubling its customer base since the beginning of the year. As emergency response teams continue to upgrade their existing radios systems, USSecurenet foresees a significant increase in new satcom users. USSecurenet is equipped to provide a range of devices and services to both the United States military in addition to the public safety and emergency response teams.
* * * * * * * * *
Vizada
by Bo Norton, Vice President of Sales

While other networked environments have been moving toward improved convergence and interoperability for years, this is still a relatively new trend in SATCOM. In the mobile satellite services market, we are seeing the traditional hard line between MSS and FSS continue to blur. This shift will ultimately accelerate the transition to broadband mobility and converged connectivity services. A number of key industry players such as Vizada are now involved in all facets of the mobility market.
In August 2011, it was announced that the Vizada Group was going to be acquired by Astrium, a subsidiary of EADS. With this move, Astrium Services complements its existing satellite communications portfolios which was historically focused on government and secure civil SATCOMs. The acquisition significantly expands Vizada's market position as we integrate the Astrium services offerings.
Continuing political turmoil in the Middle East and North Africa and natural disasters around the world, compounded by highly volatile global financial markets, have made 2011 a particularly challenging year. This instability has intensified the need for solutions and services that allow our troops, first responders and government organizations to operate in remote locations with similar capabilities to those in a tethered environment. Against that backdrop, delivering flexible SATCOM services across the land mobile, maritime and aeronautical markets has never been more significant and urgent.
As the demand for high throughputs and hybrid services continues to grow, increasingly the burden is on industry to deliver innovation, as investment in government SATCOM systems continues trending downward. From hosted payloads, to dedicated commercial satellites and transponders, industry is leading the development of new technology to meet government SATCOM requirements. While most services and solutions are designed for broad market adoption, Vizada and its technology partner ARINC have been collaborating on custom solutions to address specialized needs for government and military customers. This year the two companies validated the performance of RapydConnex™ in an airborne environment. RapydConnex is a global communication network that provides fully managed, automated handovers between Ku and L-band coverage areas for high-demand, mission-critical applications in flight, on land or at sea. It was first developed to meet the needs of a U.S. Department of Defense (DOD) contract in 2010 and is now being offered to additional military, government and commercial customers.
Communications on the Move (COTM) continues to drive demand for higher bandwidth in SATCOM. Throughout the year, we've seen increased up take for ThurayaIP, part of our portfolio of mobile IP services, by the government market. ThurayaIP delivers broadband IP services and advanced video streaming using a highly compact, ultra lightweight terminal. Designed to work in demanding environments, the ThurayaIP terminal is not only rugged, but easy to set up for COTM. For government users, adding ThurayaIP to their comms kit, which traditionally includes Inmarsat BGAN, ensures redundant L-band service in the field.
Another growing area for SATCOMs in the government and commercial sectors is machine-to-machine (M2M) communications. M2M communications allow devices like sensors or meters to report event information such as temperature, location or environmental status. The network then transforms that report into usable information, like an alert to repair equipment or restock an inventory item. Numerous routine communication applications especially in remote areas can be automated through the use of M2M.
Vizada's multi-SNO (satellite network operator) approach to M2M services includes Iridium Short Burst Data (SBD) and the newly launched IsatData Pro, a global, low data rate, two-way packet data service for M2M communications being offered with our partner, SkyWave. Vizada also plans to offer BGAN M2M, when it becomes available in early 2012. We are looking to Hughes as our primary M2M equipment manufacturer as they are the front-running providers of BGAN M2M services.
In July, Vizada launched its newest Point of Presence (PoP) for BGAN, Swift Broadband and Fleet Broadband services in Paumalu, Hawaii. This significant infrastructure investment was the result of a direct customer request for more efficient interconnects to Inmarsat's Broadband IP services in the United States. Moreover, by integrating Expanded WAN Optimization Acceleration Technology into our network, Vizada can provide customers with network and protocol optimization and TCP and applications for IP services.

In 2012 we expect the need for greater throughput and service innovation to continue. The global environment, political and social, will continue to dictate the need for reliable satellite communications available anywhere on the globe at a moment's notice. With their own investment slowing, our military and government customers are working more and more closely with us to envision, test, develop and deliver the future of SATCOMs. Through this collaborative approach, we can expect to see more flexible, customized solutions along with multi-network devices that enable expanded convergence. Seamless connectivity and enhanced reliability will begin to set new baselines for SATCOMs in the year ahead, and the Vizada is prepared with the infrastructure, knowledge and innovation to meet our customers' changing expectations.