The military has a voracious appetite for communications. However, shrinking Department of Defense (DoD) budgets threaten to quash the military's development and use of next-generation communications to support the warfighter.
This doesn't have to be the case.
Technology can help to solve the biggest challenges of using satellite communications: Bandwidth and cost. New
High Throughput Satellite
(
HTS
) technology can help advance MILSATCOM while offering DoD users the high quality, consistent reliability and lower costs they need.
Take, for instance, the military's widespread use of intelligence, surveillance and reconnaissance (ISR) missions and other full-motion, high-definition (HD) video feeds. These are the fastest-growing, bandwidth-consuming applications used by the warfighter.
One of the first, real-world applications of ISR missions was the cleanup effort for the Gulf Oil Spill. iGT and the industry were able to achieve return channel bandwidths to support HD video feeds. However, the military end-user missions demand more in the way of deliverables. The achievable data rates at the time of the spill were limited by the aperture of the antenna as well as the G/T and EIRP of the hemispherical beam of the satellite.
HTS networks now being launched have performance characteristics that will allow much greater data rate over a given aperture antenna. This provides excellent augmentation to the military's current communications resources in support of ISR and other bandwidth-intensive uses.
A review of the MILSATCOM landscape reveals that budget constraints, the growing use of airborne
Communications-On-The Move
(
COTM
) systems, and the rapidly changing profile of end-users' data, make the new HTS networks well suited for the military's needs to fully support mission coverage.
HTS networks offer ubiquitous, global footprints with an overlapping, spot beam architecture. HTS can deliver dependable SATCOM coverage around the globe, significantly augmenting
Wideband Global SATCOM
(
WGS
) coverage by leveraging the commonality of commercial Ka-band.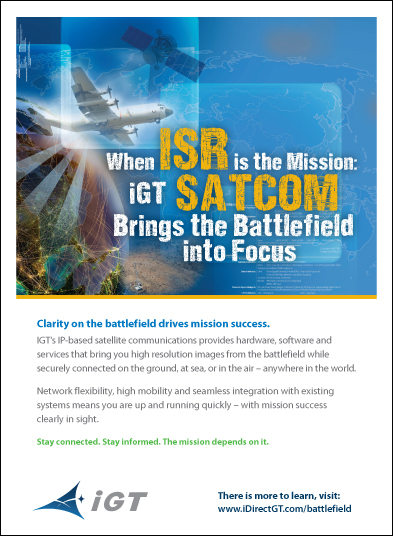 The overlapping spot beams and the consistent transmission profile make HTS a perfect communications solution for airborne COTM. HTS supports Ka-band, and although Ka-band is in the commercial portion of the band in HTS systems, the band enables the military to leverage some commonality of antenna and transmission equipment used on WGS Ka systems.
Although HTS brings considerable opportunity, it comes with its own set of challenges for the military user. One challenge is how to construct a system that will seamlessly transition between a government-owned and operated network using WGS Ka bandwidth and a commercial HTS spot beam system. Devising a modem that works in both types of networks, and has the all-important government
Information Assurance
(
IA
) and
Transmission Security
(
TRANSEC
) requirements, is essential for HTS operation.
The design of commercial HTS systems relies almost exclusively on proprietary waveforms—the DoD is moving toward a standards-based platform. A modem with sufficient memory would be capable of supporting multiple operational images.
Another significant challenge is supporting both commercial and military ranges of the Ka frequency band. Most commercial modems have an L-band interface which covers approximately 1GHz. The entire Ka range, including military and commercial on a downlink, spans well over 2GHz. The challenge is to address both ends of the band using a single L-band interface.
One proposed solution would be to develop a Ka
Block up Converter
(
BUC
) with two
Local Oscillators
(
LO
). A communication mechanism would be required between the modem and BUC to implement the LO change.
Other considerations that need to be addressed before HTS networks can be used to augment satellite bandwidth include the need for commercial satellite providers to provide a secure enclave within their teleports. Ultimately, the landed traffic will need to be transported to a secure terrestrial network—the commercial satellite provider will have to meet stringent government requirements, such as
Mission Assurance Category
(
MAC
)
II
or even
MAC I
. A commercial provider's teleport infrastructure will be subject to the same stringent IA requirements, including Security Content Automation Protocol hardening as government teleports. Finally, a TRANSEC-enabled network may be required for some missions.
The advantages of using the new HTS global networks as either a primary or secondary choice to meet government mission needs cannot be overstated. The architecture of the new satellite constellations provides remarkable amounts of satellite capacity with beam characteristics that make the technology perfectly suited to support the newest high data rate applications.
The global reach and ubiquitous, "always on" coverage can augment any currently deployed government network. In the case of Ka HTS satellites, the rain fade disadvantages are being mitigated with new technologies, such as seamless geographic hub redundancy that addresses hub side rain fade as well as improvements regarding in-route spectral efficacies by incorporating adaptive in-bound channels. Leveraging a shared infrastructure and tapping into such a fast-growing bandwidth pool will make using HTS a most cost-effective method whereby mission requirements can be successfully met in the years to come.
Whether it is access to high-speed Internet, streaming reconnaissance video or other communications needs, the launch of high-performance satellites, and, more specifically, the development of diverse remote terminals that are designed with end-users in mind, will bring these communications capabilities to reality for the DoD.
These advances in the sky will enable our troops on the ground, in the air and at sea to capture mission success, no matter where in the world they may be located.
About the author
Karl Fuchs is vice president of technology for iDirect Government Technologies (iGT). He joined iGT in 2004 as the director of sales engineering, just as the satellite-based IP communications company was expanding its very small aperture satellite (VSAT) market presence into the federal government and international Internet Protocol (IP) networking world. He now works as the vice president of technology. With more than 20 years of experience in technology and with the federal government, Fuchs leads iGT's team of federal systems engineers and serves as chief architect for new product integration.

Prior to joining iGT, Fuchs was director of systems engineering at Nortel Networks, where he oversaw the Verizon account team of systems engineers, leading the design of IP, frame relay, asynchronous transfer mode (ATM) and dense wavelength division multiplexing (DWDM) networks. Before joining Nortel, he designed IP and ATM networks for Sprint and the federal government.

Active in the satellite industry for more than 10 years, Fuchs has contributed editorial to numerous publications including Federal Computer Week, Institute for Defense and Government Advancement, COTS Journal, Military Information Technology, Via Satellite, MILSATCOM and Satellite Evolution Global. In addition, he has been a featured speaker at leading industry events including the DoD SATCOM User Workshop, ISCe, IBC, Pacific Telecommunications Council and Emergency Management Talks.