Michael Bristol oversees all aspects of the government business divisions of TCS, which offers the TotalCom™ family of products and services, including Deployable Communications, Managed Network Services, Integrated Logistics Global Support, Space & Component Technology, and Professional Services. Mr. Bristol has several decades of business experience at various management levels, including serving as a Senior Director with Oracle Corporation. While there, he was responsible for managing Oracle's Navy/Marine Corps. professional services practice, delivering enterprise software applications.
Mr. Bristol served nine years as the Vice President and Chief Operating Officer at Infocus Communications. Prior to that he was employed by Atlantic Research Corporation where he held several P&L positions. He has held board positions with Infocus Communications and The Clovis Group. Mr. Bristol graduated from the U.S. Military Academy at West Point, where he earned a bachelor of science degree in engineering. He served as a Captain, U.S. Army Military Intelligence officer, and spent most of his career in the Army assigned to Ft. Bragg. Mr. Bristol serves as a public sector board member of TechAmerica, and is a member of the Association of the United States Army as well as a number of other DoD and communication-related professional societies.
MilsatMagazine (MSM)
Good day, Mr. Bristol. Given your impressive career, which includes management experience at such leading companies as Oracle and Infocus Communications, as well as serving on the board of The Clovis Group, what prompted you to move to TeleCommunication Systems to lead their Government Solutions Group?
Michael Bristol
Prior to TCS, I had the good fortune of working in a very small, privately held company, Infocus Communications, and in a large, publicly held corporation, Oracle. Both had their advantages and disadvantages. Like in the story of Goldilocks and the Three Bears, TCS was just right. TCS has all of the capabilities, infrastructure, qualifications and financial assets to make investments that enable us to compete with the major government contractors. Yet, TCS has the critical attributes of flexibility, innovation and focus that small, hungry, entrepreneurial start-ups possess. Plus, its focus on the high tech/government space made it an ideal platform to advance my career.
I also recognized that TCS has some innovative technologies and exceptional people behind it, and that's an unbeatable combination. I saw the potential for TCS to really expand their reach into the government sector, and I knew that given my background, I could make a positive and lasting contribution. Additionally, as my wife and eight children are all pretty comfortable in the D.C. area, the fact that TCS is based here was also a draw.
MSM
As a West Point graduate and having served as a U.S. Army intelligence officer, how did you make the transition from the military to the commercial world? Has your military experience assisted you in interfacing with the various acquisition agencies and military commands? How so?
Michael Bristol
West Point gave me a broad engineering background and taught me the fundamentals of leadership. Both of these attributes are useful in either the military or commercial worlds. Of course, having a military background gives me a solid perspective of my customers, and I leverage life-long connections that I developed while at West Point. Having the credentials of being a military officer has helped me to build instant credibility, because I believe my customers can relate to me more easily, as I am someone who has "walked in their shoes," so to speak. It's more difficult for someone who doesn't have a military background to come in and establish these relationships.
MSM
How did you become involved with the TCS TotalCom™ (total communication) portfolio? Is this simply a merging of TCS product into military-specific bundles, or is it something more tailored to command needs? Please explain.

Michael Bristol
In the past, you had to piece together offerings from satellite companies, ground infrastructure companies, field equipment companies, etc., as well as find someone to provide support in order to create a practical, cost-effective, total communications solution. We saw the opportunity to take our existing SwiftLink products and superior support capabilities, as well as make strategic acquisitions and develop new products — such as our Tactical Transportable TROPO, Impact Tactical and SwiftCell — to create the TCS TotalCom portfolio. TCS is now one of a very small group of companies who can deliver this core to the edge capability.
As new technologies develop, we will adjust the products in the lineup in order to provide the latest in commercial off-the-shelf (COTS) and custom communications technology. Thus, the more accurate description of TCS TotalCom is that it's the blending of current and anticipated best of breed, commercial, off-the-shelf technologies, along with a global network of strong support in order to provide a complete range of secure, cost-effective communications solutions that can be tailored to each end-user's unique needs.
MSM
Exactly what is the TCS TotalCom portfolio, and what are the unique, or perhaps unprecedented features it offers military and government clients?
Michael Bristol
TCS TotalCom is designed to be a portfolio of best-of-breed COTS solutions, created by both TCS and our hand-selected partners and complemented by our cradle-to-grave program support services — all at a competitive value. The elements in the TCS TotalCom portfolio are:
TCS secure line-of-sight and beyond-line-of-sight RF communications, next-generation Tactical Transportable TROPO, Wireless Point-to-Point (PTP) and Point-to-Multipoint (PMP) systems; all of which enable the extension of secure LAN to remote locations.
The TCS Impact Tactical IP Terminal, which is the smallest ruggedized communications kit to date in the TCS family of products. Its features include a modular design that allows efficient adaptation as user requirements change for vehicles, rack-mount, tents, etc. with plug-and-play ease.
SwiftCell Lite, which is a completely self-contained cellular network housed in a small, discrete ruggedized case. In a matter of minutes after powering up SwiftCell Lite, users can communicate privately on their own cellular network, regardless of the terrain or environment, enabling users to call each other, send SMS text messages and share other vital information just as if they were on a commercially provided cellular network.
Global meshed satellite connectivity, which employs both traditional bent pipe technology and seamless IP satellite networking through TCS' exclusive first commercially available network to take advantage of Cisco's Internet Routing in Space [IRIS] technology on Intelsat-14, using TCS' global network of teleports and dedicated networks.
Home station in-building distributed antenna systems that capture cellular and radio signals from outside the building and retransmit them inside the building.
Professional services, including deployable systems field support and other integrated logistics support, cyber security training and assessment, and continuity of operations capability (COOP) by TCS-certified and cleared personnel, who have served as trusted advisors to key government agencies since the company's inception nearly 25 years ago.
MSM
Who would be most interested in the TCS TotalCom portfolio? How can they benefit from such technological inclusions? Situational awareness for "boots on the ground" is critical to success — how can these products aid the warfighters and command and control structures in saving lives and enhance mission success?
Michael Bristol
Obviously, the military would be a prime customer for TCS TotalCom, given its complete, "core to the edge" capability. We are unique in that, via TCS TotalCom, we can blend satellite, terrestrial and wireless communications and lifecycle support to provide the best, most secure and reliable communication solution to support the "boots on the ground."
That said, the Department of State and Department of Homeland Security, among others, have very similar needs and requirements that are equally suited for TCS TotalCom. We also see commercial applications, such as with global Fortune 1000 companies, mining companies and others who operate in remote or disparate areas of the world.
All of these entities have the same need — best of breed technology that is commercially available and currently on the shelf, along with complete lifecycle support — all at a reasonable price.
MSM
Many field deployments of communication products are complex... could the same be said of the TCS TotalCom portfolio? And, what networks are supported?
Michael Bristol
The solutions in TCS TotalCom are designed to be easily and rapidly deployed. They are created to be 'plug and play,' in order to connect with a managed service environment and can be seamlessly upgraded as new technology develops or is mandated. As TCS TotalCom is IP-centric and includes interoperability platforms, most existing and planned network architectures can be accommodated.
MSM
The connectivity with Cisco's Internet Routing in Space, otherwise known as IRIS, is a feature definitely worth exploring for TCS TotalCom. How does TCS TotalCom avail itself of Cisco's satellite technology?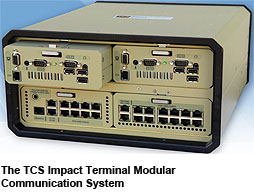 Michael Bristol
As I briefly mentioned earlier, TCS OS-IRIS is the world's first commercial service offering of a Cisco-enabled Internet Routing in Space (IRIS) managed network service. The combination of Cisco IRIS satellite and terminal architecture, in addition to our global network implementation and support capabilities, bring a new era of true IP end-to-end communications to the satellite industry and our clients.
TCS OS-IRIS offers single hop architecture of reduced latency and improved application performance. You can communicate across four continents simultaneously through a single connection, using 1.2 to 2M terminals, while achieving up to 5 megasymbols direct connect from a 1.2M Ku-band dish to a 2M C-band dish on different continents and different transponders. This level of power and flexibility was previously unattainable in the industry.
MSM
As with any product, whether it's for the military or commercial market, after-sale support is a very important consideration. How does TCS manage this support, especially given the field conditions under which operation is mandatory?
Michael Bristol
One of TCS' strengths is its program lifecycle support from our integrated global services team, who operate on every continent and every major theater for the DoD, including from TCS' own forward logistics depots, situated in current theaters of operation. Our globally deployed field service engineers all tie back into our world-class network operations and data centers — the same centers which runs half of the USA's wireless E9-1-1 calls. TCS also has a culture of not resting until the customer is satisfied. This service is just as "ruggedized" as our equipment; our technicians are experienced professionals; many of whom have experience working in the harshest of conditions.
MSM
What are your thoughts regarding the satellite interference challenges facing MILSATCOM? What can be done — both in the short and long term — to alleviate this situation?
Michael Bristol
Satellite interference is derived from multiple sources, ranging from solar activity, to the misuse of spectrum by well-meaning users, to deliberate jamming by rogue elements and frequency noise at the ground level. The satellite industry has become much better at predicting the solar side and identifying the source of deliberate, or inadvertent, directed interference. The big problem remains on how to mitigate it quickly enough not to affect operations, especially military operations. X-band achieves some of that, but spectrum is limited and approvals are cumbersome, while protected satcom has traditionally been prohibitively expensive and rare in availability.
New technologies, such as next-generation protected satcom, dynamic spectrum access to counteract spectrum blockages and greater payload hardening will all serve to help defend against interference, but, at the end of the day, multiple-path communications strategies will always remain the most resilient — as enabled by the TCS TotalCom architecture.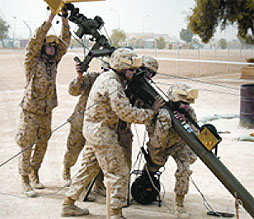 MSM
Do you believe hosted payloads for military satellites aboard commercial launch vehicles is an answer to the capacity problems, especially in regard to cost and expediency considerations?
Michael Bristol
Hosted payloads for the military will continue to provide a cost-effective manner to deploy new technologies and accelerate uptake of new programs, such as improved UHF radio interoperability, capability and reach. However, these upticks will not provide the necessary bandwidth to adequately address global capacity shortfalls and issues of affordability. MILSATCOM needs a mixed approach of government-owned, hardened infrastructure for top-level needs, which will always have to be complemented by a greater pool of COTS capacity from the commercial sector — in either hardened or unhardened form.
The advantage of this strategy will actually be faster migration by the satellite to higher-powered, greater-throughput Ka- platforms — and greater innovation in the sector to improve all-around performance. As with most IT spaces, the government is best served working with industry — not against it.
MSM
Looking back over your career, both when with TCS or other firms, what projects have you been involved in that bring the most sense of satisfaction to you?
Michael Bristol
I would say the projects associated with our Army contract, Worldwide Satellite Systems (WWSS), namely the SNAP program. What we've done here is build deployable communication solutions that are being used to provide critical communications to our warfighting customers. I've received numerous testimonials from actual soldiers on the ground who have said that our equipment has literally meant the difference between life and death. It's not often you get to hear how projects you have worked on have made such a direct impact on soldiers' lives, and it's tremendously gratifying to hear positive feedback like that. It's a double bonus — building a business for TCS' shareholders, while, at the same time, supporting our military.
For further information, please visit

the TCS website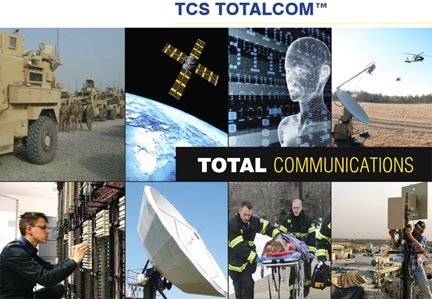 About TCS TotalCom...
TCS TotalCom Field Support consists of cleared personnel with military and government experience supporting deployed operations at client and TCS facilities in CONUS and OCONUS; including Southwest Asia, Europe, Asia and the Horn of Africa. They have the skills, certifications, and expertise to support TCS, partner, and client products and services as part of TCS' commitment to global Total Communication Solutions. TCS' TotalCom Field Support philosophy derives from an answer to a battlefield commander's request, "Why do I need two engineers to repair one problem on our system?" As technologies mature and converge, such as transport and IP, engineers must have the expertise to address both layers of the networking architecture. The TCS answer is simple — one system, one problem, one engineer, one solution! Features and benefits of TCS TotalCom Field Support include:
– Complete, end-to-end services and support
– Full implementation, inventory and program management options
– Cleared personnel with in-field military and government backgrounds
– Manage entire network and multiple IP-based systems across battlefield
– Proven, hands-on experience in harsh, hostile and remote environments globally
– Familiar with military and government standards, protocols, and procedures
– Minimizes service disruptions and inventory management costs
– Improves operational efficiency
– Multi-discipline engineers — lowers headcount
– 24x7 help desk and network operations center support