Advantech Wireless
by David Gelerman, CEO

In 2011, Advantech Wireless continued to be a world leader in satellite and terrestrial communications. We firmly believe our commitment to innovative design, in-house manufacturing and quality control, interoperability and global presence made this year a record success.
We are especially proud of the next generation of VSAT hubs, introduced earlier this year. The Discovery Hub is a two-way, open standard (DVB-RCS), broadband satellite access system that includes a fully functional hub with four inbound carriers, scalable as needs grow, all for under $50,000. The new Discovery series allows small to medium private satellite networks, commercial or government, to get started at the lowest possible cost. As growth is experienced, the investment remains intact, as the solution scales with need requirements. For clients who need to support more terminals or links, Advantech Wireless offers the Challenger and the Millennium DVB-RCS hubs that include DVB-RCS and SCPC operations; either independently or within the same Hub. Inside these hubs are the Advantech Wireless MCD cards that can support as many as 96 carriers on a single card.
Within the RF line, the SUMMIT system was launched earlier this year. The outdoor system is a fully modular SSPA with built-in redundancy and can provide output power of up to 3500W in C-and, 2800W in X-and 1600W in Ku-band. The Company's GaN line of Ku- and X-Band Bucs also grew in 2011 to include a 600W C-, 400W Ku- and a 500W X-band Buc. These are ideal for manpacks, flyaways, mobile applications, or when smaller antennas are desired with increased power efficiency, reduced power dissipation, more linear amplitude response, and an increased MTBF.
Advantech Wireless also launched a high power 12kW solid state pulse amplifier (SSPA) that can be vehicle-mounted. Its modular design allows elements to be hot-swapped without any interruption of service or noticeable reduction in power. This product reveals Advantech Wireless' ability to research and develop customized solutions for clients around the globe.
Other introductions included the ruggedized router and the Raptor, a compact mobile transportable VSAT hub. The router has high packet and data performance, two router interfaces, four switched LAN ports, and one WAN port. The Raptor hub can be deployed in less than an hour and can support as many as 500 terminals, with up to 135 Mbps outbound and up to 6 Mbps inbound per carrier. Both of these products are designed and built to be used in some of the harshest environments on Earth and to be interoperable. The Point-to-Point Microwave Radio product line grew to include an 8 ASI interface option, enabling 8 HD quality channels support in a single unit. The Transcend 800 provides the maximum bit rate of 214 Mbps per ASI interface compared with the typical 100 Mbps of most other units on the market with up to 10 dB more system gain than split-mount competitors. Smaller antennas can be used, less expensive towers, and longer hop lengths.
2011 also gave rise to a dramatic increase in sales to Latin America — we signed a contract with Hoje Telecom of Brazil to provide them with VSAT upgrade hub, RF equipment, and more than 1,000 remote terminals. Other telecommunication customers in the region agreed to purchase an additional 1,720 terminals and RF equipment for VSAT hubs. Advantech Wireless also experienced continued support from our key customers in North America and Asia.
For the fiscal year ending on April 30, the Company posted a record $21.3 million in profit, as compared to the $4.5 million loss the previous year. This was achieved through successful sales in our RF, Microwave and VSAT product lines as well as increased internal efficiencies that resulted from various corporate consolidations. The Company will continue to invest 18 percent of gross revenues toward research and development. Advantech Wireless is looking forward to the next year and plans to introduce many innovative products — we will continue to expand our global network of resellers and The Company is working on some very exciting projects.
* * * * * * * * *
ATK Spacecraft Systems & Services
by Tom Wilson, Vice President + General Manager

ATK Spacecraft Systems & Services marked a very successful year in 2011 providing mission critical capabilities and game changing technologies within the satellite industry. The ability to deliver premier aerospace products in 2011 strategically positions the division to meet growing government, commercial and international customers demand in 2012.
A broad portfolio of products including small satellite bus systems, market leading integrated thermal control systems, and world-class engineering services, were featured on several high profile missions in 2011. The division's strategic plan for growth also generated aggressive entries into adjacent and emerging markets. Once again, SSS delivered a 100 percent on-orbit mission success rate to all our customers. Every satellite, thermal component, or flight mechanism we provided for the last decade is still successfully operating.
Our capability to build small satellites quickly and effectively was demonstrated with the successful launch of the Department of Defense's Operationally Responsive Space-1 (ORS-1) satellite in June. The space vehicle began operational use in September at the U.S. Air Force Space Command at Schriever Air Force Base, Colorado following successful on-orbit deployment and checkout of all systems. ATK built the spacecraft bus at its Beltsville, Maryland, facility in only 17 months and delivered it to the prime contractor, Goodrich Corporation, ahead of schedule. The program was also honored by an industry trade journal (C4ISR Journal) as one of the top technologies in the nation. ORS-1 is the first satellite in the Operationally Responsive Space Program designed to support combatant command operations as an operational satellite. The ORS Office is seeking DoD approval to sell additional systems to U.S. Allies. 
ATK marked two years in orbit in for the TacSat-3 satellite, an ATK-built satellite bus supporting a Raytheon hyper-spectral sensor. The spacecraft was originally designed for six months of operation with a one year goal yet continues to outlive its design life and to support military operations around the world. ATK micro satellites took scientific center stage with a breakthrough mission for NASA. Two of the five microsatellites originally built for NASA's THEMIS mission to the Earth's geomagnetic interaction with particles from the Sun, were redirected to new orbits around the Moon. There they will continue the study, adding the Moon's interaction, highlighting the Company's performance and reliability in small satellite bus technology.
Spacecraft Systems & Services leveraged its satellite bus experience to open a game-changing new space market, commercial satellite servicing. In 2011, ATK and its partner U.S. Space LLC, attracted wide attention by publicly introducing "ViviSat", the first U.S. based company to offer satellite life extension services to commercial and government geosynchronous satellite operators. ViviSat's Mission Extension Vehicle (MEV) is designed to dock with the orbiting satellite and provide an alternate attitude control & propulsion system.
To support satellite life extension and other future space programs, SSS opened new facilities in 2011. The Robotic Rendezvous and Proximity Operations (RPO) Lab will demonstrate critical enabling technologies and uses state of the art robotic and air-bearing testbeds to simulate satellite motion. The Lab draws from a strong heritage of engineering services expertise provided to NASA Goddard Space Flight Center (GSFC) on manned and robotic satellite servicing missions, such as Hubble. In 2011, on its final flight in July, Atlantis carried the ATK supported Robotic Refueling Mission (RRM) to the International Space Station (ISS). It will demonstrate the technology and tools to robotically refuel and repair satellites. ATK ES is also a significant partner in the GSFC program office developing a generational on-orbit refueling system, RESTORE, as part of NASA's long term space exploration plan. The Defense Advanced Research Projects Agency (DARPA) also has requested substantial ATK participation in their planned satellite servicing mission starting early next year. As the market grows for RPO related satellite servicing missions in commercial, NASA, and military markets, ATK's new lab will play a key role in developing and demonstrating capabilities to potential customers. In addition to satellite servicing, ATK Engineering Services continued to provide support to a wide variety of U.S. government activities in 2011. One of many highlights was the design of a number of instruments on the Mars Science Laboratory spacecraft launched on November 26th — these instruments will analyze samples of materials collected and delivered by a rover's robotic arm to help assess whether Mars ever had an environment capable of supporting microbial life.
ATK Spacecraft Systems & Services also expanded operations at the Company's Integrated Thermal System plant to meet increased demand for existing space thermal contracts, create new jobs, and support business growth in adjacent markets. The recent contract from Lockheed Martin to develop the Thermal Control Subsystem for the Integrated Sensor is Structure (ISIS) program will benefit from this increased space. This contract is a critical component of the DARPA ISIS Airship and marks ATK's first thermal award in a high altitude, near space defense market. This builds on our continued growth in the Integrated Thermal Systems market. Overall, we are approaching almost 500 heat pipes and related radiator panels on orbit without a failure.
2012 is filled with growth opportunities for Spacecraft Systems & Services. Our strategy to break into new space markets — responsive small satellites and on-orbit satellite servicing — is yielding solid results. We also realize that our government and commercial customers are clearly affected in terms of priorities and budget. It is essential that we continue to drive efficiency improvements across the division and manage our costs effectively to deliver even more value to the customer. We look forward to building on our success and creating new opportunities for the future.
* * * * * * * * *
Comtech AeroAstro
by Paul Lithgow, President
Comtech AeroAstro, founded in 1988, continues as a leader in the small satellite segment of the aerospace industry. For more than 20 years, Comtech AeroAstro has been an advocate for, and producer of, highly efficient and agile small satellites. For the past decade, the Company has been a major contributor for plug-and-play innovations and standardization efforts. In addition to offering high-performance satellite buses and supporting varied space missions, Comtech AeroAstro features a full line of small, space-qualified components. Comtech AeroAstro, Inc., is a wholly owned subsidiary of Comtech Telecommunications Corporation (NASDAQ:CMTL) in Melville, New York.
As an economic growth engine, Comtech AeroAstro has a solid track record of delivering unique technologies to government and private sector customers that include the U.S. Air Force Research and U.S. Naval Research Laboratories, the National Reconnaissance Office, DARPA and NASA. Comtech AeroAstro maintains strong memberships within AIAA and AIA while promoting national defense and preserving national aerospace dominance. Equally, the Company is a national space proponent with its ongoing corporate membership with the Space Foundation.
Comtech AeroAstro is currently developing the satellite bus for the U.S. Navy's Joint Milli-Arcsecond Pathfinder Survey (JMAPS) Program, to provide highly accurate star position data for military and civil applications. Similar in size to the STPSat-1 and -2 vehicles, this satellite bus, derived from their Astro 200AS, is a more stable, more agile bus with better pointing accuracy than much larger vehicles in the commercial imagery industry at a fraction of the cost. This capability enables a range of new high-value mission and sensor options on an affordable platform that can be rapidly developed and deployed.
The STPSat-1 and STPSat-2, satellites developed for the DoD Space Test Program, were designed to capitalize on excess mass and volume margin as secondary missions on Atlas V and Minotaur IV launch vehicles respectively. STPSat-1, the first ESPA ring satellite, launched in 2007 for a one-year mission life and was decommissioned in October 2009 after successfully providing over two-and-a-half-years of valuable mission data. Launched onboard a Minotaur IV rocket as a secondary payload for the DoD's STP-S26 mission, the STPSat-2 satellite launched in November 2010 and is on orbit and performing nominally. NASA's FASTSAT satellite was also launched as part of the S26 mission on which Comtech AeroAstro has their miniature star tracker, a five sun sensor cluster and a threat detection system supporting the Air Force Research Laboratory's Space-Based Advanced Sensing and Protection Branch for detecting, tracking and characterizing resident space objects and local space environment.
For the past decade, Comtech AeroAstro had supported the Operationally Responsive Space Office's initial efforts. Refined designs led to an award for a five-year IDIQ contract from the AFRL for Advanced Plug-and-Play development. Comtech AeroAstro's small, space-qualified components include miniature star trackers, miniature imagers, sun sensors and transceivers; Comtech AeroAstro has also expanded its expertise into unique mission areas such as payload and sensor development supporting national security needs in ISR, space situational awareness and special communications. An internally funded effort, PACS, Comtech AeroAstro's Payload Alert Communications System, is a revolutionary approach supporting low-Earth orbit space traffic control.
With Comtech AeroAstro's ongoing internally funded efforts, it ensures technological advances to offer our nation new tools while aiding in national defense, international and homeland security, natural disaster preparedness and advanced telecommunications. Comtech AeroAstro also continues its outreach and partnerships with universities to promote and foster interest in the national STEM program. Comtech AeroAstro's Coral high-performance nanosatellite, about the size of a loaf of bread, deploys as a secondary payload from almost any launch vehicle and is configured into a small, compact, low-cost package. By using miniaturized but sophisticated components (many also developed by Comtech AeroAstro), Coral is offered as an affordable platform with the opportunity to quickly launch and test mission and payload concepts as a single spacecraft, or as a multi-spacecraft constellation.
Over the years, Comtech AeroAstro has developed many technological innovations and wins various awards, such as the SBA Tibbetts Award, selected for NASA's SBIR/STTR Hallmarks of Success video feature, Virginia's Vanguard Award and selected as one of the Fantastic 50; most recently, presented with USCA's Best of Herndon in Aerospace Industry Award and AIAA's annual Space Systems Award.
Comtech AeroAstro advocates a supportive role for its employees. While most production activity is managed from its two physical locations, Ashburn, Virginia, and Littleton, Colorado, the Company also facilitates a strong virtual operations environment for uninterrupted communication and responsiveness from around the world.
* * * * * * * * *
Elbit Systems, Shiron SatCOM Business
by Dr. Shaul Laufer, Senior Director, Technology
The Shiron SatCOM Business Line, part of Elbit Systems Land and C4I, is a leading satellite communications technology powerhouse, dedicated to the design and production of the InterSKY™ network systems for cost efficient delivery of mission critical Broadband IP over satellite. The solution focuses on the resilient delivery of high quality broadband IP over satellite with emphasis on satellite space segment efficiency while maintaining the required availability, scalability, high availability/resilience and system configurable multi service.
Shiron's InterSKY 4G for commercial applications and InterSKY 4G for tactical military applications are best suited to serve the high-end needs of satellite operators, governments, military, Telco's, ISP's, public and private companies. To date, Shiron has deployed hundreds of broadband hubs and tens of thousands of remote terminals worldwide.
Shiron's InterSKY 4G/4M are considered to be the most cost effective quality broadband satellite systems available in the market. With new satellite communication products and applications for commercial and military markets, offering a full spectrum of quality cutting-edge satellite networking solutions, for which the company is well-known in the Broadband SATCOM market. Shiron's world-class team of engineers has consistently been ahead of its competition in introducing innovations such as the first integrated L-band 256Ksps satellite communications modem in 1998, the introduction of InterSKY, the first Digital Video Broadcasting/Frequency Division Multiple Access ("DVB/FDMA"), broadband satellite communications system in 1999, and the first shared alternative to Single Channel Per Carrier ("SCPC").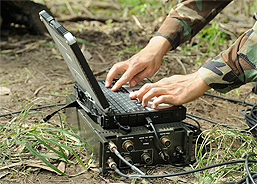 In 2006, as DVB-S2 standards were accepted, Shiron was the first to add DVB-S2 capabilities to its suite of InterSKY VSAT satellite communications systems. More recently, Shiron's innovation yielded a revolutionary bi-directional Adaptive Coding and Modulation ("ACM") technology with integrated Automatic Uplink Power Control ("AUPC"), which delivers more than a 30 percent throughput gain improvement over competing ACM solutions used on DVB-S2 products. Shiron has been able to package InterSKY 4G/4M as a multi service broadband SATCOM solution. The modem will be the key enabler for the support of military satellite communications' key requirements, namely, rapid deployment, mobility, security, intentional and non intentional interference resistance, survivability, hybrid star-mesh connectivity, high speed return link, multi band operation, and so on.
Such capabilities are crucial for mission critical, multi-service, On-The-Move (OTM) and On-The-Pause (OTP) manpack and portable applications, large communication networks, and small command and control networks for controlling unmanned systems, on the ground, in the air or at sea, as well as small antennas operation, and able to resist interference from neighboring satellites. The modem will comply with regulations for maximal off-axis EIRP spectral density so that interference to other neighbor satellites is limited.

The advanced MILSATCOM modem will be equipped with a high speed return link capability based on new ETSI standards that define mobile mode based on continuous carrier with spread spectrum rather than TDMA /MF-TDMA which is not efficient for broadband mobile COTM. Such high speed return link is essential among other applications for unmanned systems. For increased resilience in such mission critical high speed return applications, the Company's advanced, Bidirectional ACM technology will provide for increased survivability and maximizing of throughput per given bandwidth. This is accomplished by adapting the coding and modulation to actual climate conditions, essential in the support for Ka-band operation with its large dynamic range and fast fading, and the support for quick synchronization for rapid recovery from shadowing for OTM applications. This advanced MILSATCOM modem will also feature a full set of local management capabilities in order to facilitate for a simple and swift OTP installation, including auto commissioning, support for easy antenna alignment process and interoperability with terrestrial wireless networks. The above mentioned technologies will make this advanced modem a key building block for modern military satellite communication deployments and enable optimal integration of C4I applications.
* * * * * * * * *
Harris CapRock Communications
by Tom Eaton, President

Harris CapRock Communications had a significant year in 2011, as the business experienced measurable growth and change. Harris CapRock was formed in April, after Harris Corporation acquired CapRock Communications in 2010. Combined with two subsequent acquisitions and Harris' existing maritime-subsea business, the newly formed Harris CapRock is now the world's largest provider of communications to customers in remote and harsh environments across government, energy and maritime markets.
Terrestrial network capabilities that were acquired during that integration further strengthened Harris CapRock's service delivery platform with increased points of presence (PoPs) around the globe. Other highlights included significant maritime contract wins and several key land drilling wins, as the business' FieldAccess™ service solution saw the completion of its first full year in the marketplace. In November, the Company announced its new customer service and network management program, AssuredCare™, which is scheduled for official launch in the first quarter of 2012.
With the acquisition of Core180 in March 2011, Harris CapRock benefited from the key infrastructure assets of the newly acquired business, expanding its terrestrial network infrastructure and ability to offer fully managed, end-to-end communication services for both government and commercial customers. Included in the acquisition was a proprietary, carrier-agnostic Network as a Service (NaaS) platform, which enables customers to extend their networks without additional capital or operational expenses. Additionally, the number of global points of presence (PoPs) for Harris CapRock greatly expanded. Harris CapRock's maritime communications business, SeaAccess, continued to experience great success in the marketplace with major wins in 2011, including fleet-wide contracts with BP Shipping Limited and Shipping. BP Shipping Limited signed a multi-year contract with Harris CapRock for VSAT service deployment to more than 50 vessels in its global tanker fleet, extending its corporate IT network and applications to its vessels and providing attractive crew welfare solutions. Securing BP Shipping's fleet further builds upon the strong relationship Harris CapRock has established with the company, as BP's operations in the Gulf of Mexico and West Africa are also supported by the business' SeaAccess solution.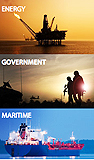 Farstad Shipping was another major maritime win for communications services to more than 50 offshore supply vessels. Included in the service provision are corporate networking capabilities, Internet access, crew calling solutions and email service. Following the launch of FieldAccess in August 2010, Harris CapRock received several notable contracts with leading drilling contractors and service companies in North America, including Allied Wireline. Harris CapRock is providing FieldAccess communications services to Allied Wireline's multiple trucks in its fleet supporting wireline services to land sites throughout North America. Provisions of the service include data transmission, Internet access, unlimited voice and other communication services.
A significant milestone for the service solution was the official opening of two new FieldAccess service centers in Texas during October. The new service centers in San Antonio and Odessa, Texas, strengthen Harris CapRock's existing service capabilities via the FieldAccess solution, as well as meet the needs of land drilling operations in Texas' Permian Basin and Eagle Ford regions. The service centers house critical spares and allow for quicker service response in their respective regions.
November was an exciting month for Harris CapRock as the business announced the finalization of AssuredCare™, its comprehensive customer service and network management program. The AssuredCare program will enable Harris CapRock customers to have improved real-time visibility into their global communications. AssuredCare guarantees that Harris CapRock's multi-disciplined engineers answer and handle customer calls from end-to-end. The company's certified field technicians and engineers are available to provide field service support, handling all logistics from equipment delivery and installation to configuration and start-up. Harris CapRock began live testing the program with selected customers in October, and is currently working to port all customers' service to the expanded system by the first quarter of 2012.

Harris CapRock saw many successes and changes in 2011. As the business' integration efforts come to a close, the result of these acquisitions is a stronger organization with more robust service capabilities and increased customer support. The reliable communications services that the business has provided for more than 30 years is now stronger than ever, and that growth and commitment to the market is clearly evident through the successes it has experienced in 2011. With its sights set on 2012, Harris CapRock is fully positioned to meet, and exceed, its goals and continue to provide communications to remote and harsh locations around the globe.
* * * * * * * * *
Hughes Defense & Intelligence Systems
by Rick Lober, Vice President and General Manager
The military market has changed dramatically over the course of 2011 – most agencies are facing significant budget reductions. As Congress and the "Supercommittee" work to reduce $1.2 trillion over the next ten years, the military and intelligence communities could feel the biggest impact from the cuts. At Hughes, we've been busy working with our customers and partners to help provide the best and most cost-effective communications solutions to some of the most pressing issues facing our military today.
We've made great strides in 2011, working with the U.S. Air Force (USAF) studying commercial technology applications for the military; growing our airborne intelligence, surveillance, and reconnaissance (ISR) contributions to the government; continuing to expand our communications capabilities for the intelligence sector; and working with Coalition partners on communications-on-the-move (COTM) operations to secure borders and keep homelands safe.
In September, the Department of Defense (DoD) awarded Hughes an extension contract for its study with the USAF of commercial communications satellite (COCOMSAT) systems capabilities. This has expanded the initial study beyond how changes in various SATCOM architectures would impact military needs and outcomes, to an assessment of complete systems – space, ground and terminal segments— along with approaches to commercially-oriented acquisition. We're using the same systems level approach as in our commercial network developments in order to realize savings in cost and schedule should a new COMSATCOM initiative be put in place. The results of the study are scheduled for delivery in early 2012 to the USAF Space and Missile Command Center's Military Satellite Communications (MILSATCOM) Systems Directorate.
Airborne ISR is a natural fit for Hughes as we partner with Row 44 to provide in-flight broadband to commercial airlines such as Southwest. Our proven on-board, commercial HX platform provides significant advantages for military and intelligence applications, and in particular, maintaining links under adverse conditions. Information reaches the HX terminal from five separate satellite gateways, each enabling service on a different satellite. By backhauling traffic on the system, a single platform is able to track the position of the aircraft as it switches from one gateway coverage area into another, and dynamically establishes new connections.
Our HX terminal employs Performance Enhancing Proxy (PEP) technology, and during a gateway switch, the underlying transmission channel is reestablished through a new gateway without disrupting the connection to the Internet. This preserves the user's connection and minimizes impact on system operations. Hughes is providing government customers airborne ISR solutions that utilize a number of Hughes technologies, including, the HX200 router, HX Gateway, and the HX Expert Network Management System (ExpertNMS).
The intelligence community has been center stage in 2011, publicly leading a number of counter-terrorism operations. At Hughes, we are able to provide the intelligence community a variety of solutions from COTM, to ISR, to continuity of operations (COOP) solutions. Our intelligence-related business did very well in 2010, and we will continue to grow this area of the business in 2012. With the current U.S. warfighter drawdown, SATCOM solutions for the intelligence community become even more critical to homeland defense and peacekeeping efforts. As the U.S. and its Allies continue to work together to provide unified military missions and peacekeeping efforts, it is important that the technology of Command and Control (C2) has the capability to communicate with the other units in a Coalition. Net-centric SATCOM is a central component to this success, especially in underdeveloped or harsh environments.
When Coalition Forces deploy, individual units often cannot operate beyond their own network, and information sharing is challenging due to proprietary and national communications standards. Satellite transmission equipment, such as the Hughes HX280 high performance router, which uses open standard waveforms defined in the global IPoS standard, approved by ETSI, TIA and the ITU, provide greater flexibility for deploying militaries to be able to interoperate with partners. Commercial waveforms and security standards also make military users interoperable with Non-Governmental Organizations (NGOs), which are often part of the front line operations in disaster recovery or rehabilitation missions.
Much of the world is facing a severe financial crisis. U.S. and Allied militaries must use the best practices of commercial SATCOM providers to help increase capabilities while decreasing costs. Bandwidth efficient technologies and advanced network management techniques are inherent to commercially oriented companies like Hughes, and can provide significant savings in the SATCOM area for military customers, reducing hardware and operational costs. This includes working with both public and private sector partners to reduce size, weight, and cost of portable SATCOM equipment such as antennas and battery packs, while increasing communications capabilities in a bandwidth constrained environment—which is essential for our warfighters.

Hughes is proud to support the U.S. military and its Allies, and I see us playing a much larger role within the DoD and intelligence community to help increase capabilities while drastically reducing costs in 2012.
* * * * * * * * *
iDirect Government Technologies
by David Bettinger, CTO + Senior Vice President, Engineering

From the beginning, iDirect has taken a visionary role in VSAT, helping to shape the industry through breakthrough technologies, winning economics and flexible business models. 2011 was no exception to this. As the global market for satellite connectivity grows across a wide range of industries, the opportunities for service providers continue to expand.
We address customers' and partners' needs using a three-fold strategy: First, we continually extend the value of the core iDirect Platform, optimizing for all frequencies and networks to enable our partners to meet the most complex and diverse applications. Second, we focus on high-value, specialized market segments, delivering integrated solutions and features to help partners meet unique requirements and untapped opportunities. Finally, we invest in co-innovation with best-in-class industry leaders to accelerate the delivery of superior products, fuel our platform, and expand the VSAT market. The following is a recap of the trends and technologies we've seen and been a part of over the past 12 months.
As the demand for satellite communications accelerates, new Ka-band satellites are primed to dramatically expand the market. By 2015, it's expected that 70 percent of total available capacity will be Ka-band, holding great potential for success across a broad range of vertical markets. iDirect's frequency-agnostic approach means our platform is Ka- ready today, enabling service providers to capitalize on emerging Ka-band opportunities by leveraging their existing portfolio, people and technology investments. We have built our platform around the concept of a single, integrated, multi-band network, equipping iDirect partners to manage a blended portfolio of Ka-, C-, Ku- and X-band services. Over the past year, iDirect was awarded the contract to develop the satellite ground infrastructure of Inmarsat's next-generation Ka-band satellite network, GlobalXpress.
Together at last—TDMA and SCPC: Earlier this year, iDirect reached an important technology breakthrough when it became the first satellite technology manufacturer to bring SCPC and TDMA together on a single platform. Available via a simple software upgrade to iDX 3.0, iDirect's SCPC Return Channel technology enables service providers, for the first time, to switch any Evolution router back and forth between TDMA and SCPC based on dynamic bandwidth requirements.
With the development of next-generation smart grid systems, utility companies are seeking to extend broadband connectivity across entire service areas. As the utilities and energy sector is still an emerging market for satellite communications, iDirect continues to foster end-user education to help drive greater adoption. To help service providers capture an opportunity for narrowband connectivity in the utility market, iDirect developed a new Evolution X1 remote router that is currently being field tested and will be released in Q1 2012.
Cellular backhaul over satellite is providing millions of people with connectivity while opening new business opportunities for network operators. Our new SCPC return feature offers an affordable solution for mobile operators to profitably pursue the rural market. When operators first introduce service in remote areas, they can use TDMA networks to cost-effectively backhaul data.
VSAT broadband continues to provide a high-speed, economic alternative to L-band networks as vessels become remote offices and homes, driving business productivity and improving crew welfare. During 2011, iDirect commissioned maritime specialist agency Stark Moore Macmillan to conduct the largest and most comprehensive maritime VSAT survey ever undertaken, which found demand for VSAT services in the commercial maritime sector increased significantly pver the last five years—up to 30 percent of the maritime market is looking to fit VSAT within 24 months.
The military and defense market remains the largest satellite customer segment in both value and demand. iDirect's defense product line and advanced features provide a reliable, efficient and highly secure solution for militaries and civil government agencies across the globe, with 18 of 27 EU Member States and 16 of 28 NATO member countries using iDirect today. complex environments on land, at sea and in the air. Earlier in 2011, iDirect expanded its government and defense feature set to make satellite communications more reliable in the harsh and remote field environments in which militaries operate. The iDX 2.3 software release expands iDirect's TRANSEC security capabilities, adds new FIPS 140-2 Level 2-compliant remotes and line cards capable of supporting multiple return channels, and introduces a new feature that extends the battery life of portable satellite terminals.
What's next? 2011 was a momentous and exciting year for the satellite industry—2012 promises to be no less significant. While we achieved a lot this year, we're certainly not resting on our success. Our engineers are already developing and testing new specialized technologies and products that will enable service providers take VSAT to new markets, applications and environments. Moving forward, we will continue to shape the future of VSAT through a well-thought-out strategy.
* * * * * * * * *
Intelsat General
by Kay Sears, President
Intelsat General continued to play a key role in supporting the global reach of the U.S. military and its NATO allies in 2011, providing solutions ranging from UAV data transfer to television signals to U.S. troops around the globe. Satellite capacity provided by Intelsat General and other commercial companies continued to make up the lion's share of bandwidth used by the military for both normal operations and in the combat zones of Southwest Asia.
Intelsat General is a critical enabler for medium- and high-altitude UAV operations around the world. Manned ISR platforms are transitioning from narrowband communications using L-band satellites to wideband commercial and military SATCOM, creating even greater demand for high-capacity bandwidth. It is projected that ISR bandwidth demand will reach 16GHz by 2018, more than double the commercial SATCOM in use today to support operations in the Middle East. The satellite industry has been successful in supporting this recent growth due to the scale and flexibility inherent in commercial satellite fleets and the frequent technological upgrades offered by robust fleet replenishment schedules. Intelsat General today provides some 1 GHz of total wideband capacity, representing more than 50 simultaneous flights of manned/unmanned ISR missions in a number of theaters.
Intelsat General is working with satellite manufacturers on specialized payloads, some with the economic advantages of hosted payloads, for next-generation capabilities that would provide dramatic increases in overall bandwidth. In further support of military units, Intelsat General's was awarded a contract to provide comprehensive satellite connectivity to the Armed Forces Radio and Television Service (AFRTS), which provides multi-channel, broadcast-quality radio and TV programs to military forces and their families stationed outside of the United States and aboard Navy ships at sea. Intelsat General is now providing the satellite capacity and terrestrial infrastructure via the IntelsatONE network in support of the service, as well as additional internal information programming offered by the Department of Defense. AFRTS uses seven satellites and six data entry points to carry television and stereo audio services to over 1,000 outlets in more than 175 countries and U.S. territories and to U.S. Navy ships.
The U.S. Centers for Disease Control (CDC) selected Intelsat General Corp. to provide satellite connectivity to 17 field offices in Africa and the Caribbean, regions of the world where crowding, poverty and tropical weather combine to create environments ripe for the incubation and spread of communicable diseases. The Intelsat network will provide CDC field offices and research stations with real-time data to promote health throughout developing countries by disseminating disease prevention and treatment information.
The CDC, with operations in more than 50 countries, relies on a global communications network to move data about disease outbreaks and prevention measures to and from its Atlanta headquarters and field offices. The Intelsat General network will allow the CDC to allocate bandwidth to the regions where data demand is highest at any given time. IS-25, which will provide connectivity, is one of the few satellites on orbit capable of covering both Africa and Latin America.
As part of its work with U.S. government customers in 2011, Intelsat General was one of four firms awarded a U.S. Air Force contract to undertake a range of studies showing how the U.S. military can make better use of commercial satellite capabilities. The contract is further evidence that the Pentagon intends to incorporate commercial satellite capabilities into its long-range planning and to make better use of commercial assets already in orbit.
Under the award, Intelsat General is examining how hosted payloads could be used by the military on commercial satellites. The other firms are looking at how commercial firms can augment the government's Ka- and X-band capacity; whether small Ka-band terminals could be supported by commercial satellites for COTM needs and AISR; and ways of providing increased commercial support for Ka-band long track terminals, and for intra-theater low and medium altitude AISR terminals.
As part of the U.S. government's shift in how it buys commercial satellite capacity, Intelsat General was among a number of firms added to the new Future COMSATCOM Services Acquisition (FCSA) contracts for transponded services and subscription services. Intelsat General was among the first commercial satellite operators to be granted this eligibility under the new contract vehicle jointly managed by the General Services Administration (GSA) and the Defense Information Systems Agency (DISA). The award will permit the Department of Defense to directly acquire transponder capacity and subscription services from Intelsat General during the initial five-year term.

The collaboration of the GSA and DISA creates a central marketplace for all government customers needing commercial satellite communications capacity while at the same time making sure that satellite solutions meet the government's information assurance and security requirements. The GSA estimates that the government will save millions of dollars by being able to purchase satellite communications services directly from providers rather than through transponder capacity brokers.