L3Harris is developing missile warning and missile defense capabilities to address today's rapidly evolving threats
As quickly as technologies advance worldwide, global threats continue to rapidly increase. Missile capabilities have expanded, with continued and accelerated development of long-range and ballistic missiles. Of increasing concern, however, is the development of a new generation of missile technology.
---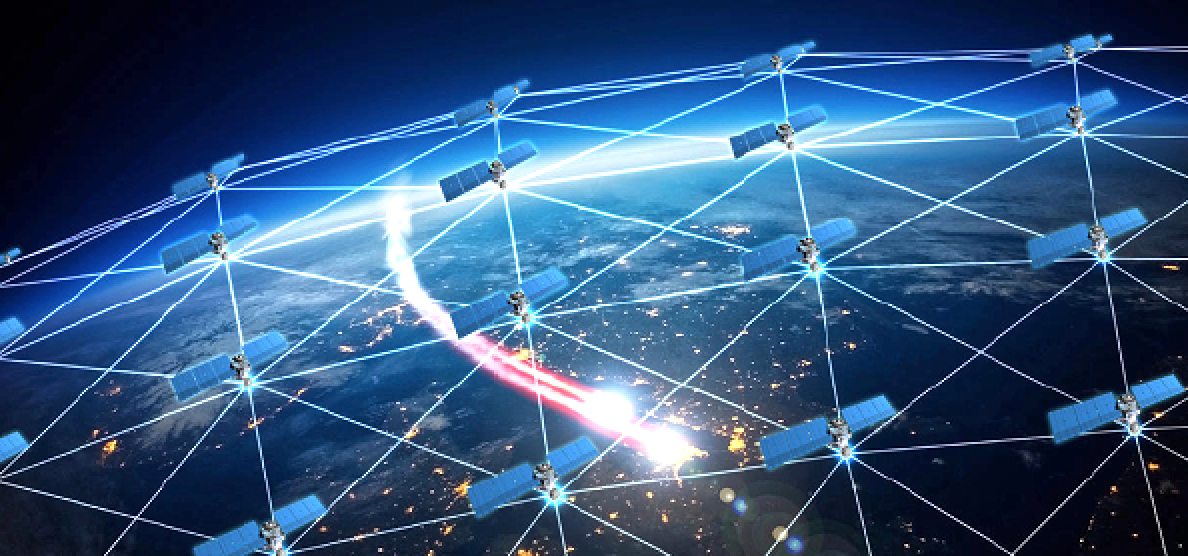 ---
Within this new generation of missile technology exists the potential for hypersonic glide vehicles, which are highly maneuverable and travel at speeds exceeding Mach 5, making them extremely difficult to detect.
"Hypersonic glide vehicles do not follow the same deterministic trajectory as preceding ballistic technology," said John Holder, Missile Warning and Defense (MWD) Chief Systems Engineer, L3Harris.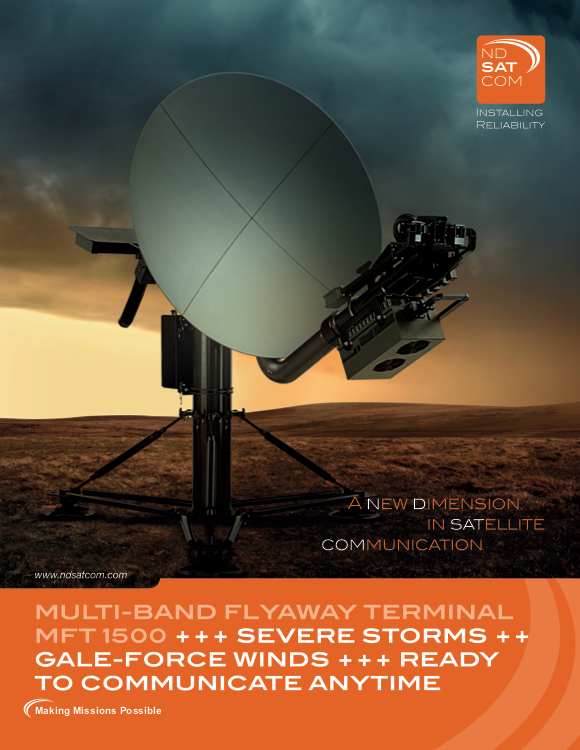 Previous defense architectures, which counted on being able to predict where the missile would land based upon initial launch trajectory information, are no longer viable options.
"Beyond their high maneuverability, low heat signatures during various phases of flight make the missiles very hard to detect through the atmosphere from space," Holder continued.
Developing an architecture and technology that address these threat capabilities (both current and projected) has been the primary focus of the L3Harris MWD team.
Missile Warning and Defense
L3Harris has an extensive, 60-year history in the design, build and test of both geosynchronous and LEO weather and climate instruments. Among these are the Advanced Baseline Imager (ABI) instruments, which are the most sophisticated meteorological imaging instruments ever built for operational weather forecasting. In fact, they are the only weather instruments that provide flexible, custom scanning that is configurable on-orbit.
"We observed that these instruments had the sensitivity and performance capability of detecting launches from orbit," Holder said. "This led to significant company investment to develop accompanying on-orbit algorithms that supported detection and tracking of these missiles through the multiple stages of flight and potential atmospheric conditions."
The MWD system architecture contains many overlapping layers and phases that support different functionality throughout the various stages of missile flight. The system begins with initial detection (launch), extends through tracking, and finally concludes with targeting/engagement (fire control) prior to the missile reaching its intended target during its terminal phase.
---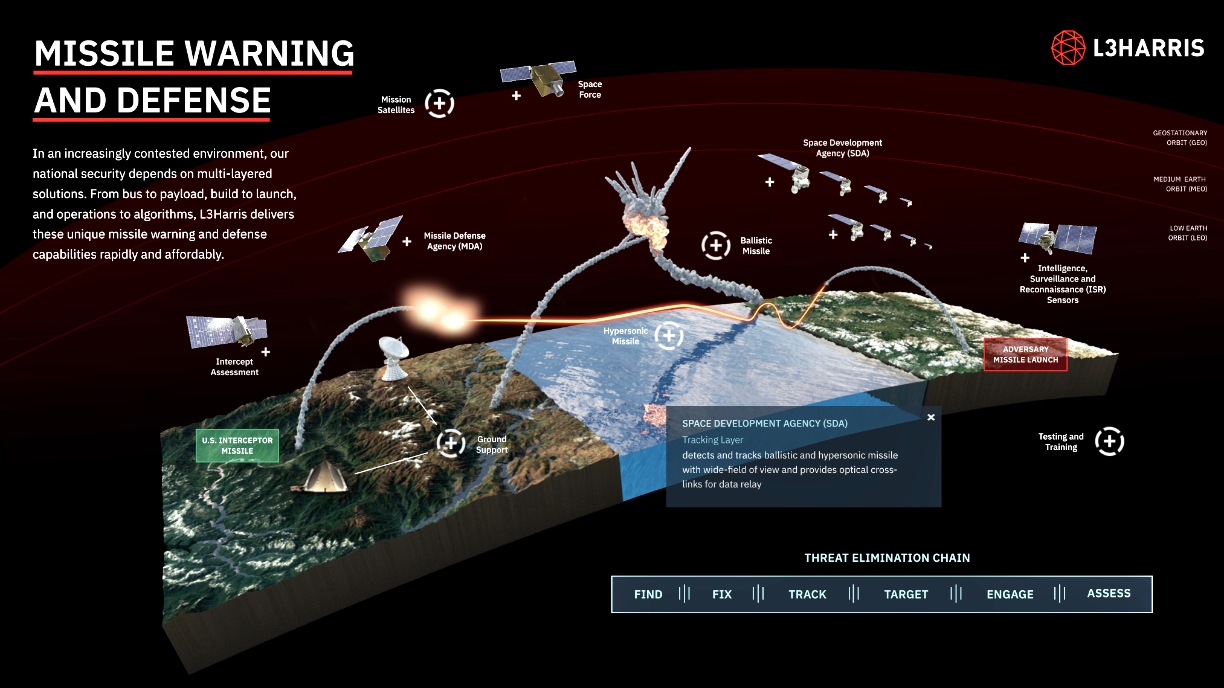 Click to enlarge
---
"L3Harris' recent focus has been on the detection and tracking phases of the MWD system architecture, identifying key technology required to support these critical functions," Holder said.
Overall, L3Harris has identified four key requirements that are guiding the technology being developed to effectively support these targeted phases of the MWD system:
• Continuous global coverage, as a threat could be from anywhere at any time
• High sensory sensitivity and dynamic range, as targets can be dim to very bright throughout flight
• Real-time, on-board processing that is capable of immediately detecting and tracking threats under a multitude of different geometries and atmospheric conditions
• Open design architecture that supports rapid evolving performance in a schedule-driven, cost-constrained environment
"Mitigating emerging threats is our number one priority," Holder said. "We need to respond quickly and ensure that our solution is cost-effective and easily proliferated, while in an open architecture that will allow the design to evolve easily as lessons are learned and threats evolve."
Mission Technology
L3Harris continues to dedicate and prioritize investments to address MWD architecture and technology needs. Upon completion of the on-orbit algorithm performance demonstration, further investments were initiated for the development of a proliferated low earth orbit (PLEO) technology centered around the MWD algorithm.
"The focus of this effort is to develop a common architecture that supports two different L3Harris capabilities that directly address the needs of the targeted MWD system phases, detection and tracking," Holder said. "These capabilities can provide a strong performance against both current and emerging threats." In December of 2021, the SDA approved L3Harris' missile- tracking satellite design at the Tranche 0 Critical Design Review (CDR), affirming L3Harris' satellite build plans and technology.

The CDR was successfully held less than a year from the original contract award and resulted in Authorization to Proceed (ATP), which is unprecedented for an electro optical (EO) infrared (IR) sensor of this complexity. L3Harris was commended for its commitment to supporting the critical needs of the MWD system and sustaining such a rapid development pace to address these present and evolving threats.
"Common architectures are the cornerstone of multiple payload designs to combat this threat on current and future programs," Holder said. "The success experienced by the SDA Tranche 0 Tracking team is a testament to this approach.
"From the use of heritage L3Harris technologies and real-time detection algorithms to incorporation of common interfaces, the commitment to IR&D in these areas will continue to deliver common payload technologies that meet the evolving needs of our customers within the rapid development timelines required to keep pace with this emerging threat."
Expanding Threat
L3Harris understands that in this age of new generation missile technology, precision tracking is key and can only be made possible through advanced satellite technology. As threats grow daily, MWD technologies are ever-more important in addressing shifting needs in the space domain.
L3Harris is invested in amplifying MWD capabilities through dedicated development efforts and the expansion of a dedicated workforce at its recently opened Fort Wayne facility and expanded satellite production site in Central Florida. These investments build upon a legacy of success to address the rapid evolving threats of today.
www.l3harris.com/
---