The Japanese National Institute of Information and Communications Technology (NICT) is the recipient of two, state-of-the-art Ka-band Satellite-On-The-Move (SOTM) terminals from communications engineering company EM Solutions. This delivery represents a key milestone for the firm for a partnership project with Tokyo-based Jepico Corporation.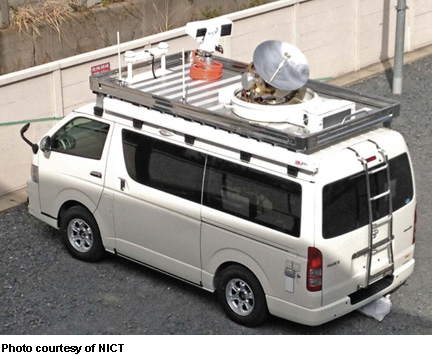 EM Solutions
' Ka-band SOTM terminal, originally built for the
Australian Defence Force
for use on the
U.S. Wideband Global Satellite
(
WGS
) military constellation, was extensively upgraded to work with Japan's
Kizuna
(
WINDS
) Ka-band experimental satellite. The upgrade increases the terminal's effective data rate up to 20Mbps, with a new 65cm diameter antenna dish and 40W radio transmitter.
Two initial SOTM terminals have been supplied to NICT for mounting on vehicles and a ship. They will be used as experimental equipment to enable a rapid response to emergencies and natural disasters.
The terminals maintain broadband data communications even from a moving vehicle or vessel and will establish a mobile communication 'hub' through the WINDS satellite to deliver high speed voice, data and video traffic from the affected site independent of the terrestrial network .
Founded in 1972,
JEPICO
is one of the best-known distributors and represents foreign suppliers of electronic components in the Defense, Aerospace, and Industrial markets in Japan, JEPICO provides a wide range of services including technical support, system integration, and engineering project services to Japanese clients that include the Government sectors. Headquartered in Tokyo, JEPICO has several offices in Japan, Taiwan and the USA. For more detail, please visit
www.jepico.co.jp
Carrying out R&D and promotion for businesses within the ICT industry, the National Institute of Information and Communications Technology (NICT) drives economic growth and development as well as creates the promotion of R&D on network technologies, universal communications technologies, advanced ICT, and applied electromagnetic technologies. Such work helps the company to meet various challenges that range from daily living and global issues such as the declining birthrate and an aging population, to medical and educational issues as well as global warming. NICT also focuses on projects that produce advances through cross-disciplinary linkups of various technologies, especially in regard to ICT use in disasters.
KIZUNA (WINDS) was jointly developed by
JAXA
and NICT as part of the
e-Japan Priority Policy Program
of the Japanese government's IT strategy headquarters. KIZUNA was launched by a
H-IIA Launch Vehicle No.14
on February 23, 2008, from the
Tanegashima Space Center
to establish advanced information and telecommunications for Japan.
In addition to establishing a domestic ultra high speed Internet network, the project also aims to construct ultra high speed international Internet access, especially for Asian Pacific countries and regions that are closely related to Japan.
The KIZUNA project is responsible for the demonstration of the validity and usefulness of technologies related to large-capacity data communications in our space infrastructure project, "i-Space," the purpose of which is to promote the use of satellites in such fields as Internet communications, education, medicine, disaster measures and Intelligent Transport Systems.
About EM Solutions
EM Solutions is recognised for offering technologically advanced microwave modules and systems for next generation broadband communications. EM Solutions' vision is to offer to systems integrators and telcos differentiated microwave products that embed the firm's unique I.P., designed to be available whenever they are needed. EM Solutions' core activities focus on the design, engineering and manufacture of products for satellite and microwave communication applications. One of the world's most experienced active and passive Ka-band SATCOM microwave and RF engineering design teams is incorporated into the company, with capabilities that include in-house digital and signal processing technology, software, and mechanical design. For more than 10 years EM Solutions has been a leading supplier of Mil-Std-188-164 (WGS compliant) Ka-band SATCOM RF Ground equipment, such as BUC's, LNB's and SSPA's, to defence and commercial customers around the world. EM Solutions has developed highly integrated RF subsystems for X-, Ku- and Ka-band SATCOM terminals, all purposefully designed to meet, and exceed, specific customer requirements.