Comms Up...
During exercise Spartan Xiphos aboard Cherry Point and outlying military facilities, Company B, Marine Wing Communications Squadron 28, practiced providing a full array of communications abilities in an expeditionary environment.
The company spent the eight-day exercise preparing for Weapons and Tactics Instructors Course, where they will have to provide full communications support for units operating in 7,000 square miles of Arizona desert.
"You can get Google anywhere in the world as long as we're there," said 1st Lt. Charles M. McClurg, the operational leader of Company B, during Exercise Spartan Xiphos.
The squadron provides radio communications, telephones, satellite communications, live video feeds, voice over IP, Internet, intranet, and more without plugging into a pre-existing network. When the network is up, the operators of Marine Air Control Group 28 go to work providing air command and control in the battle space.
McClurg said providing the communications that makes combat operations possible is a massive team effort.
"We need the Motor-T guys to get us out there, maintenance guys making sure our equipment is ready, operators to get the transmission links up, and then radios up so we can coordinate the troubleshooting," McClurg said. "We need the data guys who coordinate getting services and making sure our routing is done right so we can get classified and unclassified intranets, Google, and email."
The first step in setting up a satellite-linked network is establishing basic radio communication between the headquarters and outposts.
"We are the first ones to get communications up so we can keep tabs on what's going on at the other sites," said Pfc. Austin Klemm-Thornton, a field radio operator with the squadron. "If anything goes wrong, we can give them support. Radios can do things that other equipment cannot. The support wide area network system, or SWAN, needs a satellite. With radio, all you need is another radio and you can talk to another site."
For long-range radio, the squadron uses a tropospheric scatter microwave radio terminal, or AN/TRC-170A, for point-to-point radio communications up to 100 miles away. It works by sending 16 megabytes per second from one antennae to another directly, or by bouncing the beam off the atmosphere or the top of a mountain.
For the exercise, the radio operators set up a forward operating base and practiced relaying all the communications from that base to the main communications hub at the company's field headquarters, said radio operator Sgt. Adam Garcia.
He said his favorite part about his job is the important role he plays. Marines can't call for air support without the communications he provides.
After the radios are ready, data specialists set up the wide area network for satellite access and then the servers and switchboards to run the network. Exercise Spartan Xiphos was useful for the data Marines in particular because they have few opportunities to practice their full capabilities.
"I'm responsible for building all the servers and setting up all the networking equipment so a laptop can get do whatever the mission requires," said Cpl. Brayden Streeter, a data specialist with the squadron.

Streeter said communications school teaches only the basics of building a network, and exercises like Spartan Xiphos are a good opportunity to learn more of what they do.
Once the network is running, Company B has to operate and protect it. Switchboard Marines make sure phone communications are reaching the right places and information assurance Marines safeguard the information on the network.
"We're always going to have people trying to get into the network to try and steal information," said Sgt. Jennifer Finney, the information assurance Marine for the company. "We're in charge of securing the network and safeguarding it."
Finney said she updates the server's protective firewalls and other protective software to keep threats like enemy hackers out.
Switchboard operators work alongside data Marines to integrate the phone system with the rest of the network, said Lance Cpl. Vicky Sanchez, a switchboard operator with the squadron. Working from the digital technical control refresh truck, essentially a mobile switchboard station, Sanchez makes sure all of the remote outposts can talk to each other by telephone and can connect with the civilian network when necessary.
Other Marines keep the network running by maintaining the equipment and providing power.

"My job is to oversee all the maintenance operations just in case one of the links goes down," said Staff Sgt. Lucian Noble, a ground communications maintenance technician with the squadron Noble maintains the network equipment to keep the impact of malfunctions to a minimum.
Lance Cpl. Kyle J. Dahood, acting as a utility board chief with the squadron, sets up the generators. The generators are hooked up to 'turtles,' which distribute power to various equipment. It's a critical job as Dahood keenly pointed out, "Without power, nothing runs."
This communications network provides the infrastructure necessary for Weapons and Tactics Instructors Course to be successful, said Capt. Kevin J. Stepp, the commander of Company B. Without the network, other parts of the aviation combat element would not be able to communicate or do their jobs.
"We essentially provide the digital backbone for the wing," said Lt. Col. Matthew E. Limbert, the commanding officer of the squadron. "Without this squadron, we wouldn't be able to move the air picture around, the air tasking orders around or launch or recover aircraft."
Limbert said the network is necessary for all parts of the air combat element to know what they need in
order to accomplish their assigned missions.
The purpose of the Weapons and Tactics Instructors Course is to train pilots to become instructors and in advanced aviation tactics. Course graduates return to their home squadrons to teach the same tactics to other pilots. It occurs twice a year and draws pilots from around the Marine Corps.
Company B will be part of the detachment MACG-28 is planning to send to support the upcoming course. The Marines will establish the communication architecture the students will integrate into.
"Are we the focus? No, the students are," said Stepp. "But would it be possible without the control group? No way." #
Story by Lance Cpl. Scott L. Tomaszycki, 2nd Marine Aircraft Wing
* * * * * * * * *
Enemies Will Be Praying... Mantis...
Vislink International has announced the immediate availability of the military spec'd Mantis MSAT, the world's smallest and lightest satellite data terminal.
At 12.5kg (27.5 lbs) MSAT is designed for one man operation in challenging operational environments. It is a rugged terminal, resistant to extreme environmental conditions, that is deployed from a single lightweight backpack.
Initial military orders are being filled and MSAT terminals are currently undergoing field trials for battlefield, command center and special operations.
Stephen Rudd, Chief Executive of Vislink International, said, "MSAT meets the exacting, high-bandwidth, connectivity requirements now demanded by forces around the world to address an increasingly difficult operating environment. It is an extremely complex sector but we have not only met the core need, we have created a rugged, highly reliable and lightweight package that can be deployed anywhere in the world. At only 27.5 lbs (12.5kg) it is the lightest satellite data terminal on the market and compliments a range of manned and unmanned solutions Vislink already provides for land, sea and air based communications and surveillance."
Vislink developed the military spec. MSAT to address demand from forces around the world that require a highly portable solution capable of delivering high bandwidth voice and data communications. Providing up to 5Mbps upstream data throughput, MSAT can be used to deliver high definition video intelligence in addition to standard voice and data requirements. Even in the most hostile operating environments, the terminal can be unpacked and operational within five minutes.
MSAT meets the MIL 810F & DEF-STAN military specifications for shock, vibration, sand and rain and is provided as a 'one box' solution incorporating antenna, modem and all electronics. A high performance parabolic antenna is coupled, according to customer requirements, with interchangeable modem and encoder options. The terminal is available to operate in X-, Ka- and Ku-bands.
* * * * * * * * *
A Day In The Life Of N.I.E.
When the first Network Integration Evaluation was conducted by the Network Integration Triad partners about 16 months ago, "A Day in the Life of NIE" was not even a concept, let alone something that could be predicted.

Now, just weeks before embarking on the most important part of the fourth NIE at Fort Bliss and White Sands Missile Range, the Triad partners are in the last planning phases for NIE 13.1 that will culminate in the operational field phase from October 15 through November 16.
Triad partners include elements of the Army Test and Evaluation Command's Operational Test Command, the Assistant Secretary of the Army for Acquisition, Logistics and Technology System of Systems Integration Office and the Brigade Modernization Command, which is headquartered in Fort Bliss's Hinman Hall.
As soldiers and civilians in the BMC have participated in past NIEs, they and their Triad partners have developed a process of how to prepare for, and conduct, these important exercises.
NIEs are conducted twice each year and allow soldiers of the 2nd Brigade, 1st Armored Division, attached to the BMC, to evaluate and test new equipment and systems as part of the Army's modernization program.
Now that they have three successes under their belts, they are using a somewhat standardized blueprint for each NIE, providing valuable feedback and recommendations to Department of the Army on which items show promise in filling capability gaps for fielding to the first soldiers who need them.
BMC Chief of Staff Doug Fletcher noted that this NIE, like its predecessors, will be conducted incorporating lessons learned from the previous NIEs, which has made the process run more smoothly. Also, he said, a timeline has emerged, and it increases predictability and greatly aids in the planning process.
The operational field phase of the last NIE ended at the beginning of June, and the NIE 12.2 report was due to DA at the end of that month. Since then, NIE 13.1 planning has been progressing at a brisk pace, although some early tasks were completed even before and during NIE 12.2.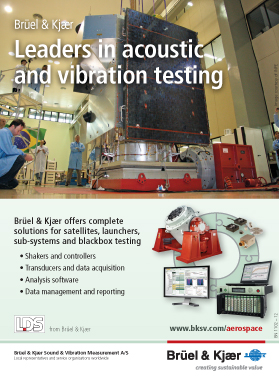 Almost immediately after the last phase of NIE 12.2 ended, the systems which had just been evaluated had to be removed from the 2/1 AD's vehicles, so that the new systems to be evaluated during the next NIE could be installed in their place. This deinstallation and installation takes place at the Integration Motor Pool on Fort Bliss and is overseen by SoSI.
While deinstallation/installation have been ongoing, 2/1 AD soldiers have worked to attain certification and qualification on all the weapons systems they will be using during NIE 13.1. They have also been participating in New Equipment Training to learn about and become familiar with the new systems they will evaluate.
For equipment that will become part of the unit's permanently authorized equipment, this is followed by New Equipment Fielding, when the unit signs for the equipment and its soldiers can begin to train with it and maintain it on a daily basis. NET/NEF began in July with operational energy systems and will continue through most of September.
Currently, the NIE 13.1 timeline is in the phase known as VALEX/ COMMEX, which includes a Validation Exercise and two Communication Exercises. VALEX is conducted to ensure the equipment is properly configured and operational before the 2/1 AD signs for it. It also allows the program managers of the new systems and the vendors who produced them to ensure their systems are operational and interoperable before handing the systems over to the 2/1 AD soldiers for the COMMEX.
The COMMEX is a communications exercise that verifies communication equipment and the network to which it is connected are functioning satisfactorily to support each identified activity. There are two COMMEXes scheduled, one in garrison in the Integration Motor Pool and one in the field from October 15 through 19 at Dona Ana Base Camp.
After the VALEX and COMMEXes have been completed, 2/1 AD soldiers will participate in the Pilot exercise, which is a rehearsal of the final field phase, the meat of the NIE. The final part of the NIE is the "operational exercise that replicates operations in the mountains of Afghanistan," according to BMC Command Sgt. Maj. Louis Torres.
During this final phase, ATEC/OTC provides data collectors called Observer/Controllers to document how the new systems perform. They collect feedback from the 2/1 AD soldiers who are using the systems and write reports at the end of each day detailing how the systems performed in the tactical scenarios.
According to Maj. William Eldridge from BMC's Brigade Modernization Integration Division, his division also provides data collectors to interview 2/1 AD soldiers daily and send reports to analysts in the BMC Mission Command Complex. Those analysts use the BMID data collectors' reports to write system annexes.
"The data collectors go back daily to ensure the analysts understand what the data is saying and assist these guys in writing the annexes," Eldridge noted. The annexes then become part of the BMC report to DA with recommendations on the value of the systems.
Eldridge explained that the equipment/systems soldiers will be using fall into three primary categories, including Systems Under Test (SUT), which will be undergoing a strictly-controlled series of tasks conducted by engineers from the OTC; Systems Under Evaluation (SUE), those that have shown promise for meeting previously identified capability gaps; and special evaluations on items identified by DA objectives.
"An example of a SUT from NIE 12.2 is the WIN-T, Increment 2, which is an integrated set of satellite and terrestrial radio systems and IP network infrastructure," according to Lt. Col. Lawrence Karl from BMC's Network Integration Division. WIN-T, Inc 2, he said, "is designed to extend network communications supporting Mission Command to company level on the battlefield, even while units, their commanders and key staff are on the move."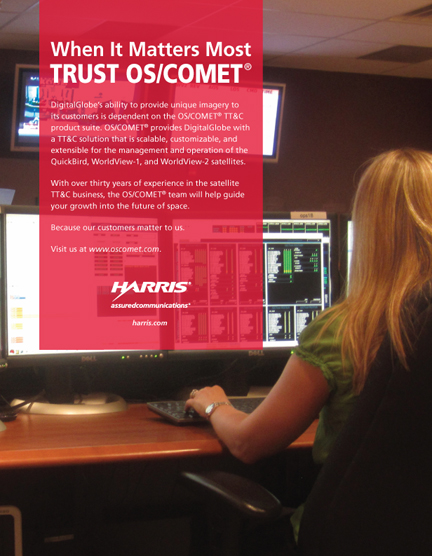 Currently 22 new systems will be under evaluation in NIE 13.1, and they include many items in the major categories of Mission Command on the Move and Operational Energy.
Eldridge also pointed out that the length of the planning period for each NIE is based on whether it is focused on company/platoon level, as the NIE 13.1 is (traditionally conducted in the fall), or on brigade/battalion level, as the NIE 12.2 was (generally conducted in the spring).
The planning period for NIEs that are focused on the lower-level units is about 16 to 18 weeks; for the higher-level unit focused NIEs, the planning period is about six months. Of this time period, soldiers from the 2/1 AD are directly involved in the execution phases for about five weeks for company/platoon-level NIEs and about seven to eight weeks for brigade/battalion-level NIEs, according to Torres.
The importance of the role 2/1 AD soldiers play during NIEs and in Army modernization cannot be overemphasized, according to Lt. Gen. Keith Walker, former BMC commander and now U.S. Army Training and Doctrine Command Deputy Commanding General, Futures, and Director, Army Capabilities Integration Center. He stated during a recent visit to BMC, "The 2/1 AD has a greater strategic impact on the Army than any other brigade in the Army."
A typical day—if there is such a thing—in the life of NIE depends on many things, such as where in the planning process you are, to which of the Triad organizations you are assigned and what your duty position is. If you are a soldier in the 2/1AD, most of your days will involve training on, and learning, the new systems, evaluating and testing them and then providing honest feedback on how they performed in a tactical scenario environment. At the end of the day, you can rest assured that what you do will have a lasting and profound affect on the future of the Army.
* * * * * * * * *
Life And Death Situations Require SATCOM
The importance of communication cannot be over-stated, especially in matters of life and death. An Alabama Army National Guard unit knows this well and is currently honing its skills in an exercise effort at Camp Atterbury, Indiana.

The 31st Chemical, Biological, Radiological and Nuclear (CBRN) Brigade from Tuscaloosa, Alabama, also known as Task Force Guardian, was among the first responders in preparing exercise rescue efforts for the people of a major Midwestern city. Its simulated mission was to promptly plan, organize, install and maintain all communications mediums among the massive joint task organization. This would be an absolute requirement to effectively restore safety and order to the affected areas.
In the event of a real catastrophic incident, the unit will have the high stakes task of supplying radio, satellite, broadband and telephone communications to nearly 1500 Soldiers in an immediate command post and an even greater number of field responders, such as law enforcement, paramedic and other incident liaisons.
The 31st Assistant IT and Automation Officer, Capt. Jeremy Goldsmith, was a part of the advance party making the 16-hour trip to Camp Atterbury, the exercise Incident Command Post. "We will make sure the commander has the best quality communication possible to support the people," said Goldsmith.
Most recently, the 31st was instrumental in the response to the historic tornado outbreak in Alabama of April 2011. Goldsmith views the challenges in this simulated incident to be very similar, "We've got to be able to bridge the communication gap between local and national responders," he noted.
The 31st is participating in Exercise Vibrant Response 13. Exercise Vibrant Response is a training event for the Defense Chemical, Biological, Radiological and Nuclear Response Force. The exercise focuses on Department of Defense support of civil authorities in a consequence management role. The DCRF is part of DoD's scalable response capability to assist civilian responders in saving lives, relieving human suffering providing critical support to enable support to assist community recovery following a catastrophic CBRN incident.
Story by Spc. Jonathan Wood, 131st Mobile Public Affairs Detachment
* * * * * * * * *
Please Fence Us In
The U.S. Air Force will base a Space Fence radar site on Kwajalein Island in the Republic of the Marshall Islands with Initial Operations Capability (IOC) planned for fiscal year 2017.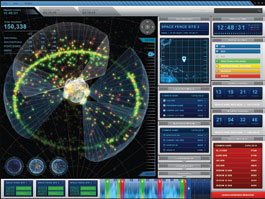 The Fence will provide a critical Space Surveillance Network capability needed to give warfighters the ability to maintain a full and accurate orbital catalog, ensure orbital safety, and perform conjunction assessments.
Air Force Space Command will award a contract to build the radar, and construction is expected to start in September 2013 and is planned to take 48 months to complete.
After construction is complete and the radar is operational, approximately 10-15 contractor personnel are projected for the long-term work force at Kwajalein to maintain the Space Fence radar. A Support Agreement will be established between Air Force Space Command and the U.S. Army Kwajalein Atoll/Reagan Test Site for site support and facilities maintenance, all under the responsibility of the 21st Space Wing.
Space Fence is a radar system operating in the S-band frequency range, to perform uncued detection, tracking, and accurate measurement of orbiting objects in low Earth (primary) and medium Earth (secondary) orbital regimes. Space Fence will provide precise positional data on orbiting objects and will be the most accurate radar in the Space Surveillance Network. Space Fence data will be fed to the Joint Space Operations Center (JSpOC) at Vandenberg Air Force Base, California. Data from the Space Fence radar will be integrated with other SSN data to provide a comprehensive SSA and integrated space picture.
The Space Fence will provide enhanced space surveillance capabilities to detect and track orbiting objects such as commercial and military satellites and space debris. The Fence will have greater sensitivity, allowing it to detect, track and measure an object the size of a softball orbiting more than 1,200 miles in space. Because it is an uncued tracking system, it will provide evidence of satellite break-ups, collisions, or unexpected maneuvers of satellites.
* * * * * * * * *
BLOS Benies For BACN
The U.S. Air Force awarded Northrop Grumman Corporation (NYSE:NOC) a $20 million contract modification to add beyond-line-of-sight command and control (BLOS C2) capabilities to the Battlefield Airborne Communications Node (BACN) information gateway system, giving warfighters access to full-motion video (FMV), imagery, voice over Internet protocol and chat messages from multiple sources.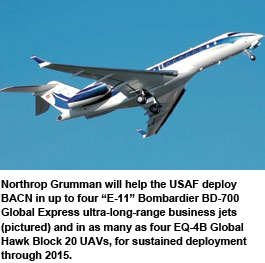 BACN is part of the Air Force's development of a BLOS C2 architecture to meet U.S. Central Command requirements, essentially creating a wireless Internet over the battlefield.
Under the contract, Northrop Grumman will integrate Multi-Role Tactical Common Data Link and associated control terminals with the BACN suite of computers and radio systems aboard one of three BACN-equipped E-11A Bombardier Global Express BD-700 aircraft platforms.
The company will also support government-sponsored BLOS C2 developmental and operational testing.
The high-altitude BACN system provides situational awareness and command and control coordination between warfighters by bridging and extending voice communications and battlespace information from numerous sources.
Since the BACN system was deployed in 2008 to overcome communications limitations, it has delivered near 24/7 coverage in theater. The BLOS C2 contract was awarded by the Air Force Life Cycle Management Center, Hanscom Air Force Base, Massachusetts. Work is to be completed by June 30, 2013.
Northrop Grumman is the prime contractor for the development, fielding and maintenance of the BACN system. The company was awarded the first BACN contract in April 2005.
* * * * * * * * *
MILSATCOM Amplification
Communications & Power Industries LLC (CPI) has received initial orders totaling more than $5 million from a prime contractor for high-power, Ka-band satellite communications amplifiers.



These SATCOM amplifiers will be used in a U.S. military communications program that is intended to provide worldwide communications connectivity to tactically deployed forces. CPI will provide solid-state and vacuum electron device products for the program, including solid-state power amplifiers (SSPAs) with internal block-up converters (BUCs) and CPI's SuperLinear
®
traveling wave tube amplifiers (TWTAs). Work on this program will be performed across several of CPI's divisions. The program is expected to continue for the next five years.
Joe Caldarelli, chief executive officer of CPI, said, "Communications systems that are reliable and rugged, yet small and light, are of critical importance to our warfighters, and CPI has devoted significant resources to developing and manufacturing dependable and state-of-the-art military communications products. In particular, our high-power SSPAs and SuperLinear TWTAs, such as the ones being used in this program, have been well received by our military communications customers."
* * * * * * * * *
Making SATCOM Headway
Bentley Walker has unveiled their new Freedomsat service to Iraq and Afghanistan, the fastest satellite broadband connection available in both countries to date.
Freedomsat is a Ka-band service operating on the Hylas2 satellite, offering speeds of up to 10Mbps to military personnel and contractors in Iraq and Afghanistan. Previously, the most popular service for Afghanistan and Iraq was Bentley Walker's Ku-band service that ran on the HX50 modem at 4Mbps. Freedomsat offers speeds over twice as fast and at a fraction of the cost.
Neil Denyer, Sales Manager at Bentley Walker, said of the new service, "We are honored to have an ongoing relationship with those serving overseas, keeping military personnel and civilian contractors connected with family and friends back home, as well as helping with essential tasks like rebuilding and installing infrastructure. We are also the first ISP in Afghanistan and Iraq to offer this new high speed service, and we are already seeing fantastic results on smaller 98cm and 74cm size dishes. The Freedomsat package comes with a unique pin service allowing 24/7 activation and access for users. We are also happy to offer detailed web filtering, should such be required."
Bentley Walker can potentially offer existing customers using a HX50, HX90 or iDirect modem a completely free upgrade with no equipment or shipping costs. Simply email
sales@bentleywalker.com
with your ESN to find out if you're applicable. There are also deals for new customers including free hardware installation.