Cheers! WGS-9 Launches and USAF Celebrates a 70th Anniversary
What a terrific day March 19 was for the USAF as their WGS-9 satellite was successfully launched and the Air Force celebrated their 70th Anniversary.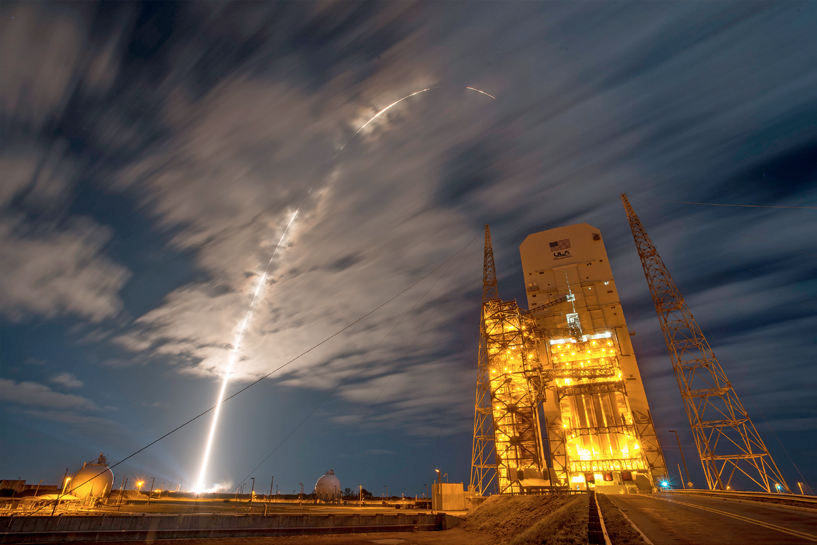 This was the ninth Boeing-built Wideband Global SATCOM (WGS) satellite and was embarked to orbit aboard a United Launch Alliance Delta IV Evolved Expendable Launch Vehicle from Space Launch Complex 37B, Cape Canaveral Air Force Station, Florida, at 8:18 p.m. EDT.
"WGS-9 launch marks an important occasion for the Wideband constellation as it is a major milestone in a 20-year partnership with Canada, Denmark, Luxembourg, the Netherlands, and New Zealand," said Mr. Bob Tarleton, director of the Space and Missile Systems Center's Military Satellite Communications Systems Directorate.
"This accomplishment is the result of the remarkable relationship with our international partners and our exemplary operations at the 45th Space Wing, 50th Space Wing, and industry," said Tarleton. "Thanks to the astounding commitment, focus on the mission, and team work, we successfully launched the next satellite in the WGS satellite constellation." This mission demonstrates the Air Force's continued commitment to deliver secure and reliable satellite communications around the globe to US forces and her allies."

WGS satellites play an integral part in the strategic and tactical coordination of military operations.
With this launch, WGS-9 will significantly enhance the current WGS constellation by providing increased communication capacity and coverage.
Improving on previous WGS satellites, WGS-9 uses a state-of-the-art channelizer, which increases the communication capacity by approximately 45 percent, as compared to the first seven WGS satellites.
Over the next few months, Boeing will begin on orbit testing of WGS-9 to verify performance and prepare the satellite for operational use.
Ultimately, WGS-9 will be controlled by the US Air Force's 3rd Space Operations Squadron at Schriever Air Force Base.
The WGS-9 satellite will enter operations in October of 2017. With one additional satellite in production, the WGS constellation is planned to ultimately consist of 10 satellites on orbit
by 2019.
---
Optical Comms From SSC And Bridgesat
The Swedish Space Corporation (SSC) and BridgeSat, Inc., have agreed to a long-term partnership.
This new agreement will find BridgeSat installing satellite optical communications equipment at certain of SSC's established radio-frequency (RF) ground sites.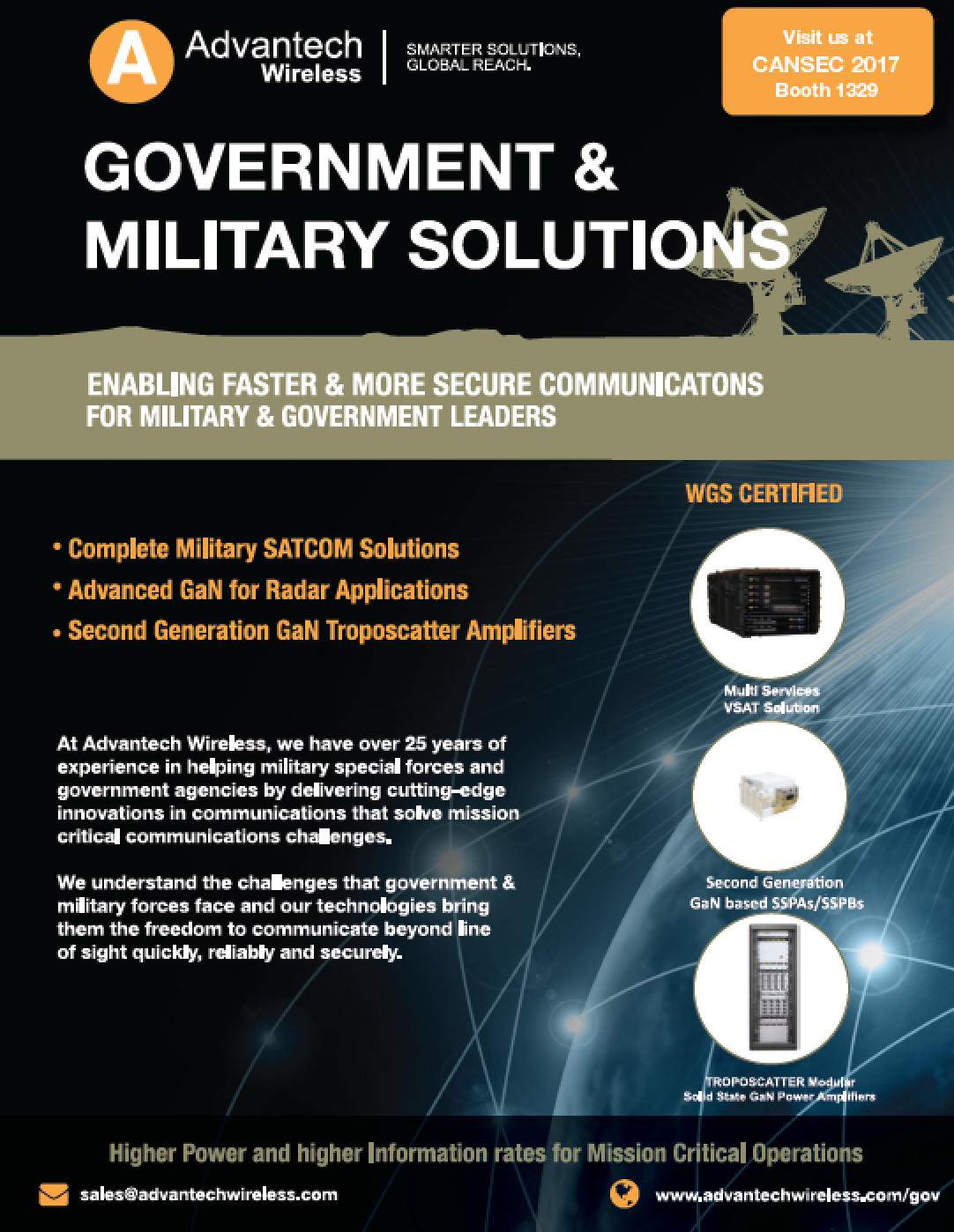 Additionally, the two companies will cooperate commercially for the benefit of their respective customer bases.
SSC owns and operates a global network of ground stations to provide secure and reliable access to a large number of satellites seeking radio frequency (RF) services.
BridgeSat is developing a global optical communications network that will offer secure delivery of data from LEO satellites at fast speeds and low cost.
The partnership provides BridgeSat with access to certain of SSC's high quality existing ground stations and creates incentives for BridgeSat and SSC to cooperate commercially for the benefit of their customers in leveraging their respective capabilities in optical and RF SATCOM solutions.
Leif Österbo, SSC's President of Satellite Management Services, reported that his company is pleased to enter this partnership with BridgeSat, with scope for mutual beneficial commercial cooperation going forward given the firms' complementary capabilities.
Optical communications is well suited when satellite operators need to downlink large quantities of data, but have limited access to RF spectrum.
BridgeSat is a perfect partner as they are developing a commercial optical communications systems that fits well with SSC's mission.
sscspace.com/
bridgesatinc.com/
---
After 20 YEars Of Exceptional Service, Meteosat-7 Departs
The final command was sent at 09:00 UTC on April 11, 2017, ending the exceptional service record of the entire Meteosat first generation mission, started in 1977 by ESA.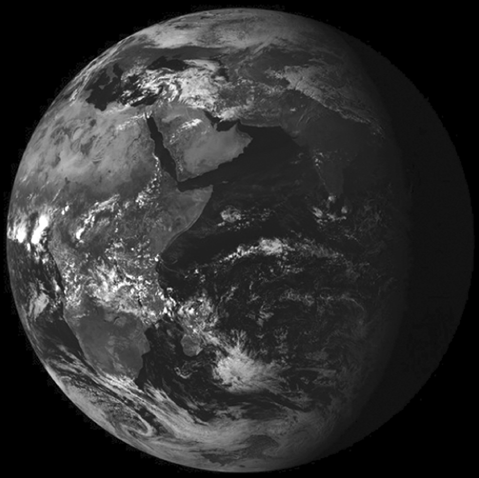 During the past four decades, the series of seven successive Meteosat first generation satellites established the foundations for the products and services EUMETSAT delivers today from the geostationary orbit in support of nowcasting of high impact weather and built up an archive of over 36 years of observations, an invaluable asset for climate change monitoring.
The mission also supported large scale international research programs, in particular the Mesoscale Alpine Program and the Indian Ocean Experiment (INDOEX) investigating the impacts of natural and anthropogenic aerosols on regional and global climate.
Over the last ten years, Meteosat-7 has been delivering observations of the Indian Ocean from geostationary orbit.
This heritage mission has been provided by Meteosat first generation satellites ever since 1998. After the December 2004 Indian Ocean Tsunami, Meteosat-7 became an essential part of the Tsunami warning system, acting as a relay spacecraft for the Tsunami warning buoys that were put in place.
EUMETSAT's Director-General, Alain Ratier, said, "This last maneuver puts a safe end to a foundational program. Not only did the successful Meteosat first generation mission give birth to EUMETSAT in 1986 and made it a true satellite operator in 1995, but it shaped satellite meteorology in Europe, testing concepts such as rapid scanning of thunderstorms and extraction of wind vector products from the tracking of water vapor patterns across successive images."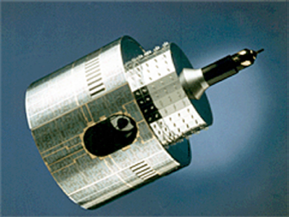 Meteosat-7 launched on 2 September 1997 and was developed under the Meteosat Transition Program (MTP).
The satellite was designed to fill the gap between the Meteosat Operational Program (encompassing Meteosat-4 to -6) and the first satellite of the second generation, Meteosat-8 (launched on August 28, 2002).
The satellite provided the prime 0 degrees longitude Full Earth Scan Service as of June 3, 1998, until it was replaced by Meteosat-8 on May 16, 2006. On July 11, 2006, EUMETSAT moved Meteosat-7 to the Indian Ocean, where it provided the so-called Indian Ocean Data Coverage (IODC) Service from 57.5° East from December 5, 2006, until March 31, 2017, to bridge an important observational gap over the region.
Meteosat-7 has been replaced by Meteosat-8, the first Meteosat second generation satellite, at 41.5° East, as EUMETSAT's best effort contribution to a multi-partner Indian Ocean observation system also involving geostationary satellites of India, Russia and China.
eumetsat.com/
---
AFRL Engineer Develops Satellite Technology
Space systems engineer Millay Petersen has worked at the Air Force Research Laboratory on Kirtland Air Force Base for the past 12 years, supporting both the Space Vehicles and Directed Energy Directorates.
"Right now, my job is in the Space Vehicles Directorate and is a mix of technical and program management," Petersen said. "I am responsible for overseeing requirements, design, testing, operations, schedule and financial activities for satellites that we develop to meet Air Force technology needs. This involves management of technology development across a broad range of fields — structures, thermal analysis, software, electronics, launch and range safety, and orbital mechanics."
"I love working at AFRL. We have great people who look out for each other and there's always something amazing to work on."
Her branch chief, Mark Scherbarth, said Petersen has been a pleasure to work with over the years.
"She embodies what it means to serve, having done so in several different capacities (active duty, civilian, Reservist) and in a highly technical field," Scherbarth. "Her support and hard work on our highest-priority program is greatly appreciated."
Petersen holds a Bachelor of Science degree in mechanical and aerospace engineering and a master's degree in engineering and technology management, both from Oklahoma State University.
A native of Oklahoma, her early years were spent in a rural setting where she had chickens and a huge vegetable garden. In later childhood she lived in Oklahoma City.
Her curiosity began at an early age.
"I always enjoyed learning new things and I wanted to know how everything worked, whether it had to do with mechanical systems, biology of plants and animals, or ecological systems," she said. "I really liked math and science, and I knew that I wanted to do something where I could focus my interests on creating or doing new things."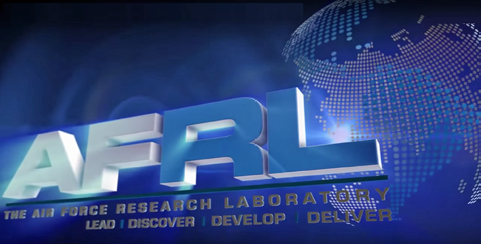 Petersen said her mother was her biggest influence in her career choice as well as her primary role model.
"I admired my mom for her intelligence and hard work," Petersen said. "As a single mom raising two daughters, she was working through a difficult pre-law degree at the University of Oklahoma, and I watched her work hard to get the highest grades in her class. We didn't have many material things growing up, but I think we had every copy of National Geographic in the house and a wall full of books."
When she was a junior in college, Petersen decided to join the Air Force Reserve Officer Training Corps and was commissioned in 2001.
"I had always admired the service and sacrifice of my grandfather and father through their military service," she said. "I felt that by joining the Air Force, I would honor the memory of their service, that I would be able to use my degree to contribute to the country, and that I would have a career that I was proud of."
As a wife and mother of five children, Petersen said it became harder to balance the need to move more frequently and attend long training and military education courses. She decided to become a government civilian and to continue her service to the Air Force as a Reservist.
Petersen feels fortunate to have been selected for a civilian position with AFRL at Kirtland, where she was assigned while on active duty.
"I am a woman working in a male-dominated field — engineering — and in a male-dominated employment sector — the military. I have always been treated fairly and respectfully, and I have always been recognized for the work that I do," Petersen said. "In my experience, the Air Force is an excellent place for women and minorities to work."
Story by By Jeanne Dailey, Air Force Research Laboratory
---
Quintech's XTREME 256 Matrix Switch Procured By US Government
Quintech Electronics & Communications, Inc. has reported that their XTREME 256 matrix switch and distribution equipment was procured by a US Government media agency for expansion of their satellite network capacity.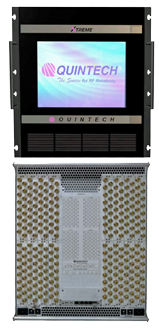 Quintech's XTREME 256 matrix switch provides best-in-class reliability and uptime for critical 24x7 transmissions.
The XTREME 256 is the only L-band matrix that provides a dedicated redundancy path that does not require re-routing of any existing connections.
Redundant power supplies, controllers and fans are standard. All active cards are hot swappable and accessible through the front panel, which reduces maintenance time and disturbance of cables as compared with rear panel accessible cards.
The XTREME 256 matrix uses less than 600 Watts, thereby reducing the total cost of ownership, whereas comparably configured matrices use more than 1500 Watts.
Frank Elling, the President of Quintech Electronics, noted that the XTREME 256 (patent pending) matrix switch is the only switch that can be configured as a symmetric 128x128 or asymmetric 96x160, 64x192, 32x224 configuration.
The company designs products with the highest reliability for mission critical applications. The matrix switch, paired with Quintech's splitters and LNB power sources, meets or exceeds 99.99 percent availability, as required by the government media agency.
quintechelectronics.com/
---