Harris Corporation—Infrastructure Support
Harris Corporation has been awarded the Communications and Transmission Systems (CTS) contract by the U.S. Army.

The contract enables the company to compete for a wide range of communications systems and services projects supporting the ongoing upgrade and maintenance of the Army's terrestrial network infrastructure.
Harris was one of 12 prime contractors selected for the five-year, indefinite delivery/indefinite quantity (IDIQ) contract, which has a total potential value of $4 billion.
Under the CTS IDIQ, Harris will pursue individual task orders for satellite communications systems and components, multimedia/multi-frequency solutions, and corresponding management and administrative responsibilities to support the Army's worldwide networks of satellite communications terminals and terrestrial transmission systems. Specific services could include systems integration, engineering and analysis, and facility and site preparation, as well as installation, operation, maintenance, program management, logistics, technical field assistance, and other support activities.
"This contract win reflects the broad expertise of Harris and its team members in satellite communications systems, networks, information technology and services supporting critical defense missions," said Ed Zoiss, vice president and general manager, Defense Programs, Harris Government Communications Systems. "The CTS work will support the Army's strategic communications networks worldwide, including Harris-built GSC-52 and Modernization of Enterprise Terminals."

The Harris CTS team is comprised of more than 100 companies recognized as leaders in the development, deployment and sustainment of communications and transmission systems technology.
The Company has also been awarded a $65 million contract modification to provide worldwide satellite data and communications support to the U.S. Air Force's Satellite Control Network (AFSCN) and Global Positioning System antenna sites.
Harris received the modification to its current Network and Space Operations and Maintenance contract, which supports the U.S. Air Force Space Command's 50th Space Wing.
Under the contract, a team led by Harris will continue to support both inbound and outbound data and communications for more than 150 Department of Defense satellites, operating and maintaining the AFSCN's antenna and ground system infrastructure at 10 locations worldwide.
Located at Schriever Air Force Base, Colorado, the 50th Space Wing is responsible for the operation and support of Department of Defense satellites, as well as the worldwide AFSCN. The AFSCN provides readiness, launch, early orbit/on-orbit support, and anomaly resolution for a variety of satellite constellations.

"The 50th Space Wing plays a vital role in our nation's defense by managing a complex system of satellites. This requires extraordinary technological knowledge and management skill," said Wayne Lucernoni, president, Harris IT Services. "Harris helps ensure that communications and critical data are properly managed. This contract modification expands our support at a reduced cost to the Air Force and U.S. taxpayers."
In IT Services, Harris designs, deploys, operates and maintains secure communications systems and information networks for some of the most complex, essential applications in the world for high-profile customers in government and commercial markets. Well-credentialed professionals deliver expertise worldwide in Systems and Network Integration, Managed Services, Cyber Security/Information Assurance, Mobility, and Cloud Services—on time, on budget, with solutions that are ready for today and built for tomorrow.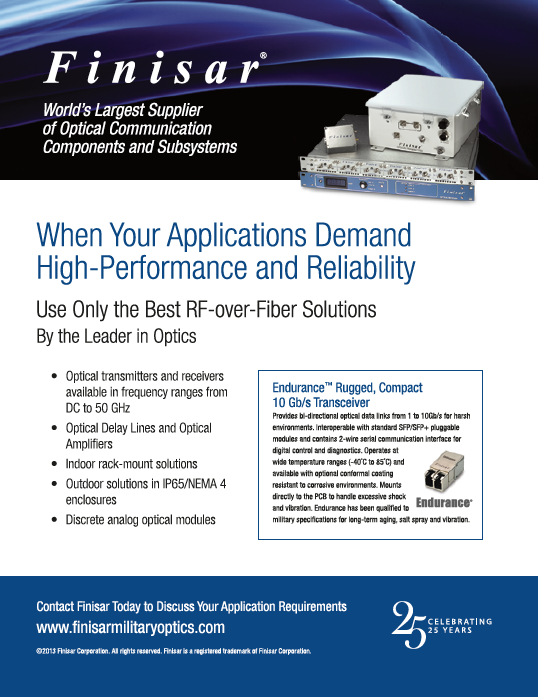 * * * * * * * * *
exactEarth + USCG—dependent Upon The Data
In September 2013, the U.S. Coast Guard (USCG) Command, Control, and Communications Engineering Center awarded a contract to the Marine Exchange of Alaska (MXAK) to provide exactEarth Satellite AIS data for the USCG Nationwide AIS Program.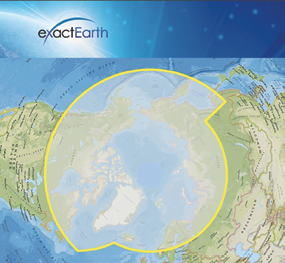 The purpose of this contract is for the USCG to obtain Satellite AIS data and maintenance support services 24 hours a day, 7 days a week.
This effort entails providing the USCG with Satellite AIS data in near real time, stored and forwarded, and archived from a constellation of multiple satellites that cover the entire Alaska District of the USCG, including the polar region, with AIS collection capability.
The USCG Command, Control and Communications Engineering Center in support of the USCG Nationwide Automatic Identification System (NAIS) program will conduct a project to provide/evaluate Satellite AIS data in USCG District 17 (Alaska).
The Marine Exchange of Alaska currently contracts with exactEarth for Alaska Satellite AIS Data, and will provide the exactEarth data to the USCG in addition to the coastal AIS data for Alaska from over 100 terrestrial AIS receiver sites that it already provides under a separate USCG contract.
The contract period of performance is 12 months.
* * * * * * * * *
U.S. Army—Approval For WIN-T Increment 2 Continuance
The Army has received approval to continue with further limited additional production and fielding of its mobile tactical communications network backbone, Warfighter Information Network-Tactical, or WIN-T, Increment 2.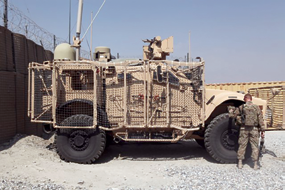 The Army remains on track to field Capability Set 14 to brigade combat teams, known as BCTs, and will continue developing follow-on capability sets in support of its network modernization strategy, officials said.
As the centerpiece of CS 13, the Army's advanced, integrated package of tactical communications equipment that was deployed in support of Operation Enduring Freedom this summer, WIN-T Increment 2 is supporting operations by the 4th Brigade Combat Team, 10th Mountain Division, across vast distance and challenging terrain.
From inside their WIN-T Increment 2-equipped vehicles, Soldiers and commanders can now provide and receive real-time situational awareness using on-board mission command systems, Secure Voice over Internet Protocol calls, chat and other collaborative enterprise capabilities. Units can exchange critical information and send and receive mission orders anywhere on the battlefield.
"The ability to access these capabilities has greatly increased situational awareness and coordination, while decreasing the 'time' load on leaders as they can file reports while en route, rather than having to wait until they return to base," said Col. Mario Diaz, commander of the 4th BCT, 10th Mountain Division. "Capability Set 13 and the PoPs [WIN-T Increment 2 Point of Presence vehicles] are game changers."
The 3rd BCT, 10th Mountain Division, will also be deploying with WIN-T Increment 2 and CS 13 capabilities this year.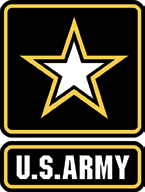 Meanwhile, two more BCTs from the 101st Airborne Division (Air Assault), are conducting fielding and training operations with CS 13 and WIN-T Increment 2. WIN-T Increment 2 provides Soldiers with high-speed, high-capacity voice, data and video communications down to the company level for the first time.
WIN-T Increment 2 provides major enhancements over the previous WIN-T Increment 1, which began fielding in 2004.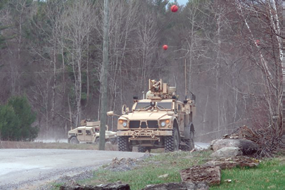 Within the last two years, the Army executed two large-scale operational tests for WIN-T Increment 2. During the most recent test in 2013, the program demonstrated significant improvements over 2012, meeting the vast majority of its requirements, officials said.
At the same time that it fields to CS 14 units, the Army will continue to coordinate with the Office of the Secretary of Defense and the test community to address remaining issues and simplify the system.
"WIN-T Increment 2 brings mobility to the tactical network backbone for the first time and provides mission command on the move," said Col. Ed Swanson, project manager for WIN-T. "By continually improving WIN-T Increment 2 throughout its lifecycle, we will provide Soldiers with the best capabilities available."
* * * * * * * * *
General Dynamics C4 Systems—Winning With WIN-T
The first Brigade-level deployment of the General Dynamics-built Warfighter Information Network - Tactical (WIN-T) Increment 2, the Soldier's Network, is successfully supporting soldiers with the 4th Brigade, 10th Mountain Division (4/10) in Afghanistan. Their mission, supporting Afghan security forces, involves communications across dispersed forces in some of the most rugged, remote locations in Afghanistan.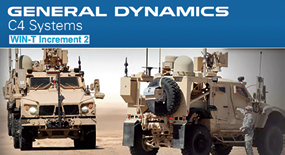 Over this past summer, WIN-T Increment 2 participated in its first successful combat patrol using its on-the-move capability between several network nodes. Voice over IP calls were placed and use of on-board mission command applications was successful. Using WIN-T Increment 2, soldiers down to the company level have unprecedented secure access to voice and data that vastly increases their ability to communicate during a mission and on-the-move.
Deployed in July as a Security Forces Advise and Assist Team, the soldiers of the 4/10 work as advisers to the Afghan National Security Forces (ANSF), a critically important mission as United States military and coalition forces drawdown and the ANSF takes the lead for Afghanistan's security.
The entire fleet of WIN-T Increment 2 vehicles helps to maintain mission-critical connectivity for soldiers and commanders at the company level and up to higher echelons. Tactical radios like the AN/PRC-154A Rifleman radio complete the Soldier's Network extending network communications and connectivity to the dismounted soldier. The Soldiers' Network is the centerpiece of Army's network modernization strategy that includes WIN-T Increment 2 and Increment 3, the AN/PRC-154A Rifleman and AN/PRC-155 two-channel Manpack tactical radios, Nett Warrior and mission command on-the-move capabilities including Command Post of the Future (CPOF) and Tactical Ground Reporting (TIGR) systems.
Chris Marzilli, president of General Dynamics C4 Systems, said, "Commanders and staff can talk, text and collaborate with one another on a conference call or chat room in real time, even moving at 25 miles-per-hour inside of their vehicles."
* * * * * * * * *
Astrium + OHB System—Phased Array For SARah
Astrium and OHB System AG (Bremen, Germany) have signed a contract for the development, construction and launch of a high performance radar satellite for the 'SARah' satellite-based reconnaissance system, for a total value of 344 million euros.
The contract also covers the provision of all necessary components for the ground segment to ensure the image production process, from requesting images through to final delivery is fully operational from the end of 2019.
The overall SARah system consists of three satellites and two ground stations. The space segment consists of two satellites equipped with the reflector technology from OHB, and a third satellite, equipped with Astrium's proven phased-array technology, currently operating perfectly in orbit on the civil satellites TerraSAR-X and TanDEM-X.
The term 'phased-array' is used to describe phase-controlled antennas made up of numerous individual transmitter/receiver modules which can be interconnected, bundled and variably controlled. This enables direction and range of view to be adjusted without needing to move the antennas mechanically, thus providing the user with rapid image sequencing, variable image sizes and 'blur-free' recordings.
"This is the first time that Astrium is supplying an Earth observation satellite to the German Armed Forces—and in addition, it will be equipped with the latest technology, namely the ultra-high performance active phased-array. This will significantly enhance the German Forces' capabilities and also helps better position Germany industrially for the future," said Evert Dudok, Head of Astrium in Germany, at the contract's signing.
* * * * * * * * *
COM DEV Int'l—Best Contract... Ever
COM DEV has won its largest contact to date.

The company is to deliver C-, Ku- and Ka-band multiplexers, switches and microwave components for multiple satellites which will be part of a global network of communication satellites.
COM DEV International Ltd., manufacturer of space hardware subsystems, today announced that it has received its largest commercial award ever. This major contract is in excess of $65 million to deliver C-, Ku-band and Ka-band multiplexers, switches and microwave components for multiple satellites which will be part of a global network of communication satellites.
The initial funding release, in excess of $38 million, is to cover procurement activities for these satellites as well as engineering and manufacturing activities for the first satellite to be delivered. Work will be ongoing until 2018, and will be carried out at the Company's facilities in Cambridge, Ontario and El Segundo, California.
"COM DEV is pleased to support our longstanding customer on this multi-satellite program," said Mike Williams, President of COM DEV International Products."We are happy that this relationship has allowed us to provide a technically optimized and cost-effective solution that will enhance our leadership in the supply of passive microwave devices for the communication satellite market."
COM DEV International Ltd. is a global provider of space hardware and services. The company has a staff of 1,300, annual revenues of $208 million, and facilities in Canada, the United Kingdom and the United States. COM DEV designs manufactures, and integrates advanced products, subsystems and microsatellites that are sold to major satellite prime contractors, government agencies and satellite operators, for use in communications, space science, remote sensing and defense applications. The company has won contracts to supply its equipment on over 900 spacecraft.
* * * * * * * * *
Space Foundation—A Farewell To Scott Carpenter
Scott Carpenter, the second U.S. Astronaut, has passed at the age of 88.
It seemed fitting that on the final day of the global celebration of World Space Week, the world said goodbye to NASA astronaut M. Scott Carpenter, who died in Denver on October 10th at the age of 88.
Born in Boulder, Colorado, in 1925, Carpenter was one of the original seven Mercury astronauts selected by NASA in 1959, the second American to orbit the Earth and the fourth American in space. Carpenter retired from the Navy in 1969 with the rank of commander, and pursued his interest in oceanography.
"Scott Carpenter's star always burned bright, and the space community's sky is dimmer for his loss," said Elliot Pulham, chief executive officer of the Space Foundation. "Scott would be the first to say that it is long past time to create some new heroes, and the best way to honor his legacy is to press on with the exploration of space - to the Moon, Mars and beyond."
In 1965, Carpenter broke the record of human underwater habitation by spending 30 days in SEALAB II, an experimental underwater habitat developed by the United States Navy and used, among other purposes, to prove the ability of humans to live in isolation for extended periods of time.
The Space Foundation acquired the Scott Carpenter Station in 2012, and it is currently on display at the Space Foundation Discovery Center, the region's first and only space, science and technology attraction, located at 4425 Arrowswest Drive, Colorado Springs, Colorado.
NASA developed the Scott Carpenter Station for use during the summers of 1997 and 1998 to demonstrate and teach about life support concepts for space missions. It was named for Scott Carpenter, and was originally known as the Scott Carpenter Space Analog Station because its primary mission was to demonstrate the ways in which the ocean environment could be used as an analog for space.
* * * * * * * * *
Iran—Three Planned For Spatial Excursions
The latest talk from an Iranian aerospace official says the country plans to launch three indigenously designed and manufactured satellites into orbit by the end of the current Iranian calendar year (March 20, 2014).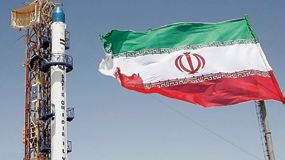 Deputy head of Iran Space Agency (ISA), Hamid Fazeli, said on Thursday that the satellites Tadbir (Prudence) and Sharif Sat will be lifted into space by the year-end. He added that Tadbir satellite is being developed in cooperation with Iran University of Science and Technology, while Iranian students and academics from Sharif University of Technology are busy preparing Sharif Sat for lift-off.
The senior Iranian aerospace official said the two indigenous satellites will be delivered to ISA within a month, noting that compatibility tests on both satellites will take about two months at the ISA. Sharif Sat reportedly weighs less than 50 kilograms and will be launched onboard the indigenous Safir B-1 carrier. It is planned to be placed into a Low Earth Orbit (LEO) at an altitude between 350 kilometers (217 miles) and 500 kilometers (310 miles) above the Earth's surface.
The satellite will capture images with a high degree of accuracy of less than 10 meters and then transmit them to stations on Earth.
Tadbir is an upgraded version of the Navid-e Elm-o Sanat (Harbinger of Science and Industry) satellite, which was put into space earlier. The satellite has Global Positioning System (GPS) as well as higher precision in taking photos in comparison to its predecessor.
Fazeli further noted that Nahid (Venus) satellite, which is being developed in cooperation with Amir Kabir University of Technology, will be also launched by the end of the current Iranian calendar year.
He expressed optimism that Pishgam-2 (Pioneer-2) bio-capsule, carrying a living creature, will be soon sent into the space onboard an indigenous satellite carrier.
* * * * * * * * *
Laser Light Communications—The Power Of light
Laser Light™ Communications, LLC, was launched during the World Satellite Finance Forum in Paris, France.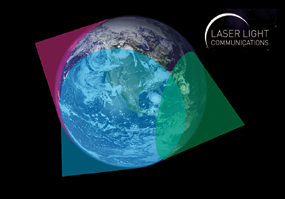 Laser Light™ intends to deploy and operate what it believes to be the world's first commercial satellite communications constellation based entirely on optical wave technology.
The planned constellation is to be comprised of 12 satellites [8 primary; 4 spares] in Medium Earth Orbit [10,500KM] with an operating system capacity of 4.8Tbps, including satellite-to-satellite optical crosslinks and sat-to-ground optical up/down links of 200Gbps, without reliance on radio frequency [RF] spectrum.
Laser Light™ intends on interconnecting its proposed Optical Satellite System [OSS] with the global fiber network—terrestrial and undersea—establishing a truly meshed optical network, ensuring world-wide coverage at service levels and connectivity options previously unattainable by other satellite platforms.
"Laser Light™ may truly be a "game changer" in the delivery of large quantities of bandwidth from a satellite platform to the global fiber network system...," said Robert H. Brumley, Senior Managing Director, Laser Light™ Communications, LLC. Laser Light's™ potential service delivery advantage is made possible by the decades of federally funded research in the field of free space optical lasers...,," Brumley said. "Laser Light™ will enable the commercial communications market to benefit from the deployment of this next- generation, highly complementary all Optical Satellite System."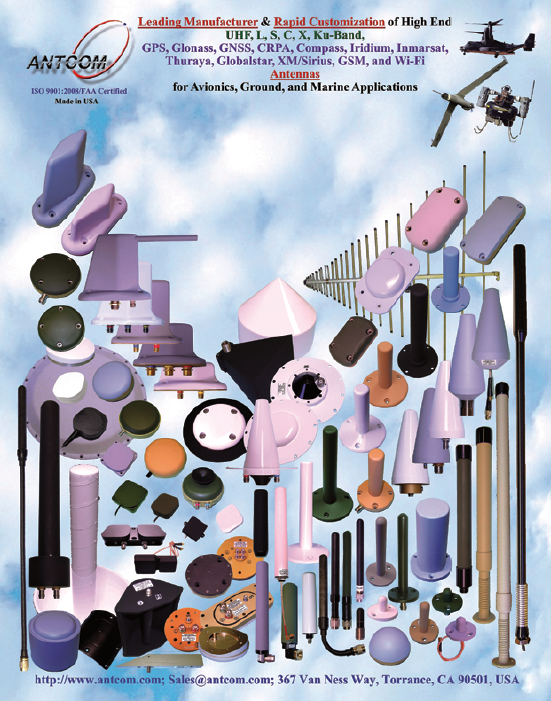 "With year over year increases in the volume of global Internet traffic, demand for high rate data transport potentially places Laser Light™ in a unique market position...," said Clifford W. Beek, Managing Director, Laser Light Communications. "Our aim is to offer telecom service providers, commercial enterprises, and government users a high quality service with an efficient technology platform—an all optical integrated satellite and terrestrial communications platform. It is expected that Laser Light's global routing options will align telecom carriers with service capabilities reaching symmetrical bidirectional connectivity at OC-192 speeds. Ultimately, the end customer stands the most to gain from the increased transport efficiencies offered by Laser Light™".
Laser Light™ will commence the development of its break-through OSS constellation immediately, including vendor selections for spacecraft, commercial launch, and field trials of its meshed optical-wave communications network.
Laser Light™ anticipates a first Quarter 2017 deployment of its OSS with service availability mid-2017.
* * * * * * * * *
DoD—An Official's Look @ Space Deterrence
Space is a current and future battleground without terrain, where invisible enemies conceivably could mount undetectable attacks to devastating effect if the right deterrent and defensive plans aren't pursued now, the assistant defense secretary for global strategic affairs told a think tank audience.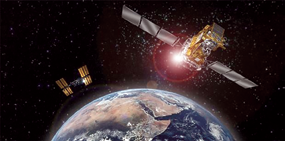 Madelyn R. Creedon spoke to a Stimson Center gathering whose audience included analysts focused on the question of deterrence in space. The center released a publication this week titled "Anti-satellite Weapons, Deterrence and Sino-American Space Relations," presenting a number of essays examining various perspectives on space deterrence.
Creedon noted that in Defense Department parlance, deterrence is "the prevention of action by the existence of a credible threat of unacceptable counteraction and/or the belief that the cost of action outweighs the perceived benefits." In other words, she said, if deterrence is effective, an adversary has or believes he has more to lose than to gain by attacking.
Deterrence remains a core defense strategy for the United States, she added, and the nation's nuclear deterrent is "still alive and well."
Creedon acknowledged that one classic approach to considering space deterrence—that is, preventing potential enemies from attacking U.S. or partner satellites and other military or economic assets in space—is to try to apply lessons learned during the Cold War. Then, the United States and the Soviet Union kept an uneasy diplomatic truce and piled up enough nuclear weapons to guarantee mutually assured destruction.
But one flaw to comparing the two deterrent challenges, she said, is that an attack that disables a satellite, unlike one from a nuclear warhead that flattens a major city, doesn't threaten a nation's existence.
Another is that the two superpowers spent decades constructing an elaborate, mirrored, deterrent Cold War architecture and protocols, while space is still, comparatively, "the Wild West."
A third is that an attack in space or cyberspace may rely on digital rather than conventional weapons, and so could occur without warning or even detection.
"If there is an attack against a space asset, it isn't visible," she said. "You can't watch it on CNN, and unless you're directly affected by the capability that the space assets provide, you're probably completely oblivious that the attack happened." She said DOD is developing and implementing what safeguards it can implement in space using four mutually supportive elements to deter others from taking action against U.S. assets: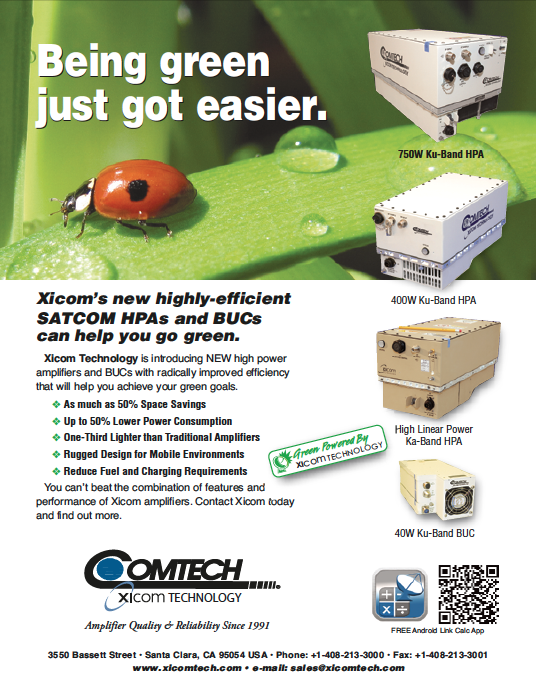 • Working to internationalize norms and establish a code of conduct to enhance stability;
• Building coalitions to enhance security;
• Adding resilience to U.S. space architectures; and
• Preparing for an attack on U.S. and allied space assets using defenses "not necessarily in space."
"We believe this four-element approach ... will bolster deterrence," Creedon said.
The department is working with the State Department and international partners to define elements of good behavior in space, she said. "States must remain committed to enhance the welfare of humankind by cooperating with others to maintain the long-term sustainability, safety, security and stability of the outer-space environment," she added.
Creedon said work is underway to build deterrent coalitions and increase space awareness. She said the "Five Eyes" nations, which include the United States, United Kingdom, Canada, Australia and New Zealand, are extending their intelligence cooperation to expand their collective space situational awareness.
"The more we all know about what's going on in space, and the more we can all share with each other about what's going on in space, [the better we can] we establish a ... deterrent environment so that no one can do something and get away with it," she said.
The United States is meanwhile working to lower the benefit to potential attackers by employing more satellites, participating in satellite constellations with other countries and purchasing payload space on commercial satellites when feasible.
Creedon said the U.S. approach to space deterrence is similar to its strategy in any domain: take "prudent preparations to survive, and to operate through, and, hopefully, prevail in any conflict."
About Madelyn R. Creedon


Madelyn Creedon was confirmed by the U.S. Senate as the Assistant Secretary of Defense for Global Strategic Affairs (GSA) on August 2, 2011. In this capacity she supports the Under Secretary of Defense for Policy in overseeing policy development and execution in the areas of countering Weapons of Mass Destruction (WMD), U.S. nuclear forces and missile defense, and DOD cyber security and space issues.
Prior to her confirmation, Ms. Creedon was counsel for the Democratic staff on the Senate Committee on Armed Services and was responsible for the Subcommittee on Strategic Forces as well as threat reduction and nuclear nonproliferation issues.
Story by Karen Parrish, American Forces Press Service
* * * * * * * * *
ORBCOMM + Savi—It's All About Location
ORBCOMM Inc. (Nasdaq: ORBC) and Savi Technology (Savi) now have a strategic relationship to provide advanced location-based monitoring solutions to government and commercial markets.

ORBCOMM and Savi have submitted a proposal in response to the U.S. Army RFID IV project, which will provide ISO18000-7 RFID tags and a suite of satellite solutions for military logistics support.
ORBCOMM's GlobalTrak division has been a leading player in providing military Enhanced-In-Transit-Visibility (EITV) solutions to the government market since 2008.
Savi has been the de facto market leader in military RFID solutions, enabling them to offer vast market experience with the right blend of technology platforms for this proposal.
"The combination of ORBCOMM's satellite expertise and broad network service portfolio with Savi's state-of-the-art RFID technology offers a full spectrum of innovative monitoring solutions to our collective market base with focus on our government and international customers," said Marc Eisenberg, Chief Executive Officer of ORBCOMM.
"Although RFID and satellite tracking have traditionally been divergent technologies, the synergy of these solutions within a common operating environment creates a seamless transition from infrastructure to wireless-based location services for tracking and monitoring high-value assets."

"By bringing two market leaders with highly complementary technologies together, we have created a best-of-breed solution for our customers in both government and commercial markets," said Bill Clark, Chief Executive Officer of Savi Technology.
"This relationship will support Savi's operational analytics capabilities by providing additional ways to collect critical data and deliver timely and reliable operational intelligence to our customers. We look forward to partnering with ORBCOMM on RFID IV and other global opportunities in the near future."
* * * * * * * * *
USAF 3 SOPS—Second WGS Block II Added
Accepting satellite control authority of Wideband Global SATCOM-5 on October 7th, the 3rd Space Operations Squadron added increased capability to the constellation.
Launched from Cape Canaveral Air Force Station, Florida, on May 28th, WGS-5 is the fifth vehicle in the WGS constellation and the second spacecraft in the program's Block II series.
It features a new radio frequency bypass that supports the transmission of intelligence, surveillance and reconnaissance imagery at data rates three times greater than Block I vehicles.
The satellite also includes new, user-preferred narrow-gauge antennas, a channelizer cable swap, which better utilizes bandwidth routing, and more efficient solar arrays.
Col. Bill Rittershaus, 50th Space Wing vice commander, and Lt. Col. Chadwick Igl, 3 SOPS commander, accepted the transfer of responsibility from Lt. Col. Sherman Johns, 14th Air Force deputy director of operations and exercises, during a conference call that also included Col. Xavier Chavez, Space and Missile Systems Center, acting director of Military Satellite Communications Systems Directorate.
"Thanks to everyone in 3 SOPS," Rittershaus said. "This is a huge group effort in cooperation with SMC and it's a significant milestone for space communications. Every time we bring a WGS satellite online it provides a huge increase in capability to the warfighter."
Operators in 3 SOPS have been flying WGS-5 since Oct. 2 on behalf of the Military Satellite Communications Systems Directorate, a division of the Space and Missile Systems Center.
Satellite Control Authority is the last step before the vehicle is operationally released to the U.S. Strategic Command, the owning combatant command, who will then assign users based on priorities and requirements.
The WGS system of satellites is the follow-on to the Defense Satellite Communications System. The new vehicle joins an eight-satellite constellation of DSCS communications satellites and four WGS satellites that 3 SOPS operators currently command and control.
Together, the constellations provide flexible, high-capacity communications for U.S. forces throughout the world while enabling battle management and combat support information functions.
During the past several months, 3 SOPS operators have been carefully preparing for the transfer of WGS-5 SCA. They have made more than 200 procedural changes and spent many hours training satellite vehicle operators on the Block II vehicle's capabilities.
The squadron also sent a launch-and-early-orbit team to Los Angeles Air Force Base, California, to provide support and continuity during the transition.
"We'll fly WGS-5 with pride," Igl said. "I want to thank the entire launch and early orbit team for helping support during the launch and early orbit activities. Wideband Global SATCOM-5 SCA also represents a critical step in declaring full operational capability of the WGS constellation."
The Air Force has tentatively planned for 10 WGS satellites. Vehicle six launched from Cape Canaveral on August 8th, 2013.
Story by Scott Prater, 50th Space Wing, USAF
* * * * * * * * *
Space Tango—Funding Acceleration
Space Tango is now formally accepting proposals for funding and acceptance to its space business accelerator.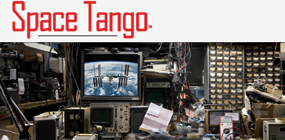 Space Tango is the nation's first business accelerator specifically for space enterprises and entrepreneurs, with a goal of assisting enterprises in developing innovations, novel applications and diverse markets.
Opportunities (including adjacent applications) lie in developing entrepreneurial ideas, companies and products that enable the further exploitation of space.
Possibilities involve small high-value satellites and space platforms, the International Space Station (ISS) and opportunities in biotechnology, exomedicine, novel materials, energy, education and game design and development, as well as areas and applications not yet imagined.
In the initial round, Space Tango will accept as many as six companies from across the U.S. and around the globe.
Each enterprise will receive funding of up to $20,000 and will participate in an intensive 12 week onsite program that will provide a complete constellation of services, advisors and networks necessary to successfully start and grow an entrepreneurial space-driven business.