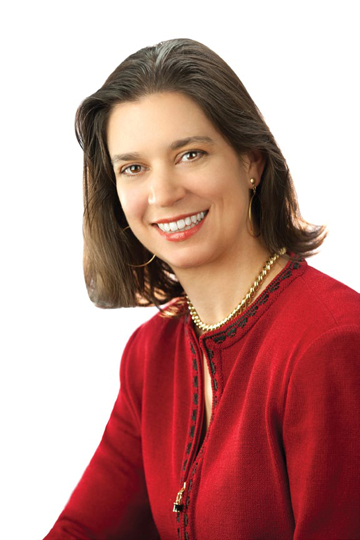 Theresa Beech is responsible for overseeing all aspects of GMV USA's business development and contractual agreements, as well as coordinating GMV's business strategy worldwide. She has been jointly responsible for the set-up, launch and successful growth of the company in the United States and expanded presence worldwide. She has been jointly responsible for the set-up, launch and successful growth of the company in the United States and expanded presence worldwide. Since 2004, GMV has seen a growth in revenue to well over $125 million U.S. dollars and has secured a significant number of new contracts in North and South America, as well as Asia. Beech's technical background is in orbital mechanics. She has worked as engineer, technical lead and project manager for a wide variety of programs in mission analysis, mission planning and flight dynamics systems for the European Space Agency (ESA), the European Commission, Alcatel, Alenia, Astrium and Thales.
Beech was involved in the definition and testing of GMV's flight dynamics suite of products (focusSuite), as well as in the business analysis and commercial development of hiflyTM, GMV's real time system for satellite command & control which is based upon the SCOS-2000 TM/TC kernel, ESA's highly configurable generic mission control system. She was deeply involved in the initial phases of the ground segment architecture definition and trade-off analyses of Galileo and the Galileo System Test Bed, collaborating with both ESA and the European Commission. Since assuming the chief executive officer position, Beech has successfully lead GMV to become the number one ground systems supplier in the word. Under Theresa's leadership, GMV has been named to the top 50 space manufacturing and services companies for the past two years by Space News. In 2010, GMV was ranked number 48 based on the firm's space-related revenue in ground systems, engineering services and software.
Before GMV, Beech worked as an orbital mechanics engineer at the Boeing Company in Seattle on a variety of projects including Teledesic, SeaLaunch and the Alpha module of the International Space Station. Beech has a B.S. in Physics from the University of Michigan, Ann Arbor and an M.S. in Atmospheric Sciences from the University of Washington, Seattle.
MilsatMagazine (MSM)
Ms. Beech, could you tell our readers about your background and how you came to decide on a career in the satellite industry?
Theresa Beech
I have always been interested in math and science and intrigued by how the physical universe works. This attraction led me to study Physics at the University of Michigan, Ann Arbor and Atmospheric Science at the University of Washington, Seattle. Once I completed my graduate studies in Atmospheric Science at University of Washington, I was offered and accepted a job at the Boeing Company in Seattle. Boeing put me on a space station project, which at that point in time was called the Alpha Module.
My career in the space industry really took off from there. I was able to work as an orbital engineer, and as the technical lead and project manager for a wide variety of programs in mission analysis, mission planning and flight dynamics systems, working with institutional and commercial customers around the world. The satellite industry is an extraordinary industry to work in, but I can't say that I planned to go into the field at any particular time—it really just happened.
MSM
Given your academic credentials in Physics and Atmospheric Sciences, a B.S. and M.S. respectively, what would you recommend to students as curriculum for careers in our various and sundry industries?
Theresa Beech
There are very few people who know from a young age what they want to do in life. But one thing I recommend: Students should take as many math and science classes as possible. They should expose themselves to greater learning opportunities. They should remain open to taking challenging academic subjects,so that in the future they have a broader spectrum of opportunities available to them and a baseline for discovering what it is they really want to do in the future.
Often, "a career focus" is not something a person knows when they are maybe 10, 15 or even 18 years old. The best advice I can offer is to never close your doors and to continue to expose yourself to math and science courses early, which can open many doors to an exciting career.
MSM
One area of great concern throughout the satellite communications and space segments is a lack of adequately trained candidates for crucial high technology positions. How can the industry further promote STEM training at the middle and high school, college and post graduate levels? Does GMV USA offer any programs in support of STEM training?

Theresa Beech
One of our main challenges is making math and science appealing—fun and cool to younger generations.
GMV USA
is a strong proponent of STEM training and programs for students in middle school, high school and college. There are numerous industry groups that have robust STEM initiatives and GMV USA is active in many of them.
On a corporate level, we are starting an internship program at GMV USA, which we plan to roll out next year. The internship program will expose students to a broader spectrum of industry-related careers. Also, we have a number of engineers who frequently visit local schools to encourage youth to study math and science, and educate young people about our industry, through a very practical representation of space. Personally, I often go to my kids' schools and speak about science and space to inform them of the opportunities and the education and training necessary to have a successful career in our field.
MSM
Would you please tell us about the COTS (Commercial Off The Shelf) products offered by GMV USA that are available to the defense sector?
Theresa Beech
GMV USA is a satellite ground systems supplier. All of our products are related to ground control. We have four basic products: flexplan, hifly, archiva, and focussuite. These products are all related to different areas within what is referred to as ground control of satellites.
hifly
is used for satellite command and control;
archiva
is for trending, archiving and engineering analysis of satellite telemetry data throughout the lifetime of the satellite; flexplan is used to coordinate the planning and scheduling of missions; and
focussuite
is for "flight dynamics" or space navigation of the satellites.
MSM
What are the differentiators of GMV COTS products that would cause an acquisition agency to consider such offerings for their mil/gov clients?
Theresa Beech
All of our products are very open, adaptable, and flexible and have a high degree of automation built into them. Our products are made to cater to multiple missions and are both interoperable and modular. Our COTS products are state-of-the-art and they are particularly strong in the areas related to planning and scheduling.
MSM
What are the benefits of these products to the defense sector?

Theresa Beech
One of the biggest challenges in the defense sector is the current budget environment and figuring out how to support the same missions or even more missions with less money. One of the best ways to do this is to plan and schedule existing assets better, so that it's possible to get more use out of them. The integrated and automated planning and scheduling of all of space and ground assets is a very hot topic within the defense sector. Our COTS products provide solutions to these problems.
MSM
How does GMV USA obtain the attention of government entities such as DISA and the GSA, as well as military space and satellite division commanders, in promoting COTS products for their concerns?
Theresa Beech
Our presence in the United States has allowed us to build relationships with those entities. They know and trust us as a reliable provider. We have a lot of contacts who highly recommend our products. We pride ourselves on building and maintaining strong relationships with our customers.
MSM
What are some of the examples of recent missions in which these products have been used? What were the results of their use?
Theresa Beech
One of the most recent missions was the
Lunar Reconnaissance Orbiter
(
LRO
) of
NASA
. There are some images that LRO produced, which are images of the rover that was left on the moon by the last
Apollo
mission. Our software enabled us to plan, schedule, and generate the necessary commands to make it possible for LRO to take the pictures of those rovers. We have a number of other missions that we can't talk about. In some cases, a satellite may be about to be launched or it is in development and deployment.
On the commercial side, we consolidated a fleet of satellites for the Brazilian operator,
StarOne
. That project has been highly successful and they have been very satisfied with our work, throughout the course of the project. As a result, they are currently controlling more satellites with the same number of operators.
MSM
How would they potentially apply to future military missions?
Theresa Beech
By using GMV products, it is possible to reduce costs by consolidating operations of the existing stove-piped operations and also by better planning and scheduling of space and ground assets, to obtain more services.
MSM
How customizable and compatible are your COTS products with existing programs used by the military?
Theresa Beech
Our products adapt to all sizes of satellite fleets and to existing hardware and software systems, as well. GMV's solutions are highly customizable for missions and users' needs and can be adapted for missions that are still evolving.
MSM
What differentiates the workings of GMV USA from those of the parent company, GMV, in Spain? How much autonomy does GMV USA have in the workings of your product lines?
Theresa Beech
We have a firewall which allows us to operate independently of our parent company. This firewall includes a separate board of directors, which allows us to operate very independently and autonomously of our parent.
How much autonomy do we have in the product lines? The main product lines for three of the products are maintained out of Spain. One of our products is maintained and evolved out of the U.S. and that product line is completely under our control. However, all of the customization and anything we need to do for a U.S. customer—commercial, civil, defense, etc.—is done by us here in the U.S. and how we do that is completely up to us.
MSM
Can you tell our readers about some of GMV USA's upcoming projects and products?

Theresa Beech
In terms of products, we are expanding our products in the bandwidth optimization management and modeling for planning and scheduling of bandwidth usage. I am unable to comment on the specifics of these projects due to the sensitivity of the project details.
MSM
What challenges do you believe the satellite industry faces over the next year or so, and how do you believe such will be successfully overcome?
Theresa Beech
There are several challenges. One of the main challenges on everyone's mind is the federal budget. It is an issue. However, I also see it as an opportunity for companies that are willing to adapt or change the way they do business.
There are two other hurdles that I would say are not necessarily a one-year or even two-year challenge. The first is the generational transition which is going to have to occur within the industry, given the average age of those in the industry. The age of retirement keeps getting higher and higher, but at some point, people are going to retire and that's a generational transition that will have to occur. It will be challenging.
The second hurdle is selling science to U.S. government policymakers. There is a lack of understanding about the fact that science is the basic building block of everything we do in STEM industries, and anything in science or engineering ultimately comes out of science.
MSM
When you look back upon your already stellar career, what project or projects bring a true sense of satisfaction to you?
Theresa Beech
One of the projects that I look back on with a real sense of satisfaction is the
NASA Goddard
Lunar Reconnaissance Orbiter
. That was a huge success for NASA and GMV USA. We are extremely proud to have taken part in it.
There are also a number of projects that I can't talk about that I'm also very proud of. Another huge accomplishment is the building of GMV USA itself, and doing so successfully. We've grown the Company from two employees to almost 60 and I would like to go further. How much further? I don't know! Time will tell.
About GMV USA
GMV is a leading supplier of commercial telecommunications satellite ground systems in the world and is a global leader in satellite flight dynamics for all types of satellite missions (LEO, MEO, GEO, HEEO and interplanetary). GMV has been providing satellite ground systems to satellite manufacturers, commercial operators, integrators, and Space Institutions around the world for over 25 years. More than 280 space missions have selected GMV technology, and GMV's operational systems are currently installed on six continents in 25 countries. For more information, please contact Jennifer Strohm at 301-836-1516, or email to jstrohm@veandco.com.
Company website:
http://www.usa.gmv.com/