General Atomics Successfully Completes Final Design Review For USSF Weather System
General Atomics Electromagnetic Systems (GA-EMS) has successfully completed the Final Design Review (FDR) of its spacecraft design for the U.S. Space Force (USSF) Space Systems Command (SSC) Electro- Optical Infrared (EO/IR) Weather System (EWS) satellite program.

GA-EMS has developed a prototype EWS spacecraft using a reliable, redundant bus with a high performance EO/IR weather sensor payload to support the USSF as it looks to transition from aging on-orbit systems to next generation weather satellites.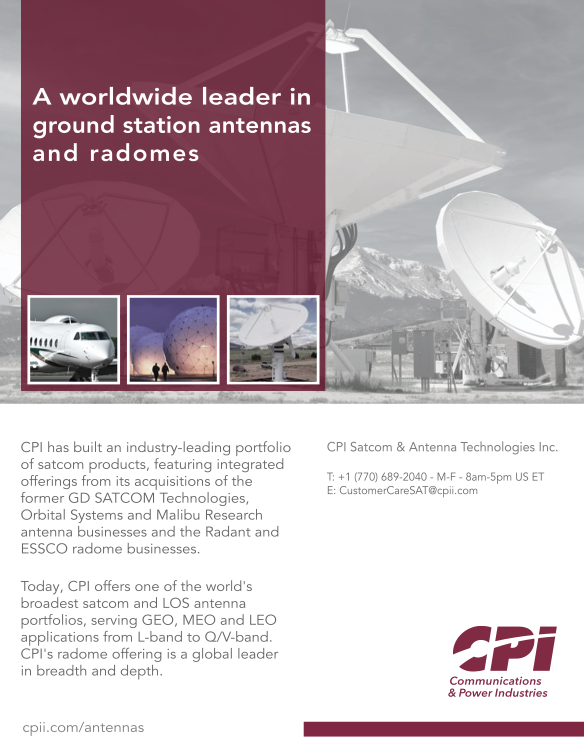 As the prime contractor, GA-EMS has assembled a highly experienced, best-in- class team to successfully deliver the EWS satellite design. The team includes EO Vista, LLC. to provide the EO/IR weather sensor payload, Atmospheric and Environmental Research (AER) Inc. for weather product generation, and Parsons Corporation (NYSE:PSN) to provide Enterprise Ground Station command and control and operations support.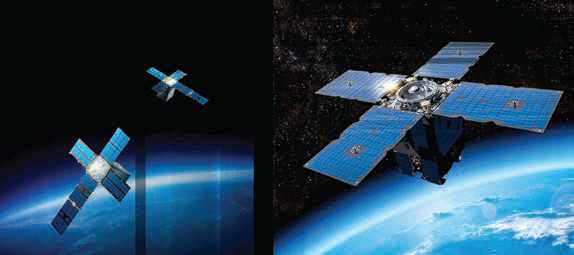 "Successfully completing the EWS program FDR is a vital milestone for us," said Scott Forney, president of GA-EMS. "We are extremely proud of the team's results to date. Our goal is to be a weather mission partner with USSF by providing the USSF with new, more advanced technologies that ensure essential weather data is delivered to the warfighter and by supporting novel USSF initiatives such as weather data as a service."
"In November 2021, we announced an up-scope of our EWS program efforts to deliver an on-orbit three-to-five-year prototype spacecraft with residual operational capabilities, rather than a one-year sensor demonstrator," said Gregg Burgess, vice president of Space Systems at GA-EMS. "The Defense Meteorological Satellite Program satellites are rapidly reaching end of life. By pivoting to provide operational capability, we enable the Space Force to continue to support the warfighter by filling EO/IR cloud data gaps created as legacy satellites are retired. Our world-class manufacturing, test and integration facilities are ready to meet the critical build and launch timelines for EWS."
---
Northrop Grumman Awarded USSF Contract for Deep-Space Advanced Radar Capability
Northrop Grumman Corporation (NYSE: NOC) has been awarded a $341 million contract by the U.S. Space Force (USSF) Space Systems Command (SSC) to develop, test and deliver a Deep-Space Advanced Radar Capability (DARC) in support of its Space Domain Awareness (SDA) mission.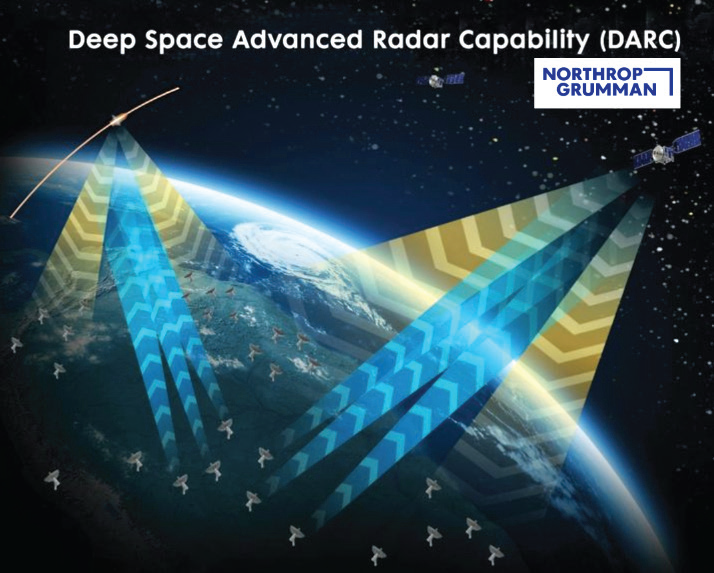 DARC will augment the military's space surveillance network as an additional sensor with increased capacity and capability to monitor deep space objects and eventually provide full global coverage.
The initial DARC contract includes the design, development and delivery of a Site 1 system located in the Indo-Pacific region, expected to be completed in 2025. There will be a follow-on of two additional sites strategically placed around the world.
"The DARC program will field a resilient ground-based radar providing our nation with significantly enhanced space domain awareness for geostationary orbit," said Pablo Pezzimenti, vice president, integrated national systems, Northrop Grumman. "While current ground-based systems operate at night and can be impacted by weather conditions, DARC will provide an all-weather, 24/7 capability to monitor the highly dynamic and rapidly evolving geosynchronous orbital environment critical to national and global security."
---
Soyuz Launches Suspended
Arianespace is strictly abiding by the sanctions decided by the international community (European Union, United States of America and United Kingdom) following the invasion of Ukraine by Russia.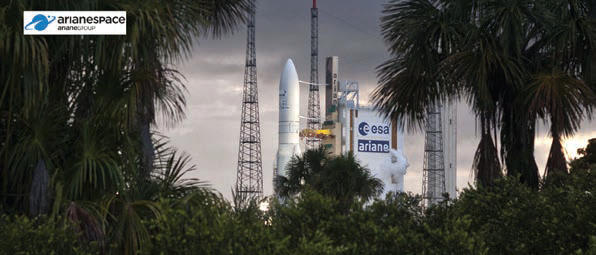 As part of the mandate given by the ESA Member States to Arianespace, the operation of the Soyuz launcher from Europe's Spaceport (CSG, French Guiana) and from Baikonur (Kazakhstan) through Starsem are governed by France/Russia inter-governmental agreement and ESA – Roscosmos space agencies agreement.
This operation began after the end of the Soviet Union and has been very successful— up to now. However, it is now challenged by Roscosmos' unilateral decision to withdraw from CSG and suspend all Soyuz launches from Europe's Spaceport. Readied Soyuz launchers and Galileo satellites are in stable configuration and in security.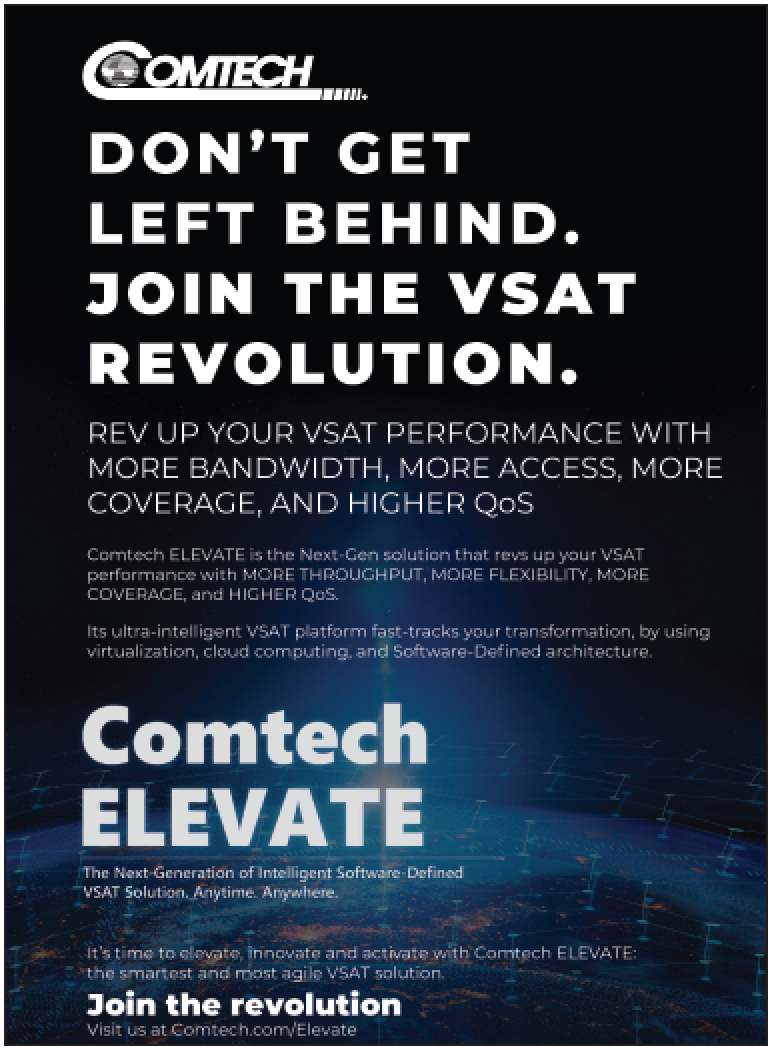 Regarding ST38 for OneWeb from Baikonur, that launch has been postponed indefinitely, following the conditions posed by Roscosmos to proceed. Arianespace will work with its partners to ensure the well-being of the goods and means currently in Baikonur.
Arianespace is in close contact with its customers and French and European authorities to best assess all the consequences of this situation and develop alternative solutions.
In the meantime, preparation of upcoming Ariane 5 and Vega C campaigns of 2022 are progressing according to plan and schedule.
Taking over from Ariane 5 and Vega, Ariane 6 and Vega C will provide Europe with a sustainable and autonomous access to space. Arianespace is confident in the success of these two launchers, to which it has been strongly committed since ESA's 2014 Ministerial Conference in Luxembourg, on European institutional and global commercial markets.
---
Curtiss-Wright Selected to Provide Cost-Effective Defense-Grade Security IP Module for COTS Modular Open Systems
Curtiss-Wright's Defense Solutions has been selected by a leading defense system integrator to provide its embedded Security IP module technology.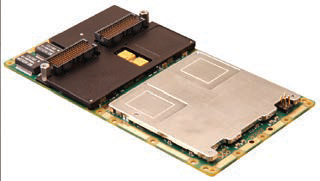 Under the contract, Curtiss- Wright will supply its XMC-528 Mezzanine Card for use in multiple sensor system programs. The enhanced TrustedCOTS (eTCOTS™) module speeds the integration of advanced security IP, such as Raytheon's Night Cover™ product suite and Idaho Scientific's Immunity cryptographic products, into new and legacy systems wherever XMC (VITA 42/61) mezzanine cards can be used, including modules designed to align with The Open Group Sensor Open Systems Architecture™ (SOSA) and U.S. Army's C5ISR/EW Modular Open Suite of Standards (CMOSS) technical standards.
This makes the XMC-528 a compelling security IP solution for a wide range of system architectures including ATCA, rackmount servers with PCIe slots, as well as VME and OpenVPX modules. The value of the contract is $4 million. The lifetime value of the contract is estimated at $25 million.
"We are very proud that our recently introduced XMC- 528 module, in a first major win for this innovative new security IP solution, has been selected to protect critical data and technology on deployed sensor systems," said Chris Wiltsey, Senior Vice President and General Manager, Curtiss-Wright Defense Solutions.
"Previously, most security IP solutions have required costly and time-consuming customization of the target military hardware. Now, with the XMC-528 XMC module, system designers can quickly add security to any Curtiss-Wright or third-party module that supports an XMC site, which significantly lowers the cost and time required to bring advanced security IP to embedded electronics."
The XMC-528 enables system integrators to add embedded security to fielded systems without a complete redesign.
Using industry standard interfaces, the XMC-528 mezzanine card can be hosted on existing system modules — such as Curtiss-Wright's VME-1910, VPX6-1961, and SOSA-aligned VPX3-1260 single board computers — to implement advanced data protection.
The same security IP suite provided by the XMC-528 mezzanine module can also be integrated directly into the on-board security FPGA resident on Curtiss- Wright's family of security-ready OpenVPX modules — such as the CHAMP- XD1S 3U digital signal processor card and soon to be announced next- generation processor modules.
Systems such as high-performance rack-mount servers can be supported with an appropriate XMC carrier.
---
DISA awards Leidos $11.5 billion Defense Enclave Services contract
Leidos (NYSE: LDOS) has been awarded the Defense Enclave Services (DES) contract by the Defense Information Systems Agency.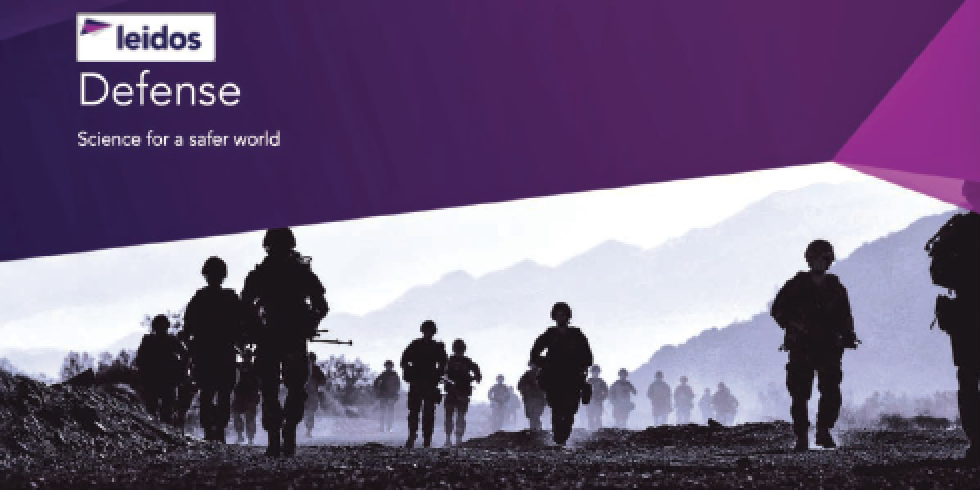 The single-award, indefinite delivery, indefinite quantity contract has a total estimated value of $11.5 billion and a four-year base period of performance followed by three two-year option periods.
"We are honored that DISA has entrusted our team to establish the modern infrastructure foundation that will deliver critical combat support capabilities to our warfighters," said Roger Krone, Leidos Chairman and CEO. "Leidos is committed to helping DISA and the Defense Agencies and Field Activities (DAFA) further their vision, leveraging our decades of technological expertise to bolster their critical mission."
"The Defense Enclave Services program demands unique expertise and advanced technology solutions," said Gerry Fasano, Leidos Defense Group President. "Leidos brings both at unparalleled scale, with a focus on constant innovation. We look forward to delivering an improved user experience and enhanced mission capabilities."

Through digital modernization and transformation, the Defense Enclave Service (DES) contract will unify the DAFAs on a common network architecture to provide mission services focused on enhanced user experience, improved security, and network reliability.
Headquartered in Fort Meade, Maryland, the Defense Information Systems Agency provides, operates, and assures command and control and information- sharing capabilities and a globally accessible enterprise information infrastructure in direct support to joint warfighters, national level leaders and other mission and coalition partners across the full spectrum of military operations.
---
XipLink joins SDN/NFV Alliance
XipLink has teamed with Lanner Electronics to make the company's disaggregated virtual network functions available to the Lanner ecosystem.
Lanner's white-box network appliances are specifically designed for VNF edge deployments in remote areas, such as military, maritime and critical infrastructure. They provide low latency, high availability, crypto acceleration, failover SFP+, Wi-Fi 6, and LTE/5G connectivity, as well as high core counts for network virtualization.
"We are delighted to provide our service provider partners access to a much wider range of platforms, to address the ever-increasing demand for bandwidth at the furthest edges of the globe," said Jaco Botha, XipLink SVP of Product. "The market for hybrid and wireless networking solutions is expanding with fiber, fixed wireless, LTE, 5G, LEO, MEO, and GEO satellite constellations all as viable connectivity options. XipLink Wireless Link Balancing and Bonding technology allows seamless traffic steering and highly scalable acceleration. The Lanner and XipLink collaboration promises to extract maximum value from the available network capacity, in challenging remote areas like maritime, defense and cellular backhaul."

"We work closely with XipLink to advance hardware and software compatibility in solution development to escalate performance," said Sven Freudenfeld, CTO of Lanner Telecom Applications BU. "Highly interoperable systems allow service providers to rapidly test combinations of latest components, resulting in reduced time needed for validation, and accelerated time-to-market."
Lanner Electronics Inc (TAIEX 6245) provides design, engineering and manufacturing services for advanced and customizable SDN and NFV network computing appliances for system integrators, service providers and application developers. Lanner possesses a wide range of network appliances including vCPE gateways designed for SD-WAN and SD- Security, as well as NEBS-compliant, NFVi-ready platforms with multiple processors, network I/O blades, and high availability features.
XipLink is a technology leader in wireless link optimization using industry- standard SCPS TCP acceleration, UDP enhancements, data/header compression, link and bandwidth bonding, and Internet optimizations to deliver a better wireless experience over-stressed communication links. The company's award-winning XipOS software dramatically improves web experience and optimizes other Internet traffic in markets such as maritime, cellular backhaul, ISP backhaul, military, and hybrid networks. The XipLink solution is packaged into appliances or virtual images and sold through OEM, Integration, and Service Provider partners around the world. XipLink is a private, employee-owned company with headquarters in Montreal, Quebec Canada, and field personnel worldwide.
---
Geolocation Patent For Horizon Technologies
Horizon Technologies has been issued a patent by the United States Patent and Trademark Office (USPTO) titled "Techniques for Determining Geolocations."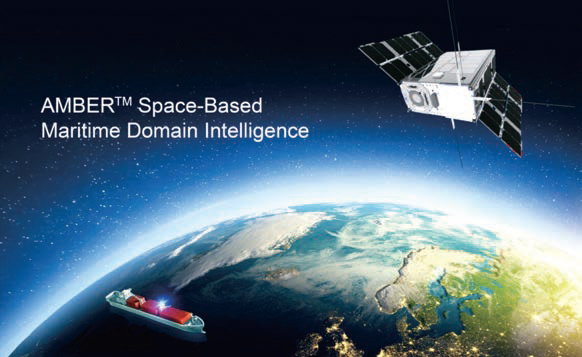 The patent pertains to a system for using a single LEO cubesat to determine geolocations of Earth-based, Radio Frequency (RF) emitters. A corresponding patent was also recently issued by the European Patent Office (EPO).
The patented invention is part of Horizon Technologies' growing patent portfolio relating to its Amber™ technology, which enables more accurate, and efficient, geolocation without necessitating clusters of cubesats.
Amber™ data will be used worldwide for protecting the world's oceans via "dark target detection." Amber™ data, when available later this year, will help companies and governments combat such problems as illegal fishing, pollution, transshipment, piracy, GNSS spoofing, and smuggling.
Horizon Technologies is developing a portfolio of patents and patent applications to protect our key product technologies and thus increase shareholder value.
"We are pleased that the US Patent Office has yet again recognized Horizon Technologies' unique technology by granting this patent concerning the Amber™ system," said John Beckner, CEO of Horizon Technologies. "Today's real-world events clearly show the need for innovation in space-based, multi-domain ISR (Intelligence, Surveillance, and Reconnaissance). This patented invention is especially important for our government and commercial customers addressing their maritime domain awareness requirements. Due to our unique technology, Horizon Technologies will not provide 'RF Mapping on command,' but rather a unique commercial RF intelligence data collected 24/7 and provided to our end-users."
Select this direct link to access the Amber™ information video… Horizon Technologies offers innovative SIGINT and Space-Based, Maritime Domain Awareness (MDA) intelligence solutions. The company is a world leader in airborne Sat Phone monitoring systems for Intelligence, Surveillance, and Reconnaissance (ISR) applications, equipping governments worldwide by enhancing their SIGINT capabilities. Horizon Technologies is the Original Equipment Manufacturer (OEM) for the FlyingFish™ and BlackFish™ SIGINT systems which are in operation on numerous platforms worldwide and the firm participate daily in ISR and SAR missions via NATO and FRONTEX in Europe as well as being heavily involved in international operations around the globe. Horizon Space Technologies is the prime contractor for the UK Government's Amber™ program. The Amber™ Program will consist of Amber™ CubeSats in multiple orbital planes providing global Maritime Domain Awareness (MDA) data to the UK JMSC (led by Britain's Royal Navy).
---
Generals Brown + Raymond Highlight The Strengths + The 'Intertwined' Nature Of Their Separate Services
U.S. Air Force Chief of Staff Gen. CQ Brown, Jr., and Chief of Space Operations Gen. John W. "Jay" Raymond, often point out that while each service is independent, the U.S. Air and U.S. Space Forces are designed to work seamlessly and side-by-side to enhance the capabilities of each in protecting the nation's security and interests.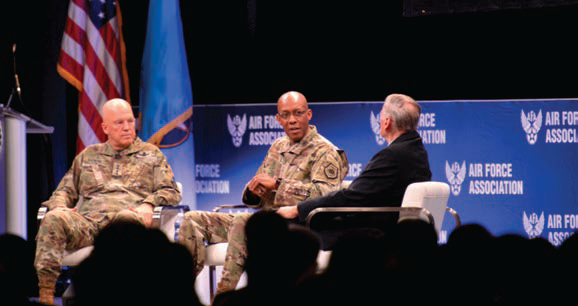 Chief of Space Operations Gen. John W. "Jay" Raymond, left, and Chief of Staff of the Air Force Gen. CQ Brown, Jr., center, continue their discussion, 'Airmen and Guardians in the Fight,' which encompassed topics to include modernization, sustaining readiness, expeditionary abilities and more, with focus on placing the power in the hands of young Airmen and Guardians. U.S. Air Force photo by Staff Sgt. Elora J. McCutcheon.
In a 45-minute session moderated by former Air Force Chief of Staff Gen. John Jumper, both Brown and Raymond offered frank assessments of their service's current status, the challenges each service faces, how each is building and changing for the future and, importantly, how the Air and Space Forces complement each other in those efforts.
Chief of Space Operations Gen. John W. "Jay" Raymond, left, and Chief of Staff of the Air Force Gen. CQ Brown, Jr., center, continue their discussion, 'Airmen and Guardians in the Fight,' which encompassed topics to include modernization, sustaining readiness, expeditionary abilities and more, with focus on placing the power in the hands of young Airmen and Guardians.
"The transition has gone very, very well," Brown said about how separating space two years ago into a new and independent service has progressed. "It's about mutual support and having each other's back. The thing Jay and I spoke about a lot in terms of development was the balance of how much do we hug each other close and how much do we spread out and grow? We are so intertwined; we are dependent on each other not just from a base operating support construct, but also operationally. We could not do what we do as joint force without the Air Force and the Space Force."
Raymond agreed. "We're one team as the Secretary [Frank Kendall] has said from day one. And we are one team, but I think we're a better team with two, independent services. I think the strength we all bring now, where Gen. Brown can focus on the air domain and my team can focus on the space domain, make us an even stronger Department," Raymond said.
While the Air and Space Forces are technically separate, with different and distinct missions and responsibilities, Brown and Raymond noted they also have similar and, in some ways, parallel objectives. Both the Air Force and Space Force are foundational to America's national security, they said, and as the highest ranking military officers of each, they said it was their obligation to provide Airmen and Guardians the tools they need to succeed.
While there was debate about the need for a separate service devoted to space before Space Force was born in December 2019, that debate has been settled. In the past three years alone, Raymond said the number of items the U.S. must track in space has spiked from 22,000 to more than 40,000. Likewise, the number of satellites that must be tightly monitored has risen from 1,500 to 5,000.
Even more important, according to Raymond, space has moved from a benign environment to a recognized warfighting domain. That change has occurred at the same time that space's importance to military operations with global positioning, communications and virtually every other aspect of joint operations has emerged as well.
"Our adversaries now have the advantages [in space] we've always enjoyed. It's a different domain that required a different approach," Raymond said. That explains why the Space Force was created, and since its birth, he said, the service has been "purpose built from the ground up. We couldn't have done that without support from the Air Force. It's been a very powerful partnership," Raymond said.
Both Brown and Raymond emphasized the need for each service to move fast, to innovate and modernize.
Brown said meeting those goals was the catalyst for authoring "Accelerate Change or Lose," the philosophy driving his thinking and decision-making. That document is accompanied by a series of "action orders" that detail how those concepts are to be made real.
While both Brown and Raymond have taken steps internally to remove barriers, reduce bureaucracy and increase efficiencies, they pointed out external factors that affect how they succeed or fail. Foremost is the federal budget process that in recent years has failed to produce a new budget tailored to meet specific, real-time needs.
Instead of a new budget, the federal government has operated under a series of continuing resolutions, or CRs, which recycle the previous year's spending plan to provide additional time to complete work on a new budget. Operating under long-term CRs "is absolutely devastating to us," Raymond said, because it hampers new programs, modernization and the ability to target money to programs and policies where it's most needed. The current CR expired on March 11, more than halfway through the fiscal year, which began October 1, 2021.
Budgets are important, both leaders said, because the nature of conflict and the capabilities of adversaries such as China and Russia are changing. Brown said the Air Force needs to adapt by using such tactics as agile basing, known in the Air Force as Agile Combat Employment, or ACE. The idea is augmenting large, fixed bases with smaller, more mobile and nimble bases that make it more difficult for adversaries to find and target them.
"We've gotten used to going someplace where everything is all set up and already there. In the future, we're going to go places where we haven't gone to before," Brown said. He added "[ACE] is a capability, but it's also a mindset of our multi- capable Airmen; the ability to go into a base you haven't gone to before, set it up and tear it down, but also the ability to stretch our Airmen and allow them to use all their skills and talent."
Brown and Raymond also emphasized the importance and value of allies and partners in much the same way Kendall did in his remarks to the Symposium an hour before the fireside chat. Despite the challenges and threats, Brown and Raymond said they remain optimistic because of one overriding factor — the quality of Airmen and Guardians.
"They are incredible," Raymond said about the Space Force's Guardians. "They are collaborative, they're connected, they want to serve. They are bold, they've got ideas and it requires a different kind of leadership style."
Brown sees the same attributes in Airmen.
"I really do think about this generation and the aspect of how connected they are, how much they want their leadership to know them and care, and they really want to contribute. We have to make sure we get out of the way and let them contribute. That, to me, is the exciting part. And if we, as leaders, don't get it right, they aren't going to stick with us. We need to really think about that," he said.
Article authored by Charles Pope, Secretary of the Air Force Public Affairs
---
Promin Aerospace: Ukrainian Space Companies Are United In Defending The Country
The full-scale Russian invasion of Ukraine has united the space community in the Ukraine and across the globe. International space companies are supporting their Ukrainian colleagues and Ukrainian companies are deploying volunteers who are directing their work to ensure the companies are securing their employees and assisting the nation's army.
From the first days of the war, world space organizations have rallied to our side. To support the Ukrainian Army, captain of the SpaceX Inspiration 4 crew Jared Isaacman personally brought aid to the Ukrainian military. Satellite images of the movement of Russian troops were provided by the company Capella, and Ukrainians received Starlink satellite internet reception stations as a gift from Elon Musk at the request of Ukrainian Minister of Digital Transformation, Mykhailo Fedorov.
Elon Musk said that SpaceX had reprioritized its work to ensure the cybersecurity of their Starlink stations. Because of this, the company even postponed planned releases of new versions.
As the world watches the Ukraine fighting against Russian aggression, Ukrainian companies must ensure the safety of their employees. To do this, most companies have switched to remote work formats and flexible schedules.
Several Ukrainian space companies, including startups and large companies, have managed to continue operations, combining work responsibilities with volunteer work. Some high-tech companies are opening up new fields of operations to support the military and the Ukranian population. For example, the mobile application, Reface, has launched a logistics project called KOLO to supply ammunition to the Ukrainian army. Their engineering team is now working on new software to analyze enemy movements via satellite images.
Space Companies During The War
Many private and state aerospace companies in Ukraine develop spacecraft, aircraft, and parts. They include SETS (Space Electric Thruster Systems), Kurs Orbital, Flight Control Propulsion, startups Orbit Boy, Promin Aerospace, and Elliscope. The state-owned Pivdenne and Pivdenmash enterprises are developing rocket engines and rockets in collaboration with Orbital Sciences Corporation and the European Space Agency.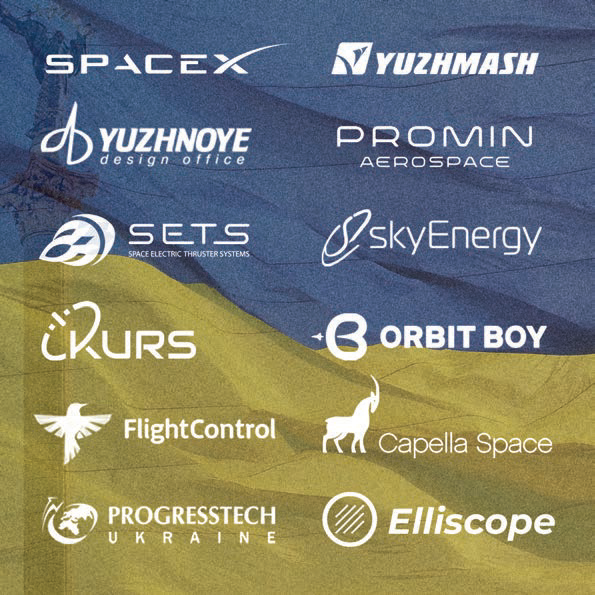 All of these companies have continued their normal work. At the start of the war, some of them adopted remote working schedules, but they already had experience with such plans from the pandemic. Most companies have also created volunteer programs.
The former head of Ukraine's State Space Agency and founder of Kurs Orbital stressed that Ukrainian space companies have great potential that will be fully shown after victory over the invaders. "No one believed that Ukraine could resist the Russian army crossing our borders, but we are doing it. New space startups have appeared almost every month, and there will be more," he said.
The engineering team at Promin Aerospace remains in Ukraine and is continuing its work on developing the company's rocket. Our other team members are working remotely. They have also added responsibilities for territorial defense and volunteering to their daily routine.
"Each of us has had to be flexible for the needs of wartime and to perform new duties to protect our country. Some are strengthening the defense of their cities, some are helping refugees and the armed forces, while others are arranging supplies of medicines, ammunition, and food," wrote Misha Rudominsky, CEO and co-founder of Promin Aerospace.
Sanctions Against Russia
The Russian invasion has sparked serious responses by the international community in the field of space. Several countries have imposed sanctions against the aggressor, making previously planned international projects impossible.
This resulted in the withdrawal of OneWeb satellites from the Russian cosmodrome at Baikonur, the Russian-European Mars mission was suspended, and more than half of high-tech imports were frozen, all of which will do considerable damage to Russia's state space program.
Moreover, Russia has also cut itself off from activities that did not fall under sanctions. Roscosmos has refused to export RD-181 rocket engines and cooperation on the ISS.
The aggressor's withdrawal from international projects definitely opens up more opportunities for other space companies.
---