SpaceX Launches U.S.A.F.'s X-37B As IrmA Bears Down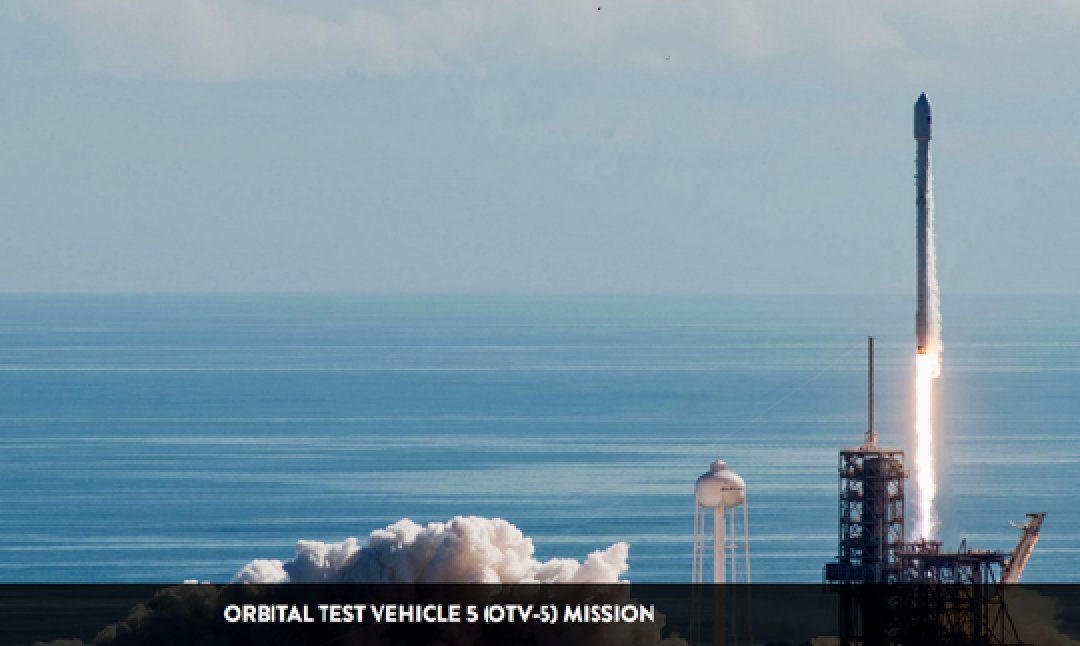 In spite of the Category 5 Hurricane Irma raging in the Atlantic Ocean at the time of this writing, SpaceX successfully launched the U.S. Air Force's X-37B, the Orbital Test Vehicle 5 (OTV-5) payload from Launch Complex 39A (LC-39A) at NASA's Kennedy Space Center in Florida on Thursday, September 7 at 10:00 a.m. EDT.
Following stage separation, Falcon 9's first stage successfully landed at SpaceX's Landing Zone 1 (LZ-1) at Cape Canaveral Air Force Station, Florida.
This Air Force mission is the fifth Boeing X-37B Orbital Test Vehicle launch. The X-37B is the Air Forces' unmanned and reusable space plane that resembles a small space shuttle, which will conduct orbital experiments.
Currently the only rocket fully designed and developed in the 21st century, Falcon 9 delivers payloads to space aboard the Dragon spacecraft or inside a composite fairing.
Safety and mission success were critical in the design of the Falcon 9 rocket. With a minimal number of separation events and nine first-stage Merlin engines, the SpaceX Falcon 9 rocket is designed so that even if two of the engines shut down, the rocket can still operate.
In 2012, SpaceX became the first commercial company to rendezvous with the International Space Station. Although these flights have not transported crew, SpaceX continues to work toward their goal of one day carrying astronauts to space in Crew Dragon's pressurized capsule using the Falcon 9.
---
Lockheed Martin's GPS III SV02 Accomplishes Acoustic Assay
The launch is the most strenuous part of a satellite's life — to survive the extreme sound wave pressure and pounding vibrations generated by more than 700,000 lbs. of thundering rocket thrust, spacecraft need a solid, reliable design if they hope to arrive operational on orbit.
On July 13, Lockheed Martin's (NYSE: LMT) second, fully-assembled GPS III space vehicle (SV) completed a realistic simulation of its future launch experience and passed this critical acoustic environmental test with flying colors.
During acoustic testing, the GPS III SV02 satellite was continuously blasted with deafening sound reaching 140 decibels in a specialized test chamber equipped with high-powered horns. For comparison, that is about as loud as an aircraft carrier deck and human hearing starts to be damaged back at about 85 decibels. The test uses sound loud enough to literally shake loose anything not properly attached.
The GPS III SV02 satellite is part of the U.S. Air Force's next-generation of GPS satellites that will bring critical new capabilities to the warfighter.
GPS III will have three times better accuracy and up to eight times improved anti-jamming capabilities. Spacecraft life will extend to 15 years, 25 percent longer than the newest GPS satellites on-orbit today.
GPS III's new L1C civil signal also will make it the first GPS satellite to be interoperable with other international global navigation satellite systems.
GPS III SV02 is Lockheed Martin's second GPS III satellite to successfully complete acoustic testing.
The company's first satellite, GPS III SV01 — which is in storage awaiting its expected 2018 launch — completed acoustic testing in 2015.
The GPS III SV02 satellite is now being prepared for Thermal Vacuum (TVAC) testing this fall, where it will be subjected to extreme cold and heat in zero atmosphere, simulating its on-orbit life.
The satellite is expected to be delivered complete to the Air Force in early 2018. GPS III SV02 is the second of 10 GPS III satellites Lockheed Martin is contracted for and is assembling in full production at the company's GPS III Processing Facility near Denver. The $128 million, state-of-the-art manufacturing factory includes a specialized cleanroom and testing chambers designed to streamline satellite production.
Lockheed Martin's unique GPS III satellite design includes a flexible, modular architecture that allows for the insertion of new technology as it becomes available in the future or if the Air Force's mission needs change. Satellites based on this design are already proven compatible with both the Air Force's next generation Operational Control System (OCX) and the existing GPS constellation.
The GPS III team is led by the Global Positioning Systems Directorate at the U.S. Air Force Space and Missile Systems Center. Air Force Space Command's 2nd Space Operations Squadron (2SOPS), based at Schriever Air Force Base, Colorado, manages and operates the GPS constellation for both civil and military users.
Mark Stewart, Lockheed Martin's VP for Navigation Systems, commented that with this launch-simulation test, sophisticated, advanced satellite technology and electronics endured tremendous forces and then worked flawlessly afterward. Passing this test with GPS III SV02 further validates the robustness of the Lockheed Martin GPS III design.
www.lockheedmartin.com
---
BAE Systems Debuts a New Space Computer
BAE Systems has revealed their new generation flagship space computer that combines fast performance and extreme resiliency to enable previously impossible missions in the harsh environment of space.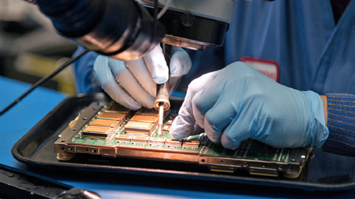 The new RAD5545™ single-board computer (SBC) provides next-generation spacecraft with the high-performance onboard processing capacity needed to support future space missions—from weather and planetary exploration to communications, surveillance, tracking, and national security missions.
The RAD5545 SBC delivers exponential improvements in size, speed, and power-efficiency over its proven predecessor, the RAD750® SBC.
A single RAD5545 SBC replaces multiple cards on previous generations of spacecraft and combines high performance, large amounts of memory, and fast throughput to improve spacecraft capability, efficiency, and mission performance. With its improved computational throughput, storage, and bandwidth, it will provide spacecraft with the ability to conduct new missions, including those requiring encryption processing, multiple operating systems, ultra high-resolution image processing, autonomous operation, and simultaneous support for multiple payloads—missions that were impossible with previous single-board computers.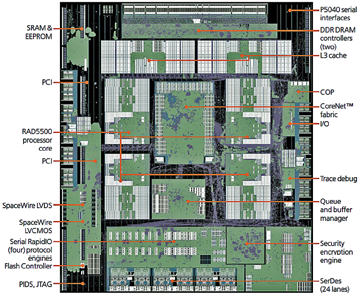 The RAD5545 SBC is produced at the company's facility in Manassas, Virginia. The facility is a U.S. Department of Defense Category 1A Microelectronics Trusted Source.
BAE Systems' radiation-hardened electronics have been onboard satellites and spacecraft for almost 30 years, delivering long-lasting computing power in extreme environmental conditions.
The company has provided more than 900 computers on over 300 satellites, and has provided the computers that power key national space assets, including some that are hundreds of millions of miles away from Earth.
According to Dave Rea, Director of On-board Processing and Advanced Technology at BAE Systems, the company has been delivering radiation-hardened components for almost three decades and customers have come to trust the performance, reliability, and longevity of BAE technology.
Rea added that the RAD5545 SBC is the next step in the evolution of space computers and is the most technologically advanced radiation-hardened, general-purpose processor for space applications.
www.baesystems.com/
---
EM Solutions and Raytheon Deliver Cobras
EM Solutions has recently been contracted by Raytheon Australia to supply their Cobra X-/Ka- tri-band Maritime Terminals and associated network infrastructure to the Royal Australian Navy as part of the SEA1654 program that will deliver two new supply vessels.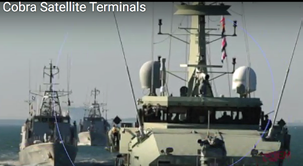 This order follows the successful deployment of the same Cobra platform on both Navy and Border Force Cape Class Vessels, and further enhances EM Solutions as an Australian SME delivering leading edge capability to the Australian Defence Force. The project is being fulfilled from the EM Solutions facility in Brisbane.
EM Solutions CEO, Dr. Rowan Gilmore, commented that demand for the firm's Cobra and other on-the-move solutions has been very high in recent times; however, this is the first project for these products the company is managing under full ASDEFCON supply conditions.
He added, that this is a significant step forward for EM Solutions business, given the complexity and value of the solution being supplied and the need to ensure there is full support for the firm's Prime Contractor in delivering an exceptional outcome for the end user. A program of this nature enables the company to enhance systems and processes for project delivery and future support and sustainment.
www.emsolutions.com.au/
---
Advantech Wireless Engages with NATO Client and Brings SEVIS Optimization to Terminals
Advantech Wireless has announced that their 2.4 meter Engage™ Class High Performance VSAT Flyaway Terminal has been certified by a NATO customer and has also received XTAR Certification.
The New Engage™ Class 2.4 meter Flyaway VSAT Terminal Solution includes the most advanced SATCOM technology available today.
This flexible and transportable VSAT solution from Advantech Wireless is a fully integrated tri-band system designed for easy deployment and use.
The terminal is based on a high efficiency, ruggedized tri-band ready 2.4 Meter Flyaway Antenna, which can cover X-, Ku- or Ka-band by replacing the feed only.
The antenna is optionally fully motorized with an integrated satellite finding controller.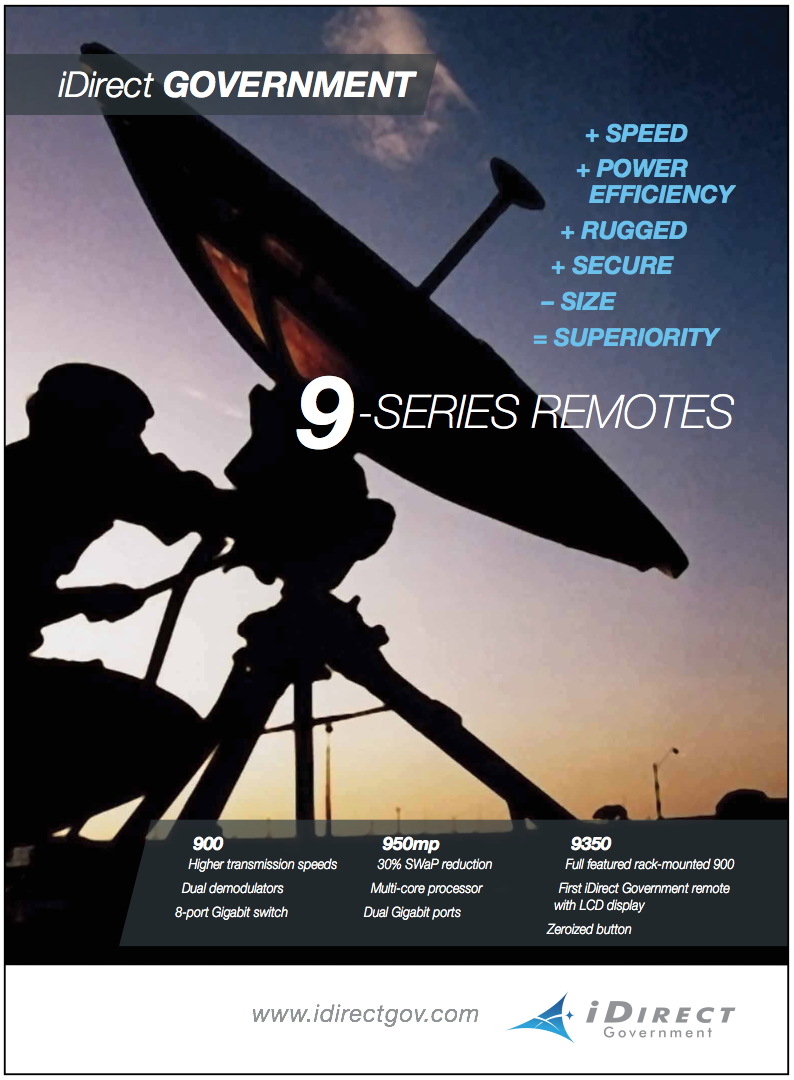 The terminal has built-in two independent unique triple access mode satellite modems based on the new ASAT II™ system or SCPC mode modems AMT-83L, Mil 165A Grade and DSSS Spread Spectrum Technology.
The ASAT II™ system technology allows the same modem to operate three different access wave forms, and achieve the most efficient bandwidth utilization possible.
The RF section includes the award winning Second Generation GaN based technology SSPA/SSPBs: X-Band from 20W to 100W, Ku-Band from 16W to 125W and Ka-Band from 10W to 40W. The terminals are fully compliant with MIL-STD-188-164a, MIL-STD- 810F, NATO STANAG 4484, IP65, and XTAR.
Cristi Damian, VP Business Development at Advantech Wireless said that these advanced VSAT terminals include state-of-the-art satellite technology. The system can uplink two separate carriers and hence establish a solid connection backbone between a field command center and distributed resources.
He continued by stating that through selection of the best Advantech knowhow and technology, the company has managed to offer almost 10 times the data rate originally planned by the customer.
Additionally, Advantech Wireless has integrated the Sevis' 2G/3G/4G/LTE Intelligent Backhaul Optimization (IBO) into the firm's new Ultimate U7400-C2 and U7400-C4 Satellite Terminals.
Sevis IBO integration within Advantech Wireless' ASAT II™ Hubs and U7400-C2 / C4 terminals aim to make the most efficient use of satellite bandwidth to deliver savings up to 50 percent on 2G/3G and up to 30x throughput increase with Sevis LTE acceleration.
Sevis IBO Backhaul optimization and acceleration integration within Advantech Wireless ASAT II™ Hubs and high-throughput U7400-C2 and C4 terminals feature the company's unique WaveSwitch™ technology, supporting seamless switching between ASCPC™, MF-TDMA, and SCPC (DVB-S2X) waveforms, allocating bandwidth dynamically from a common space segment pool.
WaveSwitch™ delivers full bandwidth optimization at physical and protocol layers simultaneously. This integration boosts mobile throughput, reduces satellite backhaul bandwidth costs and increases service revenue, while at the same time establishing a software-defined platform for high-throughput satellite (HTS) cellular backhaul.
The Advantech Wireless-Sevis integration uses Sevis' 7000 and 6000 series, allowing satellite service providers and mobile carriers to conduct high-ROI optimization not just on IP-based 2G/3G/4G-LTE links but also on legacy E1-based 2G/3G backhaul networks, over either traditional and high-throughput satellites (HTS).
Oscar Glottmann, CMO Satellite Networks Business Unit at Advantech Wireless, noted that Sevis´ top-notch 2G, 3G and 4G / LTE optimization logic is at the heart of Advantech Wireless ASAT II™ cellular backhaul solution, and combined with the company's unique WaveSwitch™ and 3D-BoD™ technologies, enable satellite backhaul with the highest level of bandwidth efficiency, scalability and flexibility, allowing satellite service providers and mobile carriers to substantially reduce backhaul OPEX.
Tim Peyla, VP of Business Development, Sevis Systems, noted that as mobile operators around the globe expand their network coverage into areas such as rural or remote locations, unserved, or underserved, by terrestrial technologies, they rely on Sevis to help deliver such services in the most affordable and efficient manner. By integrating the company's 2G/3G/4G/LTE Intelligent Backhaul Optimization and Acceleration solutions within Advantech Wireless ASAT II™ Hubs and U7400-C2 and C4 terminals, users can benefit from a synergetic end-to-end solution that reduces both the cost of deployment and operation.
www.advantechwireless.com
---
SES GS Adds Beam For U.S. Government End-Users
SES Government Solutions (SES GS), a wholly owned subsidiary of SES, has signed a five-year task order with the U.S. Department of Defense (DoD).
Under this agreement, an additional satellite beam will enable access to real-time information for better-informed, life-saving decisions in the field for key U.S. Government end-users.
The additional connectivity will be provided via SES's Medium Earth Orbit (MEO) O3b fleet as part of a high throughput, low latency satellite communications solution SES GS is providing to the U.S. DoD.
Operational benefits of the solution include the capability to transfer large files from remote locations in just minutes instead of hours.
Cloud-based applications and information can be used anywhere in the service area. End-users will be able to view simultaneous High Definition (HD) videos providing situational awareness to commanders.
The solution includes an additional 432 MHz satellite beam operating at less than 200 milliseconds round trip, a full duplex link, gateway access, transportable 2.4m AvL terminals, terrestrial backhaul, installation services and 24/7/365 operations and maintenance activities.
Pete Hoene, the President and CEO at SES Government Solutions, noted that last year SES GS won the first MEO-enabled satellite connectivity contract for the DoD and the company has been supporting the U.S. Government mission partner every step of the way since. The customer has been very pleased with the service the extended SES Networks team has provided, hence the desire to proceed with an additional beam.
ses-gs.com/
---