Viasat's CBM-400 software defined modem operates on the WGS network
Viasat Inc. has revealed that their Commercial Broadband Modem (CBM)-400 has now become the first software-defined modem to successfully complete the Army Forces Strategic Command (ARSTRAT) certification process.
By successfully completing the certification process, the Viasat CBM-400 modem is now the only software-defined modem authorized to operate on the Wideband Global Satellite (WGS) communications network, which will significantly enhance air, land and sea performance capabilities while reducing overall satellite communications (SATCOM) costs for U.S. Department of Defense (DoD) customers.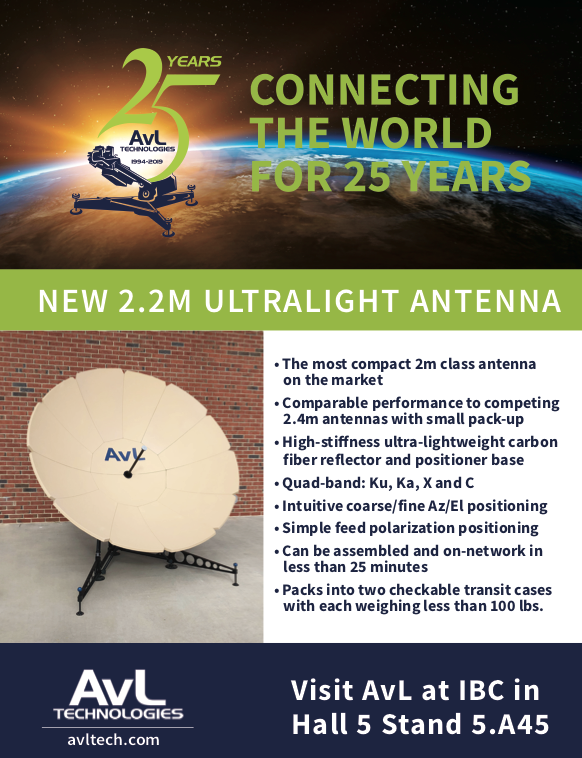 The Viasat CBM-400 combines the power of high-speed connectivity with the flexibility to switch over to new satellite networks in near real-time in order to meet the needs of nearly any mission and application. The CBM-400 delivers satellite broadband performance whether at-the-halt or on-the-move. With the CBM-400, ground vehicles, sea vessels and aircraft will have the ability to securely send and receive high-definition video, voice and cloud-based networking data from nearly anywhere across the battlespace.
The CBM-400 currently supports three waveforms heavily fielded throughout the DoD including the LinkWay waveform, the Enhanced Bandwidth Efficient Modem (EBEM) waveform and the ArcLight waveform. The software-defined nature of the CBM-400 also allows operators to easily switch between waveforms to meet the unique demands of each mission. The CBM-400 running the LinkWay, EBEM, or ArcLight waveform have all been certified by ARSTRAT for operation on the WGS constellation. The software-defined architecture enables the CBM-400 to readily embrace innovation due to its ability to keep pace with rapidly accelerating private sector SATCOM technology trajectories.
Importantly, the Viasat CBM-400 is purposefully designed to fit into Viasat's Hybrid Adaptive Network (HAN) architecture concept, which would allow users to seamlessly operate across both commercial and government purpose-built SATCOM networks, such as WGS. The HAN concept creates an end-to-end network that provides mitigation against congestion situations, intentional and unintentional interference sources and cyber threats through implementation of layered resiliency in highly-contested environments. Terminal equipment like the CBM-400 supports the HAN architecture concept by readily and affordably adapting to operate over new, innovative SATCOM networks as they become available.
Ken Peterman, President, Government Systems, Viasat, noted that with Viasat's CBM-400, DoD customers now have access to the significant advantages and flexibility of a software-defined architecture, which will allow customers to rapidly meet evolving communications needs and emerging mission requirements by using modems and terminals that readily and affordably adapt to embrace new waveforms and satellite networks.
www.viasat.com
---
Esri Software Powers Location Intelligence in Microsoft's Defense System Demo
Esri has announced that Microsoft's Tactical Edge Platform will use Esri's ArcGIS Enterprise to give its Microsoft Azure and Azure Cognitive Services a geographic context through Esri's advanced mapping and spatial analytics technology.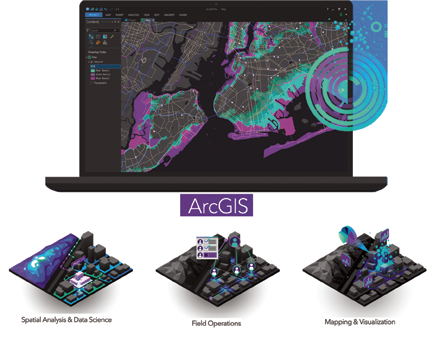 The platform is intended to demonstrate to defense and intelligence professionals how they can use connecting field sensor data and cloud services for domestic emergency response, or for tactical field operations support in theater.
This demonstration is displayed by deploying the platform in a fully operational car called the Tactical Edge Vehicle.
Soldiers or disaster response field personnel, coupled with mobile phones turned autonomous ground sensors, can capture the seen and unseen world around them with elements ranging from wireless infrastructure to photos of the population.
That data is transmitted to ArcGIS, residing in Azure and using Azure Cognitive Services to apply artificial intelligence to the collected data
The AI-processed results are fused with ArcGIS's spatial analytics, and become actionable across the ArcGIS platform, including pushing results forward into the tactical vehicle's displayed ArcGIS Operations Dashboards.
Operations Dashboards can be quickly created by anyone and custom built for all roles in a mission.
Cloud computing has opened up more versatile and efficient ways of deploying technology to different types of work environments and infrastructures by setting organizations free from the reliance on a central server.
Market research firm Forrester recognized Esri in The Forrester Wave™: Location Intelligence Platforms, Q4 2018 Evaluation, which acknowledges Esri's leadership in location intelligence technology and highlights the company's long-term commitment to innovation in its market-leading geospatial cloud.
Using the open-standards of these Commercial-Off-The-Shelf (COTS) products immediately connects ArcGIS compatible partners through ArcGIS to Azure and can be used by the tactical vehicle. In this demonstration, it includes Knowledge Bridge International (KBI) for the sensor network, and Meemim's vGIS using Microsoft Hololens. Both KBI and Meemim are among the hundreds of Esri partners.
Lily Kim, GM, Azure Global at Microsoft, said Esri's cloud-based platform enables networks of sensors to be analyzed geospatially and, coupled with Microsoft Azure Cognitive Services, allows for that sensor information to be analyzed around the clock supporting various roles from the edge to the intelligence centers.
This delivers the type of data insights to customers in the field that they require to respond effectively in today's fast paced world.
Tim Murphy, Director of Contextual Intelligence at Esri, added that Microsoft has provided a great opportunity for the firm to demonstrate the rapid deployment of the company's geospatial capabilities, providing online and offline capabilities to customers in disaster management and those forward supporting humanitarian and national defense missions alike.
He noted that Microsoft's collaboration with Esri has provided unparalleled value to our customers for more than 15 years. This new demonstration in the Microsoft Tactical Vehicle brings together how Esri's technology can fully geo-enable tactical operations for real-time spatial awareness.
www.esri.com/
---
Lockheed Martin's COps software for the USAF's Ground Control System is checked in for GPS III Satellites
On May 22, Lockheed Martin (NYSE: LMT) delivered the GPS III Contingency Operations (COps) software upgrade to the U.S. Air Force's current GPS ground control system.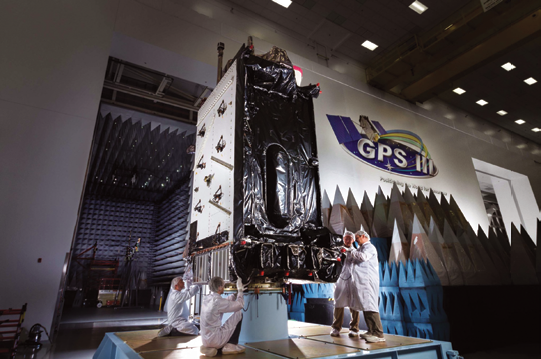 A GPS III satellite in production at Lockheed Martin.
Photo is courtesy of the company.
This upgrade will enable the U.S. Air Force (USAF) to start commanding the new, next-generation GPS III satellites now coming off the production line and starting to launch.
The first GPS III satellite launched in December 2018; the second GPS III shipped to Cape Canaveral in March for a July launch; and the USAF, on May 17, declared the third new GPS III "Available for Launch" next.
The challenge was modernizing the current ground system — formally known as the GPS Architecture Evolution Plan Operational Control System (AEP OCS) — to fly the legacy constellation, as well as the new, modern GPS III satellites, until the next generation Operational Control System (OCX) Block 1, still in development, is delivered.
To address this, in 2016, the USAF contracted Lockheed Martin to develop the GPS III COps program.
Currently, the AEP OCS controls 31 GPS IIA, IIR, IIR-M and IIF satellites launched between 1993 and 2016. With the AEP OCS' new GPS III COps upgrade, the USAF will be able to command and control both the legacy satellites, as well the more powerful GPS III satellites.
Meanwhile, the first GPS III space vehicle (GPS III SV01), launched in December 2018, is finishing up pre-operational on-orbit check-out.
It continues to be controlled by OCX Block 0 software installed at Lockheed Martin's GPS III Launch and Checkout Center at the company's Denver facility.
GPS III SV01 is expected to be "handed over" to the COps OCS later this year after the legacy constellation is moved over to the updated AEP OCS.
Lockheed Martin has sustained the AEP OCS since 2013. In November 2018, the company completed the AEP 7.5 upgrade -- the largest architectural change in the systems history -- replacing significant code, hardware and software to improve the system's cybersecurity capabilities and positioning the USAF to better operate in contested, degraded and operationally limited environments.
In December 2018, the USAF awarded Lockheed Martin the GPS Control Segment Sustainment II (GCS II) contract to continue to further modernize and sustain the AEP OCS through 2025.
In 2020, the AEP OCS is expected to receive the M-Code Early Use (MCEU) upgrade, which will allow control of M-Code, an advanced, new signal designed to improve anti-jamming and anti-spoofing, as well as to increase secure access to military GPS signals for U.S. and allied armed forces.
Lockheed Martin is under contract to develop and build up to 32 GPS III/IIIF satellites.
GPS III will deliver three times better accuracy and provide up to eight times improved anti-jamming capabilities. GPS III's new L1C civil signal will make it the first GPS satellite to be interoperable with other international global navigation satellite systems.
Additional "IIIF" capabilities, beginning at the 11th satellite, will include a fully digital navigation payload, Regional Military Protection, an accuracy-enhancing laser retroreflector array, and a Search & Rescue payload.
www.lockheedmartin.com
---
U.S. Marines now fielding MUOS SATCOM system
The U.S. Marine Corps (USMC) recently began fielding a next-generation, narrowband, satellite communication system that assists warfighters in connecting to networks on the battlefield.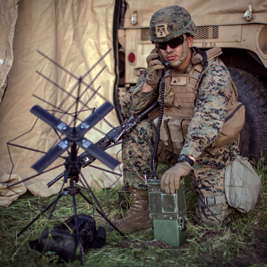 U.S. Marine Corps Cpl. Frankie Garcia, a radio chief
with Alpha Battery, Battalion Landing Team 3/5, 11th
Marine Expeditionary Unit (MEU), calls for a radio
check using a PRC-117G radio at Marine Corps Base
Camp Pendleton, California. The Marines and Sailors
of the 11th MEU are conducting routine operations as
part of the Boxer Amphibious Ready Group. Photo is
courtesy of the U.S. Marine Corps
— Lance Cpl. Jason Monty.
Fielded in the first quarter of 2019, the Mobile User Objective System provides satellite communication capabilities to mobile or stationary Marines. The system enables the warfighter to leverage cellular technology to increase access to voice and data communication while using the MUOS network.
The MUOS capability encompasses updated firmware to the AN/PRC-117G radio system and one of three antenna kits. The antennas help Marines simultaneously access SATCOM networks and gives them secure and non-secure internet access. MUOS also improves overall reliability in urban environments, challenging vegetation and other arduous conditions.
The first service to widely employ MUOS, the USMC is deploying thousands of antenna kits for the AN/PRC-117G radio system and hundreds of diplexers that enable vehicular systems to access MUOS satellites.
Satellite communication has become increasingly important for the USMC in the 21st century. According to the Department of Defense (DoD), more than 50 percent of DoD satellite communication involves narrowband communication. Yet, this form of communication accounts for less than 2 percent of the DoD's bandwidth, making it an efficient way to transmit information.
Prior to fielding MUOS, MCSC had to demonstrate to the Milestone Decision Authority that the system was safe, met technical performance and was ready to use by the warfighter. Since MUOS's Field User Evaluation in 2017, Marines have raved about the benefits of the system.
Eddie Young, project officer of Multiband Radio II Family of Systems at Marine Corps Systems Command, said MUOS is another way for warfighters to communicate in a tactical environment.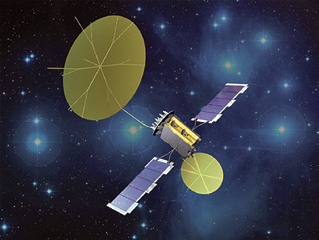 Artistic rendition of a MUOS satellite.
Image is courtesy of Lockheed Martin
The system brings SATCOM capabilities in various formats to Marines. The Marine Corps is leading all services in terms of getting MUOS to warfighters. Marines find MUOS useful in completing their missions — a lot of positive feedback has been received, thus far.
According to Noah Slemp, systems engineer at MCSC, MUOS is essentially software and an antenna capability augmenting existing hardware. It's similar to adding an application to a cellphone. MUOS is particularly important because the SATCOM infrastructure of the legacy system is nearing its expiration — as a result, the Corps intends to incrementally replace the older capabilities with the MUOS waveform, enabling more Marines to access ultra-high frequency tactical satellite communications.
The efforts of Young's team in getting the system out to the warfighter have not gone unnoticed. In May 2018, at a Narrowband Working Group conference in Colorado Springs, Colorado, the Joint Staff J6 and the DOD Chief Information Officer recognized Young and Slemp for leading the services in employing MUOS.
The J6 and DOD CIO also emphasized the joint effort between the Multi-band Radio II team and the Naval Information Warfare Center in using the Multiple Reconfigurable Training Systems, an interactive training aid that will be used to assist in the rapid fielding of MUOS.
---
MANTA+ terminal is adopted by U.S. SOF community
Paradigm, Lepton Global Solutions and Kymeta are proud to announce that the MANTA+ solution has been adopted by the United States Special Operations Forces community and is now commercially available for other users.
---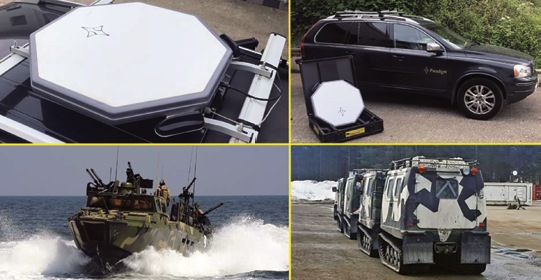 ---
This fully integrated satcom and LTE solution ensures constant connectivity by seamlessly switching between satellite, cellular and
WiFi networks.
Operational both as a comms-on-the-pause terminal and a comms-on-the-move terminal, the MANTA+ is self-pointing and provides automatic network switching via the integrated LTE router.
The unit has no moving parts and is discreet, the user just adds power. Any device connected to the MANTA+ (whether wirelessly or via a physical port) will be routed via WiFi, cellular or satellite depending on real time availability, service weighting and/or least cost.
paracomm.co.uk
leptonglobal.com
www.kymetacorp.com
---
Astrotech encapsulates AEHF-5
The U.S. Air Force's fifth Advanced Extremely High Frequency (AEHF-5) communication satellite was encapsulated on June 5 at the Astrotech Space Operations processing facility in Florida.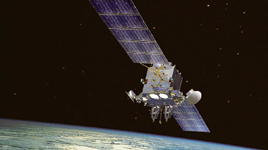 Artistic rendition of the U.S.A.F.'s AEHF-5 satellite.
The encapsulation of AEHF-5 in the United Launch Alliance Atlas V launch vehicle payload fairing is a significant milestone in AEHF-5's launch process as it marks the completion of all major testing activity prior to launch. AEHF-5 is now ready to make the journey to Space Launch Complex-41, where it will be mated with its Atlas V launch vehicle. The launch window is currently scheduled to open at 06:00 a.m. EDT on June 27.
AEHF is a joint service satellite communications system that will provide survivable, global, secure, protected, and jam-resistant communications for high-priority military ground, sea, and air assets.
The AEHF system is the follow-on to the Milstar system, augmenting, improving, and expanding the Department of Defense's MILSATCOM architecture.
AEHF-5 was procured from Lockheed Martin Space Systems Company by the MILSATCOM Systems Directorate, part of the Air Force's Space and Missile Systems Center.
The MILSATCOM Systems Directorate plans, acquires, and sustains space-based global communications in support of the President, Secretary of Defense, and combat forces. The MILSATCOM enterprise consists of satellites, terminals and control stations, and provides communications for more than 16,000 air, land, and sea platforms.
www.astrotechspaceoperations.com
---