Welcome to MilsatMagazine's annual YEAR IN REVIEW issue. A few, leading companies have offered their insights and an examination of their experiences regarding their operations during 2012... offered in alphabetical order, these major representatives of the MILSATCOM offer an overview of the challenges and successes for the past year. Some companies decided to follow a Q&A format, while others preferred a narrative style. In either instance, we hope the readers of MilsatMagazine find the following Roundtable to be of interest and, most importantly, an inspiration realizing that the MILSATCOM and related industries face a bright future. All our best... the editors.
* * * * * * * * *
Analytical Graphics, Inc. (AGI)
by Frank Linsalata, Chief Operating Officer
What successes did AGI enjoy over the past year?
2012 is shaping up to be an exciting year for AGI. We've seen sales growth in our commercial product, our technology is being used operationally in the Space Data Center and we recently released STK 10, which we believe will make a dramatic impact on the community.
We've seen a particular surge within the international marketplace and the DoD community. These groups are really trying to do more without more (money), and that is AGI's sweet-spot. Why build capability from scratch when our product, out of the box, meets 80 percentor more of requirements? With the economy, we are seeing that trend grow, and we look forward to helping out even more in 2013. To meet our international growth, we have sent a larger team of engineers to live overseas, particularly in Singapore, and they are complemented by a reseller network supporting our customers in Europe and Asia.
We are proud of our participation in the
Space Data Association's Space Data Center
(
SDC
), a space situational awareness system designed and operated by AGI. The SDC's current 17 member organizations provide owner-operator data to enhance the safety and integrity of space and the RF spectrum. The SDC reached full operational capability in September 2011, and now provides conjunction assessment processing for 65 percent of all operational satellites in geosynchronous Earth orbit. Recently,
NASA
and
NOAA
signed on to use the services.
Our current big news is the release of
Systems Tool Kit
(
STK
) 10 in November. This release has been years in the making, and when you see the final product, you'll understand why. First, we now include our 3D environment in our free offering. We believe that giving the marketplace access to a free virtual globe that incorporates time and dynamic motion as its foundation—leap second and all—to operate in simulated historical time, simulated future time or in real time is incredibly valuable. If you're analyzing a fixed location on the ground, time isn't so critical. But if something is moving, you need to manage time correctly so you have a basis for your coordinate system. Because AGI came from space, this is at the core of the software. This fidelity is now available to all systems—ground-, air- and space-based. This new "systems"-oriented approach is why we changed our product name with the new release from "Satellite Tool Kit" to "Systems Tool Kit."
Beyond the free product, we've repackaged our advanced modules and have added new ones specifically designed to address our shift to Systems Tool Kit and a broader market. We have incorporated new products that address the marketplace's conversion toward software tools for enterprise interoperability and web-based clients. For example, AGI's cloud-based server, the
STK Data Federate
, is hosted as a service to users. You can search and retrieve standard STK objects such as satellites, facilities and aircraft, and download scenarios of standard space systems that are ready to be customized for your particular analysis.
Another example is
STK Server
, which provides a scalable architecture for distributing user-defined analytic services over the web or an enterprise network to support desktop and browser applications. And to complete the picture we also have released Cesium, a zero footprint web-based visualization client that will tie into our web services and STK collaboration efforts.
What challenges did AGI need to overcome over the past year, and what challenges will the satellite industry, and specifically your market segment, face over the next few months?
Our challenge has been the same since we were founded in 1989. We bring a "disruptive product" into a marketplace conditioned to "build it" instead of "buy it." Our solution is less expensive and ready now. With smaller aerospace and defense budgets, you would expect our sales to have grown much more than they have. So while mandates to look at COTS products are out there, the trend we are seeing is that A&D isn't buying much of anything. We think this will change soon.
Systems are becoming more complex, and the trend (at least in the software/tech industries) is toward technologies that leverage open source, web services and the cloud. As I mentioned, we've made and will continue to make strides to deliver our technology the way the industry needs it.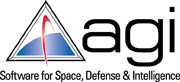 Finally, the industry has been talking for years about the engineering talent drain. While this is always a concern, our workplace helps us out. In March 2012, AGI CEO Paul Graziani took top honors in the Workforce category of Aviation Week & Space Technology's Laureate Awards. This recognition of AGI's innovative workplace, and our consistent outreach to tomorrow's engineers via STEM-focused activities, helps us retain and attract an unbelievable talent pool in a field that is otherwise being depleted.
What upcoming projects are in the works and what may we expect to see from AGI over the next three to four quarters?
In addition to adapting our technology even further to leverage the cloud, server-based implementations and thin web-based clients, we are focusing on solution sales efforts to big programs. When we look at the market, we are underutilized. But those who use us get it. They realize the difference we bring to their missions' fidelity, efficiency and speed. And at how much less cost. We want entire organizations and/or programs to standardize on our software, and we realize for those willing to make that investment, we have to step in and provide the complete package.
* * * * * * * * *
Astrium Services Government, Inc.
(formerly Vizada)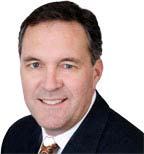 by Bob Baker, Chief Executive Officer
What successes did Astrium Services Government enjoy over the past year?
2012 was a year of major change for the company as we shifted our focus exclusively to the government market in the U.S. and Canada, following our acquisition by Astrium, an EADS company. The most visible sign of our evolution is our new name, Astrium Services Government, Inc. which is a subsidiary of the newly formed Astrium Americas and part of the EADS North America organization.
As a testament to the role
Astrium Services Government, Inc.
is already playing in the government market, we have won several significant
FCSA
contracts this year, including a contract vehicle enabling us to compete for and develop customized solutions for the military and other agencies. Two other contracts with a potential for $25.5m in
Inmarsat BGAN
and other services were also awarded to the company. While we are known for our expertise in the MSS market, our new corporate family provides us with deep experience in the FSS market as well, making us a formidable player in a broad range of end-to-end SATCOM solutions.
In addition to offering L-band services from providers such as
Inmarsat
,
Iridium
and
Thuraya
, Astrium Services Government, Inc. will provide services from Astrium's military X-band and UHF satellites plus C-, Ku- and Ka-Band (commercial and military) from industry leading fixed satellite service providers. Astrium Services Government, Inc., will also provide supplemental services key to the US Government and DoD customers including:
Secure Network Operations Center
(
SNOC
),
Multiprotocol Label Switching
(
MPLS
) network,
Virtual Network Operator
(
VNO
) platforms, remote field support, and
host nation agreement
(
HNA
) services.
This summer, we announced a partnership with
Harris CapRock
to provide UHF and X-band services over the entire
Skynet 5
fleet. With two new Skynet satellites joining the existing fleet of six satellites, offered will be additional X-band coverage over CONUS, the Pacific and the Atlantic, all within the next 90 days of this writing.
We have deepened our bench with the addition of many new technical and commercial staff including
Ed Spitler
, our Senior Vice President of Operations, and
Dylan Browne
, Vice President of Business and Market Development. All of our new staff are experienced SATCOM professionals with a keen understanding of the current market environment and the inner workings of US DoD customers and there requirements.
What challenges did Astrium Services Government need to overcome this past year, and what challenges will the satellite industry—and specifically your market segment—face over the next few months?
Our major challenge in 2012 was to work closely with our new owners and USG customers to map forward a path that will leverage the capabilities and assets of our parent company with our own expertise and strengths to meet the unique needs of our market. This required many forklift changes to our company infrastructure, partnerships and market approaches. All the while, we continued servicing our existing customers and partner relationships. This was a year of balancing many priorities through the transition, but just as we have done so many times over the past 50 years, we have emerged stronger and more energized at the end.
As the government struggles with finding its balance between building and buying capacity, companies such as ours will be needed as a strategic partner as well as a strategic supplier. This market will be called upon to help the government tackle the issues and red tape that could impede innovations like
Hosted Payloads
and customized SATCOM solutions in order to keep our military and government agencies connected, safe and productive, wherever they may be located.
Certainly our evolution as well as the changes being experienced by other major industry players are dramatically transforming the competitive market. We should expect to see reactive moves from other companies in response to new market dynamics. We anticipate that major companies and small players with unique services and expertise will form partnerships to meet the complex needs of this market with speed, reliability and security in ways that the government simply cannot accomplish on its own.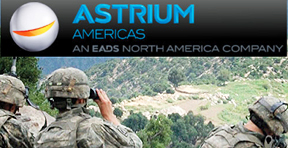 What upcoming projects are in the works and what may we expect to see from Astrium Services Government over the next three to four quarters?
We have several major investment activities that will take place in 2013 which we believe will position Astrium Services Government, Inc., for continued growth over the long term. With the launch of two new Skynet satellites to our existing constellation of six satellites, we will nearly double our X-band capacity in the CONUS, Pacific and Atlantic regions within the next 90 days.
At the same time, we will continue to invest in our world class infrastructure to ensure reliability and security with MAC1 compliant teleports located in North America and around the world. Throughout our company our shared goal is to deliver satcom solutions that the USG needs and can rely on to protect, connect and inform. Expect to hear news from us about our capabilities to handle the most sensitive projects for our customers.
* * * * * * * * *
Boeing Space & Intelligence Systems

by Jim Simpson, Vice President, Business Development
What successes did Boeing enjoy over the past year?
Boeing Space & Intelligence Systems was proud to announce its newest satellite design, the 702SP for "small platform" in March, in conjunction with a four-satellite joint procurement from Asia Broadcast Satellite (ABS) and SatMex. The 702SP is an all-electric satellite that is lighter in weight and compatible for dual-launch with a wider array of launch vehicles, including the
SpaceX
Falcon 9
. With the addition of the 702SP, we expanded our product portfolio to include satellites that operate in the 3 to 18 kilowatt range.
Boeing received orders for a total of seven satellites and has several additional programs under continuing negotiation. In addition to the four ordered by
ABS/SatMex
, the
United States Air Force
ordered two additional
Wideband Global SATCOM
satellites, bringing the total of WGS satellites on order to 10 in number.
Societe de Europeenee des Satellites
(
SES
) ordered a Boeing 702HP "high power" satellite, which will be called
SES-9
.
Boeing was also selected by Intelsat to build
IS-29e
. Although this order is a part of the existing four-satellite contract awarded in 2009, this Boeing
702MP
"medium power" will be the first for Intelsat's
EpicNG
satellites. Intelsat EpicNG is designed to address wireless and fixed telecommunications, enterprise, mobility, video and government applications that require broadband infrastructure. A complementary high-throughput overlay to the Intelsat fleet, the Intelsat EpicNG platform will use multiple frequency bands, wide beams and spot beams with a high degree of flexibility and connectivity.
Central to the ability to obtain new business is the need to execute on current programs. Satellite deliveries form the foundation of program execution. In 2012, S&IS delivered four satellites for launch, and is scheduled to support at least two additional launches by year end.
WGS-4
,
Intelsat-22
,
Intelsat-21
, and
GPS IIF-3
were delivered successfully. The first satellite in the series for MEXSAT is planned to launch in December, and that the
X-37B Orbital Test Vehicle
(OTV-1) will be launched for a second mission.
What challenges did Boeing need to overcome this past year, and what challenges will the satellite industry—and specifically your market segment—face over the next few months?
The most compelling challenge Boeing faced, and it's a challenge that is common throughout the satellite manufacturing industry, is to provide satellite systems that meet the mission requirements, yet maintain the flexibility and affordability demanded by today's economic environment.
Boeing captured new commercial business due largely to its ability to provide affordable low-risk, highly capable satellite systems. We did this in several ways, from reducing our indirect cost structure to fostering mutually beneficial arrangements with our suppliers. We provided adequate base to the suppliers to enable them to manage their business performance.
We also invested in our satellite design by moving to a modular design; leaning out our production processes; and designing for and instituting a production line approach. One example is the pulse line we established for the
Global Positioning System
(
GPS
). By adopting lessons learned from the
Boeing 737
production line, coupled with our own streamlining, we are able to complete a GPS satellite every four months.
The changes we made to improve our efficiency enabled us to invest in product development. For example, we invested four years in the development of the 702MP satellite, which we introduced in 2009. Learning from that activity, we were able to introduce the 702SP satellite in approximately two years.
These enhancements to the proven Boeing 702 have laid a solid competitive foundation for Boeing, and no other manufacturer has introduced a new variant of its satellite design, much less two, in the span of three years.
What upcoming projects are in the works and what may we expect to see from Boeing over the next three to four quarters?
We plan to win an order for at least one commercial satellite and we will launch at least four satellites in 2013.
We also plan to continue to advance the importance of hosted payloads, both as Boeing and as a member of the
Hosted Payload Alliance
. Boeing has been delivering hosted payloads since 1993, when the first was provided on a
U.S. Navy
UHF Follow-On
satellite.

More recently, Intelsat ordered two hosted payloads in 2009. Operating in UHF, the first payload will be leased from Intelsat by the
Australian Defence Force
for supplementary MILSATCOM services. It was launched in March on the
Intelsat 22
satellite and entered service in May.
A second UHF hosted payload will launch on the
Intelsat 27
satellite in the first quarter of 2013. The hosted payloads approach has been reported by the Australian Defence Force to have saved more than $150 million.
Boeing is working with the Hosted Payload Alliance and the United States Government to further apply the
Space Policy
, which encourages the use of hosted payloads, by removing impediments to enable wider implementation of these capabilities. Hosted payloads are a demonstrated, affordable alternative to dedicated government satellites that leverage shorter build cycles and shared satellite, launch, and ground infrastructure. Boeing believes hosted payloads will play a vital role in 2013 and beyond.
* * * * * * * * *
GMV USA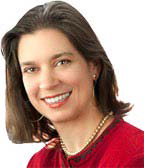 by Theresa Beech, Chief Executive Officer
2012 has been a year of growth and opportunity for GMV USA. Global economic pressures are driving demand for the innovation, performance, and efficiency that GMV USA solutions offer to our expanding customer base worldwide.
GMV USA provides low cost, customizable
Commercial-Off-The-Shelf
(
COTS
) ground systems to commercial and institutional satellite systems worldwide. We offer four basic products:
flexplan
for highly specialized planning and scheduling;
hifly
for real time command and control;
archiva
for trending, archiving, and engineering analysis of satellite telemetry data throughout the lifetime of the satellite; and
focussuite
for "flight dynamics" or space navigation of the satellites.
Our products adapt to all sizes of satellite fleets and to existing hardware and software systems. GMV's solutions are highly customizable for missions and users' needs and can be adapted for missions that are still evolving.
In 2010, GMV became the world's leading supplier of satellite ground systems in the commercial telecommunications market—45 percent of all commercial telecommunications spacecraft launched worldwide in 2011 use GMV ground systems. We are on track to have similar numbers in 2013, and we have added numerous commercial operator customers, including
MEASAT
and
Thaicom
.
GMV's activities also cover the entire life cycle of the satellite control center.
GMV USA is also providing the planning and scheduling for the full constellation of
Tracking and Data Relay System
(
TDRSS
) spacecraft and associate ground networks through the
NASA Space Network Ground Segment Sustainment
(
SGSS
) project, as well as other
National Aeronautics and Space Administration
(
NASA
),
National Oceanic and Atmospheric Administration
(
NOAA
), and
United States Geological Survey
(
USGS
) missions.
GMV solutions offer much-improved system performance in a resource-constrained environment. In fact, trade studies implemented by GMV USA indicate satellite system performance improvements of at least 20 percent simply due to implementation of optimized, integrated planning and scheduling of space and ground resources.
GMV USA experienced significant growth during 2012 and we fully expect to continue to grow in 2013 as we expand our product line and customer base. In 2012, we began working closely with partners and customers in the defense community to offer agile, commercial-based ground systems solutions to meet complex requirements in a resource-constrained environment.
Moving forward into 2013, GMV USA is expanding the baseline product line to offer bandwidth optimization management and modeling for planning and scheduling of bandwidth usage.
Expect GMV to continue to provide manufacturers, operators, organizations, and companies with information and communications technology solutions for their various processes. Solutions are optimally tailored to the operating reality of our customers in the space industry.
GMV USA is also enhancing products to meet current and future Information Assurance challenges around the globe.
This is an exciting time to be involved in satellite communications. Innovation, agility, and security will be paramount and GMV USA is poised to meet these challenges.