New "Satellite" Tested
Satellite radio and weather balloons appear to be the future of combat communications for Marines on the ground, in the air and at sea.

Marines with the 11th Marine Expeditionary Unit coordinated with the I Marine Expeditionary Force Science and Technology department to test out the Combat SkySat System at the 21 area parade deck at Camp Pendleton, California, on October 24th.
Retired Marine Stephen Heywood, Science and Technology coordinator with I MEF G-7, said the Combat SkySat System has been proven effective by the 26th and 13th MEUs which used them while deployed.
The 11th MEU is slated to use the technology for the first time to support expeditionary operations during an upcoming Western Pacific deployment.
"Our colonel will be able to talk to troops on the ground and Marines flying aircraft simultaneously," Brown said. "You can't do that with any other form of long-distance communication. A rifleman on the ground can now have a (radio) in his magazine pouch, kick down doors and be able to talk back to a ship more than 500 miles away."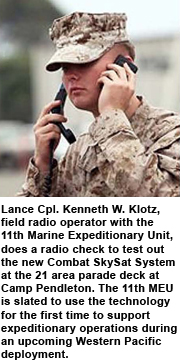 According to Heywood, in order for Marines to use airborne communications, they used to have to put a transmitter in a military aircraft. This technique required aircraft to maintain a specific position in the air in order to sustain capability, which diverted assets from other vital missions and made the aircraft vulnerable to attack.
The Combat SkySat System, priced at $10,000 per payload, consists of a 2500 gallon helium-filled latex balloon, the Combat SkySat Mil-UHF FM repeater, antenna and portable launch and control system to monitor the position and coverage area.
When launched into the air and sustained at 65,000 to 100,000 feet, the system covers a range of 460 to 700 miles.
Two payloads can cover most of Afghanistan. Because the system is so compact, it can be launched on a ship or on shore. Marines use a tether, unlike similar free-floating systems, which allows them to retrieve the unit, perform maintenance, refill the balloon with helium, or charge the battery. Each system can stay air-born for six to 12 hours and prevail against inclement weather.
"We can control how high we want it to go and how far we want it to cover," Brown said. "It's pretty cool."
Story by Cpl. Jennifer Pirante
* * * * * * * * *
Battle Space + Forward Operating Bases Linked
QALAT, Afghanistan — Forward operating bases and combat outposts exist in austere environments. Facilities and services are limited and missions are often crucial. Teams would remain isolated from their parent units if not for one support function — Communications.
Provincial Reconstruction Team Zabul, a forward deployed team tasked to mentor key leaders in rural Afghanistan, relies upon a small team of Communications experts to keep them connected to the rest of the battle space.
"Like right now," said U.S. Air Force Tech. Sgt. Tylian Goss, PRT Zabul operations non-commissioned officer in charge, as he answered a radio call from a unit on a mission. "They're about to blow an Improvised Explosive Device in place and I have to let everybody know."
Goss turned from his workstation in the PRT's Tactical Operations Center, used the FOB Giant Voice system, and announced, "Attention on the FOB, attention on the FOB, there will be a controlled detonation." Quickly and easily, important data from across the battle space was relayed from one geographically separated part of the team to another, all through the use of the PRT's communications tools.
"We bring capabilities to place conversations, intelligence and information assets from anywhere in the world into one room, even in unstable southern Afghanistan," said U.S. Air Force 1st Lt. Michael Palmore, Provincial Reconstruction Team Zabul communications officer. "We … provide the real-time link from the policy and decision makers stateside to the war fighters on the ground in Afghanistan."
The Communications team is comprised of a small group of service members from the U.S. Air Force and the U.S. Army National Guard. The diverse team works together to maintain the ties between PRT Zabul and the rest of the battle space, which is not without challenges.
"Not having easy access to additional parts needed, random power outages and the environment are big things," said U.S. Air Force Staff Sgt. Joel Crowder, PRT Zabul communications non-commissioned officer in charge.
"Being in a job where things need to be done yesterday can be very difficult because sometimes you get a need or mission critical thing that you may need to replace or add to one of the FOBs and it may take anywhere from a couple of months, to almost your whole time here at the PRT to get that part in, sometimes not even then."
Despite the difficult acquisition process for resources and an environment seemingly built to break down technology, the team perseveres. The support required of PRT Zabul's Communications team means that they must overcome obstacles while also acting as subject matter experts in a variety of fields or the PRT mission will fail.
"We have to juggle and support anything from maintenance to being a technical advisor," said Crowder. "[We] provide communications support for radio, computer, Internet, and all kinds of communications in vehicles, as well as for the Tactical Operations Center."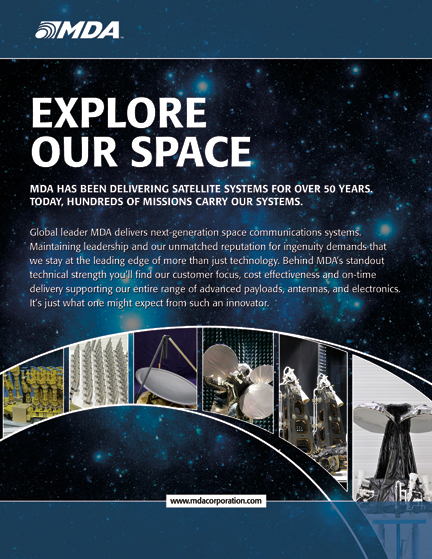 The TOC represents the heartbeat of the PRT's mission to bring stability to Zabul province through governance, reconstruction, and development. The coordination for every mission that the PRT conducts starts and ends at the TOC, but without communications support, none of it would be possible.
"We provide the communications capability for the TOC," said U.S. Army Spc. Brianna Whaley, 422nd Expeditionary Signal Battalion information systems operator. "Our support helps them track missions faster and improves their ability to talk to higher headquarters and other units, compared to previous wars. We make them able to do their job faster."
In a warzone, situations can change quickly. The members of PRT Zabul rely on their TOC to be responsive to those changes in a timely manner, because sometimes a few minutes or seconds can determine mission success.
"Connectivity speeds up the communication process," U.S. Air Force Senior Airman Jared Shavrnoch, PRT Zabul communications technician, said.
"People use it as a resource, it's a morale booster, and people cannot complete the mission without it."
Communications experts at PRT Zabul maintain connectivity, despite challenging conditions, because they must.
"It is a critical link that brings the world to our fingerprints, even at a remote FOB in south-central Asia," Palmore said.
Story by 1st. Lieutenant Belna Marquez
* * * * * * * * *
A MIGHTI Task
A Naval Research Laboratory instrument designed to study the Earth's thermosphere is part of a future science mission that has been selected by NASA for evaluation for flight.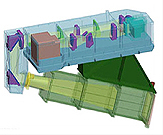 The NRL-developed Michelson Interferometer for Global High-resolution Thermospheric Imaging (MIGHTI) satellite instrument is part of the Ionospheric Connection Explorer (ICON) mission, led by Thomas Immel at the University of California, Berkeley. The ICON mission will fly instruments designed to understand the extreme variability in our Earth's ionosphere, which can interfere with communications and geo-positioning signals. Ionospheres act as a boundary between planetary atmospheres and space, containing weakly ionized plasmas that are strongly coupled to their neutral atmospheres, but also influenced by the conditions in the space environment. They experience a constant tug-of-war between these external and internal influences, and exhibit a remarkable set of non-linear behaviors. The unpredictable variability of the Earth's ionosphere interferes with communications and geo-positioning signals and is a national concern. ICON makes a complete set of measurements of the state of the ionosphere and all of the critical drivers that affect it to understand this variability.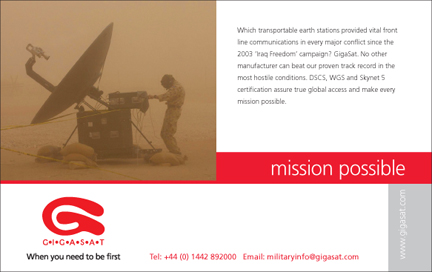 NRL's MIGHTI instrument will contribute to reaching the mission goals by measuring the neutral winds and temperatures in the Earth's low latitude thermosphere. The MIGHTI instrument uses the DASH (Doppler Asymmetric Spatial Heterodyne spectroscopy) technique, which was co-invented and pioneered by NRL. The payload consists of two identical units that will observe the Earth's thermosphere with perpendicular viewing directions. As ICON travels eastward and continuously images the thermosphere and ionosphere, MIGHTI will measure the vector components of the vertical wind profile. NRL's MIGHTI is named for Albert Michelson, a physicist known for his research on the measurement of the speed of light using a related interferometer type. More directly, MIGHTI builds on technology previously used in NRL's SHIMMER (Spatial Heterodyne Imager for Mesospheric Radicals), a payload aboard STPSat-1.
The ICON mission proposal, that NRL's MIGHTI is a part of, is one of five proposals selected for Explorer Missions. With its selection for further evaluation, the NRL MIGHTI team, led by Dr. Christoph R. Englert, NRL's Space Science Division, will receive NASA funding and work for 11 months to further develop the MIGHTI concept. Subsequently, NASA will select up to two of the Explorer Mission proposals to proceed toward flight, with launches expected as early as 2016.
* * * * * * * * *
Search + Rescue In Australia Packs IsatPhone Pro
Australian search and rescue teams are dropping emergency survival packs that contain an IsatPhone Pro handset to vessels in danger.
The Canberra-based Australian Maritime Safety Authority (AMSA) did exhaustive tests of IsatPhone Pro and other handsets before buying 11 from local supplier Safecity Services.
"The phones are loaded with 100 minutes of pre-paid talk time," explained Gary Stevens, AMSA search and rescue training and resources officer.
"Each of our tier one AeroRescue Dornier aircraft, based in Cairns, Brisbane, Melbourne, Perth and Darwin, have been issued with two handsets. They include them in emergency packs when asked to by the rescue coordination centre."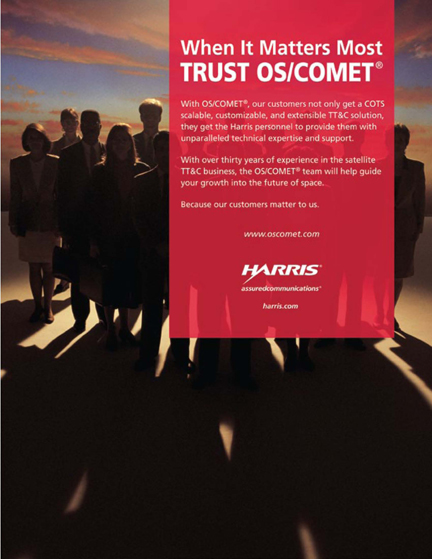 AMSA has so far supplied seven of the handsets in emergency packs for incidents involving stranded yachts — and also for motorists in the Australian outback who may have broken down.
"The IsatPhone Pro is programmed with several RCC numbers and is the preferred means of communicating with us if there is an extended rescue time expected," said Gary.
Simple instructions are supplied with the phone, including how to deploy the antenna and receive incoming calls. They also show how to display the user's GPS position.
The handset is dropped inside a capsule, along with standard radio kit, food, water and first aid supplies.
"The phone is not locked, so survivors may call friends and family as well as the RCC. Due to the availability of our radios in the pack, only one of the phones has so far been used, but it worked and we feel this will become a permanent addition to our survival kits," explained Gary.
* * * * * * * * *
Prestigious NOAA Award
States Strategic Command and its Joint Functional Component Command for Space were a part of a ground-breaking team awarded the National Oceanic and Atmospheric Administration's Administrator Award in October.
The team established a method to provide critical space situational awareness and collision avoidance warnings to the agency's European meteorological counterpart. This vital partnership protects weather satellites from potential costly damage due to collisions, giving nations around the world accurate and timely weather information.
Lt. Col. Guinevere Leeder, Maj. Duane Bird, Capt. Erin Dunagan, Capt. Amy Ianacone, and Jessica Tok, all of the U.S. Air Force, and Mark Mulholland of NOAA, were honored and presented with the Administrator's highest annual award.
"I am so proud of our people for their ground-breaking work in sharing emergency space situational awareness information to encourage the responsible use of space. The members of our team are highly trained professionals and when tasked with building this program from the ground up, they followed through with great success," said Maj. Gen. Susan Desjardins, director of Policy and Plans, U.S. Strategic Command.
In 2009, the joint team from NOAA's National Environmental Satellite, Data, and Information Service and the members of United States Strategic Command began work to develop and implement policies and procedures to provide collision avoidance data to NOAA's European satellite partner using the website,
www.space-track.org
.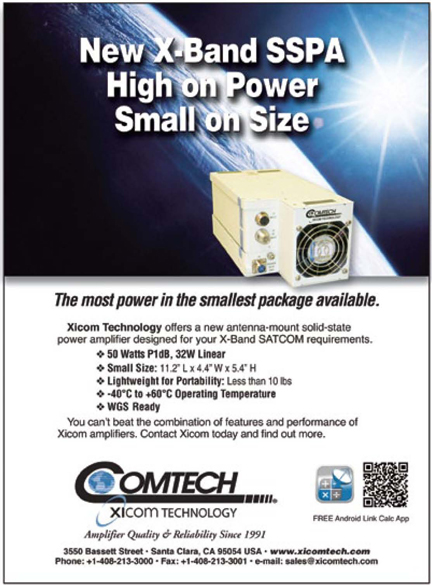 This website is the command's method for distributing space situational awareness information directly from JFCC SPACE's Joint Space Operations Center. Through the website, a user can login and gain information about the United States satellite catalog and reentry predictions, among other information.
The Joint Space Operations Center also issues collision warning information directly to satellite owners and operators in emergency situations. If a warning message is received, an owner/operator has the ability to request more detailed information, called Conjunction Summary Messages, said Capt. Erin Dunagan.
With these messages, users can accurately assess the risk and decide whether or not to perform a satellite maneuver in order to avoid a costly collision.
U.S. Strategic Command is a global command charged with conducting space situational awareness operations to ensure the safety and viability of space assets, including detecting, tracking, and cataloging space debris.
Members of the command's JFCC SPACE work around the clock, employing ground-based radars and optical sensors to track over 22,000 space objects, some as small as 10 centimeters in diameter. JFCC SPACE provides emergency warnings to all entities and has Space Situational Awareness agreements with 28 commercial companies to share advanced information and protect space assets.
According to NASA's Orbital Debris program office, there has been a 40 percent increase in the number of collision warnings since 2006.
Through USSTRATCOM's space situational awareness mission, we analyze potential close approaches for approximately 1,100 active satellites. Together, we are able to minimize risk to vital satellites, which ultimately assists NOAA in delivering up-to-date weather information to countless users," Desjardins said.
Since the establishment of the new data sharing policies and procedures, NOAA's partner receives an average of one collision warning message per week from the Joint Space Operations Center for its geostationary and polar-orbiting weather satellites. The agencies work closely together from initial warning until the time of the debris' closest approach. In April, the organization was able to maneuver a satellite and avoid a major collision based on warnings received.
* * * * * * * * *
Needed: Input from U.S. Army's Space Soldiers
Accompanying Pflieger was Command Sgt. Maj. Gerald Williams, 9th Signal Command (Army), U.S. Army Network Enterprise Technology Command, and Sgt. Maj. Nathanial Hatchett from the 15th Regimental Signal Brigade, Fort Gordon, Georgia. The visit, sponsored by the 1st Space Brigade, covered briefs and tours of the command's Directorate of Training and Doctrine and the 1st Space Brigade. The highlight of the visit came on Tuesday with a luncheon and meeting with Soldiers at the Peterson Club.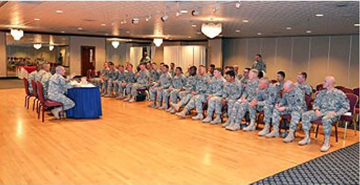 Pflieger has been on the job only 90 days, and is already making changes. "We are taking the Signal Corps in a different direction," he said. "When you look across at what the Army asks the Signal Corps to do right now, based on our strength, the way our equipment is laid out, and the way we are designed we can only support 34 percent of that requirement — in anybody's eyes that is a non-starter."
The answer, according to Pflieger, is micro-cyber, "Basically this is a re-look as to how we want to train, procure and use equipment. You have got to give us some feedback. We don't want to change the Signal Corps in a vacuum. We need ideas from you guys out there in the field."
Williams addressed the Soldiers by adding, "You, as Soldiers (signaliers), represent every member of your regiment and you need to be the best damn Soldier that they have ever seen. I challenge each and every one of you not to 'drag your duffle bag' as you go through the required series of training and certifications in your field.
"The things you do in space impacts the freedoms that we share each and every day as American citizens.
"Our Army is downsizing — you all know that. But I will tell you your mission here in Army Space and Missile Defense Command is increasing tremendously. So never take light of what you bring to the table as an individual.
"Nothing that they do here in SMDC/ARSTRAT can be successful if they cannot connect to the network. They can talk about us, but they cannot talk without us. And you guys are the backbone to allow the mission of SMDC/ARSTRAT to be successful."
After the group departed on Wednesday Command Sgt. Maj. Marcus Campbell, 53rd Signal Battalion, reflected on the visit — "The Soldiers of this command are charged with an awesome responsibility."
"It was good to see the senior enlisted leadership of the Space and Missile Defense Command and the Signal Corps work together to enhance our ability to train the Soldiers of the 1st Space Brigade."
Story by D.J. Montoya, 1st Space Brigade
* * * * * * * * *
Chipper CHIRP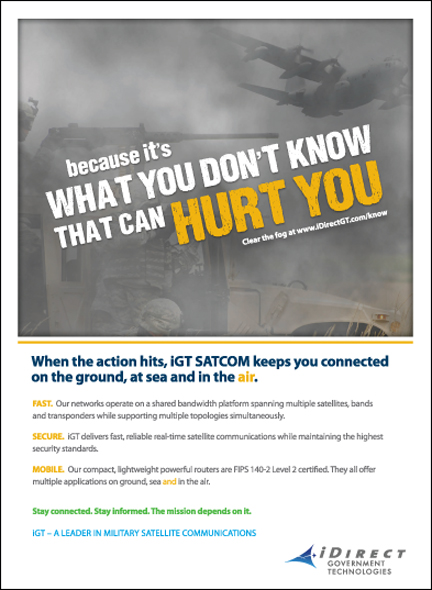 The in-orbit testing has been completed...The U.S. Air Force has successfully completed initial on-orbit testing for the Commercially Hosted Infrared Payload. Initial on-orbit testing included the actions necessary to initialize the CHIRP payload and complete functional check out. The payload is performing nominally and providing valuable on-orbit performance data to guide development of future wide field-of-view infrared sensors and associated technology.
CHIRP is a technology maturation and risk reduction experiment to collect real-world wide field-of-view infrared data, investigate spacecraft-sensor interactions and sensor behavior in the space environment, explore operational issues relevant to these sensors, and evaluate long-term suitability of commercially hosted payloads. CHIRP technology provides continuous coverage within the field of view and allows for increased performance with a simplified design. Completing the initial on-orbit testing is the first step towards comparing the pre-launch predicted performance with actual on-orbit data. The 9.5 month demonstration period will collect data from a wide range of targets against a variety of backgrounds and seasonal conditions to gain real-world experience.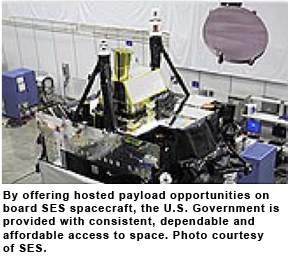 "This is an important first step for the Air Force," says Col. Scott Beidleman, Space and Missile Systems Center's Development Planning Director. "Now that the payload completed functional check out, the next step is calibration followed by execution of planned experiments. Analysis results will provide actionable information for acquisition decision makers. Also, given the path-finding nature of CHIRP, the Development Planning Directorate is gathering invaluable lessons learned on these technologies and commercial hosting."
* * * * * * * * *
DIRECTV Approach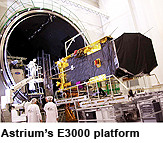 Astrium
has been selected by DIRECTV to design and manufacture DIRECTV 15, a new high-power telecommunications satellite to provide back-up capacity and fleet expansion for television services to U.S. customers in homes and businesses.
Based on ASTRIUM's highly reliable Eurostar E3000 platform, the new satellite, DIRECTV 15, will have a payload comprising 30 high power transponders in Ku-band, 24 transponders in Ka-band, 18 transponders in Reverse Band, and will be able to operate from up to five orbital locations from 99 degrees West to 119 degrees West, covering Continental U.S. (CONUS), Alaska, Hawaii and Puerto Rico. DIRECTV 15 is scheduled for launch in 2014. The spacecraft will have a launch mass of 6,300 kg, an electrical power of 16 kW and is designed to deliver more than 15 years of in-orbit operations.
* * * * * * * * *
Supplying A COTS Solution
One rarely thinks about the assets the U.S. Navy has tied up in non-combatant vessels...
Stratos Government Services Inc. (SGSI) and Segovia, Inc., wholly owned subsidiaries of Inmarsat plc, have been awarded an Indefinite Delivery/Indefinite Quantity contract by the Defense Information Technology Contracting Organization (DITCO) for the U.S. Navy Military Sealift Command's (MSC) Next Generation Wideband (NGW) commercial satellite communications (COMSATCOM) infrastructure and service.
MSC operates approximately 110 noncombatant civilian-crewed ships that replenish U.S. Navy ships, conduct specialized missions, strategically preposition combat cargo at sea around the world, and move military cargo and supplies used by deployed U.S. forces and coalition partners.
The contract, with a $315 million ceiling price, replaces the MSC's Afloat Bandwidth Efficient Satellite Transport (BEST) COMSATCOM infrastructure. The eight-year period of performance includes a four-year base period plus four, one-year option periods. Performance will be at strategic locations worldwide.
To meet the requirements of the MSC contract, SGSI and Segovia joined forces to develop a solution that supports a Commercial-Off-The-Shelf (COTS)-based NGW system. SGSI and Segovia services create an end-to-end IP communications pathway linking globally deployed MSC ships and assets. The pathway includes space-segment services, satellite infrastructure, shipboard terminal hardware, supporting software, and a terrestrial-backhaul infrastructure for redundant global connectivity. The SGSI/Segovia solution also includes worldwide installation and sustainment services for the MSC fleet.
"This award demonstrates the ability of SGSI and Segovia to effectively combine their considerable strengths to meet the complex communications requirements of one of the U.S. Government's most important organizations," said SGSI President and CEO Bob Roe.
"This network will improve the capabilities of MSC to support our troops by delivering supplies and conducting specialized missions across the world's oceans."
Segovia President and CEO Michael Wheeler added, "By leveraging the capabilities of both SGSI and Segovia, this solution ensures MSC will use the most advanced maritime-communications technology, supported by a global network of experts to manage deployment and provide ongoing support."
U.S. Navy Military Sealift Command infosite
* * * * * * * * *
Air Intelligence
Hughes Network Systems, LLC has been awarded a contract to provide satellite communications for an airborne solution to be used by a U.S. government agency for in-flight intelligence, surveillance, and reconnaissance (ISR), including air segment, ground segment, and network management services.
"We are pleased to have the opportunity to provide airborne intelligence, surveillance, and reconnaissance for the U.S. government," said Rick Lober, vice president and general manager of Hughes Defense and Intelligence Systems Division. "Our HX System is ideal for airborne systems as it has the capability to transfer video, audio, and data in real-time. The HX System offers the most bandwidth efficient airborne solutions in the marketplace, providing our ISR customers significant savings in their operational requirements."
The Hughes airborne solution employs the advanced HX System, including the HX satellite Gateway, HX 200 satellite router and Expert Network Management System (ExpertNMS). ExpertNMS provides superior usability, featuring a highly intuitive and interactive interface with advanced diagnostics and network monitoring capabilities to optimize performance.
* * * * * * * * *
Airborne Advantage
Gilat Satellite Networks' Wavestream.® has introduced the AeroStream™ family of airborne-qualified, solid-state transceivers for integration into military and commercial airborne and unmanned satellite communication systems.
Included are compact Ku-band transceivers in 25W and 40W transmit output and full Ku-band receive options for pressurized and non-pressurized airborne environments.
AeroStream products are designed to meet the requirements of RTCA/DO-160G, Boeing, Airbus, and ARINC specifications for commercial aircraft, and MIL-STD requirements for military aircraft. Based on Wavestream's patented Spatial Power Advantage™ technology, AeroStream provides high output power with greater efficiency and reliability, all in more compact, lighter product package designs suitable for the extreme airborne environment.
The new AeroStream 25W and 40W Ku-band transceivers offer the necessary interfaces to work seamlessly with leading modems and Antenna Control Units, providing system integrators with a convenient turnkey solution. AeroStream Ku-band products are available for integration into airborne SATCOM antenna systems based on customer-defined application requirements and specifications. Ka-band support is planned for early 2012.
* * * * * * * * *
Flyaway Connections
New orders for the Company's antenna products have been flying in, and they're going to show off the reason why at an upcoming trade show...
C-COM Satellite Systems Inc. (TSXV: CMI) has recently received $2,000,000 worth of new orders for its iNetVu
®
mobile antenna products from Russia, Europe and the Middle East. The orders from Russia are in addition to the $1.5 million worth of orders announced in August. The iNetVu
®
mobile antennas will be used for emergency and disaster management as well as for security.
These new orders include the recently announced rapid deployable new generation advanced technology Airline Checkable and the Flyaway iNetVu
®
antenna systems. The majority of the revenue from these orders is expected to be booked in the 4th quarter of this fiscal year. C-COM is also now reporting the completion of delivery of the final balance of $1,070,000 worth of iNetVu
®
mobile antennas to one of its Asian resellers. This contract (worth $2.3 million) was announced last fiscal year, but due to customer requested delays, the order could not be finalized until now.
* * * * * * * * *
A Blue Force
Comtech Telecommunications Corp. (Nasdaq:CMTL) announced that its Maryland-based subsidiary, Comtech Mobile Datacom Corporation, received additional funding of $11.7 million and $0.5 million to support the U.S. Army's Blue Force Tracking ("BFT-1") Program and Movement Tracking System ("MTS") Program, respectively. Total orders received to-date under the $384.0 million BFT-1 contract are $357.8 million.
All of these orders, together with these related order funding increases, have now been finalized and provide for the continued supply of satellite bandwidth, satellite network operations, engineering services, program management and related professional support services to the U.S. Army for the MTS and BFT-1 Programs through December 31, 2011 and March 31, 2012, respectively.
The Company also announced that it continues to have ongoing discussions with the U.S. Army related to a potential multi-year sustainment contract to support the BFT-1 and MTS Programs. Fred Kornberg, President and Chief Executive Officer of Comtech Telecommunications Corp., said, "We are pleased to receive this additional funding to provide delivery of MTS and BFT-1 services by Comtech to the U.S. Army."
* * * * * * * * *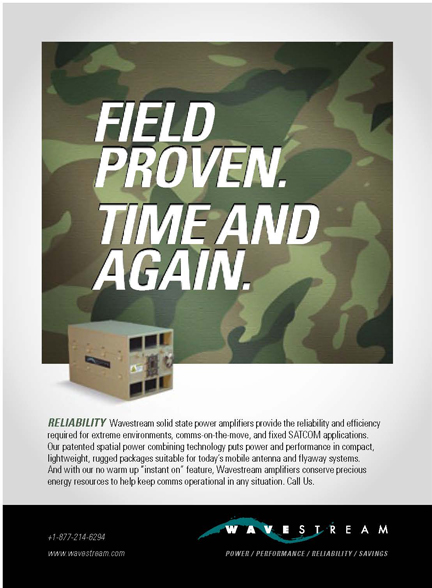 X Marks The Spot
Government users will now be able to acquire X-band capacity in a far easier manner.
XTAR, LLC, the first U.S. commercial provider of services in the X-band frequency, announced that the company has been awarded a Future COMSATCOM Services Acquisition (FCSA) Schedule-70 Special Identification Number (SIN) for transponded services. The award gives XTAR's government users an additional option for acquiring commercially-available, high-speed X-band capacity. It also reinforces XTAR's ability to serve the government's varied mission requirements for both bandwidth-only and value-added solutions through its relationships with resellers.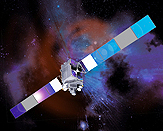 The DISA/GSA FCSA transponder services SIN pertains to leasing short- and long-term satellite bandwidth. XTAR's SIN award covers a period of five years, with two five-year renewal options. The U.S. government has awarded several task orders for X-band to support the warfighter and anticipates the number and frequency of such task orders to increase under FCSA as demand for space segment increases. This demand is driven by applications requiring greater bandwidth, including Airborne Intelligence, Surveillance and Reconnaissance (AISR).
XTAR-EUR, located at 29 degrees East, entered service in April 2005. It carries 12, 100W wideband X-band transponders in both right- and left-hand circular polarization. This extremely flexible payload makes it ideal for X-band services from Eastern Brazil and the Atlantic Ocean, across Europe, Africa, the Middle East, and South East Asia. The satellite covers a large geographic area with its two global beams, one fixed and four steerable beams that can be repointed within the satellite's coverage area. This flexibility, combined with coverage of Africa and North- and South America by XTAR's second payload, XTAR-LANT, adds tremendous capabilities for government and military users across most of the globe.
As the first commercial provider of services in the X-band frequency, XTAR is exclusively dedicated to serving the long-haul communications needs of U.S. and Allied military and government organizations. Its two owned and operated payloads provide 4 GB of X-band capacity from Denver east to Singapore. XTAR is committed to the success of all its customers based on providing a highly responsive commercial and operational experience designed to meet or exceed the unique mission requirements of governments around the world.
* * * * * * * * *
Falcon III® Takes Troops To The Tactical Edge
Harris Corporation has introduced the Falcon III® AN/PRC-152A, the first and only NSA Type-1 certified handheld radio to with the capability to send and receive voice, video, images and data—in the hands of the dismounted warfighter.
The introduction of the AN/PRC-152A will transform tactical communications through the expanded use of network-enabled missions in areas such as mission planning, intelligence gathering, force protection and checkpoint security. Harris began deliveries of the AN/PRC-152A after receiving Type-1 certification from the National Security Agency. The radio is the next generation of the widely deployed AN/PRC-152(C) handheld and addresses wideband communication requirements of teams operating at the tactical edge of the battlefield. The Falcon III wideband handheld serves as an interoperable companion to the Harris AN/PRC-117G multiband wideband manpack radio. The AN/PRC-152A allows the U.S. Department of Defense to extend tactical networking across the entire battlefield and offers warfighters the broadest set of capabilities in a handheld radio. In addition to wideband networking, initially provided by the Harris Adaptive Networking Wideband Waveform (ANW2), the AN/PRC-152A operates SINCGARS, VHF/UHF Line-of-Sight (VULOS), HaveQuick, IW for tactical satellite communications and other combat net radio waveforms. This makes the AN/PRC-152A the only wideband networking handheld radio that is also fully interoperable with deployed DoD radios. Consistent with its investments under the JTRS Enterprise Business Model, Harris is in the process of adding the JTRS Soldier Radio Waveform (SRW) to the AN/PRC-152A. Developed by the Joint Tactical Radio System program, SRW is a key building block in the DoD's plans for a fully networked force.
* * * * * * * * *
Support For Prowlers
The U.S. Navy has awarded ORBIT Communication Systems, Inc. (USA), a subsidiary of Orbit Technologies Ltd. (TASE: ORBI), a maintenance contract for Communication Management Systems (CMS) purchased from ORBIT between 2003 and 2010. ORBIT's fully digital Audio Intercommunication System (AIS) modules have been installed on the Navy's EA-6B Prowler electronic warfare aircraft since 2003. The maintenance contract covers repair and support of AIS equipment until the end of 2012.
ORBIT's Audio Intercommunication System (AIS) is a highly secure communication management system, integrating the routing and distribution of audio and data between the crew members and the recording systems. Supporting up to six users, eight radios, eight receivers, eight warnings and 16 discrete lines, the AIS is a modular COTS system, specifically designed to meet the requirements of applications in helicopters and mid-size crew aircraft, such as VIP, transportation, and medical evacuation.
ORBIT's Communication Management Systems (CMS) portfolio features flexible and robust systems used to manage the complex voice, video and data communication on board mobile platforms (airborne, seaborne and ground applications). These systems include a digital switch that seamlessly integrates the routing and distribution of inbound and outbound communication on board the mobile platform, as well as an intercom that can be used among crew members, maintenance personnel and technicians.