Private 5G networks promise to transform the DoD
Mention the term "5G network" and, for most people, what comes to mind is the latest generation of cell phone technology that wireless providers are introducing as they gradually add new equipment and antennas.
---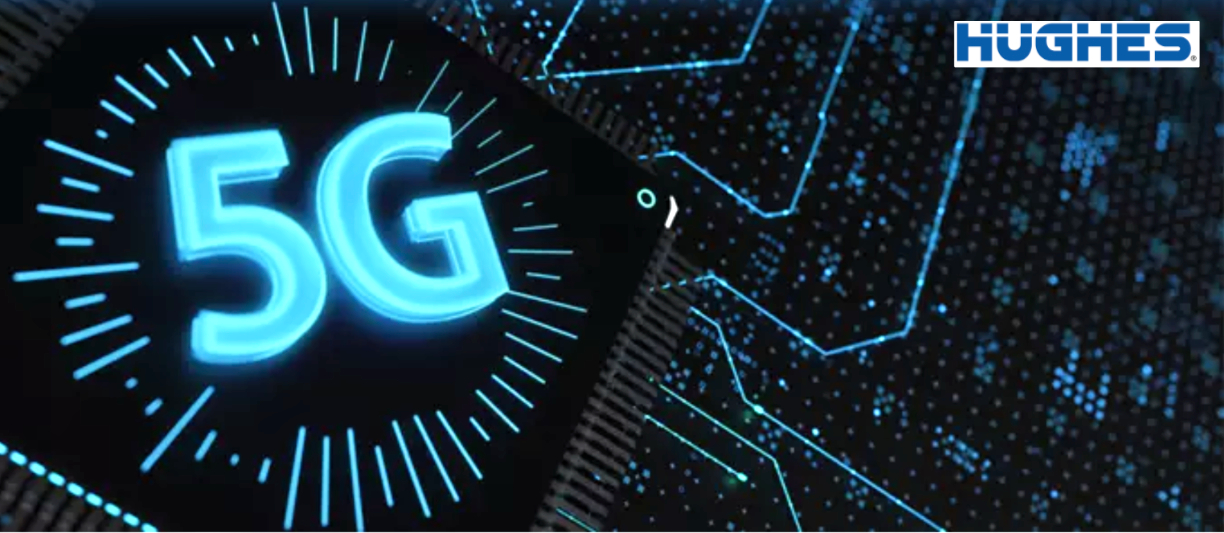 ---
However, that same 5G technology that supports public cell networks can be adapted for private applications and these private 5G networks promise to transform how the U.S. Department of Defense (DoD) manages its military installations, maintains its equipment, deploys its troops, and defends the country.
The main advantage of 5G over earlier generations of wireless technology is that it provides more bandwidth at higher speeds, lower latency and includes an edge cloud. 5G can thus support next generation applications, such as augmented reality and virtual reality, for a larger number of devices than has ever before been possible. It's like having robust, faster and more powerful Wi-Fi everywhere.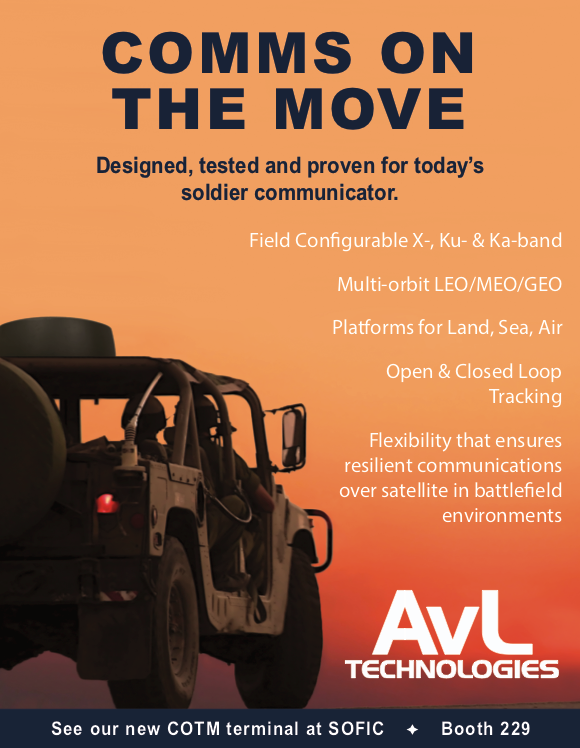 Under a new 5G initiative, the DoD and commercial companies have been testing private 5G networks at several military installations. These highly secure, private networks can eventually be deployed on the battlefield, aboard ships and at military installations anywhere in the world. The testing done to date of these standalone 5G networks has been positive. But as the DoD starts to move beyond testing, military planners would be wise to keep three essential considerations in mind.
First, using consumer-grade 5G network equipment for such routine commercial operations will not provide the level of quality of service (QoS) or network assurance that may be required. The equipment needs to be designed specifically for standalone 5G network operations and configured for specific QoS objectives.
Second, the local military 5G networks need to be connected to the wider world to meet connectivity needs. The only way to do this from a Pacific-island, a ship or a remote tactical location is via satellite — both geostationary (GEO) and Low Earth Orbit (LEO). A space component must be part of any 5G planning for worldwide connectivity as well as network resiliency.
Finally, it should be noted that the public 5G networks, such as those designed by commercial incumbents, require large operations centers and staff to operate. Standalone 5G networks also must have management and security with significant automation for efficient operations. Even for just 100 people, a managed network is vital and can be cost effective with automated operations.
The advantages of 5G for defense applications are many — employing the new 5G radio (5G NR) access network and a 5G network core, these 5G networks are software-based and independent of existing 4G LTE standards — and, therefore, "standalone" from older technologies (vs. "non-standalone" 5G networks that incorporate a 4G LTE RAN and network core).
Not only are these standalone 5G networks secure, portable and easy to set up, they can link multiple types of devices from a wide range of manufacturers at the same time over several low, mid and high spectrum bands. Using GEO and LEO satellites, a standalone 5G network can be connected to other ships, aircraft, or distant ground stations, with a private cloud supporting tasks and applications ranging from morale/welfare/recreation to the mission critical.
Test demonstrations over the past year have shown the DoD how these networks can be used in a number of military operations. The military services are continuing these tests, working out ways wherein 5G networks can be deployed for activities ranging from "smart" warehouse management, flightline operations at military bases leading toward distributed command and control for multi-domain operations.
At Hughes, the company is involved in one such project at the Whidbey Island Naval Air Station in Washington state that will demonstrate how a standalone 5G network, with local edge cloud, can be used to support base operations, aircraft maintenance, and flight traffic management. The off-the-shelf components are sourced from U.S. companies and will fit into small, transportable racks.
---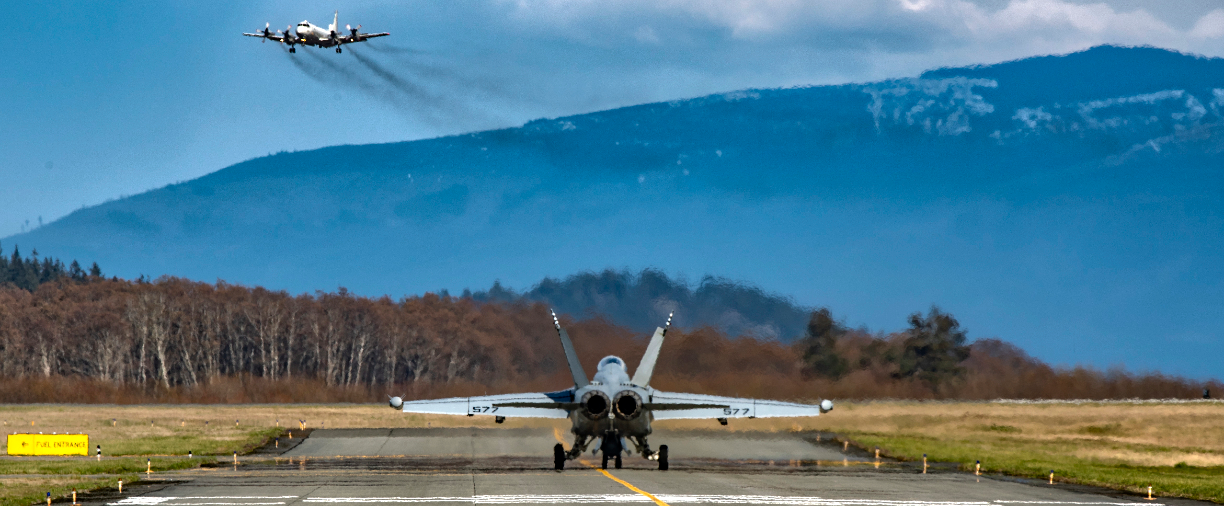 ---
The technical term used to augment these standalone enterprise 5G networks with edge cloud is "multi-access edge computing," or MEC. The components include a containerized software server that supports authenticated users and applications. A GEO/LEO link with management system can control hand-offs across wide area transports, thus augmenting the overall security and network management capability. Using Artificial / Machine Language (AI/ML) techniques across the network and edge cloud further improves efficiency and resiliency.
The impact of standalone 5G networks on defense applications is potentially game-changing, due to the high data rates and low latency of the networks. For instance, for aircraft maintenance on board a carrier or at an airfield, a mechanic looking at a jet engine can wear a pair of augmented-reality glasses that connect via 5G to display instructions of the steps to take and how to do each task. If the mechanic runs into a problem, a picture is taken that is quickly compared to thousands of pictures in a database to help diagnose the issue. Or, the mechanic can connect to a factory engineer and get instructions on solving a problem.
Other ways 5G deployments can improve base operations include 5G-connected robots that can patrol a runway collecting small bits of debris that could be sucked into jet engines, causing immeasurable damage. That is an analog job now executed by a person with a walkie-talkie driving around in a truck.
Similarly, imagine an airfield where, during a mission, airplanes land to refuel and then take-off every minute. Instead of managing the process with walkie- talkies and phones, the base can intelligently and safely automate when and where the refueling trucks should go, thanks to 5G connectivity.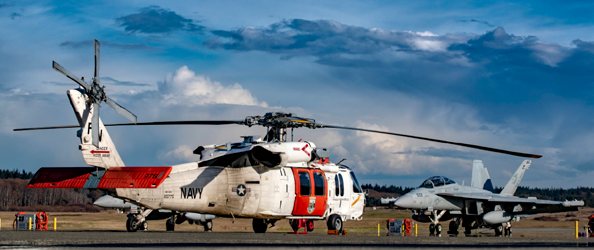 Bases aren't the only place where 5G technology can be used to support operations; the battlefield can also benefit. For example, in a recent demonstration for the U.S. Army, a leading defense contractor attached 5G antennas to a fleet of small drones that flew above a truck convoy for several miles around a test range. With a human driving the lead truck, the drones in the air controlled a convoy of autonomous trucks that followed behind.
Obviously, the security of these standalone networks must be a top priority for the DoD and its commercial suppliers. Yet, security can be a challenge when connecting devices from many different manufacturers and users, especially when using commercial, off-the-shelf components.
To shore up security and build the necessary resiliency, these networks should be purpose-built, even when making use of commercial technologies and approaches. Moreover, the networks must be designed with what is called zero-trust architecture, wherein every component on the network meets the requirements for role-based access control even when within the security perimeter.
The challenge is designing the network software in order for the components to work together seamlessly to support the wide range of devices that will be connecting to one another. For security, management data, user data and control data all run on different paths within the network. The software monitors everything and the networks self-correct to resolve most issues. In addition, the architecture must be compatible with the National Security Agency's Commercial Solutions for Classified (CSfC) standard.

These custom 5G networks will transform the nation's warfighting capabilities. And while the necessary 5G technology and commercial expertise are available today, the deployments must be designed specifically for the implementation; connect to wide area satellite networks for access and resiliency; and make use of managed network operations and automations for added assurance and operational excellence.
With the correct equipment, security, satellite connections and network management, standalone 5G technology will dramatically improve the capabilities of the U.S. military.
www.hughes.com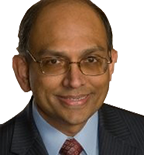 Dr. Rajeev Gopal, vice president, at Hughes Network Systems, LLC(HUGHES), leads the company's advanced engineering programs, developing innovative solutions for resilient and protected communications in defense applications. Dr. Gopal's work spans Low Earth Orbit (LEO) and Geostationary Orbit (GEO) High-Throughput Satellite (HTS) technologies, leveraging artificial intelligence (AI), machine learning (ML), cloud, and cyber security innovations.
In more than 25 years at Hughes, Dr. Gopal has held a variety of leadership roles in satellite network systems engineering and software development. Most recently, he has focused on AI/ML, software-defined networking, 5G, and enterprise management architectures. Prior to joining Hughes, Dr. Gopal led automation projects for clinical and cancer research and development at CTIS.
Dr. Gopal holds several patents and has published more than 40 technical papers. A member of the IEEE 5G World Forum, he serves on the editorial board of Wiley's International Journal of Satellite Communications and Networking (IJSCN). Dr. Gopal earned a Doctor of Philosophy Degree in Computer Science from Vanderbilt University in Nashville, Tennessee, and a Bachelor of Engineering Degree in Electrical Engineering from the Birla Institute of Technology & Science (BITS) in Pilani, India. Consumers, businesses, governments and communities around the world benefit from the connected experiences enabled by Hughes technologies and services.
---