First Year Celebration
ViaSat Inc. is marking the one-year anniversary this month of the nationwide rollout of its Exede Internet service, which uses the ViaSat-1 satellite, the most advanced and highest capacity satellite in the world.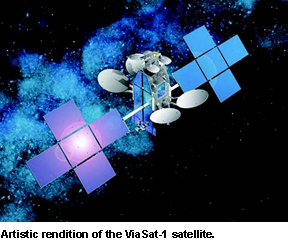 The consistently speedy performance of the Exede residential broadband service has helped ViaSat reach more than 285,000 subscribers on ViaSat-1 in its first year of operation.
The total subscriber count across all ViaSat satellites has surpassed 500,000 for the first time.
"Our results prove that driving down the cost of bandwidth can make satellite a better choice than slower terrestrial alternatives," said Mark Dankberg, chairman and CEO of ViaSat. "The market success of ViaSat-1 strengthens our commitment to delivering a series of new satellites that push the boundaries of what's possible in satellite broadband across a broad range of opportunities."
The 12Mbps baseline download speed offered by Exede Internet is eight times faster than previous generation satellite services.
While the feasibility and value of such a major technology advance was initially questioned in the industry, the Exede experience has quickly demonstrated that there is a much bigger appetite for satellite broadband in the market than most people anticipated.
Powered by ViaSat-1—now officially recognized as the World's Highest Capacity Communications Satellite with a Guinness World Records title—Exede service has moved into the mainstream of Internet options. A February 2013 FCC report showed Exede Internet outperforming all other ISPs in delivering promised speeds to subscribers, with 90 percent of Exede subscribers receiving 140 percent or better of the advertised 12 Mbps speed during peak periods.
Approximately 40 percent of new Exede subscribers are choosing the satellite service over other alternatives available to them, such as DSL, cable, and mobile wireless for fixed home use—a major shift from the previous generations of satellite Internet service, which were considered to be a "last resort" for those with no other Internet alternative.
Beyond residential Internet, the ViaSat high-capacity satellite system is poised to re-shape communication services in other industries as well:
— Faster, easier-to-use, and more cost-effective communications and video streaming for live events, such as newsgathering, concerts, and sports, as well as emergency response operations


— Improved in-flight Internet that can provide enough high-speed bandwidth for every passenger on the plane Higher-definition, higher-volume mobile video gathering and dissemination for military operations
ViaSat showcased these new services at Satellite 2013 in March, with interactive newsgathering, military ISR, and in-flight broadband demonstrations. Experts from several ViaSat business areas also participated in six conference panel sessions.
* * * * * * * * *

Comms For Rotary
Hughes Network Systems, LLC has successfully demonstrated high-throughput video and data transmission over. SATCOM links on a variety of rotary wing platforms.
Employing an advanced waveform technology developed by Hughes, the new communications-on-the-move (COTM) microsat system achieved zero packet loss on transmission and reception through the rotor blades, over both Ka and Ku-band satellite channels.
Tests were conducted on a variety of military and commercial helicopters in both static and in-flight environments that included numerous pitch, bank and roll maneuvers.
In all cases, the Hughes microsat system successfully transmitted full motion video (FMV) beyond the line-of-sight (BLoS) through the rotor blades over conventional Ku-band global beam and Ka-band global or spot beam satellites.
The system operates with a variety of commercially-available airborne antennas, facilitating integration with various government, military and commercial platforms.
The Hughes microsat rotary wing system is based on the company's advanced HX satellite broadband platform, which meets the Federal Information Processing (FIPS) 140-2, Level 2 encryption standard and employs patented and patent pending waveform technology.
* * * * * * * * *

Thwart Thought For ECM
Allen-Vanguard has released a further application for its software defined, open architecture EQUINOX Electronic Countermeasure system.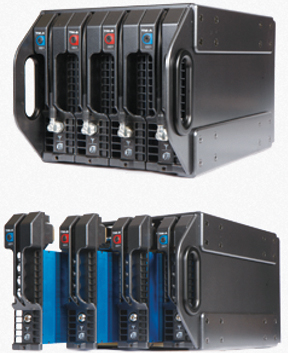 This new application will provide remote command and control of EQUINOX units from anywhere in the world. This represents a game changer in the way ECM can be used and maintained. Providing real time diagnostics and sending updated waveforms using secure communication protocols will benefit the logistics chain. Dynamically changing protective profiles will be a real boost to deployed Electronic Warfare Coordination Cells as well as headquarters which could be on the far side of the globe.
"This is a very exciting development and one that shows the true versatility of a software defined system such as EQUINOX" said Allen-Vanguard CEO, Dennis Morris. The server-based application provides users global access via a web-based interface to deployed EQUINOX assets worldwide. This marks the first known real time Machine to Machine (M2M) connectivity of Electronic Countermeasures. Users will get full situational awareness of deployed systems as well as be able to securely provision and get feedback from all their assets on the ground.
Mr. Morris continued. "Using the Short Burst Data of the Iridium network in collaboration with Track24, we are able to provide a cheap COTS communications transport layer that can seamlessly be integrated onto existing platforms to provide an immediate capability".
* * * * * * * * *

The Odyssey Shall Continue...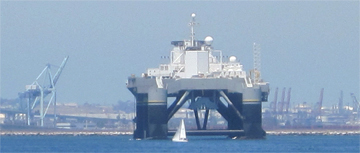 Sea Launch AG and EchoStar Satellite Services, a wholly owned subsidiary of EchoStar Corp. (NASDAQ: SATS), have announced that Sea Launch has been identified as the intended launch services provider for the launch of a satellite from the ocean-based Odyssey launch platform in 2015.
Sea Launch's Zenit-3SL vehicle is suited for launching heavyweight-class spacecraft, with multiple restart capability and heavy-lift performance.
Sea Launch's history with EchoStar dates back to 2003. Most recently it launched the EchoStar XI satellite.
Sergey Gugkaev, chief executive officer of Sea Launch, said, "Sea Launch welcomes the opportunity to support EchoStar's launch requirement in 2015." Kjell Karlsen, president of Sea Launch, added, "We are pleased to extend our relationship with EchoStar and we look forward to providing the required flexibility, performance and diversity of supply necessary to support their business plan."
"This preliminary agreement with Sea Launch provides EchoStar with the flexibility we require to accommodate our launch requirements as we undertake the expansion of our North American fleet," said Anders Johnson, president of EchoStar Satellite Services.
"We have been pleased with Sea Launch's performance on past missions and look forward to continued success."
* * * * * * * * *

A New Earth Station Equipment Marketplace...
New Era Systems is celebrating its 13th year in business and has created an initiative to foster a more robust and efficient previously-used Earth station equipment marketplace.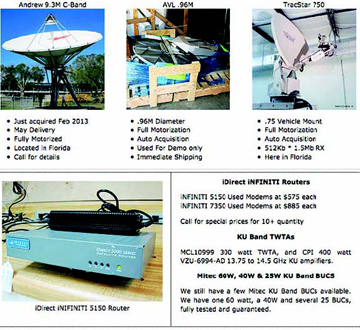 The campaign kicks off with a drawing for a free iPad.
New Era Systems estimates there are hundreds of millions of dollars worth of unused antenna and RF equipment assets in satellite Earth stations around the world that could be profitably re-employed elsewhere.
"Until now, however, there has not been a well-known industry resource for buying and selling used gear, or disposal of large antenna systems," according to Phil Thomas, President of New Era Systems. "Our goal is to raise awareness of the pre-owned equipment market place—where we can help antenna buyers save money, and also help turn surplus antennas and gear into cash."
New Era Systems is inviting World Teleport Association members and teleports, as well as Earth station owners, operators and affiliates, to register interest in creating a more robust after-market and join the discussion, with the chance to win a free iPad at http://www.newerasystems.net/ipad-registration.html.
"We will work with teleports and the industry to create a more efficient and transparent after-market for satellite equipment," Thomas added.
Robert Bell, Executive Director of the World Teleport Association (WTA), commented on the initiative... "We are delighted to welcome New Era Systems to the World Teleport Association. We look forward to adding them to the WTA marketplace, and to working with New Era Systems to educate our members on after-market equipment opportunities."
* * * * * * * * *

Hot Fire Tests
Engines fired for the military, Sandia, MELCO and others were 50 percent more in number in 2012 than in 2011, and more than 100 percent from those tested in 2010.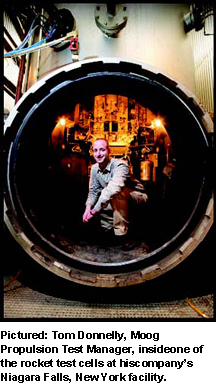 Within the past year, Moog ISP, part of Moog Inc.'s Space and Defense Group, successfully conducted more than 7,900 hot fire tests on 400 engines for at least 14 different customers.
In addition to testing engines and a variety of propellants and propulsion systems, Moog ISP manufactures liquid rocket engines, tanks and propulsion systems for satellites and launch vehicles. Moog ISP conducts hot fire tests at its Niagara Falls, New York facility which includes four vacuum-capable rocket test cells and one sea-level-capable rocket test cell.
In 2012, Moog performed hot fire tests on engines (ranging in thrust levels from approximately 250 lbf to less than 1 lbf) for commercial and military clients, including Sandia and MELCO.
"When selecting spacecraft instruments, performance and reliability are the most important criteria," said Masato Kotani, system engineer at MELCO. "We work with Moog ISP because we have always been completely satisfied with the in-orbit performance of their products."
According to Thomas Donnelly, Propulsion Test Manager for Moog ISP, the number of engines fired in 2012 was approximately 50 percent higher than the mark hit in 2011. And the total number of engines hot fire tested in 2012 exceeded the amount fired in 2010 by more than 100 percent.
"The utilization rate for our five test cells is approximately 90 percent, and we are now building a sixth vacuum-capable rocket test cell in Niagara Falls that we expect to operate by the end of 2013," said Donnelly.
Moog ISP usually assembles all of the engines and propulsion systems it tests at its Niagara Falls facility. Once an engine is tested for pressure, flow and vibration, it is then hot fired to verify performance characteristics such as thrust and chamber temperature prior to delivery to the customer.
* * * * * * * * *

An EPOCH™ Satellite Program
EPOCH is used to support more than 50 Space Systems/Loral 1300 satellites around the globe, far more than any other Command & Control system in the world.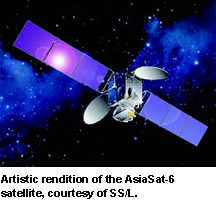 Kratos Defense & Security Solutions, Inc. has announced that its Kratos Integral Systems International (Kratos ISI) business unit has been awarded a contract by Asia Satellite Telecommunications Co. Ltd. (AsiaSat) to provide Command & Control systems for the AsiaSat 6 and AsiaSat 8 satellite programs.
AsiaSat will expand its use of Kratos ISI's industry-leading EPOCH™ Integrated Product Suite (IPS) Fleet Management System to support the AsiaSat 6 and AsiaSat 8 satellite programs.
AsiaSat 6 will have 28 high-power C-band transponders, and AsiaSat 8 will have 24 Ku-band transponders and a Ka-band beam.
The high-power transponders on the satellites will enable the use of small antennas on the ground.
The two Space Systems/Loral 1300 satellites are currently under construction and scheduled for launch in the first half of 2014.
EPOCH IPS is used to support more than 50 Space Systems/Loral 1300 satellites around the globe, far more than any other Command & Control system in the world. The contract expands the number of AsiaSat satellites managed by EPOCH IPS to seven, including satellites supplied by three different manufacturers, demonstrating the flexibility and ease of use of EPOCH IPS to manage satellite fleets no matter the configuration or size.
"We are excited to have selected Kratos ISI as the Satellite Control Facility supplier for the two new additions to our expanding fleet—AsiaSat 6 and AsiaSat 8. Following their launches in the first half of 2014, we will be able to offer the highest transponder power ever for a broad range of satellite services in the Asia Pacific. Over the past years, AsiaSat has witnessed the continuous improvement of the EPOCH IPS family products, which reinforces our confidence in ISI's commitment to excellence. We are pleased to work with Kratos ISI again and are confident that Kratos ISI will deliver the project on time to support our upcoming launches," said Fred Ho, Director, Technical Operations of AsiaSat.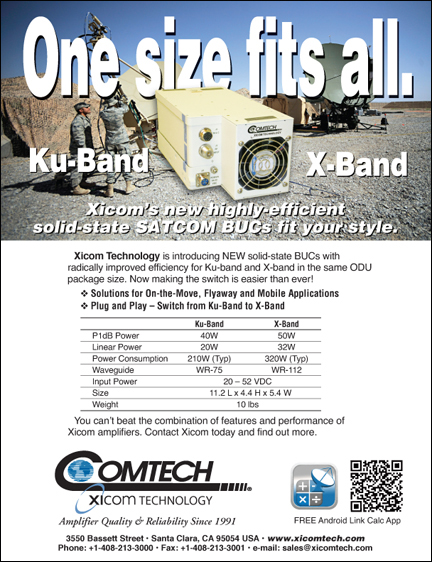 "There is no better testimony to the value of Kratos' products and the quality of our service than repeat awards from long-term customers," said James Kramer, Senior Vice President of Kratos ISI. "We are honored that AsiaSat has again selected Kratos ISI to expand their EPOCH IPS fleet management system to operate AsiaSat 6 and AsiaSat 8."
For 30 years, Kratos ISI has been a leading provider of satellite ground systems supporting approximately 300 satellite missions. Kratos ISI offers turnkey ground segments solutions encompassing Command & Control, RF/IF equipment, satellite and terrestrial communications signal monitoring systems, equipment and network management and payload management solutions.
The company's EPOCH IPS, an all-in-one Fleet Management solution, is the most widely used Command & Control system with successful installations in five continents.
Government clients include the National Space Organization (NSPO) of Taiwan, Vietnam Posts and Telecommunications Group (VNPT), European Organization for the Exploitation of Meteorological Satellites (EUMETSAT), Secretaria de Comunicaciones y Transportes (SCT) of México, NASA, the U.S. Air Force and the National Oceanic and Atmospheric Administration (NOAA).
Commercial clients include AsiaSat, Asia Broadcast Satellite, Broadcasting Satellite System Corporation (B-SAT), Chunghwa Telecom, EchoStar, Hellas Sat, Indovision, Intelsat, KT Corporation, PT Telkom, SatMex, SES, SingTel/Optus, SKY Perfect JSAT, Thaicom, and Telesat.
* * * * * * * * *

Contract For Interference...
Kratos Defense & Security Solutions, Inc. announced that its SAT Corporation (SAT) subsidiary has also received a multi-million dollar order to provide satellite interference detection and quality of service monitoring.
The contract includes SAT's satellite monitoring product, Monics®, an enterprise networked advanced spectrum measurement and interference analysis system used by the majority of satellite operators and telecommunications providers around the world. As a complete carrier monitoring system, Monics also provides advanced interference detection and analysis capabilities.
The Monics implementation will combine hardware and software components to provide monitoring for satellite uplink and downlink performance. Monics' native scalability and flexibility enable a fully distributed, autonomous system for monitoring payload traffic and RF interference, including co-channel interference.
This will be the first satellite operator to implement both Monics and SAT's new Monics Enterprise Manager (MEM). MEM will provide greatly enhanced visibility into the customer's satellite payload performance along with centralized control over their monitoring assets. MEM adds an improved user interface that includes custom displays for alarm and data management as well as enhanced system administration.
* * * * * * * * *

First Sergeants Find Value In Air Guard's Warrior Network
When Chief Master Sgt. Michael Kennedy wanted to communicate to more than 800 first sergeants across the Air National Guard as their functional manager this week he turned to the I.G. Brown Training and Education Center.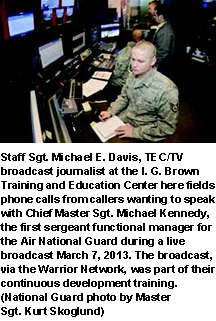 The center told him, no problem.
Its Media Engagement Division and "Warrior Network" were broadcast by Kennedy live from an anchor desk, in high definition. They set him up in a state-of-the-art video broadcast, while at the same time fielded questions to him via email, text and phone.
Subject matter experts and top Total Force leaders were also connected live via high definition video teletraining systems, or telephonically, creating a virtual conference that was pushed out to all of the Air Guard's first sergeants.
If that's not enough the broadcast went out via satellite to the entire Air Guard, nationwide, through base cable networks and directly to some airmen's desktop computers.
Maybe best of all, it cost Kennedy's department little more than a plane ticket and a hotel stay for one.
"I think we are capturing all the facets here at this jewel and really making it sparkle today," said Kennedy. "It's very cool, and I'm pretty excited about it."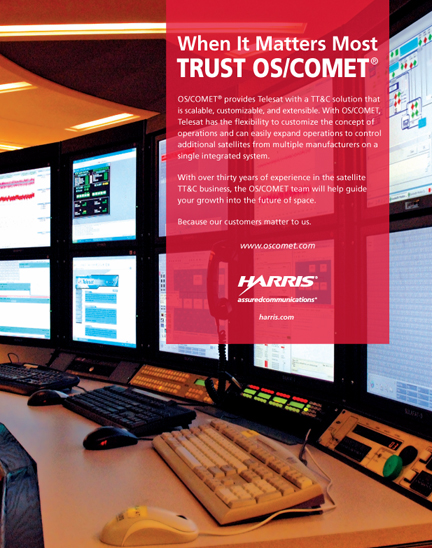 The Warrior Network and its dedicated satellite television system beams out to all of the Air Guard's sites, for a total of 186 downlinks, for the purpose of delivering news, command information and professional training, among other creative uses.
Managers of the advanced television studio network said the recent fiscal constraints are proving the value of having a combined physical and virtual campus with conferencing capabilities.
It's a center of learning that has grown toward its golden age for decades.
"I think the Warrior Network is at the start of a level of usage that has not been seen," said Maj. Gabe Johnson, division chief. "It's cost effective … really the only travel is for you to come to TEC, your audience doesn't have to go anywhere, and that's a huge benefit."
As the physical school house and satellite campus for the Air Guard's enlisted academies, members at the Center are working hard to serve the field with innovation and technology to "be the all-encompassing place for knowledge, comprehension and application levels of learning," said Johnson.
Having been a participant in the Center's satellite Noncommissioned Officer Academy back in the '90s, Kennedy said he knew right away the Air Guard was "bringing a very unique perspective to professional training."
"Working with the crew here and what they bring to the fight every day, it's just quality, bar none," said Kennedy.
The award-winning media team consists of Air Guard and Air Force active duty Airmen on special assignment, as well as civilian studio engineers and technicians.
Every duty day, the studio broadcasts its signature "Minuteman Report"—a news story from the field—to the National Guard as well as to the Department of Defense's Pentagon Channel and American Forces Network, reaching millions of viewers around the world.
The studio is preparing to deliver the next Airman Leadership School via satellite to sites all across the nation on Monday. The Air Guard's Senior Leadership Conference was broadcast live through the studio, and Chief Master Sgt. James W. Hotaling, command chief of the Air Guard, recently recorded and broadcast his introductory message to the field here.
Johnson said the Center and its Warrior Network see endless opportunities for innovative communications for all of the service components and Departments.
"At the very basic level we are willing to work with customers to put out computer-based training or a recorded video, all the way up to producing interactive broadcasts and hosting campus workshops and classrooms with live coverage," said Johnson.
"This is our third time using the Warrior Network," said Kennedy. "It's a low-cost, high impact way to reach 100 percent of our Wings."
Kennedy said he once brought a cadre of instructors here, even the Air Guard's command chief, who was scheduled to broadcast with him that afternoon.
"I can hold a Total Force broadcast here with just a few phone calls and speak to the entire Air Force, worldwide," said Kennedy. "To me, that's just an awesome venue to take advantage of."
Story by Master Sgt. Michael Smith, Air National Guard Training, U.S.A.F.
* * * * * * * * *

Sicilian Blockade
Italy is blocking completion of a controversial U.S. military satellite station in Sicily pending the results of a health and environmental study.
The satellite system, approved by the Italian Defense Ministry in 2006 for construction near the U.S. naval base at Sigonella, has been for months the catalyst for protests by Italians amid concerns about exposure to radiation.
Italian officials signed an order staying further progress at the satellite station, which is going up in the Sicilian town of Niscemi, and ordered an impact study of the antenna system. Protesters have blocked access to the base, reportedly cut holes in security fences and clashed with police.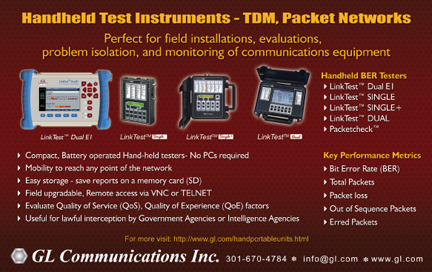 Italy's prime minister wrote in a statement that final satellite antennae installation would be blocked until completion of the independent study. Prime Minister Mario Monti's statement said the government's action was in response to "concerns of local people about the impact on the environment and human health as a result of ongoing work to modernize and expand the facilities."
The satellite station, located about 45 minutes from the Navy base at Sigonella, will host part of the global communications network called Mobile User Objective System, or MUOS.
The network eventually will comprise five satellites that will be able to communicate with antenna systems placed on bases around the world.
In addition to the site in Italy, there are sites in the U.S. and Australia.
The first satellite was launched from Cape Canaveral, Florida, in February 2012. MUOS-2 is expected to be launched in July. The five-satellite global constellation is expected to be fully operational in 2015, extending UHF narrowband communications to all of the U.S. armed forces past 2025, according to Steven A. Davis, spokesman for the SPAWAR.
"Born from the need for stable, 24/7 ship-to-shore communication that could be successful, regardless of environmental and geographical conditions, the Navy is assigned the responsibility to provide this crucial capability known today as narrowband satellite communication," Davis said.
Other stateside locations include Hawaii and Virginia.
Two health studies were conducted by technicians at the sites in Wahiawa, Hawaii, and Chesapeake, Virginia. They measured levels of the electromagnetic radiation and results showed levels were below applicable permissible exposure limits, or PELs, established by U.S. standards, Davis said. Summaries of the studies have been translated into Italian and posted on the U.S. Consulate's website.
The MUOS antenna will not interfere with any of the 2,409 local or remote communications systems within a 75-kilometer (nearly 50-mile) radius, he said.
Story by Sandra Jontz, Stars and Stripes
* * * * * * * * *

New Network For Afghan-Bound Unit
When they deploy to Afghanistan this summer to assist in the drawdown of U.S. forces, the Soldiers of the 4th Brigade Combat Team, 10th Mountain Division, will have a new edge.
The unit will be the first to use an on-the-move communications network that stays connected over vast distances, providing information throughout the brigade down to the lowest echelons.
That capability will be critical as U.S. troops work closely with the Afghan forces, take down fixed infrastructure and become increasingly mobile and dispersed in their operations, leaders said.
"This is much needed in Afghanistan," said Brig. Gen. Walter E. Piatt, deputy commanding general for support, 10th Mountain Division (Light Infantry).
Like their counterparts in the 4th Brigade Combat Team, or BCT, the Division's 3rd BCT will also be deploying as a Security Forces Advise and Assist Team, or SFAAT, with the new network later this year.
"Imagine you're a Soldier and you need information on a given area, or you want to see where units are located to your left and right," Piatt said. "You don't want to have to come back to headquarters; you don't want to have to force a transmission over a radio net just to get that. You want to have that information readily available. (This network) allows us to do that on the move, and
allows us to do it dismounted as well."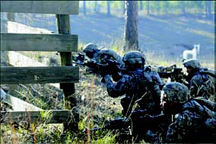 Known as Capability Set 13, or CS 13, the package will allow the 10th Mountain units to use advanced satellite-based systems—augmented by data radios, handheld devices and the latest mission command software—to transmit voice/chat communications and situational awareness data throughout the SFAAT.
On patrol inside mine-resistant, ambush-protected vehicles configured with components of CS 13, leaders will be able to exchange information and execute mission command using mobile communications technologies, rather than having to remain in a fixed location to access the network.
The Army targeted the two brigades as the first to receive CS 13 capability because they require advanced communications to carry out their advise-and-assist mission in Operation Enduring Freedom. While the Afghan forces will be taking a lead in operations, the SFAAT units will have the network capabilities to support with situational awareness and needs such as calls for air support, artillery support and other reach-back communications.
After several months of new equipment training to familiarize Soldiers with CS 13, the 4th BCT is now immersed in intensive final preparations for deployment.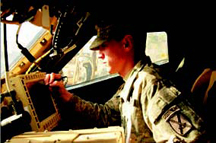 The prep includes a several weeks-long Joint Readiness Training Center rotation where they will use the gear in realistic operational scenarios based on the SFAAT mission.
The 10th Mountain brigades are also receiving lessons-learned and recommended tactics, techniques and procedures, known as TTPs, for using the equipment that were developed during the Army's Network Integration Evaluation, or NIE, process.
The semi-annual field exercises involve 3,800 Soldiers of the 2nd Brigade, 1st Armored Division, who use networked equipment as they execute mission threads in the rough terrain of White Sands Missile Range, New Mexico. The NIEs were used to integrate the CS 13 network and validate its performance prior to fielding. They also produced voluminous Soldier feedback that was incorporated into vehicle designs, handheld device configurations, software features and other elements of the capability set.
Capt. Joseph Perry, a company commander with 2/1 AD who has participated in several NIEs, said he looks forward to seeing how the SFAAT teams will ultimately use the network in theater.
"I'm really curious to see what their feedback is," he said. "I'd like to see the circle complete."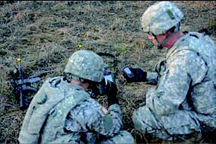 The brigades' deployment with CS 13 will be the culmination of a total Army effort to quickly field the capabilities, spanning dozens of commands and locations and requiring constant coordination among network and vehicle project managers, production facilities, brigade staffs and fielding and training professionals.
Along with the sophistication of the equipment, the fielding effort was unique because it marked the first time the Army delivered a complete package of network technologies that was integrated up front, rather than providing each system independently.
"This is the way the Army needs to conduct business for this type of fielding," said Lt. Col. Bill Venable, the Army's system of systems integration "trail boss" assigned to 4/10. "Synchronizing equipment deliveries, vehicle touches, training and other elements makes sense for communications systems that are integrated across the BCT, and helps reduce the burden on the unit operating in a time-constrained environment."
Story by Claire Heininger, U.S. Arny
* * * * * * * * *

Coast-To-Coast Training
The 35th Signal Brigade soldiers continued training to become experts in their field and masters of the fundamentals during a field training exercise from January 28 to February 1 at Fort Gordon, Georgia, Joint Base Lewis-McChord, Washington, and Fort Bragg, North Carolina.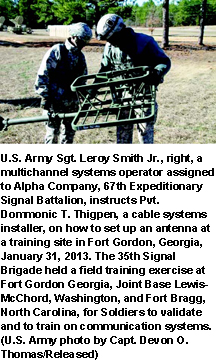 "The training gives the Brigade the opportunity to test communication systems and connectivity between battalions as the operators maintain proficiency on these systems," said Jerry W. Vanlue, the deputy S-3 for the brigade. "The training exercise also provides the leader a chance to enhance and perfect their capabilities."
The 63rd Expeditionary Signal Battalion commander, Lt. Col. Michael P. Martel, echoed Vanlue's statement.
"The exercise allows our communication teams to strengthen their skill set," said Martel. "It helps prepare our communication teams for future missions."
Capt. Ernest B. Jones, the B Company, 63rd ESB commander, ensured that his command post node teams executed battle drills and established communication systems.
His multichannel transmission and information technology operators cross-trained and took advantage of the exercise to enhance their Blue Force Tracker and FM communication systems skills.
"This training is an excellent way to firm up the fundamentals and the skill set of our soldiers," said Jones. According to Spc. Mallory A. Kaleta, a multichannel systems operator assigned to C Company, 63rd ESB, the field environment gave her the optimal time to train her new team member, Pvt. Eric Rodriguez.
"Training in the field is a pretty easy way to teach the new soldiers," said Kaleta.
Safety of brigade soldiers and equipment is paramount, and weather provided some challenges to the training units. Sgt. 1st Class Samuel P. Moore III, a unit controller during the exercise, was the go-between for the 51st ESB at Joint Base Lewis-McChord and the brigade headquarters. However, when high winds and thunderstorms affected Fort Gordon, he became a liaison between range control and the post installation operations center.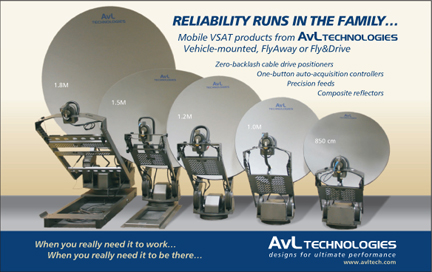 "The brigade ensured a plan was in place in case of severe weather and communicated the accountability of personnel to the IOC," said Moore.
The field environment not only allowed the brigade to execute communication skills, but also allowed maintenance Soldiers to troubleshoot any problems with vehicles and generators. Sgt. 1st Class Ronaldo C. Allen's team of air conditioning, vehicle and generator mechanics from B Company, 63rd ESB, was dispatched and on call to support training sites throughout Fort Gordon. His mechanics valued the hands-on experience.
"The field environment allows us to think outside the box," Allen said.
Brigade food service specialists received praises for serving "good hot food" during the training exercise.
"We also try to maintain morale and ensure they have a hot breakfast when they wake up and have a hot meal before they go to bed," said Staff Sgt. Laura I. Weymon, a food service specialist assigned to B Company, 63rd ESB.
Story by Capt. Devon Thomas, 35th Signal Brigade, U.S. Army
* * * * * * * * *

Bringing More Fire To The U.S. Navy
The U.S. Navy has awarded Northrop Grumman Corporation a contract valued at more than $71 million to produce six additional next-generation Fire Scout unmanned helicopters.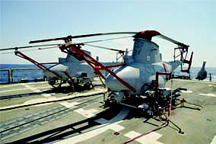 The Fire Scout endurance upgrade, designated the MQ-8C and based on Bell Helicopter's 407, will provide ship commanders with increased range, endurance and payload capacity over the current MQ-8B variant.
The Navy plans to purchase a total of 30 aircraft under a rapid development effort. Northrop Grumman is currently under contract to produce 14 Fire Scouts that are scheduled to begin deploying in 2014.
Manufacturing and assembly operations of the new Fire Scout variant are well under way across the country, with airframe modifications being made at Bell's facility in Ozark, Alabama, and final assembly being completed at Northrop Grumman's Unmanned Systems Center in Moss Point, Mississippi.