Colonel David Anhalt (U.S. Air Force, retired), joined Iridium as Vice President and General Manager of Iridium PRIMESM in 2013. He is a recognized leader in the hosted payload industry and will spearhead business development for Iridium PRIME, focusing on customer acquisition and technology partnerships.

Prior to his position at Iridium, he was the initial Vice Chairman of the Hosted Payload Alliance and is the organization's current Secretary. He served as Vice President of U.S. Government Solutions at Space Systems/Loral (SSL), where he directed a portfolio of national security space sector initiatives promoting new technology and product offerings. In addition to his vice presidential duties, Mr. Anhalt served as SSL's capture manager, chief architect, and company spokesman for its pursuit of the United States Air Force Hosted Payload Solutions Contract, which provides fully integrated space and ground communication solutions for government end users, delivering hosted payload data to them in the process.
Before SSL, he spent seven years at Orbital Sciences Corporation, where he conceived, captured and managed the Commercially Hosted Infrared Payload (CHIRP) flight test demonstration. CHIRP launched in 2011 to evaluate modern wide-field-of-view staring sensors for missile warning. The CHIRP program is the largest unsolicited proposal ever awarded by the Air Force Space and Missile Systems Center on a sole source basis.
Mr. Anhalt was especially well positioned to work with the Air Force, having served in the military branch for 28 years and graduated from its Test Pilot School. He has played key roles in a broad array of USAF research and development, test operations and program management responsibilities in both the air and space sectors.
Mr. Anhalt earned a Bachelor's of Science degree in electrical engineering from the U.S. Air Force Academy. He holds Master's degrees in Aerospace and Mechanical Sciences (Princeton University), Digital Design and Control Theory (University of Idaho) and International Relations (Queen's University, Ontario, Canada). He is an Associate Fellow in the American Institution of Aeronautics and Astronautics.
MilsatMagazine (MSM)
Colonel Anhalt, what inspired you to pursue a career in the satellite industry following your military service and what specifically drew you to Iridium Communications?

Dave Anhalt
For the past 10 years, following my career in the U.S. Air Force, I've benefited by working at two of the finest satellite manufacturing companies in the world—Orbital Sciences Corporation and Space Systems/Loral—pursuing ways of leveraging commercial space goods and services to meet U.S. government requirements, including hosting government capabilities on commercial spacecraft.
While at Orbital, we collaborated with satellite owner/operator SES and sensor payload manufacturer SAIC to integrate and fly the Commercially Hosted Infrared Payload (CHIRP) on a commercial telecommunications satellite to evaluate modern wide-field-of-view staring sensors for missile warning. CHIRP was the U.S. government's first experiment hosting a military payload on a foreign-owned commercial spacecraft.
Later, while I served at SSL, the U.S. Air Force made the bold decision to institutionalize their approach for procuring fully functioning commercial on orbit hosted payload systems, integrated ground systems, and interfaces to deliver payload data to government end users. Applying lessons learned from CHIRP's successful debut and mindful of the U.S. government's urgent need to purchase more affordable and resilient solutions for their space mission, I worked closely with SSL's partners to develop efficient, cost effective concepts for hosting payloads on commercial spacecraft to meet mission objectives for both U.S. civil government and national
security customers.
I was attracted to Iridium to spearhead Iridium PRIME, the world's first commercial payload accommodation service. My focus is on building partnerships for the Iridium PRIME enterprise and directing business development.
MSM
Would you please tell us more about Iridium PRIME?
Dave Anhalt
Iridium has a successful history with hosted payloads. The company was a founding member of the Hosted Payload Alliance in 2011 and successfully sold all of the capacity for hosting payloads on Iridium NEXT to Aireon and Harris. Building on that momentum and experience, and recognizing the growing market potential in hosted payloads, Iridium created Iridium PRIME.
Iridium PRIME is a first-of-its-kind turnkey space payload solution that allows customers to leverage the capability and cost advantages of the Iridium NEXT constellation. Iridium PRIME will be built on the foundation of Iridium's unique constellation of 66 cross-linked LEO satellite system that covers 100 percent of the globe. An additional 66 Iridium PRIME satellites can orbit in concert with the 66 operational Iridium NEXT satellites. Each polar orbiting LEO Iridium PRIME satellite will fly over every part of the planet.
MSM
What kind of opportunities does Iridium PRIME provide to MAG (Military, Aerospace and Government)?
Dave Anhalt
In the past, government payload customers have been slower to adopt new technologies and approaches, especially during budget downturns. However, they've been evaluating hosted payloads for several years now and speak positively about leveraging the highly competitive commercial satellite bus market and hosting payloads on commercial platforms.
Iridium PRIME gives MAG the opportunity to launch missions when ready—they no longer have to wait for an operator to launch a new satellite to host their mission or rush into making a decision on a payload before they're ready. MAG can now plan and launch payloads on their own timelines. Additionally, the customer doesn't have to deploy any ground system to get their data in near real-time, nor do they need a satellite operations center to maintain the satellite on orbit—all that is done by the Iridium infrastructure and operations team.
Iridium PRIME also affords customers the opportunity to launch their missions in a more cost effective way—instead of designing, building and launching a satellite on their own, their payload can hitch a ride on one of our Iridium PRIME satellites for a much more affordable price. Our initial analysis shows that payload customers can save approximately 50 percent getting their payloads to space on
Iridium PRIME.
MSM
What are the technical capabilities of the Iridium PRIME bus and what kind of applications are you envisioning for this kind of hosted payload?
Dave Anhalt
The Iridium PRIME bus can accommodate up to 215kg of payload and will offer 650 watts of power to hosted payloads. The bus is designed for continuous access to at least 1mbps of data rate with up to 17mbps available on a surge basis.
To date, we've seen strong interest from more than three dozen parties within various industries including commercial, civil and defense segments in exploring Iridium PRIME for hosting payloads. We envision payloads ranging from space situational awareness and Earth observation to advanced broadband services, asset tracking, space weather forecasting and scientific and climate monitoring applications.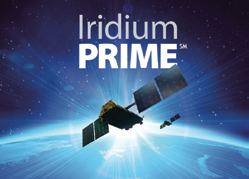 MSM
What about smallsats and CubeSats? Those are certainly gaining in popularity—how does Iridium PRIME compare to those options?
Dave Anhalt
Satellites are challenging and wildly complex systems to build and manage. If a company or agency is looking to launch its own small satellites or CubeSats, it will still need to cross many technical and regulatory barriers. Small satellites and CubeSats typically have rather short lifespans. They often don't have maneuvering capabilities. After its mission is complete, it remains in the LEO plane and runs the risk of colliding with other communications systems and creating even more debris. In many cases, it is much more sustainable to use hosted payloads instead of building and launching smallsats every few years. The Iridium PRIME platform is designed for a 12.5 year lifetime, though performance may extend beyond that, as we have seen with the Iridium Block 1 satellites
Furthermore, there is a significant investment required to build and launch these satellites—hosted payloads are often the most cost efficient option for getting a mission to space, and with Iridium PRIME, we manage all of the operations so that the customer can focus on the payload and meeting mission objectives.
MSM
What kind of impact do you think Iridium PRIME will have on the satellite industry, overall?
Dave Anhalt
Iridium PRIME is truly unprecedented, and I think it will have a great impact on the MAG and satellite industries. We've created a completely new business model within the satellite industry. With the advent of Iridium PRIME, hosted payloads are no longer secondary payloads—instead, we're able to work directly with the hosted payload clients to launch and support a satellite (or constellation of satellites) that's correct for them. Coupled with the ability to set their own timelines and "launch when ready," Iridium PRIME is making access to space easier and more affordable for the commercial, civil and defense industries.
MSM
Having served as a command officer in the U.S.A.F. (and our thanks), how has such experience assisted you in dealing with the government acquisition and contract entities that govern project procurements? What can be done to smooth this process out to prevent waste of resources, from the financial to the equipment, such as satellites?
Dave Anhalt
I am grateful for the chance to apply my experience and education learned in the military as an R&D officer, flight test engineer, and program manager. I have great respect for the intended rigor of the military's acquisition processes and the constitutional requirement to spend dollars consistent with Congressional appropriations.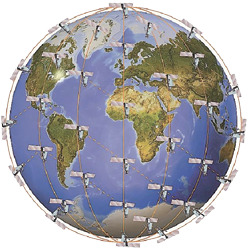 Having said that, I am awestruck by the speed at which capital is deployed in the commercial sector according to the discipline of ROI mathematics. I believe that the military advantage of the United States can be accelerated by artfully leveraging commercial services to procure capabilities that heretofore would have been acquired as materiel solutions using the painfully slow Defense Acquisition Management System.
MSM
Other areas of importance for the continued health of our industry include the support of STEM programs to ensure a rich talent pool from which to hire the professionals of the future who will be needed to drive crucially needed projects. Does Iridium support any such programs in middle and high schools as well as on college campuses?
Dave Anhalt
Iridium recognizes the importance in encouraging students in STEM programs and created the Iridium NEXT Mission Team Scholarship program along with our Iridium NEXT Mission Team partners three years ago. This program is one of the largest and most significant scholarships in the aerospace industry. The endowment is part of Iridium's vision for the future by seeking out and rewarding the most promising aerospace engineers.
This year, the fund awarded $50,000 in scholarships to students who have demonstrated high standards of academic excellence in STEM with a focus on aerospace studies to complete their college education. Iridium also runs a summer internship program and currently has three college students working in our engineering and operations departments.
MSM
What role can Iridium play in assisting MAG players, such as Air Force Space Command, to understand the importance of working with commercial entities to develop additional resources from satellite manufacturing, launches, and on orbit C2?

Dave Anhalt
I would say to my comrades at Air Force Space Command that companies in the commercial space sector thrive on innovation to grow their business. For the most part, the financing for these innovations comes from sources other than the US Government. Therefore, it should be a cost avoidance imperative for the US Government to deliberately leverage commercial capabilities that meet the government's requirements or can be modified to meet government requirements for less than buying dedicated military solutions.
In order to achieve this new balance in an architecturally sound way, I would encourage my comrades at Air Force Space Command to disaggregate their requirements so the aspects of their mission that can take advantage of the economic order quantity of commercial production lines and commercial services can be handled separately from non commercial aspects of the mission involving unique military payloads technologies.
Hosted payloads are a good example of this sort of business approach. The commercial sector already builds, operates and launches more satellites in LEO and GEO than the U.S. military. If the U.S. Government furnishes the unique military payload they can leverage the highly competitive satellite bus market and significant commercial investments already being made in space and network infrastructure. The commercial sector can provide the integrated space and ground system network services for payload command and data handling. The commercial sector can manage the interfaces that deliver payload data to the end user. Cleaving the facets of any mission into a commercial service component and mission payload component can result in savings that the Government can invest developing and maintaining the intellectual capital needed for unique government capabilities.
MSM
Iridium is a major player in the ever expanding world of MILSATCOM—what makes Iridium a "differentiator" from others in the industry?
Dave Anhalt
Speaking from a network standpoint, Iridium has many differentiators. Our network, comprised of 66 interlinked LEO satellites, is the only satellite constellation that provides truly global coverage, even in polar regions. The government has employees and soldiers located in remote regions throughout the world that rely on Iridium to provide the connectivity needed to support them everywhere. The government has recognized Iridium's strengths from the beginning and last year renewed its $400 million satellite air time contract with us, as well as the contract for support and maintenance of their dedicated secure gateway.
However, the element that really makes Iridium different is our brand of innovation. At Iridium, we strive to bring connectivity to people in unique ways and have announced a number of innovations over the past year that highlight that. This year we introduced Iridium GO!, the small portable "satellite hotspot" that creates a satellite backed Wi-Fi zone anywhere on the planet, dramatically extending voice and data coverage for smartphones and tablets when out of cellular range.
Furthermore, we've brought Iridium Burst to market, the first one-to-many global data broadcast service that enables government/military entities (as well as enterprises) to send data to an unlimited number of devices anywhere on Earth, whether inside buildings, in vehicle or in aircraft. This is especially beneficial to military organizations that need to communicate in a timely, reliable and survivable manner to manage troops and resources or to send out alert messages to ground troops in combat zones or people threatened by natural disasters.
Iridium PRIME also puts us clearly ahead of the pack. No other satellite provider has a turnkey, launch-when-ready hosted payload solution. As I outlined above, this solution will have great impact on MAG's ability to fly missions in space whenever they're ready.
MSM
Our world is becoming a far more dangerous place and, in spite of the exigent circumstances that confront our militaries, budgets are being slashed by politicians who have never served under the phrasing of "sequestration." How can Iridium assist in ensuring MILSATCOM technologies and warfighter needs remain at the forefront of project consideration, working to reduce government costs all the while ensuring a profitability factor for the company?
Dave Anhalt
Given our long history serving the U.S. Government's needs for mobile communications anywhere on the globe, warfighter needs for MILSATCOM remain at the forefront of our project consideration.
For instance, we're participating in the U.S. Army's Network Integration Evaluation (NIE), which is held twice a year to get soldier feedback on improvements to network systems and radios. We're presenting a Position Location Information (PLI)-based blue force tracking device that relies on Iridium connectivity. The device known as the Enhanced Mobile Satellite System (EMSS) Beacon manufactured by NAL Research serves as a critical communications lifeline to every soldier on the battlefield. Our longstanding relationship with the U.S. Department of Defense makes the integration of this device extremely cost effective since it takes advantage of the unlimited airtime available to DoD users under our current contract's service terms.
Overall, we're always looking for new and innovative ways to apply our global system and technologies for new and economical applications that benefit the warfighter—be it through enabling greater access, via different channels, developing new hardware like Iridium GO! or services like Iridium Burst.
MSM
With a nod to your military and commercial career, you have managed to be involved with numerous priority projects. Looking back on your career so far, what missions or programs bring a true sense of satisfaction to you?
Dave Anhalt
The missions and programs that bring into service brand new capabilities and business approaches are by far the most challenging and rewarding. The Commercially Hosted Infrared Payload (CHIRP) program validated the value proposition of hosting military sensor instruments on commercial telecommunication satellites. Launched in 2012 on an SES communication satellite manufactured at Orbital Sciences Corporation, CHIRP tested the performance of a wide field-of-view infrared sensor built by SAIC for missile launch warning.
Such programs don't happen by walking through the front door; CHIRP came about as the largest unsolicited proposal ever awarded on a firm-fixed-price basis by the Space and Missile Systems Center (SMC). CHIRP achieved all of its assigned objectives for less than 15 percent of the cost of a dedicated mission.
CHIRP's success has led to SMC procuring multiple IDIQ contracts for Hosted Payload Services. Soon SMC and the rest of the US Government can routinely use this new contract and business approach to achieve affordable and resilient solutions made possible by purposefully leveraging the strength of America's commercial space sector.
For further information regarding Iridium PRIME, please visit:
http://www.iridium.com/About/IndustryLeadership/Iridium-PRIME.aspx