As has always been the case, dependable and secure communication is the most powerful weapon on today's modern battlefield. Combat success depends on the quick and reliable transfer of information—video, audio and data communications have become essential tools for military personnel at every level.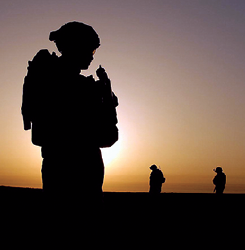 Up-to-date intelligence from the front line can make all the difference for officials tasked with making challenging operational decisions. Vislink specializes in providing end-to-end solutions via microwave radio and 3G/4G but often, with the unavailability a radio path or secure cell networks, satellite technology will hold the answer.
Voice communications once accounted for the majority of traffic across military communications networks. However, making complex and potentially lethal decisions based on audio data alone may no longer be sensible.
The capability to transmit real-time video is now with us and is one of the key elements in delivering tactical decisions. Existing infrastructure networks are no longer viable for modern defence. Military personnel are demanding high definition (HD) video footage in order to ensure they have the most relevant and up to date information required to effectively combat increasingly sophisticated and widespread threats. A picture might be worth a thousand words, but high quality real-time video is worth so much more. As a result of this demand, data traffic on military networks has grown exponentially. The immediate delivery of HD video, imagery and large data files, as well as the ability to transmit this information on the move from remote locations, is often beyond their reach.
In light of this, the availability of fast, portable and reliable communications equipment is now of paramount importance. Indeed, staying connected on the move, at the data rates required for HD video, has become a fundamental concern for the armed forces. Military operations now require communications systems that can keep pace with the flow of combat, particularly as today's forces are increasingly operating in small, disparate teams that each relay information back to a central command HQ.
The ability to see live footage provides access to unprecedented amounts of information, and video has a vital role to play, making it quicker and easier to make decisions as events unfold on the front line.
Satellite technology is now essential for delivering an all-encompassing communications effort. Military grade, portable communications technology is now available from COTS (commercial off the shelf) suppliers and has become indispensable in recent years for theatre of war operations as well as for domestic training, data distribution and backhaul purposes. Satellite technology offers a hybrid communications solution that's designed to handle HD voice, video and high-bandwidth data traffic simultaneously. With modular functionality and high data transfer rates, modern satellite equipment is capable of exceeding even the most stringent of military requirements.
Due to these advances, satellite equipment has become an increasingly viable alternative to radio communications for the military. With no reliance on existing infrastructure, satellite technology is providing the armed forces with the ability to make mission critical decisions from anywhere, and at any time. Furthermore, it is now possible to tailor the specification and delivery of live video to meet even the most exacting standards and requirements.
Built to withstand even the harshest environments or most unpredictable terrain, modern satellite data terminals have been perfected for military use. Designed to be rugged and portable communications units, these data terminals are ideal for ensuring military personnel remain connected, whether that's from the middle of a coverage black-spot or set up for covert operations deep behind enemy lines. Capable of transmitting video footage from anywhere in the world, this equipment can also provide military officials with a real-time overview of the situation as it unfolds, empowering them with the information required to make crucial decisions.
Modern satellite hardware is also extremely mobile, versatile and easy to use, and can be deployed within minutes. Satellite communications technology allows disparate teams to work together in situations where normal lines of communications are either not present or not available at the time, providing a vital link for sharing video and voice communications between front line troops and the command center. Satellite data terminals are the perfect solution for connecting disparate teams of military personnel and transmitting high value content from the front line, as part of a larger defence effort.
Furthermore, it no longer matters where the decision maker is—whether they're in the command HQ, on the move, or deployed in the field, live footage from all relevant sources can be relayed to troops directly. Satellite technology has the ability to deliver video and data information from a variety of deployed assets to enable swift, accurate and intelligent decision making.

About the author
Martin Deery is the Business Development Director at Vislink. With a career spanning more than 30 years across the microwave radio and SATCOM industry, Martin's current role is to define the company's strategic direction in defence and security markets, making best use of a broad range of highly innovative products within the Vislink portfolio.
For further information on Vislink, please respond to their website: http://www.vislink.com/