U.S.A.F.'s 4th Space Ops now in control of the AEHF-4 satellite
The U.S.A.F.'s /4th Space Operations Squadron has accepted control of a new satellite in their constellation, Advanced Extremely High Frequency-4, from the Space and Missile Systems Center and 14th Air Force in a satellite control authority ceremony at Schriever Air Force Base, Colorado.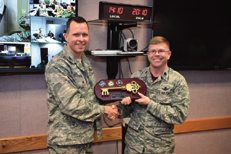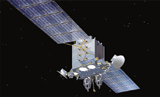 Artistic rendition of the AEHF-4
satellite.
Second Lt. Scott Podlogar, 4th SOPS satellite engineer, said the ceremony designates who has the authority to operate the platform and said the agency accepting control is responsible for maintaining the health and safety of the satellite as well as making sure the mission the satellite is designed for is completed.
Lieutenant Colonel Armon Lansing (photo, right), 4th Space Operations Squadron commander, accepted the key from Colonel David Ashley (photo, left), Space and Missile Center AEHF program manager, signifying the handoff of the Advanced Extremely High Frequency-4 satellite to the 4th SOPS at Schriever Air Force Base
AEHF-4 joins the squadrons of the other military satellite communication satellites that support space and intelligence, nuclear and defense, theater mission defense and special operations.
This is the fourth satellite the squadron commands and controls, with two more launches planned.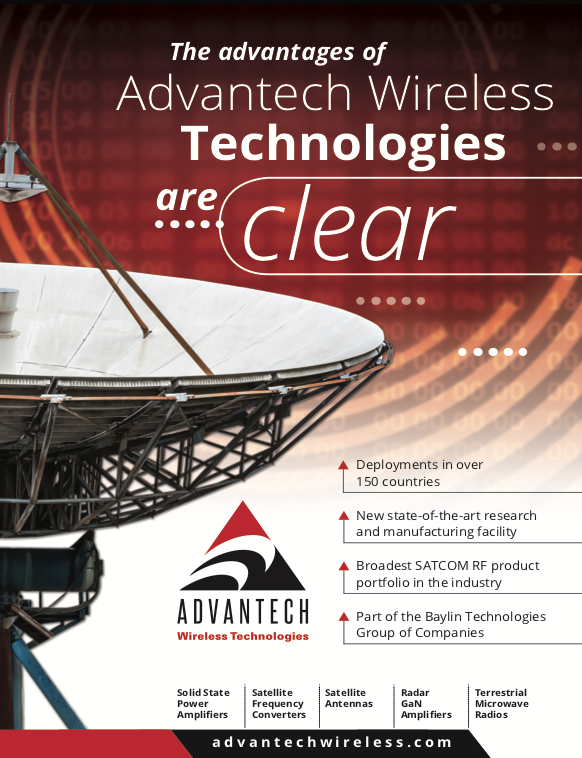 According to /Amanda Shepherd-Bond, 4th SOPS satellite spacecraft engineer and event coordinator, the squadron increased their capabilities with the new addition.
She noted that AEHF has increased the coverage over the Milstar satellites as well as approximately 10 times the throughput and better jam or rapid modification of radio waves resistance.
The 14th AF hosted the ceremony via teleconference, with Colonel David Ashley, SMC AEHF program manager, Lieutenant Colonel Paul Freeman, 50th Operations Group deputy commander, Juan E. Cruz, 14th Air Force mission warning program analyst, and Lieutenant Colonel Armon Lansing, 4th SOPS commander in attendance.
During the ceremony, the SMC approved AEHF-4 as being ready for operations, handing control to the 14th AF, who delegated control to the 50th Space Wing, then to the 50th OG and finally to the 4th SOPS.
Shepherd-Bond said the addition of another AEHF platform is significant for 50th SW operations as a whole because it increases coverage across air, land and sea for range communications and greater crosslinking capability. She said that AEHF already supports numerous mission operations including space and intelligence, nuclear and defense, theater mission defense and special operations.
4th SOPS furthers the mission by evolving space and cyberspace warfighting superiority through integrated and innovative operations.
The satellite is the fourth AEHF on-orbit and increases the warfighting superiority of the customers supported by 4th SOPS, Podlogar noted, and commented that the addition of this satellite to the protected communications constellation further promotes Schriever and America as being the masters of space.
Story by Staff Sgt. Matthew Coleman-Foster 50th Space Wing Public Affairs
---
Raytheon and United Technologies Corporation to join forces
Raytheon Company (NYSE: RTN) and United Technologies Corp. (NYSE: UTX) have entered into an agreement to combine in an all-stock merger of equals.
The merger of Raytheon, a leading defense company, and United Technologies, a leading aerospace company, comprised of Collins Aerospace and Pratt & Whitney, will offer a complementary portfolio of platform-agnostic aerospace and defense technologies.
The combined company — Raytheon Technologies Corporation — will offer expanded technology and R&D capabilities to deliver innovative and cost-effective solutions aligned with customer priorities and the national defense strategies of the U.S. and its allies and friends.
The combined company will have approximately $74 billion in pro forma 2019 sales. Under the terms of the agreement, which was unanimously approved by the Boards of Directors of both companies, Raytheon shareowners will receive 2.3348 shares in the combined company for each Raytheon share. Upon completion of the merger, United Technologies shareowners will own approximately 57 percent and Raytheon shareowners will own approximately 43 percent of the combined company on a fully diluted basis.
The merger is expected to close in the first half of 2020, following completion by United Technologies of the previously announced separation of its Otis and Carrier businesses. The merger establishes a broad and complementary portfolio of platform-agnostic capabilities across the high-growth segments of aerospace and defense, reducing risk of concentration in any individual platform or program.
With a combined annual company and customer funded R&D spend of approximately $8 billion, seven technology Centers of Excellence, and more than 60,000 engineers, the company will develop new, critical technologies faster and more efficiently than ever before. Areas of joint advancement include, but are not limited to: hypersonics and future missile systems; directed energy weapons; intelligence, surveillance, and reconnaissance (ISR) in contested environments; cyber protection for connected aircraft; next generation connected airspace; and advanced analytics and artificial intelligence for commercial aviation.
Robust free cash flow growth and a strong balance sheet will support continued investment and return of capital to shareowners. The combined company expects to return $18 to $20 billion of capital to shareowners in the first 36 months following completion of the merger. As a result of the combination, the company also expects to capture more than $1 billion in gross annual run-rate cost synergies by year four post-close, with approximately $500 million in annual savings returned to customers.
Raytheon plans to consolidate its four businesses into two businesses to be named Intelligence, Space & Airborne Systems and Integrated Defense & Missile Systems. The new businesses will join Collins Aerospace and Pratt & Whitney to form the four businesses of Raytheon Technologies. Net debt for the combined company at the time of closing is expected to be approximately $26 billion, with United Technologies expected to contribute approximately $24 billion. The combined company targets an 'A' category credit rating at the time of the closing.
The combined company's Board of Directors will be comprised of 15 members, consisting of eight directors from United Technologies and seven from Raytheon, with the lead director from Raytheon. Tom Kennedy will be appointed Executive Chairman and Greg Hayes will be named CEO of Raytheon Technologies. Two years following the close of the transaction, Hayes will assume the role of Chairman and CEO.
Raytheon Technologies will be headquartered in the greater Boston metro area and will retain a corporate presence in existing locations.
---
SpaceX successfully launches Canada's Radarsat Constellation Mission from Vandenberg Air Force Base
Rising majestically from the fog bank surrounding Vandenberg Air Force Base in California, the SpaceX Dragon launch vehicle has successfully pushed Canada's latest Radarsat satellite into orbit.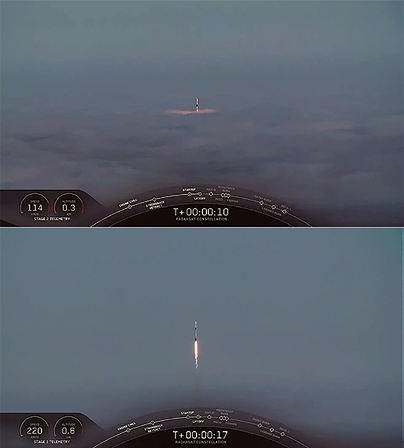 The repurposed SpaceX Falcon 9 launch vehicle lifts off with the Canadian Radarsat Constellation payload from Vandenberg AFB in California. Image is courtesy of SpaceX.

In addition, the Dragon's stage one plowed back through the fog, accompanied by a sonic boom, and landed securely on SpaceX's Landing Zone 4 (LZ-4) at Vandenberg.
The Falcon 9's first stage for launch of this RADARSAT Constellation Mission previously supported Crew Dragon's first demonstration mission in March of 2019. The RADARSAT Constellation Mission (RCM) is the evolution of the RADARSAT Program and builds on Canada's expertise in Earth Observation (EO) from space.
The constellation consists of three identical C-band Synthetic Aperture Radar (SAR) EO satellites.
Built by MDA, a Maxar company, the three-satellite configuration of the RCM will provide daily revisits of Canada's vast territory and maritime approaches, including the Arctic up to four times a day, as well as daily access to any point of 90% of the world's surface.
The RCM will support the Government of Canada in delivering responsive and cost-effective services to meet Canadian needs in areas such as maritime surveillance, ecosystem and climate change monitoring as well as helping disaster relief efforts.
In example...
• The RCM will help create precise sea ice maps of Canada's oceans and the Great Lakes to facilitate navigation and commercial maritime transportation. Each satellite also carries an Automatic Identification System receiver, allowing improved detection and tracking of vessels
of interest.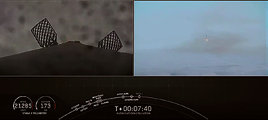 The Falcon 9 first stage rocket's landing burn through
the fog to settle back on the pad at Vandenberg AFB.
Images are courtesy of SpaceX.
• The highly accurate data collected by RCM will enable farmers to maximize crop yields while reducing energy consumption and the use of potential pollutants.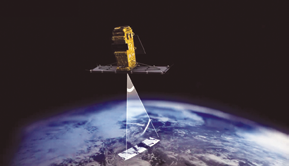 Artistic rendition of Canada's Radarsat Constellation
Mission satellite. Image is courtesy of Maxar and the
Canadian Space Agency.
• Like RADARSAT-2, the RCM will support relief efforts by providing images of areas affected by disasters to help organize emergency response efforts and protect the local population.
SpaceX's Space Launch Complex 4E at Vandenberg Air Force Base has a long history dating back to the early 1960s.
Originally an Atlas launch pad activated in 1962, SLC-4E was in active use until its last Titan IV launching in 2005.
SpaceX's groundbreaking was in July of 2011 and extensive modifications and reconstruction of the launch pad were completed 17 months later.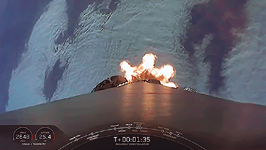 The Falcon 9 liftoff continues on course from V
andenberg AFB. Image is courtesy of SpaceX.
SLC-4E consists of a concrete launch pad/apron and a flame exhaust duct. Surrounding the pad are RP-1 and liquid oxygen storage tanks and an integration hangar.
Before launch, Falcon 9's stages, fairing and the mission payload are housed inside the hangar.
A crane/lift system moves Falcon 9 into a transporter erector system and the fairing and its payload are mated to the rocket.
The vehicle is rolled from the hangar to the launch pad shortly before launch to minimize exposure to the elements.
www.spacex.com
asc-csa.gc.ca
---
The seventh of 10 advanced payloads for GPS III delivered by Harris to Lockheed Martin
Harris Corporation (NYSE:HRS) has provided Lockheed Martin (NYSE:LMT) with its seventh of 10 advanced navigation
payloads contracted for the U.S. Air Force's GPS III satellite program.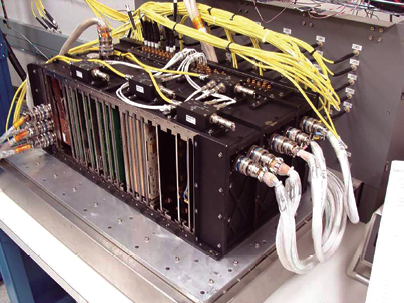 Photo of the Harris advanced MDU navigation payload for
GPS III satellites. Photo is courtesy of the company.
The GPS III navigation payload features a Mission Data Unit (MDU) with a unique 70-percent digital design that links atomic clocks, radiation-hardened processors and powerful transmitters — enabling signals up to three times more accurate than any GPS satellites currently in operation.
The payload also boosts signal power, which increases jamming resistance by eight times and helps extend the satellite's lifespan.
In 2017, Harris announced that it completed development of an even more-capable, fully digital MDU for the Air Force's GPS III Follow On (GPS IIIF) program.
The new GPS IIIF payload design will further enhance the satellite's capabilities and performance.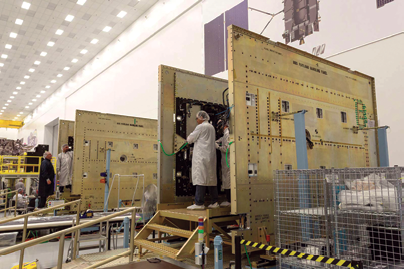 The Lockheed Martin GPS III "satellite factory." Photo is
courtesy of the company.
In September 2018, the U.S. Air Force selected Lockheed Martin for a fixed-price-type production contract for up to 22 GPS IIIF satellites.
Harris is Lockheed Martin's navigation signal partner for GPS IIIF satellites, and in January received a $243 million award to provide the navigation signals for the first two GPS IIIF satellites, space vehicles 11 and 12.
Harris' expertise in creating and sending GPS signals extends back to the mid-1970s – providing navigation technology for every U.S. GPS satellite ever launched.
While the U.S. Air Force originally developed GPS for warfighters, millions of people around the world and billions of dollars of commerce now depend on the accurate, reliable signal created and sent by Harris navigation technology.
www.harris.com
www.lockheedmartin.com
---
SOTM Terminal from Get SAT gains armed forces tactical comms contract
Get SAT has secured a multi-million-dollar contract from an undisclosed armed force to supply mil-standard, micronized, tactical high-bandwidth broadband communications battlefield ManPacks.

This initial project based on Get SAT's Nano SAT-H Ka-band terminal, will bring complete Satellite-On-The-Move (SOTM) broadband communications – voice, video and data — to the tactical battlefield level.
Get SAT opens a new era of real-time video, audio and information flow by providing direct high bandwidth communications between ground forces and HQ.
The ability to attain seamless 'on the move' communications furthers flexible tactical and strategic decision- making processes on constantly changing battlefields.
Nano Sat-H is an ultra-portable lightweight, low-profile terminal optimized for 'on-the-move' applications and man-carried portability and mobility.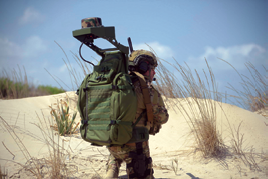 Simply put, Nano SAT-H replaces a truck load of equipment.
Weighing only two kilograms, it provides autonomous operation for transmission and reception of high bandwidth data-rates at more than 2 Mbps.
Kfir Benjamin, CEO of Get SAT stated that connectivity will now be limitless. The ability of ground forces to provide full motion video directly to HQ is the next horizon for MILCOM broadband communications. No longer will decision makers be in the 'fog of the battlefield', rather they will be able to see and hear in real time.
Kfir added that Get SAT is proud to supply this tech savvy military. The company's leap forward in micronized technologies enables the firm's team to lead SWaP and SOTM innovations.
www.getsat.com/products/nanosat_h/
---