X-Band For MAG With Anik G1
International Launch Services (ILS) launched their Proton-M rocket with Telesat's Anik G1 satellite aboard from the Baikonur Cosmodrome in Kazakhstan on April 15th.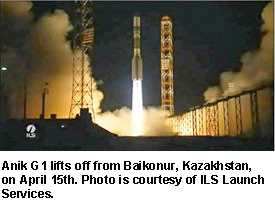 The Anik G1 is a commercial communications satellite that was built by SSL for Telesat. The multi-mission, 55 transponder satellite will be located at 107.3 degrees West longitude. This satellite offers military X-band coverage and doubles C- and Ku-band capacity over South America, and more.
The ILS Proton booster that was used to launch the satellite was 4.1m (13.5 ft) in diameter along its second and third stages, with a first stage diameter of 7.4m (24.3 ft). Overall height of the three stages of the Proton booster is 42.3 m (138.8 ft).
The Proton-M that launched with Anik G1 was powered by one RD-0213 engine, the third stage develops thrust of 583 kN (131,000 lbf), and a four-nozzle vernier engine that produces thrust of 31 kN (7,000 lbf). Guidance, navigation, and control of the Proton M during operation of the first three stages is carried out by a triple redundant closed-loop digital avionics system mounted in the Proton's third stage.
In total, the 4,905kg. satellite sports 24 C-band transponders, 28 Ku-band transponders, and 3 X-band transponders. The satellite, based on the SSL 1300 platform has an anticipated service life of 15 years.
This was the second ILS Proton launch in 2013, the 79th ILS Proton launch Overall. It was also the ninth Telesat satellite launched on ILS Proton and the 26th SSL satellite launched on ILS Proton.
* * * * * * * * *

Ku- Vs. Ka- Bandwidth
From DISA's Emerging Technologies Corner comes their take on the Ku- vs. Ka- bandwidth debate...
While many have likened the comparison of Ku- and Ka-band to the well-known Blu-ray versus HD DVD, or VHS versus Betamax format wars of the past, our situation is not a frequency band duel to the death, and we should not even assume the winner will be one or the other.
In this situation, the winner will ultimately be the consumer. The recent emergence of commercial Ka-band as a serious challenger to commercial Ku-band is not due to a specific advantage one has over another. It is actually tied more closely to the fact that the consumer's requirements are changing and thus drawing attention to throughput limitations of existing satellite systems.
For instance, typical existing Ku-band systems were designed with wider spot beams for widely dispersed VSAT networks that primarily focused on simplicity, video teleconferencing, and reliability. These lower Ku-band frequencies required smaller margins to overcome rain fade and thus wider spot beams provided regional service at lower costs.
On the other hand, wider spot beams limit frequency reutilization. This, combined with limited throughput, made these Ku-band payloads less desirable to modern high throughput users with an increased focus on mobility.
Due to these existing satellite systems, consumers have developed associations with suitability of frequency bands that are not truly characteristic of the frequency band, but rather the satellite business progression.
The new Ka-band systems, such as Inmarsat-5, are coming onto the market and promise to deliver substantially greater throughput than current Ku-band offerings.
This fact has led some in the industry to conclude that Ka-band capacity is a superior evolution of Ku-band capacity.
However, the reality is that there are high throughput Ku-band satellite systems also being developed that offer similar throughputs with smaller spot beams.
With the investment in both bands, today's debate to determine whether Ku-band or Ka-band is better continues.
One element is certain—we will continue to experience more technological advances, and satellite manufacturers will continue to launch newer, faster, stronger, and more flexible satellites.
Who knows what will be 'best' tomorrow.
* * * * * * * * *

Accurate Fires
Accurate indirect fires require more than just well-trained crews with the knowledge and training to effectively operate the systems. It requires accurate and up-to-date global positioning system coordinates and weather data, as well.
As a military occupational specialty 13T, field artillery surveyor and meteorological crew member, U.S. Army Spc. Jose Santos of 2nd Battalion, 15th Field Artillery Regiment, has a mission to provide indirect fire and target locating assets with a common grid and valid weather data.
Common grids permit the massing of indirect fires, delivery of surprise observed fires and transmission of target data from one unit to another to aggressively neutralize or destroy enemy targets. Valid weather data allows for correct charges and adjustments to be made to guns or tubes to put rounds on target.
"Being the only 13T in Afghanistan with 2-15 FA," said Santos, "I've had to take the initiative to ensure all survey missions were accurate and successful."
Due to the various locations of the firing units, Santos has had to adjust his training for the current mission, a decentralized artillery fight. This is something not done often within the field artillery community.
"We rely on one person and one person alone to maintain our meteorological systems and provide survey support throughout the province, and he is our guy," said Chief Warrant Officer 2 Christopher Ludwick, 2-15 FA's sensor manager.
Being responsible for two of the five pieces of accurate and predictive fires (GPS coordinates and weather data), the other three being accurate target location, firing unit location, and weapon and ammunition information, Spc. Santos' training helps provide an essential piece of the unit's artillery power, helping to ensure accuracy.
"Accurate firing unit location is one of the five requirements for accurate predictive fires," said Capt. Brian Reynolds, operations officer for 2-15 FA. "Without the skilled work of a survey soldier, our firing units would not be as precise as this fight demands them to be."
Having accurate artillery allows the ground commander to call for artillery more often which helps to reduce coalition casualties in a fight and significantly reduces the possibility of civilian casualties.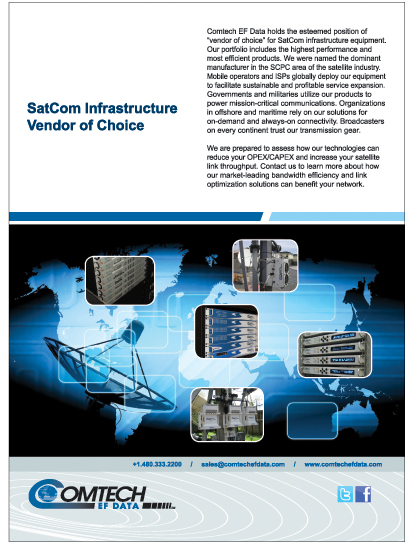 Due to constraints on the deployable size of the Security Forces Assistance Brigade, the battalion could bring only one; the most qualified and highly trained of the 13T's. Having practiced this mission at numerous training events, including two national training center rotations and a division level exercise, Santos was the right choice.
The 13Ts normally use the improved azimuth determining system to make their computations. However, iPads use is not suited for the mission in Afghanistan. Instead, Santos uses an older method he learned during his initial training.
"Not having the iPad, I have managed to come up with an effective way for providing command survey control," explained Santos. "I use a surveying transit and a global location position system to turn angles into known azimuths and the global broadcasting system, which pulls weather data from a satellite."
In order to connect the GBS to the satellite, Santos adjusts a dish on the system manually to obtain a lock that is able to provide accurate meteorological data for all firing systems.
"The experience brought to the tactical operations center by Santos has proven invaluable during the opening months of our deployment," explained Ludwick. "Without him, our capabilities to provide accurate and predictive fires decreases."
* * * * * * * * *

FAB-T Enters New Phase
The Boeing family of Advanced Beyond Line-of-Sight Terminals (FAB-T) wideband communications program has entered a new phase by delivering the first two engineering development models to the U.S. Air Force. Able to perform nearly all FAB-T production terminal mission functions, the models will be tested through June under realistic operational conditions aboard aircraft and at Hanscom Air Force Base, Massachusetts.
"These models will allow the Air Force to test how actual terminals will perform in their deployed configurations," said Paul Geery, Boeing vice president and FAB-T program manager. "With tests conducted in 2012, Boeing has demonstrated that FAB-T can perform effectively even in the extreme vibration and harsh temperatures found on airborne platforms."
FAB-T will carry protected communications for the command and control of U.S. nuclear forces via Advanced Extremely High Frequency and Milstar satellites. The terminals will be used aboard B-2 and B-52 bombers, RC-135 reconnaissance aircraft, and E-4 and E-6 Special Air Mission aircraft, as well as in fixed and transportable configurations on the ground.
"These milestones validate that Boeing has a mature design that meets operating requirements for all mission environments," Geery said. "Our solution offers the quickest and lowest-risk path to putting all the FAB-T functions into warfighters' hands."
* * * * * * * * *

Blasting Toward The CDR
ATK has successfully completed its solid rocket booster Preliminary Design Review (PDR) with NASA for the new Space Launch System (SLS).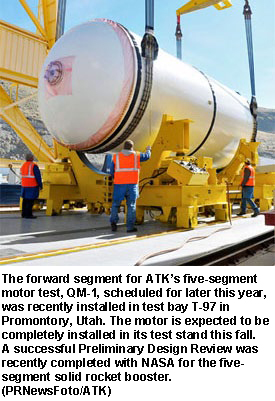 The PDR milestone indicates the booster design is on track to support first flight of the SLS in 2017.
The SLS vehicle will support NASA's human spaceflight exploration to all destinations beyond low-Earth orbit.
"This is a tremendous milestone for ATK as we work toward building the boosters for our country's Space Launch System," said Charlie Precourt, vice president and general manager of ATK's Space Launch division. "NASA's SLS will enable human exploration for decades to come."
With the successful completion of PDR, the SLS booster design can now proceed with the associated activities required to advance the design toward Critical Design Review (CDR). Additionally, a ground static firing of qualification motor-1 is planned for later this year at ATK.
The SLS booster PDR is a significant step toward providing the necessary technical and programmatic information needed for NASA to obtain approval to proceed with development of the Space Launch System—which will support a variety of missions of national and international importance.
The forward segment for ATK's five-segment motor test, QM-1, scheduled for later this year, was recently installed in test bay T-97 in Promontory, Utah. The motor is expected to be completely installed in its test stand this fall. A successful Preliminary Design Review was recently completed with NASA for the five-segment solid rocket booster. (PRNewsFoto/ATK)
* * * * * * * * *

This GPS Exercise Is On Track
Raytheon Company successfully completed the second launch readiness exercise for the U.S. Air Force's next generation Global Positioning System (GPS) operational control system (OCX).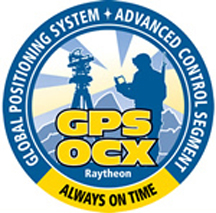 Successful completion of Exercise 2 is a key milestone demonstrating that Raytheon's OCX software meets mission requirements and is on track to support the first GPS III satellite launch.
Completed over a three-day period in late February, the joint industry and government exercise demonstrated OCX mission software capability.
The exercise, building on the functionality tested in Exercise 1, simulated a liquid apogee engine burn to insert the GPS III vehicle into transfer orbit and evaluated vehicle telemetry, maneuver planning and execution.
The Lockheed Martin-built GPS III satellites and Raytheon's OCX are critical elements of the Air Force's plan to affordably replace aging GPS satellites while improving capabilities to meet the evolving demands of military, commercial and civilian users worldwide.
"Successful completion of Exercise 2 is a clear indicator that the solid design and strong command and control and mission planning capability meet the requirements to support the GPS III launch," said Ray Kolibaba, a vice president of Raytheon's Intelligence, Information and Services business and GPS OCX program manager. "The entire government-industry team is working hand-in-hand to successfully deliver the OCX ground system and GPS III space vehicles for a successful first launch."
* * * * * * * * *

Space Domain Is Vital To Nat'l Defense
It is critical for the Defense Department to develop and implement space programs and policies to maintain U.S. space advantages in a perpetually changing environment, a senior defense official told Congress yesterday.
Douglas L. Loverro, deputy assistant secretary of defense for space policy, appeared before the Senate Armed Services Committee's subcommittee on strategic forces regarding the fiscal year 2014 budget proposal for military space programs.
"[It's a] basic reality that space remains vital to our national security," he said. "But the evolving strategic environment increasingly challenges U.S. space advantages—advantages that both our warfighters and our adversaries have come to appreciate."
As space becomes more congested, competitive and contested, Loverro said, the department must formulate programs and policies that will secure those advantages for years to come. But reality, he added, is juxtaposed with providing these capabilities in an environment with increasingly restrained budgets.
Loverro said the growing challenges of budgeting, in addition to increasing external threats, compels the department to think and act differently.
But Loverro noted that while he thinks these realities present the Defense Department with a clear challenge, he does not view them with "a sense of 'doom and gloom.'"
"New entrepreneurial suppliers, alongside our legacy suppliers, are creating an ever-burgeoning commercial space market that can provide significant advantages to DOD if we formulate the policies and strategies to encourage their growth and use," he said. "Similarly, there has been a growth worldwide in allied space investment capability."
This growth, he added, provides the Defense Department a significant opportunity in helping to build resilience into its space capabilities.
Loverro said the policies and strategies under discussion begin to address challenges and opportunities.
"But they are just the initial steps in an area that will continue to demand attention and action from all of us," he said.
Story by Army Sgt. 1st Class Tyrone C. Marshall Jr. American Forces Press Service