Trusted communications and information sharing play a critical role in the operations and effectiveness of the U.S. Military. This year, the Military Communications Conference (MILCOM) will focus on this important issue as MILCOM 2012 celebrates more than 30 years of gathering the best of military, industry and academia.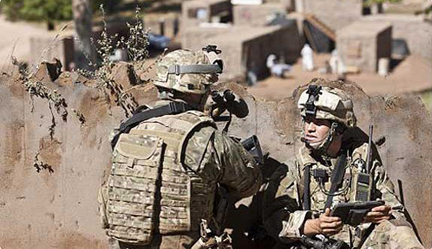 The conference and exposition, October 29-November 1 at the Gaylord Palms Convention Center in Orlando, will feature six tracks of technical expertise and a line-up of top military, government, and industry speakers for the estimated 4,500 communicators from over 25 countries who are expected to attend the conference.
MILCOM's theme—
Trusted Communications...Awareness to Action...
highlights the critical role communications play in providing actionable situational awareness to the warfighter. Decision makers rely on accurate, timely information to execute their missions, and the challenges are enormous: maintaining assured connectivity in harsh and rugged environments, frequently without the benefit of a fixed infrastructure; managing the flood of data from a multitude of sensors and sources and transforming that data into actionable intelligence; and maintaining security and trust in the face of sophisticated and pervasive threats.
To address these challenges, the MILCOM Executive Committee has developed a comprehensive program with a mix of relevant speakers, panels and tutorials to create a collaborative environment that will extend well beyond the walls of the Gaylord Palms Convention Center.
Leading the conversation will be several top U.S. military and government leaders with world-class experience in the network realm. Among those confirmed to speak at MILCOM 2012 are:
– Lt. Gen. Susan Lawrence, U.S. Army Chief Information Officer/G-6
– Mr. Chris Inglis, Deputy Director, National Security Agency
– Capt. Mark Kelly, U.S. Navy (Ret.), Commander of Space Shuttle Endeavour's Final Mission
– Former Florida Governor Jeb Bush
– Bill Brown, President and CEO, Harris Corporation
In addition to keynote addresses, government and industry leaders will share their perspectives during daily plenary panel discussions focusing on land forces communications, commercial satellite services, DISA and enterprise services, cyber operations, and protected SATCOM communications.
The cornerstone of MILCOM 2012 is the strong technical program, and the planning committee has created a broad array of topics in response to feedback from the military, industry and academia. More than 400 papers will be presented in the unclassified and classified technical program based on six technical tracks: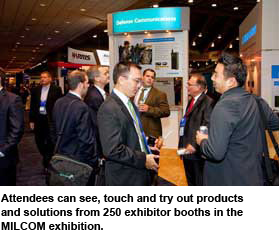 – Waveforms and Signals Processing
– Network Protocols and Performance
– Cyber Security and Trusted Computing
– System Perspectives
– Services and Applications
– Selected Topics in Communications
Rounding out the technical program are technical panels and tutorials for both unclassified and classified program participants. Technical panel topics include: working with non-traditional partners, cyber mission assurance, tactical edge networks, cognitive technology in radios, networks and sensors, the DirecNet Task Force, science and technology efforts to improve DoD spectrum effectiveness, coalition interoperability test and evaluation, tactical data link, mobile applications, combating satellite interference, policy based management, and network analysis for secure/assured communications. Continuing education credits for technical sessions will be available.
The conference will also feature a Small Business Workshop which offers an opportunity to participate in real-time interaction with Harris Corporation and other prime contractors. In addition, conference attendees will be able to visit 250 exhibitor booths throughout the three-day conference, as many of the world's leading providers of information, communications and defense technologies will be on hand. Exhibitors include Fortune 500 companies, small businesses and government organizations.
Just as important as the network is networking, and MILCOM 2012—with its Orlando location—lends itself to several opportunities for attendee mingling. Tuesday evening, October 30, will feature an all-attendee event with three distinctive onsite venues. The annual Chairman's Banquet returns on Wednesday, October 31, where distinguished military representatives will join the much anticipated celebration that recognizes this year's award recipients for lifetime technical achievement and best unclassified and classified papers. A Halloween-themed dessert reception will follow. All conference sessions, meals and special events will be held onsite at the Gaylord Palms.
MILCOM is co-sponsored by the Armed Forces Communications and Electronics Association (AFCEA) International and the Institute of Electrical and Electronics Engineers (IEEE) Communications Society. Harris Corporation is serving as the conference's 2012 corporate host.
All proceeds from the conference will benefit AFCEA and IEEE educational programs, as well as The Mission Continues, a nonprofit organization that reaches out to post-9/11 veterans, empowering them to transform their lives by serving others and directly impacting their communities.

Full conference details and registration are available at
www.milcom.org
.
About the author
Wesley Covell is the executive chairman of MILCOM 2012 as well as the vice president and general manager of Growth Programs, Harris Government Communications Systems