Fort MacArthur located in San Pedro, Calif. is a testament to the resiliency and ingenuity of the U.S. military over the past 100 years.
Originally a U.S. Army post which guarded the Los Angeles harbor from 1914 to 1974, Fort MacArthur was designed to defend against attacks by warships with fixed gun emplacements that could shoot projectiles as far as 14 miles out to sea. The Army declared the fort surplus property in 1977 and in 1982, the Army sold the middle reservation to the U.S. Air Force to provide military housing for Airmen stationed at the Los Angeles Air Force Base, which now supports the U.S. Space Force.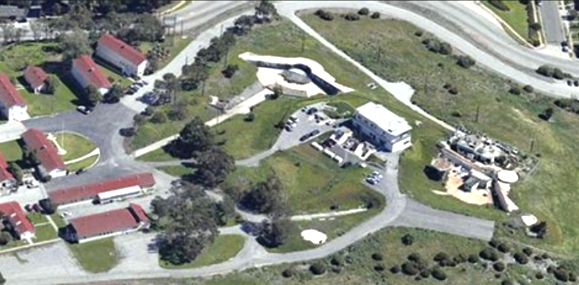 Aerial photo of Fort MacArthur.
"This place is a landmark in the evolution of continental defense," said SSgt. Francisco Lacy, who has been a museum guide at the Fort since 2003. "This was the pinnacle of coastal defense technology 100 years ago. When this was being built, combat aircraft didn't even exist – but by the time it was completed, combat aircraft had proven themselves as an effective weapon of war in World War I."
The Fort is a series of reservations spread out along the coastline which were constantly upgraded and adapted to fit the defensive needs of each era, said Lacy, who also volunteers at the SMC Heritage Center.
At Battery Osgood-Farley, which was finished in 1919, the two, 14-inch disappearing guns boasted gun barrels that were 48.5 feet long and weighed 68 tons; the gun and carriage together weighed 341 tons.
Two men would push a 1,560 pound projectile on a cart from the magazine, and eight other men would use a 22-foot shell rammer to push the shell 6 feet into the back of the breech, followed by more than 400 pounds of gunpowder.
A counterweight would be activated to lift the gun barrel up and forward to fire, and the recoil would push the barrel back down again, so it would only be exposed long enough to fire. The gun crew — which also included a Chief of Breech and an azimuth and elevation setter — could fire one round in less than a minute, Lacy said.
After World War I, the Fort was used for military training and housing, and in the run up to World War II, additional batteries were added for anti-aircraft defense. In the 1950s, Nike surface-to-air anti-aircraft missiles were added.
Lacy, who also served in the California Army National Guard, said he fell in love with the Fort as a child, begging his grandparents to bring him there on weekends, and spending time on the fort grounds with his Boy Scout troop.
---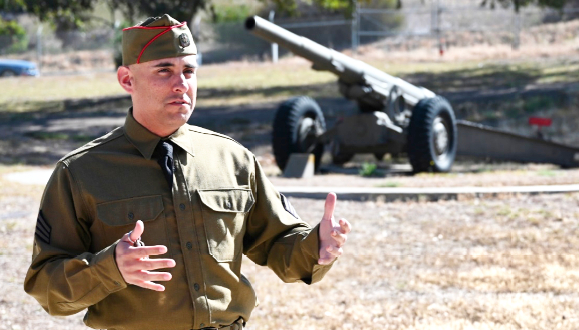 SSgt. Francisco Lacy, museum guide at Fort MacArthur Museum, discusses
the history of Battery Osgood-Farley, May 21, 2021, Fort MacArthur,
California.Completed in 1919, Battery Osgood-Farley once housed two
14-inch disappearing guns that were 48.5 feet long and weighed 68 tons.
U.S. Space Force Photo by Staff Sgt. Andrew Moore.
---
"Without these historic, tangible artifacts — which you can come and see in person — the history is just words on paper and – out of sight, out of mind – can be forgotten," Lacy said. "One of the things I love about this place is that it's so timeless," Lacy said. "I can put on my World War II uniform, come to this post and essentially feel transported back in time."
The Fort MacArthur Museum was established in 1985, and features a variety of exhibits and displays which cover the history of Los Angeles harbor defenses, home-front activities in the greater Los Angeles area during the World Wars, American Pacific Theater military campaigns, early American Air Defenses and the role of Los Angeles as a military port for both the Army and the Navy.
The Fort is on the National Register of Historic Places and has been featured in a variety of films, including "A Few Good Men," "The Usual Suspects" and "Tora! Tora! Tora!"
Lacy and the museum's other employees and volunteers have painstakingly worked to make a visit to the Fort an immersive history experience: collecting, preserving, and in some cases, restoring to working order many of the artifacts on display, including several of the generators.
Visitors who are accustomed to the ease and precision of today's digital age can marvel at how the Army accomplished its missions without computers and advanced technology: WWII-era teletype machines, bulky radio equipment with vacuum tubes, enormous vintage search lights and other artifacts demonstrate just how far we have advanced air, space, ground and sea technology.
Every February, the museum hosts a World War II-era dance that ends in a simulated air raid in commemoration of the Great Los Angeles Air Raid of February 24-25, 1942.
A day earlier, on February 23, a Japanese submarine, the I-17, had surfaced just off the coast of Santa Barbara, California and fired shells at the Ellwood Oil Field.
Several U.S. merchant ships had been attacked by Japanese submarines along the West Coast in the months prior, so tensions were running high in the region when air raid sirens went off suddenly early on the morning of February 24. The 37th Coast Artillery brigade fired off a barrage of anti-aircraft artillery at what they thought were enemy planes, causing minor damage to some buildings and vehicles.
Today, it's thought that a wayward weather balloon — and not Japanese aircraft — caused people to panic.
Like many other museums, the Fort MacArthur Museum has a wish list of projects its curators would like to tackle to further preserve the Fort's history for future generations, if it can secure the donations required to preserve these pieces of the past before they disappear forever.
"Los Angeles has a very important military history that is not yet fully understood," said Stephen Nelson, museum Director/ Curator. "The Fort MacArthur Museum hopes to be a catalyst for further study and investigation into this relatively unexplored yet important part of this city's history."
It's a history that spans defending the coast from warships to defending Los Angeles from air attacks and now, looks to a future among the stars.
Stepping Into History
The SMC Heritage Foundation Inc. is a non-profit, 501(c) (3) tax-exempt, philanthropic organization with a charter to foster and perpetuate the SMC Heritage Center as a medium educating the public on the rich aerospace history of the Space and Missile Systems Center. The Foundation serves to assist the development and expansion of the facilities of the SMC Heritage Center. The Foundation also serves as a vehicle to receive, hold and administer gifts received from persons, other organizations, corporations, foundations and philanthropies in the best interest of the SMC Heritage Center.
For more information about the SMC Heritage Center, visit this direct infolink...
To arrange a video presentation or a school visit, please email SMC.HO.HeritageCenter@us.af.milHistorical podcasts and other information can be found at this direct infolink...
The Fort MacArthur Museum is located in Angels Gate Park, 3601 S. Gaffey Street, San Pedro, California, 90731.
The Fort MacArthur Museum Association is a 501(C)(3) non-profit corporation registered with the IRS and the State of California. Donations help the museum continue its work by providing funding for materials to continue restoration, preservation and educational activities.
For more information about the Fort MacArthur Museum, visit the website at http://www.ftmac.org/ or call the museum office at (310) 548-2631.
---