Harris Corporation—Multi-Band + Multi-Mission Solution For TacOps
Harris Corporation has received a $15 million order to deliver its latest wideband handheld tactical radio to a country in the Middle East.
Harris is supplying this nation with the RF-7850M handheld, a multi-band, multi-mission radio that provides advanced tactical communication capabilities. The radio offers a new embedded interface that gives users access to a library of applications that provide situational awareness, tactical messaging, file transferring and radio configuration support from a standard web browser. The interface is fully customizable through a software-development kit, simplifying the process of creating and distributing new applications.
The RF-7850M-HH supports the latest wideband and narrowband networking waveforms. Lightweight and highly portable, the radio also is fully interoperable with the Harris Falcon II® and Falcon III® families, which are widely used by NATO and other global military forces.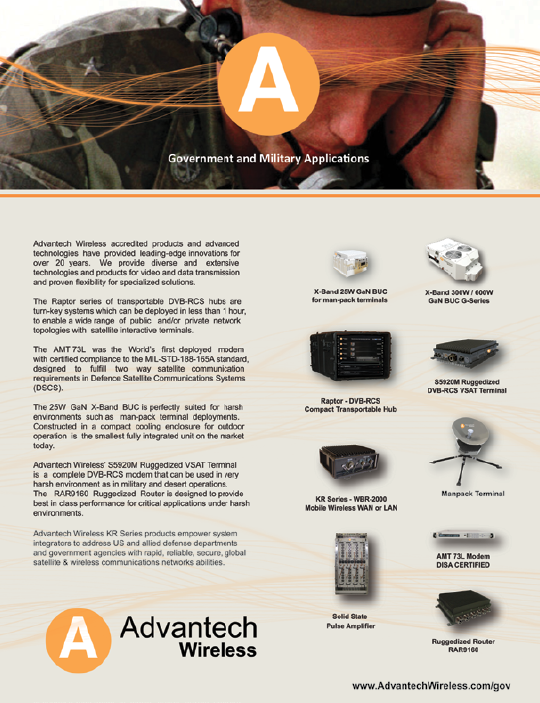 "The RF-7850M combines the portability of a handheld with much of the functionality and performance of a larger manpack in areas such as range, bandwidth and power output," said Brendan O'Connell, president, International business unit, Harris RF Communications. "The radio provides capabilities for sharing situational awareness feeds and command and control information while on-the-move, allowing commanders to make informed decisions in real time."
For further information, please visit http://rf.harris.com/capabilities/tactical-radios-networking/rf-7850m-hh.asp
---
WTA—Teleport Standards Certification
Certificate levels of Platinum, Gold, Silver, or Bronze will be assigned to teleport operators to reflect a clear, objective standard for facilities, technology and operating procedures.

The World Teleport Association (WTA) announced that, at the request of its customers, it is developing a Teleport Certification Program. The program aims to serve teleport operators and their customers by creating an objective, transparent, and internationally accepted method for teleport operators to document the quality of their operations for customers and strategic partners.
The program also aims to provide a means for customers to select teleport vendors delivering the price-performance level that is appropriate for their applications. Certification at one of these levels will indicate, at a minimum, that the teleport complies with the standards of that particular level.
The certification standards are being developed by a volunteer committee made up of teleport, satellite and technology executives as well as representatives of end-user customers. As draft standards are determined, they will be posted for comment by the industry on a schedule to
be determined.
The program will launch, offering temporary self-certification and multi-year audited circulation, upon approval of the standards. WTA will maintain an up-to-date online registry of certified teleports and provide teleport operators with links to their online statement of certification as well as a certification logo for display in their marketing programs.
"Customers bidding a project struggle to understand the quality differences that lie behind estimate from different service providers," said executive director Robert Bell. "There is no objective way for a teleport operator today to demonstrate its quality, without time-consuming and costly site audits. This is a gap that our Certification program will fill, in a transparent way that lets customers select the price-performance their application needs."
For information on how to participate in the committee, or learn more about the certification process, please contact WTA's Membership Director at rbarney@worldteleport.org.
Additional WTA information: http://www.worldteleport.org/.
---
Hughes Network—Steady With Thales Defense & Ready Anywhere, Anytime
This robust and private network solution can be deployed virtually anywhere, making it ideal for emergency response networks such as FirstNet, the nationwide, interoperable public safety broadband network.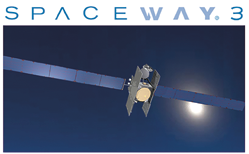 Hughes Network Systems, LLC, a provider of broadband satellite solutions and services, and Thales Defense & Security, Inc., of aerospace, transportation, defense and security technologies, have announced they have successfully tested a rapidly deployable Long-Term Evolution (LTE) mobile networking solution via satellite.
The solution leverages the powerful combination of Hughes SPACEWAY® 3 and JUPITER™ high-throughput technologies, connecting with the Thales B-14 system-on-wheels. This robust and private network solution can be deployed virtually anywhere, making it ideal for emergency response networks such as FirstNet, the nationwide, interoperable public safety broadband network.
"The key to emergency preparedness and response is ensuring first responders can communicate with each other and with Emergency Operations Centers (EOC) to share information about the disaster and coordinate the response to it—no matter where they are located," said Tony Bardo, Assistant Vice President for Government Solutions at Hughes. "This successful test proves that Hughes satellite technology and systems, combined with Thales LTE deployable system-on-wheels, provides the public safety community with a mobile networking solution that is easy to use, dependable, and enhances capabilities over current narrowband voice radio systems."
Hughes and Thales conducted situational testing operating on the 700MHz public safety spectrum to validate the solution's performance and interoperability with public safety network requirements.
Using readily available smartphones and vehicular modems, first responders are able to easily communicate and share video with each other and EOCs via this local deployable broadband network.
"Cellular and broadband networks see the most congestion right after a catastrophe," said Lewis Johnston, Vice President of Advanced Programs at Thales. "As people scramble to reach loved ones, first responders spring into action, facing the same communication challenges as the general public at a time when the need to communicate between each other and with EOCs is the most critical. Our deployable 4G/LTE secured communications solution enables the security, availability and resilience of mission-critical applications to solve this problem, which is vital to the public safety mission."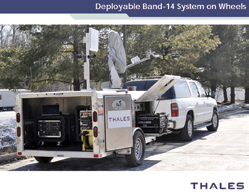 The test marks Hughes' latest innovation for the public safety community and emergency operators, ensuring secure, reliable connectivity using the latest combined mobile and satellite communications technologies.
Previously, Hughes successfully tested its satellite solutions for Land Mobile Radio (LMR) backhaul for two Cabinet-level agencies and in multiple states, including Louisiana's Department of Public Safety.
Headquartered in Clarksburg, Maryland USA, Thales Defense & Security, Inc. serves military and civilian customers worldwide with a product portfolio that includes communication systems; helmet mounted display and motion tracking technologies; tactical SATCOM terminals; intelligence surveillance and reconnaissance solutions; electronic warfare; combat management systems; advanced sonars; air traffic management solutions; and information security and data protection solutions.
Hughes Network Systems, LLC provides satellite broadband for home and office, delivering network technologies, managed services, and solutions for enterprises and governments around the world.
---
U.S.A.F.—Training for worldwide communications security Ops
Traditionally, the communications career field is viewed as the office to call for over-the-phone support or to request a technician to work some magic at a workstation.
However, there is an elite, specially-trained group of communications experts at MacDill AFB who are far
from the typical information technology specialists. They train to deploy at a moment's notice to austere environments, establishing secure communications lines.
Two teams from the Joint Communications Support Element on MacDill Air Force Base conducted an exercise at a simulated remote location on July 23, 2014. As one team set-up their equipment on the base's shoreline, another team traveled by boat to a secluded island to test their rapid-deployment capabilities.
Once at the island, the team setup non-classified, classified and other secure lines of communication.
"Basically we're just setting up and testing our Orthogon system, which is pretty much like a big Ethernet cable," said U.S. Marine Corps Sgt. Daniel Bunnell, JCSE radio frequency operator. "Except it's a Ethernet connection in the sky, and we're transmitting information wirelessly."
The teams were given less than three hours to transport all the equipment and complete a transmission. They accomplished their goal with nearly an hour left to spare, which proved their readiness to support missions worldwide.
These teams constantly deploy to the U.S. Central Command area of responsibility, U.S. Africa Command and other regions, supporting Operation Enduring Freedom and Horn of Africa.
According to the unit's website, "JCSE immediately deploys to provide enroute, early entry, scalable command, control, communications and computers (C4) support to the regional combatant commands, Special Operations Command, and other agencies as directed; on order, provides additional C4 services within 72 hours to support larger Combined Joint Task Force/Combined Joint Special Operations Task Force headquarters across the full spectrum of operations."
Story by Senior Airman Michael Ellis, 6th Air Mobility Wing Public Affairs
---
KNS—Control Is Always Possible
KNS, Inc. has launched their proprietary web-based software that will allow ships to remotely control and monitor their antennas, regardless of how far the operator is from the Antenna Control Unit (ACU).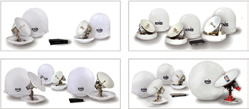 With engineers and captains requiring better management to the status of their antennas, KNS believes that their web interface will enable them to provide improved decision making, and ultimately, increase safety and service.
This new software is, according to the company, easy to use and provides a maximum of 16 different IDs for a single antenna. Each ID requires a separate password, entered on a PC, iOS, Android or mobile phone, to ensure security and controlled access.
Additional features include the ability to have all antenna monitoring information visible on one page.
Incorporated into this page would be errors, sensor voltage and a graph showing the satellite carrier spectrum analyzer.
There is also a dedicated function for saving error data codes, which can be logged by time and by error code.
This information can be stored using the memory bank and can be searched through at a later stage via a specific date or time span.
The software is available immediately via KNS's global distribution channel.
The KNS infosite is available at http://www.kns-kr.com/
---
JAXA + Quasi-Zenith Satellite—Natural Disasters Pinpointed To Centimeters
An updated disaster prevention and evacuation system is more vital than ever after a devastating mudslide hit Nagiso early
in July…
The Japan Aerospace Exploration Agency is partnering with Japan's Cabinet Office and Internal Affairs and Communications Industry to begin utilizing data from the country's quasi-zenith satellite in order to monitor earth movement and proactively detect mudslides, reports The Yomiuri Shimbun.
As mobile phones equipped with car navigation or GPS have become widespread, positioning information using satellites is imperative to everyone's lives. To specify a location, signals from at least four satellites must be received. However, in some urban or mountainous areas, positioning signals from four satellites are often hampered by skyscrapers or mountains, and that has often caused significant errors.
The quasi-zenith satellite, Michibiki, can pinpoint movement down to within several centimeters, versus the country's Global Positioning System's (GPS) accuracy, which is down to within ten meters. This means earlier detection of even the slightest slips of Earth—early signs of a mudslide—and earlier evacuation warnings. These evacuation warnings may even be tailored to the cell phone user's location. The full-scale operation is projected to start in 2018.
The QZSS consists of a multiple number of satellites that fly in the orbit passing through the near zenith over Japan. By sharing almost the same positioning signals for transmission with the currently operated GPS, as well as the new GPS which is under development in the U.S., the system enables area and time duration expansion of the positioning service provision in mountainous and urban regions in Japan.
Japan is also considering establishing their own GPS with 10x the accuracy of the current system, with plans to launch a second, third, and fourth quasi-zenith satellite throughout the 2016 and 2017.