Nearly two hundred exhibitors and thousands of attendees, including SatNews contributing editor, Mike Kelley, converged at the Von Braun Center in Huntsville, Alabama, from August 13 – 16, for the 15th annual Space and Missile Defense Conference, where they shared information relating how space-based assets can respond to a host of national and non-national threats.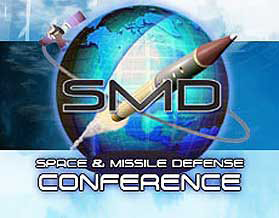 However, the conference was overshadowed by the continuing news of defense budget cuts and rising concerns over what sequestration might do to the nation's military preparedness—such produced a somewhat subdued atmosphere.
Though the number of paid registrants was up, as was the number of exhibitors, some conference veterans said the exhibit hall seemed less crowded than in previous years and that companies were not bringing in as many people to man their booths.
Kicking off the conference on Tuesday,
Frank Kendall
, Undersecretary of Defense for Acquisition, Technology, and Logistics, tried to set an optimistic tone about the future of America's defense structure, while giving a sobering assessment of the effects of sequestration. He said missile defense remains a Defense priority, but warned that sequestration would mean significant cuts to many defense programs. He cautioned that time is rapidly running out for Congress to create a fix.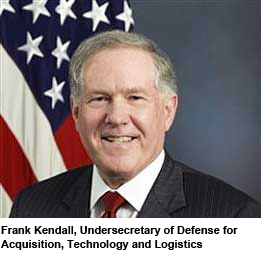 Kendall
said there would be "no flexibility" if sequestration takes effect. "We will have to take 10 percent out of each program," he said. "The clock is still ticking, and here we are," he said, as congressional wrangling and election year party politics could thwart efforts to reach a budget compromise that could avert the threatened $54 billion cut to the Department of Defense's FY 2013 budget.
Noting the flatlining of recent defense budgets,
Kendall
said the Pentagon is being forced to change the way it deals with threats to American security. "The threats we face are not going away, but the way we fight them will change," he said, as the military makes tough decisions on program priorities and funding. However, he pledged that the U.S. will not end up with what he termed a "hollow force," referring to the period of defense cuts after Vietnam that reduced America's ability to respond to security threats.
Lt. Gen.
Edward Anderson
moderated a panel discussion on
Next Generation Missile Defense
and said Operation Enduring Freedom and Operation Iraqi Freedom have led to a shift in space priorities that is more in support of theater operations.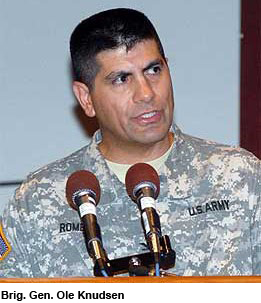 Anderson
said the Army has become the largest user of space-based capabilities, but all services are now increasingly dependent on the use of space.
Those assets include satellite communications, Blue Force tracking, Global Positioning satellites, and space-based
intelligence, surveillance and reconnaissance
(
ISR
). The military has seen increased use of satellites to monitor terrain, he said. "We have to identify operational risk, to see what's over that next hill," he said. OIF and OEF, he said, have kept soldiers' needs in the forefront of Army thinking. He spelled out a strong case for continued support of these assets despite budget pressures. "We cannot go back to the pre-OIF/OEF mindset when missile defense and strategic considerations were all-important."
PEO Missiles and Space director Brig. Gen.
Ole Knudsen
said the agency is focused on advancing a number of space programs, including adding GEO satellites to the Army
JTAGS
program and moving ahead on the
Kestrel Eye
and
SNaP
satellite initiatives. He said the Army would probably keep the Patriot missile program going for up to 25 more years. "It's the real B-52 of the Army," he said.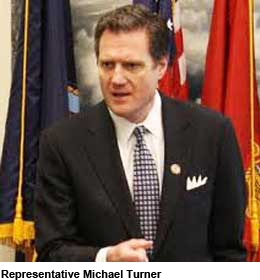 On Wednesday, Rep.
Michael Turner
, R-Ohio, echoed
Kendall
's alarm over the effects of sequestration. "Missile threats to the United States are growing," he said. The chairman of the
House Armed Services Subcommittee on Strategic Forces
deplored what he said are continuous proposed cuts to the GMD (ground-based midcourse defense) missile program, and noted that Iran and North Korea are developing nuclear weapons and the longer-range missiles to deliver them.
However, he lauded the technological and intellectual assets on display at the conference and said the U.S. must remain the world leader in those areas. "You are all helping us achieve the impossible every day," he said.
Wednesday's luncheon speaker, former Israeli Minister of Missile Defense Dr.
Uzi Rubin
, said Israel's
Iron Dome
defense shield has been highly effective during its first year of operation, with kill rates as high as 80 percent against the short-range rockets randomly fired from Gaza by Hamas and other terrorist groups. Dramatic nighttime videos clearly showed numerous kills as Israeli Tamir rockets repeatedly tracked and destroyed incoming rockets during their midcourse flight trajectories. He said Iron Dome's effectiveness has blunted criticism of the program's cost. The Israeli government gave the thumbs-up on the program if 2006 following several years of increasing Hamas and Hezbollah rocket attacks.
The system is designed to distinguish between truly harmful and relatively harmless rockets. In the past year, said
Rubin
, only one rocket-caused death has been reported despite 500 or more rockets that have landed in Israel. He said Iron Dome's success has started a fierce competition among the mayors of several Israeli towns for deployment of Iron Dome batteries. "It has been a big morale boost to Israeli citizens." Rubin said he has noted a growing respect from Iran for Israel's missile defense system, saying Iranian defense officials now speak of developing missiles "that can defeat Iron Dome."
"
How Commercial Providers can Support Military Space
," the focus of Wednesday's Space Panel, featured a range of speakers from industry and government. Dynetics Executive Vice President
David King
, who moderated the panel, saw an increasing role for commercial companies in space policy and operations which until recently were dominated by government strategic considerations.
He listed several reasons why the pace of commercialization should continue. "Sometimes industry can do some things better,"
King
said, adding that industry can often respond faster to opportunities than can the government. He did note that industry's need for profits coupled with high development and the operating costs of space programs will limit the number of participants. "It takes billions, or at least hundreds of millions, to get into this business," he said.
Brig. Gen.
Tim Coffin
,
SMDC/ARSTRAT
Deputy Commander for Operations, stressed the intelligence, movement, and communications advantages space gives to the warfighter. "If you want the home field advantage, if you want to be sure you never walk into a fair fight, you need to have space." He said his office is working on an updated "white paper" on how the Army can better use space. "Space has transformed the way we do warfare," he said.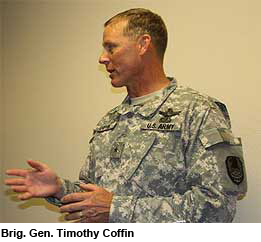 The final day of the conference saw a presentation by Lt. Gen.
Richard Formica
, commander of the Army Space and Missile Command/Army Forces Strategic Command, followed by a cyber-security panel discussion.
A series of classified sessions at the Missile and Space Intelligence Center at Redstone Arsenal closed out the conference.
About the author
Mike Kelley is a Contributing Editor to MilsatMagazine. He is a freelance writer based in the technology-rich Huntsville, Alabama, environs and he writes about all things spatial. He may be reached at
mekelley30@bellsouth.net