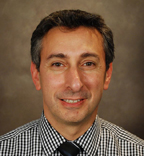 Chuck Cynamon is responsible for strategic initiatives to apply the company's broad range of SATCOM technologies and services to the worldwide defense marketplace and intelligence community. This includes fixed Ku-, Ka- and X-band VSAT systems and mobilesat products and systems. Applications cover satellite communications-on-the-move for ground-based and airborne platforms along with numerous classified development programs. Chuck has more than 20 years of experience in military space systems as a program manager for large, complex space programs and as a space systems operator.
Colonel Cynamon, (USAF, Retired), previously served in the United States Air Force for 24 years. In his final Air Force assignment, Chuck was the Chief, MILSATCOM Advanced Concepts Division at Los Angeles Air Force Base, California. He was responsible for the advanced technology insertion for the Advanced EHF and Wideband Global SATCOM systems, as well as planning the Department of Defense's (DoD) next generation satellite communications architecture and devising new innovative acquisition strategies based on commercial practices.
Commissioned through the Reserve Officer Training Corps in 1987, Chuck held squadron, major command, and HQ USAF levels of assignments in a variety of mission areas, such as airborne warning and control, ground-based missile warning, active and passive space surveillance, and satellite communications. As a program manager, he served as Deputy Program Director for the Space and Nuclear Network Group at Hanscom AFB, MA. Chuck was the Program Manager for Airborne SATCOM Terminals, a multi-billion family of programs providing future assured SATCOM to the warfighter.
MilsatMagazine (MSM)
Col. Cynamon (Ret.), please tell us about your prior experience and how you came to select Hughes Defense and Intelligence Systems to further your career?

Chuck Cynamon
For the majority of my 24 year U.S. Air Force career, I was a part of the DoD's space community. Over that period, I held assignments in both space operations and systems acquisitions. As a space operator and a junior officer, I was a satellite controller for Defense Satellite Communications System (DSCS) Phase III satellites at Schriever Air Force Base. Later in my career, I was the operations officer for the PAVE PAWS radar site at Cape Cod Air Force Station, as well as the Commander of the Air Force Satellite Control Network node at New Boston Air Force Station. As an acquisition officer, my experience included program management assignments in the E-3 Airborne Warning and Control System Program Office, the Optical Surveillance Program Office, the Air Force MILSATCOM Terminals Program Office and MILSATCOM Systems Program Office.
My final Air Force assignment at the MILSATCOM Program Office was perhaps the most rewarding of all the positions I held. Arriving just as the Transformational Satellite Communications System (TSAT) program was cancelled, I was named the Commander of the Advanced Concepts Group (ACG). The ACG was given the mission for defining the next generation MILSATCOM architecture (the what) while simultaneously developing innovative acquisition options for reducing cost and accelerating the delivery of capability (the how).
In the course of executing the ACG mission, I became convinced the commercial space industry possessed capabilities, products and services that the DoD needed to include in the future systems architecture. Furthermore, the commercial space industry's focus on time to market with very high quality is an acquisition model worthy of emulation to meet much of DoD's wideband and tactical protected SATCOM needs.
It was my interest in how DoD can incorporate commercial acquisition processes that fostered my interest in companies such as Hughes. Recently purchased by the commercial SATCOM giant, EchoStar, Hughes is renowned for valuing the entrepreneurial spirit that can bring new, innovative approaches to solve DoD's biggest challenge: providing wideband and protected SATCOM for highly mobile users in a future contested operating environment.
I'm extremely pleased to join the Defense and Intelligence Systems Division (DISD) at Hughes and I look forward to working with partners within the rest of the space industry to bring next generation SATCOM capabilities to the DoD, the intelligence community (IC) and international partners.
MSM
In your previous position, you helped plan the future growth of the Wideband Global SATCOM (WGS) Program. Could you tell us why WGS is important and what programs changes could make WGS even more operationally useful to the warfighter?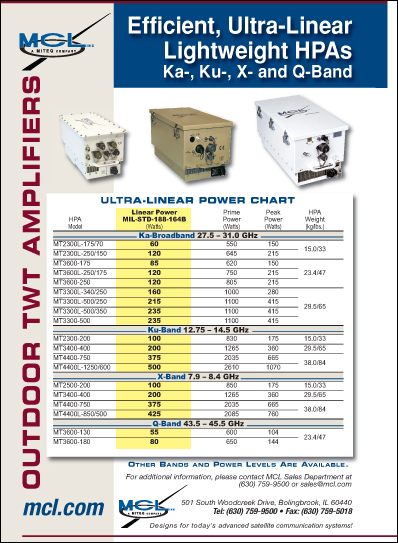 Chuck Cynamon
With the cancellation of the TSAT program, my former office was tasked to develop plans to evolve the capabilities of the Advanced Extremely High Frequency (AEHF) Satellite System and the Wideband Global SATCOM (WGS) System. DoD demands for SATCOM will far exceed the capabilities of both programs even when these systems are fully fielded.
In the case of WGS, we worked very closely with Boeing to develop production modifications that could provide greater flexibility of the payload and more capacity. WGS will become the workhorse capability for DoD for high data rate, high throughput SATCOM such as its predecessor system, the Defense Satellite Communications System (DSCS).
Over the past decade, the DoD has fielded ISR and tactical mobile capabilities that require enormous capacity and coverage in very remote areas where infrastructure is scarce and commercial SATCOM is not always immediately available. While WGS offers significantly more capability than DSCS, user demand continues to grow faster than the supply. Possible modifications to the WGS's space and ground segment could significantly increase satellite capacity and make more efficient use of the available bandwidth.
For example, DoD should leverage commercially available network management techniques that implement dynamic bandwidth management allowing optimized bandwidth use to support real-time warfighter needs. However, the most pressing need is for a standards-based approach to building and fielding bandwidth-efficient terminals purposely designed for highly mobile, wideband users such as the ISR community. During my time in the Air Force Terminals Program Office, we evaluated numerous waveforms for their abilities to support such a demanding user base as mobile ISR platforms.
Ultimately, the Digital Video Broadcast—Satellite, Second Generation (or DVB-S2) was targeted as the next generation waveform for airborne terminals supporting the USAF's ISR platforms. With this standards-based waveform coupled with commercial dynamic bandwidth management capabilities, the DoD could realize drastic reductions to its reliance on spot market leasing for commercial SATCOM.
I'm fortunate to be part of the Hughes team, a pioneer in the DVB-S2 waveform standard and a global leader in the fielding and operating of highly efficient fixed and mobile network capabilities. Commercial SATCOM industry is well positioned to partner with DoD to drive economization into existing and future SATCOM systems.
MSM
What major trends do you predict will affect the military satellite market in the next 12-18 months?
Chuck Cynamon
The current fiscal realities have driven the DoD to consider new approaches to procuring next generation space capabilities with a strong focus on affordability. The MILSATCOM community has already embarked on a new acquisition strategy for meeting the growing need for protected tactical SATCOM. A series of early development and demonstration studies are planned to design for affordability and reduce risk.
In another indicator of an affordability focused trend, the Space and Missile Systems Center in Los Angeles has established a Hosted Payload Office as a critical commitment to procuring smaller, simpler payloads and hosting them on commercial satellites. I would expect that these trends will form the foundation for next generation architectures throughout the entire military space enterprise for communications, navigation, overhead persistent infra-red, and space situational awareness systems.
MSM
As the U.S. military is drawing down troops in current conflict zones, do you think SATCOM assets for the military will continue to grow?
Chuck Cynamon
The DoD continues to grow its ISR capabilities to ensure global strategic and tactical situational awareness. Ground and Airborne ISR systems inherently rely on line-of-sight and beyond line-of-sight capabilities for platform command and control, for timely exfiltration of data, and for dissemination of ISR products to information consumers. SATCOM is a critical capability enabling the ISR mission.
As we draw down troops in current conflict zones, our need to sustain situational awareness in these areas of operation may not decrease. Furthermore, even if the high demand for ISR capabilities and assets in the current conflict zones does decrease, other under-served geographical hot spots will likely benefit from the draw down.
In fact, this greater geographic dispersal of ISR capabilities may present a greater challenge to ensure connectivity, resulting in the need to sustain current levels of SATCOM support, if not requiring growth in SATCOM assets.