Piracy Put Down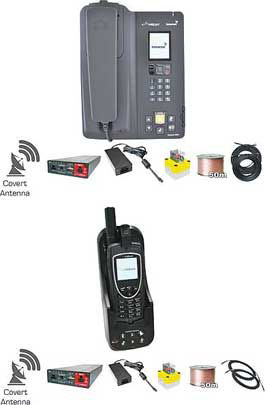 Beam Communications Pty Ltd, a wholly-owned subsidiary of World Reach Limited, has announced that the satellite piracy solutions for secure communication on board a vessel has been shown at the SMM show in Hamburg.

The systems operate with the Inmarsat or Iridium satellite networks.
Of growing concerns across the globe are the deadly attacks on commercial and leisure vessels. Beam specialized anti-piracy communication solutions developed for the marine market is certainly addressing this problem.
Beam Covert piracy solution provides a dedicated solution for the citadel or safe room.
The system ensures that, in the event of a piracy attack, the captain and crew have access to communications, tracking and alert functionality from the system and that an alert can be raised with the authority.
Due to the specifically designed Beam covert antenna the system is less susceptible to be taken out prior to the attack.
* * * * * * * * *
Stamp Of Approval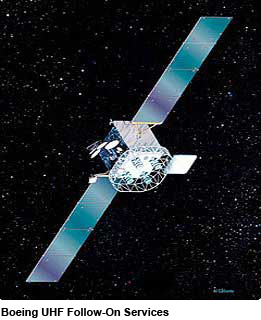 Boeing Commercial Satellite Services has been approved as a service provider for the Future COMSATCOM Services Acquisition program.
With this approval by the Defense Information Systems Agency (DISA) and General Services Administration (GSA), Boeing is authorized to provide U.S. government customers satellite communications services through a variety of fixed and mobile transponded and subscription services.
Military-unique services such as UHF and Yahsat's military Ka-band, commercial services in the Ku- and Ka-bands, and Inmarsat L-band and Thuraya L-band are examples of service offerings Boeing may provide through subscription agreements.
"This program gives Boeing another way to provide customers with exceptional satellite communication services using a variety of frequencies, including Inmarsat-5 Ka-band services," said Craig Cooning, CEO of Boeing Satellite Systems International. "Boeing continues to support the government's increasing need for satellite communications bandwidth."
Customers can procure these services under Boeing's GSA Schedule 70 contract.
* * * * * * * * *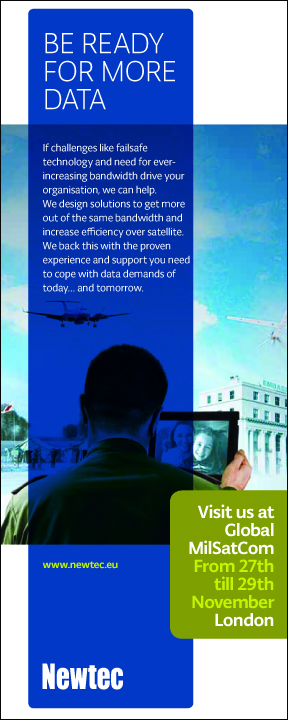 Comms For Javelin Thrust
Marines with 9th Communication Battalion set up supporting communications and data transmission services for 1st Marine Expeditionary Brigade during Javelin Thrust 2012/ Large Scale Exercise-1 at the Marine Corps Air Ground Combat Center in Twentynine Palms, California.
The Marines set up the brigade's communications network and support the operation. The exercise serves a part of a three exercise continuum aimed to validate the readiness of 1st MEB as a global crisis response force.
The battalion embarked from Camp Pendleton with command and control center tents, gear and equipment and more than 46 tactical vehicles designed to operate a command and control center.
Javelin Thrust differs than typical training exercises aboard Marine Corps Base Camp Pendleton, California, where 9th Comm. Bn. is based, by supporting more than 400 Marines and sailors of the 1st MEB command element.
Over the past 10 years, the battalion has typically deployed to environments where communications networks were already in place, such as Iraq and Afghanistan. Javelin Thrust provided the battalion to establish its command and support system from the ground up.
"This is a culminating event," said Maj. Fernando Jimenez, the 9th Comm. Bn, Javelin Thrust detachment, officer in charge. "This is what it's going to take to support a MEB should it be called upon. Our ability to command and control is being validated, and we are succeeding."
The battalion provided Marines with various occupational specialties to equip 1st MEB with the assets and knowledge they'll need to maintain communication during the exercise.
Communication between the brigade's command operations center and the ground units is a critical function to conduct a large-scale exercise. Maintaining a communication system is vital to keep operations fluid.
"I'm here supporting the technicians we have from the other satellite systems for communication," said Lance Cpl. Michael P. Raymond, a multi-channel communications equipment technician with 9th Comm. Bn. "We're the ones that make sure communication goes through smoothly and any data or commands that are given are sent through."
Sgt. Arthur I. Baronov, a technical controller, is responsible for installing, maintaining, operating and troubleshooting tactical communication networks for the Marine Corps and coalition forces in a deployed environment. Technical controllers typically work with the majority of the communication equipment as subject matter experts for the other 9th Comm. Bn. Marines.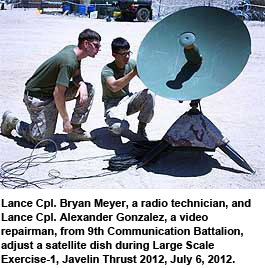 "We act as the central hub for coordinating the troubleshooting and establishment of a fully functional communications network using tactical gear," Baronov said. "The biggest part of our role is to monitor our network and make sure we have reliable communication."
The battalion also provides communication from the sky via satellite.
The Marines training on the ground communicate with other units through field radios. They rely on the radio operators to monitor and maintain connectivity with the command element. Sgt. Patricia L. Reynolds, a field radio operator with 9th Comm. Bn., said her Marines had communication support ready for the Marines training in a matter of days upon arrival.
Every phone call, email, field radio command and satellite transmission goes through 9th Comm. Bn.'s equipment. The exercise hinges on the battalion's ability to do their job and maintain the momentum.
"It's all about communications to effectively command and control," Jimenez said. "We're doing our part. The Marines have done a fantastic and phenomenal job. From the day they hit the ground running, they've not stopped. We're professional, flexible and reliable."
With the communication structure set up and running efficiently, 1st MEB is one step closer to proving its worth as a crisis response force with the ability to provide communication support for any operation.
Story by Cpl. Joshua Young,
1st Marine Expeditionary Brigade
* * * * * * * * *
Seven Requirements Met—Major Certification Received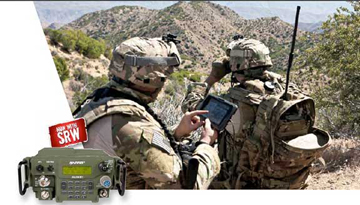 Harris Corporation has received Joint Tactical Radio System (JTRS) Certification for its Falcon III® AN/PRC-117G multiband manpack radio operating SRW v1.01.1.
As a JTRS-certified product, the AN/PRC-117G is considered compliant with the standards set forth by the JPEO JTRS and proven to be compatible with the Department of Defense network objectives.
JTRS Certification is part of an emerging process designed to enable competition while facilitating the development of tactical networks that are low-risk, secure and interoperable. To become JTRS certified, a tactical device must fulfill seven separate requirements, including testing or certifications for waveform conformance and Joint Interoperability Test Center interoperability, National Security Agency information security, programmable cryptography, National Telecommunications and Information Administration spectrum compliance and Software Communications Architecture compliance. The JPEO JTRS process is designed as an interoperability and security risk reduction effort to characterize JTRS waveforms operating on a specific Software Defined Radio (SDR).
"JTRS certification is a major milestone for Harris, JTRS and the DoD. It establishes the AN/PRC-117G as a certified product that meets JTRS and DoD standards in the growing market for wideband tactical radio systems,'' said George Helm, president, Department of Defense business, Harris RF Communications. "The JTRS certification process enables DoD customers to select, from a number of suppliers, the radio that is best suited for their specific mission. The certification requirements established will ensure that standards of interoperability, security and software reuse are maintained across the industry. Further, the process will help to open up competition to drive down costs, accelerate new products to market and foster innovation to better address the needs of the warfighter. We are very pleased that the AN/PRC-117G is the first Non-Developmental Item (NDI), and the first Harris product, to receive JTRS Certification, positioning it well to continue delivering on the DoD vision for a networked battlefield."
Brig. General Michael Williamson, JPEO JTRS, said, "The process to characterize our [JTRS] waveforms operating on Program of Record and NDI SDRs is a critical step for the Department of Defense to ensure an acceptable level of risk for interoperability, security and open standards. Harris is the first to achieve this designation with the SRW waveform. It will certainly enhance a services' ability to compete their SDR requirements and select a product that has been proven to meet an acceptable level of risk for interoperability and security—while maintaining non-proprietary open standards."
The Falcon III AN/PRC-117G is the world's most widely fielded tactical wideband networking radio. It provides enhanced situational awareness of the battlefield by connecting warfighters to the tactical Internet. Through its wideband architecture, the AN/PRC-117G enables applications such as streaming video, simultaneous voice and data feeds, collaborative chat, and connectivity to secure networks. Harris has shipped more than 22,000 AN/PRC-117G radios to all branches of the U.S. military as well as over a dozen allies including Canada, France, the United Kingdom, Germany, Italy, Australia, Poland and several other countries in NATO. The radio is combat-proven and exhaustively tested in field exercises, laboratory environments and has been employed as a secure wideband tactical networking radio in Operation Enduring Freedom since 2009.
* * * * * * * * *
9th Edition To Debut
Debuting this month (September 2012) is NSR's Government and Military Satellite Communications (GMSC) report.

The report continues its assessment of the equipment, services, transponder and HTS capacity needs as well as program funding for satellite communications and should be of intense interest by those involved in mil/gov SATCOM. Offered is a global view on market trends and drivers, as well as discrete regional forecasts to help strategic decision-making in this ever-changing budgetary environment. The report answers the critical questions facing the mil/gov SATCOM market:
What is the demand for commercial satellite communications in government and military markets?
What applications are driving equipment and capacity demand?
How much will government and military customers spend on satellite communications?
How does NSR see the GMSC market developing over the next 10 years in each region and for each application?
Included in the report are the following core elements:
– Scenario-based demand forecast for in-service units and services revenues for 10 years
– Transponder and HTS capacity demand forecast across all frequencies
– Market segmentation of specific applications by region and frequency band
– Bulk leasing demand assessment
– Proprietary satellite capacity analysis
– Operator and service provider market shares
– Programs overview and analysis as well as spending trends

As more than half a million in-service satellite units have been fielded for government and military customers, planners worldwide are intensely scrutinizing where these will go and which programs will get funded as tax dollars are coming under intense public pressure to be spent wisely. In this context, the satellite communications industry is asking the question: What to expect next? The move away from Iraq and Afghanistan toward Asia by the U.S. Government, the largest customer of SATCOM services, is influencing a large portion of the demand. But will it continue as it seeks more means to operate an increasingly mobile force? The report examines these important shifts but also addresses the various satellite solutions that governments are evaluating over the next decade across all regions.
* * * * * * * * *
An Epic Selection
Intelsat S.A. has selected a Boeing 702MP platform for its Intelsat 29e satellite, the first within the recently announced Intelsat EpicNG high-performance system.
Intelsat SVP and chief technical officer Thierry Guillemin said, "With higher throughput, strong economics and a degree of control that meets our customers' business requirements, Intelsat EpicNG caters to this environment. Its architecture combines multi-band frequency reuse with the benefits of backward and forward compatibility, resulting in a high-performance solution not previously available in the commercial satellite sector."
Scheduled for launch in 2015, Intelsat 29e will offer high-performance communications coverage spanning North and South America, the Gulf of Mexico, the Caribbean Sea, and the North Atlantic aeronautical route connecting North America and Europe. Intelsat EpicNG is designed to address wireless and fixed telecommunications, enterprise, mobility, video and government applications that require broadband infrastructure. A complementary high-throughput overlay to the Intelsat fleet, the Intelsat EpicNG platform will use multiple frequency bands, wide beams and spot beams with a high degree of flexibility and connectivity.
With Intelsat 29e, the first Intelsat Epic NG satellite, Intelsat completes its four-satellite order with Boeing. The first satellite in the order, Intelsat 22, is nearing six months of flawless operations in geostationary orbit.