Arguably, during no time in the history of the U.S. military has the issue of cost consideration been as critical as it is now.
"Do more with less" is no longer a catchphrase; it is the "new normal." The military is pushing private industry to develop and produce new technologies —using their own research and development funds—faster and more affordably.
Concurrent with this trend is the fact that the military is becoming more and more dependent upon the latest technology, including telecommunications. Their equipment must be able to handle voice as well as video and data. In addition, as the military must be as mobile as possible in order to meet the nature of today's conflicts, their equipment satisfies such requirements.

As technology becomes more ubiquitous, so does the ability of once technologically unsophisticated adversaries to adapt and use methods such as jamming to cause havoc and destruction. A jammed frequency now has the potential to create as much destruction as a bomb. The reality is that commercially available terminals can successfully jam L-, C-, Ku-, X- and Ka-bands—these terminals are challenged to detect, locate and destroy. Countries such as Iran and North Korea have already revealed that they can quite successfully jam frequencies.
When recognizing such debilitating factors, what do you have? In the eyes of the U.S. military, you have an urgent need for communications equipment that is reliable, secure, easily transportable—and affordable. Even though using protected
Advanced Extremely High Frequency
(
AEHF
) satellites, which provide the capability to operate in adverse conditions, existing terminals that support the technology are not widely available, due to their size and cost. The military realized they had an unacceptable deficiency in affordable
Protected Communications-On-The-Move
(
P-COTM
) equipment and capabilities.
A solution was driven by
Lockheed Martin
and
Northrop Grumman
—the companies initiated research and development efforts on a P-COTM solution. After three years (half the time of development cycles for fielded
Milstar
- and AEHF-compatible terminals) they created a baseline terminal that is interoperable with the satellite systems currently in orbit.
The P-COTM solution is tactically rugged, complete with a low-profile vehicle antenna. Affordability is achieved by leveraging existing designs, technology and government and commercial investments, all the while implementing commercial best practices for product production and procurement.
The hardware and software are extensible to other form factor terminals, such as small, fixed terminals that can be packed in transit cases, shipboard terminals for small deck ships, and low-cost airborne terminals for unmanned aerial vehicles (UAVs) and piloted aircraft.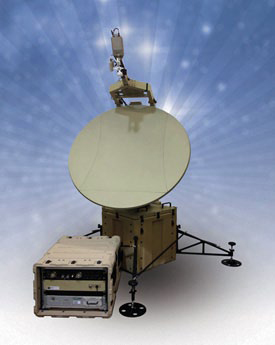 However, having a superior protected terminal was not enough. Lockheed Martin and Northrop Grumman needed a partner that possessed deep experience with highly secure, deployable satellite communications systems in order to create a complete solution. The companies partnered with
TeleCommunication Systems, Inc.
(
TCS
), a company with more than 25 years of experience as a trusted provider of communication technology solutions. The goal for TCS was to solve the government's toughest technical challenges, under conditions that demand the highest level of reliability, availability and security.
TCS created a
Protected SIPR/NIPR Access Point
(
P-SNAP
) terminal, which incorporates
SNAP
and
P-COTM
components. The P-SNAP system is significantly smaller and lighter than currently available protected communication alternatives; the complete terminal system is packaged in three transit cases and two people can easily set the system up within 30 minutes. P-SNAP is designed to support modular quick-change feeds and upgrade kits to provide backward compatibility for traditional SNAP operations in Ku- and Ka-bands.
The resulting combination of P-COTM and P-SNAP forms the
Low Cost Terminal
(
LCT
) solution, which takes advantage of Lockheed Martin's and Northrop Grumman's proven knowledge and engineering experience in protected military SATCOM through Milstar and AEHF anti-jam satellites. The LCT builds on TCS' highly secure, deployable satellite communication systems and is based on a modular architecture with plug-and-play interfaces and integrated logistics support. LCT combines the P-COTM and P-SNAP terminals to provide highly affordable, protected communications on the move and at the halt.
The LCT solution addresses the military's need for technologies and systems to enable secure communications for tactical warfighters in contested environments. The LCT provides secure, assured, protected networks with anti-jam, low probability of interception (LPI)/low probability of detection (LPD) communications and resistance to cyber attacks.
As the next generation of AEHF satellites launch, the LCT solution will allow warfighters to quickly and affordably take full advantage of the satellites' improved capabilities and expanded capacity. The LCT offerings are designed to work cooperatively with existing systems and also possess the flexibility to accommodate future network architectures with minimal software/firmware upgrades.
With the more affordable LCT solution,
protected satellite communications
(
P-SATCOM
) will become a viable option for tactical warfighters in the next few of years. No other existing or developing terminals provide P-SATCOM for the tactical warfighter at similar price points or timetables. The LCT solution at full production levels is priced at one-tenth the price of fielded
Extremely High Frequency
(EHF) terminals.
With the battlefield continuing to become more and more digital in nature, technologies such as LCT have become entirely feasible and ensure that our military will be able to use the latest communications technologies that will save lives as well as ensure mission success.
Additional information is available at...
http://www.telecomsys.com/products/deployable-coms/ lctsolution.aspx
About the author
As Vice President of Strategy & Product Development for TeleCommunication Systems' Government Solutions Group, Jude Panetta oversees operations, supply chain management, engineering and product development. His other responsibilities include technology roadmap design, program and product line management and supplier and customer relations.

Mr. Panetta brings 23 years of experience in managing manufacturing and engineering operations and product-based businesses. His experience ranges from electromechanical equipment to advanced telecommunications and satellite technologies. Most recently, he contracted as an operations specialist, market strategist and financial analyst for a range of enterprises. In these roles, Mr. Panetta managed diligence processes related to operations, marketing and engineering and devised product development strategies. Prior to his work as an independent contractor, Mr. Panetta served as president and CEO of ASC Signal Corporation and held senior positions at Andrew Corporation, Celiant and Adtran, Inc.

He is a graduate of GE's Manufacturing Management Program and holds a bachelor's degree in mechanical engineering from the University of Virginia.