Mr. Hennig, would you please offer our readers a look at your background and how you became interested in your career development at MOOG?
Jay Hennig
In 1979, I began working at Moog when I was 19 years old as a technician in the prototype lab; I built servo valves for launch vehicles. After graduating from the State University of New York—Buffalo State—with a bachelor's degree in mechanical engineering technology in 1982, the aerospace sales manager at Moog approached me about a sales position. I liked the idea of that. And I became a sales engineer. During the next 20 years, I worked in various sales positions with Moog's Aircraft Group, Industrial Group, and, eventually, space products, which became Moog Space and Defense Group.
MSM
What interests and conditions led to your appointment as the President of Moog's Space and Defense Group? What are your responsibilities?
Jay Hennig
In 1998, I became director of sales and programs. After Moog acquired Schaeffer Magnetics in Chatsworth, California, I became the general manager of the newly acquired company. Schaeffer's products included electromechanical actuators and motion control systems for the positioning of solar panels, antennae and optical devices in satellite and space systems.
In 2002, I was named president of Moog's Space and Defense Group. Part of landing that job probably had to do with the fact that I had built relationships with so many customers from my years as a sales engineer and had worked in the space industry from 1987 to 2002. The space industry doesn't have a lot of turnover, and I had worked with many of the people in the industry on one project or another. I guess you could say I had "connections" [Laughing].
MSM
Within the Business Development segment of any business, knowledge covering the various segments addressed by the company must be attained… how did you manage such with Moog, given the firm's diverse concentrations?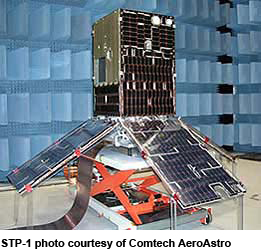 Jay Hennig
I knew the space industry, but I had to learn the defense side of our business. I did what anyone else would do: I went out and met the customers. I listened to what they had to say. I attended the AUSA Meeting & Expo. I went to the Paris Air Show to learn what the defense industry was concerned about.
One of the fundamental differences between the ground defense sector and space industry is the depth of qualification testing that goes on with space systems. There are less ITAR restrictions when it comes to defense—the restrictions that do exist are not as severe as with space hardware. The Space and Defense Group evolved from the Aircraft Group at Moog. Today my group handles all space hardware and all defense systems that are not within Moog's Aircraft Group.
MSM
How much demand is there from organizations that want to place satellites on a launch vehicle as secondary payload?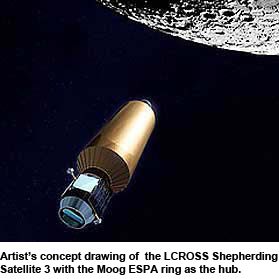 Jay Hennig
There's quite a bit of demand. There are at least six missions for which Moog is planning to supply ESPA rings. And there are another six programs and organizations (including NASA and ULA) that have cooperated with Moog to develop ways to use ESPA as part of their respective plans.
MSM
Speaking of secondary (or piggyback) payloads… you had on display at the National Space Symposium 2012 in Colorado Springs this year your company's Evolved Expendable Launch Vehicle (EELV) Secondary Payload Adapter—the ESPA Ring. Could you tell us how ESPA came to fruition?
Jay Hennig
I'll describe ESPA first and then explain how it came to be. The ring mounts up to six, 400-pound secondary satellites to share a ride to space with a primary payload up to 20,000 pounds. Our standard ESPA weighs 290 pounds and attaches between the primary payload and the Evolved Expendable Launch Vehicle (EELV) upper stage on Atlas V or Delta IV.
Beginning more than 10 years ago, CSA Engineering—which Moog later acquired—developed ESPA under Small Business Innovation Research (SBIR) funding from the Air Force Research Laboratory (AFRL) and Space Test Program (STP), which gives us certain rights to the design.
Originally, we designed ESPA to be 24-inches tall with six, 15-inch ports. As different missions arose, we designed new configurations with 4, 5 or 6 ports and taller rings, as well as other features inside the rings. Sometimes we call the taller rings, the ones with 24-inch ports, the "ESPA Grande."
MSM
What missions has the ESPA already been involved with, and what was their outcome?
Jay Hennig
The missions include STP-1 and the Lunar Crater Observation and Sensing Satellite (LCROSS). STP-1 was the maiden ESPA mission in 2007. The primary satellite was DARPA's Orbital Express. Four secondary satellites were released from ESPA.
LCROSS was a NASA program launched in June 2009. When the Lunar Reconnaissance Orbiter (LRO) moved from a Delta II to an Atlas V, NASA called for innovative, secondary missions. NASA Ames proposed LCROSS with Northrop Grumman as the prime contractor. There were 18 other proposals from various NASA centers, and all the viable concepts used ESPA. LCROSS completed its mission by impacting the Moon in October of 2009 and confirmed the presence of water ice.
MSM
What steps has Moog taken to market the availability of ESPA as a piggyback ride into space for universities, commercial space companies and the government?
Jay Hennig
Moog attends industry conferences such as the National Space Symposium and Small Satellite Conference to showcase ESPA, which is really a family of adapters; we stay abreast of missions that organizations such as NASA, the Department of Defense and Spaceflight Services have in the queue. Plus, we promote any new developments with ESPA by talking to reporters and bloggers covering the space and defense industry.
MSM
Do you currently have any new contracts for use of ESPA for future satellite placements?

Jay Hennig
Yes. We've delivered an ESPA for the U.S. Air Force's DSX mission. The Air Force EAGLE program will carry an ESPA, as well, and Moog will supply it. We expect to start this program in the summer of 2012.
MSM
What is SoftRide and how would it complement the ESPA Ring?

Jay Hennig
Our SoftRide vibration isolation systems protect satellites from the stress and vibration that goes along with getting into orbit. The technology also isolates some shock and reduces the transmission of some of the energy that comes from acoustic loading.
MSM
What portion of your space business is commercial versus government?

Jay Hennig
That depends upon the year, of course. But, currently, it's roughly a 50-50 split.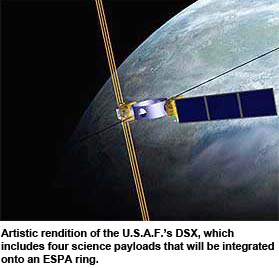 MSM
Earlier this year, Moog acquired Bradford Engineering. Why did Moog acquire this company?

Jay Henning
We acquired Bradford to have a manufacturing presence for space components and systems in Europe. Bradford is uniquely positioned in the industry. With a strong commercial space business, Bradford doesn't rely completely on ESA funding. These factors set them apart from other companies we looked at, and it made an acquisition attractive for us.
MSM
Given the astounding lack of STEM training in our middle and high schools and college coursework, how do you see the future for hiring within the United States of crucially needed personnel within high tech sectors, such as yours? How can we, as an industry, not only promote STEM training, but also reveal to students the highly satisfactory career that can be obtained within the various satellite and space industries?
Jay Hennig
Moog has an active cooperative and intern program with Howard University, Northwestern, Rochester Institute of Technology and The University at Buffalo. Our programs fill a pipeline of engineers who are interested in space and defense. When we have an opening for an engineer, we already have a pool of qualified and interested engineers to draw from. Our intern and coop students come to Moog throughout the year to work, so it's not just a summer onslaught of students.
If our industry wants young people to get excited about engineering and science, we have to bring it to them. For example, we supply a high-performance motion-control system to The University at Buffalo's engineering department. This is the same technology used by the Department of Defense. UB uses our technology as part of its summer engineering program for high-school females. These are young ladies who've shown an interest in becoming engineers. During the program, the ladies design a rollercoaster and program the Moog six-degree-of-freedom motion base to simulate their design in the lab as part of a final project.
MSM
As you look back over your career, what project or projects bring you a true sense of satisfaction?
Jay Hennig
The one I worked the most on as a younger man was the International Space Station. Moog developed a highly specialized fluid quick disconnect, or FQDC, device used in the electric power and thermal control systems. Any payload that needs cooling gets it from Moog's FQDC. If you have electronics to cool, they plug in with Moog's FQDC. Without that technology, you'd have to "hard plumb" the cooling.
The Shuttle was another great program. Moog handled the flight control actuation on the orbiter and the thrust vector control on every engine built for the program. We worked on that one from the 1970s until 2011; I'm proud to have worked on a team that contributed to something as important as the Shuttle program. And there's still more to come!